Abstract
Background:
There are limited data on the use of platelet-rich plasma (PRP) for treating chronic plantar fasciitis.
Questions/Purposes:
The purpose of this study was to document the clinical outcomes of patients who were treated with PRP injections for plantar fasciitis to determine the degree to which injections were able to decrease the visual analogue scale (VAS) pain scores and improve patient reported functional scores.
Methods:
This was a retrospective review of 23 consecutive patients treated with PRP for chronic plantar fasciitis (symptoms lasting over 6 months). Patients returned after 4 weeks for a postinjection follow-up. A second injection was given if significant improvement was not obtained by that time. Postinjection foot and ankle outcome scores (FAOS), 12-item short form health survey (SF-12), and VAS scores were collected at a minimum of 6 months follow-up.
Results:
Thirty injections were given in 23 patients, with one patient lost to follow-up. The mean VAS score improved from 7 to 4. The pain, symptoms, and quality of life subscales of the FAOS and SF-12 significantly improved from preinjection scores. Five patients went on to have endoscopic release of the plantar fascia at an average of 94 days after the last injection (range, 22–314 days). Six patients obtained full resolution of symptoms while the majority of patients were able to forgo surgery due to improvement from the PRP injection.
Conclusion:
These results provide preliminary information on the safety and efficiency of PRP injection as treatment for chronic plantar fasciitis.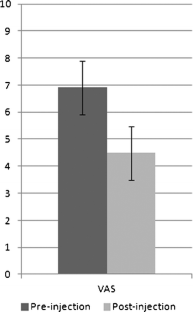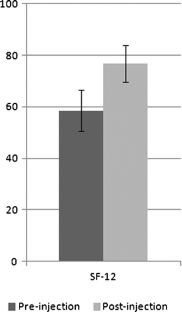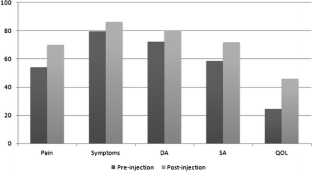 References
1.

Acevedo JI, Beskin JL. Complications of plantar fascia rupture associated with corticosteroid injection. Foot Ankle Int. 1998;19:91–97.

2.

Aksahin E, Dogruyol D, Yuksel HY, et al. The comparison of the effect of corticosteroids and platelet-rich plasma (PRP) for the treatment of plantar fasciitis. Arch Orthop Trauma Surg. 2012;132:781–785.

3.

Barrett S, Erredge S. Growth factors for chronic plantar fasciitis. Podiatry Today. 2004;17:37–42.

4.

Gerritsen ME, Tomlinson JE, Zlot C, et al. Using gene expression profiling to identify the molecular basis of the synergistic actions of hepatocyte growth factor and vascular endothelial growth factor in human endothelial cells. Br J Pharmacol. 2003;140(4):595–610.

5.

Gill LH. Plantar Fasciitis. Diagnosis and Conservative Management. J Am Acad Orthop Surg. 1997;5(2):109–117.

6.

Kalaci A, Cakici H, Hapa O, et al. Treatment of plantar fasciitis using four different local injection modalities: a randomized prospective clinical trial. J Am Podiatr Med Assoc. 2009;99(2):108–113.

7.

Kim C, Cashdollar MR, Mendicino RW, et al. Incidence of plantar fascia ruptures following corticosteroid injection. Foot Ankle Spec. 2010;3(6):335–337.

8.

Leach R, Jones R, Silva T. Rupture of the plantar fascia in athletes. J Bone Joint Surg Am. 1978;60(4):537–539.

9.

Lee TG, Ahmad TS. Intralesional autologous blood injection compared to corticosteroid injection for treatment of chronic plantar fasciitis. A prospective, randomized, controlled trial. Foot Ankle Int. 2007;28(9):984–990.

10.

Lemont H, Ammirati KM, Usen N. Plantar fasciitis: a degenerative process (fasciosis) without inflammation. J Am Podiatr Med Assoc. 2003;93(3):234–237.

11.

Roos EM, Brandsson S, Karlsson J. Validation of the foot and ankle outcome score for ankle ligament reconstruction. Foot Ankle Int. 2001;22(10):788–794.

12.

Sampson S, Gerhardt M, Mandelbaum B. Platelet rich plasma injection grafts for musculoskeletal injuries: a review. Curr Rev Musculoskelet Med. 2008;1(3–4):165–174.

13.

Schepsis AA, Leach RE, Gorzyca J. Plantar fasciitis. Etiology, treatment, surgical results, and review of the literature. Clin Orthop Relat Res. 1991;266:185–196.

14.

Shi Y, Massague J. Mechanisms of TGF-beta signaling from cell membrane to the nucleus. Cell. 2003;113(6):685–700.

15.

Tatli YZ, Kapasi S. The real risks of steroid injection for plantar fasciitis, with a review of conservative therapies. Curr Rev Musculoskelet Med. 2009;2(1):3–9.

16.

Williamson A, Hoggart B. Pain: a review of three commonly used pain rating scales. J Clin Nurs. 2005;14(7):798–804. Review.

17.

Wolgin M, Cook C, Graham C, et al. Conservative treatment of plantar heel pain: long-term follow-up. Foot Ankle Int. 1994;15(3):97–102.

18.

Wong MW, Tang YY, Lee SK, et al. Glucocorticoids suppress proteoglycan production by human tenocytes. Acta Orthop. 2005;76(6):927–931.
Disclosures
Informed Consent: Martin J. O'Malley, MD, J. Turner Vosseller, MD, Yang Gu, BS declare they have no conflict of interest.
Human/Animal Rights: All procedures followed were in accordance with the ethical standards of the responsible committee on human experimentation (institutional and national) and with the Helsinki Declaration on 1975, as revised in 2008 (5).
Informed Consent: Informed consent was obtained from all patients for being included in the study.
Required Author Forms Disclosure forms provided by the authors are available with the online version of this article.
Additional information
Level of Evidence: Therapeutic Study Level IV. See levels of evidence for a complete description.
Electronic supplementary material
Below is the link to the electronic supplementary material.
About this article
Cite this article
O'Malley, M.J., Vosseller, J.T. & Gu, Y. Successful Use of Platelet-Rich Plasma for Chronic Plantar Fasciitis. HSS Jrnl 9, 129–133 (2013). https://doi.org/10.1007/s11420-012-9321-9
Received:

Accepted:

Published:

Issue Date:
Keywords
platelet-rich plasma

plantar fasciitis

ultrasound guided

foot and ankle outcome score