Abstract
Background
Two-part proximal humerus fractures are common orthopedic injuries for which surgical intervention is often indicated. Choosing a fixation device remains a topic of debate.
Purpose
The purpose of this study is to compare two methods of fixation for two-part proximal humerus fractures, locking plate (LP) with screws versus intramedullary nailing (IMN), with respect to alignment, healing, patient outcomes, and complications. To our knowledge, a direct comparison of these two devices in treating two-part proximal humerus fractures has never before been studied. We hope that our results will help surgeons assess the utility of LP versus IMN.
Methods
A retrospective chart review was performed on 24 cases of displaced two-part surgical neck fractures of the humerus. Twelve shoulders were treated using IMN fixation and 12 others were fixated with LP. Data collected included sociodemographic, operative details, and postoperative care and function.
Results
Radiographic comparison of fixation demonstrated an average neck-shaft angle of 124° and 120° in the IMN group and LP group, respectively. Adjusted postoperative 6-month follow-up range of motion was 134° of forward elevation in the IMN group and 141 in the LP group. The differences in range of motion and in complication rates were not found to be significant.
Conclusions
Our results suggest that either LP fixation or IMN fixation for a two-part proximal humerus fracture provides acceptable fixation and results in a similar range of shoulder motion. Although complication rates were low and insignificant between the two groups, a trend toward increased complications in the IMN group is noted.
This is a preview of subscription content, log in to check access.
Access options
Buy single article
Instant access to the full article PDF.
US$ 39.95
Price includes VAT for USA
Subscribe to journal
Immediate online access to all issues from 2019. Subscription will auto renew annually.
US$ 99
This is the net price. Taxes to be calculated in checkout.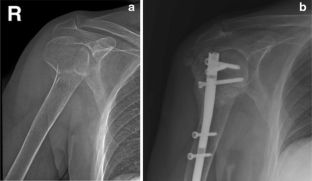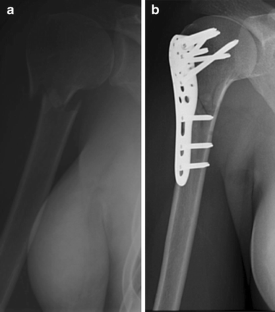 References
1.

Agudelo J, Schürmann M, Stahel P, Helwig P, Morgan SJ, Zechel W, et al. Analysis of efficacy and failure in proximal humerus fractures treated with locking plates. J Orthop Trauma. 2007;21(10):676–81.

2.

Brunner F, Sommer C, Bahrs C, Heuwinkel R, Hafner C, Rillmann P, et al. Open reduction and internal fixation of proximal humerus fractures using a proximal humeral locked plate: a prospective multicenter analysis. J Orthop Trauma. 2009; 23(3):163–72.

3.

Egol KA, Ong CC, Walsh M, Jazrawi LM, Tejwani NC, Zuckerman JD. Early complications in proximal humerus fractures (OTA Types 11) treated with locked plates. J Orthop Trauma. 2008;22(3):159–64.

4.

Esser RD. Treatment of three- and four-part fractures of the proximal humerus with a modified cloverleaf plate. J Orthop Trauma. 1994;8(1):15–22.

5.

Freedman EL, Johnson EE. Radiographic analysis of tibial fracture malalignment following intramedullary nailing. Clin Orthop Relat Res. 1995;(315):25–33.

6.

Handoll H, Brealey S, Rangan A, Torgerson D, Dennis L, Armstrong A, et al. Protocol for the ProFHER (PROximal Fracture of the Humerus: Evaluation by Randomisation) trial: a pragmatic multi-centre randomised controlled trial of surgical versus non-surgical treatment for proximal fracture of the humerus in adults. BMC Musculoskelet Disord. 2009;10:140.

7.

Hawkins RJ, Bell RH, Gurr K. The three-part fracture of the proximal part of the humerus. Operative treatment. J Bone Joint Surg Am. 1986;68(9):1410–4.

8.

Horak J, Nilsson BE. Epidemiology of fracture of the upper end of the humerus. Clin Orthop Relat Res. 1975;112:250–3.

9.

Konrad G, Audigé L, Lambert S, Hertel R, Südkamp NP. Similar outcomes for nail versus plate fixation of three-part proximal humeral fractures. Clin Orthop Relat Res. 2012;470(2):602–9.

10.

Koval KJ, Clapper MF, Brumback RJ, Ellison PS, Poka A, Bathon GH, Burgess AR. Complications of reamed intramedullary nailing of the tibia. J Orthop Trauma, 1991;5(2):184–9.

11.

Neer CS. Displaced proximal humeral fractures. I. Classification and evaluation. J Bone Joint Surg Am. 1970;52(6):1077–89.

12.

Osman N, Touam C, Masmejean E, Asfazadourian H, Alnot JY. Results of non-operative and operative treatment of humeral shaft fractures. A series of 104 cases. Chir Main. 1998;17(3):195–206.

13.

Popescu D, Fernandez-Valencia JA, Rios M, Cuñé J, Domingo A, Prat S. Internal fixation of proximal humerus fractures using the T2-proximal humeral nail. Arch Orthop Trauma Surg. 2009;129(9):1239–44.

14.

Putti AB, Uppin RB, Putti BB. Locked intramedullary nailing versus dynamic compression plating for humeral shaft fractures. J Orthop Surg (Hong Kong). 2009;17(2):139–41.

15.

Russell TA, Mir HR, Stoneback J, Cohen J, Downs B. Avoidance of malreduction of proximal femoral shaft fractures with the use of a minimally invasive nail insertion technique (MINIT). J Orthop Trauma. 2008;22(6):391–8.

16.

Savoie FH, Geissler WB, Vander Griend RA. Open reduction and internal fixation of three-part fractures of the proximal humerus. Orthopedics. 1989;12(1):65–70.

17.

Südkamp N, Bayer J, Hepp P, Voigt C, Oestern H, Kääb M, et al. Open reduction and internal fixation of proximal humeral fractures with use of the locking proximal humerus plate. Results of a prospective, multicenter, observational study. J Bone Joint Surg Am. 2009;91(6):1320–8.

18.

Tanner MW, Cofield RH. Prosthetic arthroplasty for fractures and fracture-dislocations of the proximal humerus. Clin Orthop Relat Res. 1983;179:116–28.

19.

Trepat AD, Popescu D, Fernández-Valencia JA, Cuñé J, Rios M, Prat S. Comparative study between locking plates versus proximal humeral nail for the treatment of 2-part proximal humeral fractures. Eur J Orthop Surg Traumatol. 2012. (In press)

20.

Zyto K. Non-operative treatment of comminuted fractures of the proximal humerus in elderly patients. Injury. 1998;29(5):349–52.
Disclosures
Each author certifies that he or she has no commercial associations (e.g., consultancies, stock ownership, equity interest, patent/licensing arrangements, etc.) that might pose a significant conflict of interest in connection with the submitted article.
Each author certifies that his or her institution approved the human protocol for this investigation, that all investigations were conducted in conformity with ethical principles of research, and that informed consent for participation in the study was obtained.
Additional information
Level of Evidence: Level III-2 (retrospective cohort study): Therapeutic Study
This work was performed at the New York University Hospital for Joint Diseases.
About this article
Cite this article
Lekic, N., Montero, N.M., Takemoto, R.C. et al. Treatment of Two-Part Proximal Humerus Fractures: Intramedullary Nail Compared to Locked Plating. HSS Jrnl 8, 86–91 (2012). https://doi.org/10.1007/s11420-012-9274-z
Received:

Accepted:

Published:

Issue Date:
Keywords
two-part proximal humerus fracture

locking plate

intramedullary nail

outcomes of proximal humerus fractures