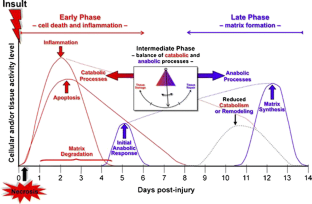 References
1.

Anderson DD, Chubinskaya S, Guilak F, Martin JA, Oegema TR, Olson SA, Buckwalter JA. Post-traumatic osteoarthritis: Improved understanding and opportunities for early intervention. J Orthop Res. 2011; 29:802–809.

2.

Chockalingam PS, Sun W, Rivera-Bermudez MA, Zeng W, Dufield DR, Larsson S, Lohmander LS, Flannery CR, Glasson SS, Georgiadis KE, Morris EA. Elevated aggrecanase activity in a rat model of joint injury is attenuated by an aggrecanase specific inhibitor. Osteoarthritis Cartilage. 2011; 19:315–323.

3.

Kim YJ, Jaramillo D, Millis M, Grey ML, Burstein D. Assessment of early osteoarthritis in hip dysplasia with delayed gadolinium-enhanced magnetic resonance imaging of cartilage. J Bone Joint Surg. 2003; 85-A:1987–1992

4.

Lohmander LS, Roos H. Knee ligament injury, surgery and osteoarthrosis: Truth or consequences? Acta Orthop. 1994; 65:605–609.

5.

Roos H, Laurén M, Adalberth T, Roos EM, Jonsson K, Lohmander LS. Knee osteoarthritis after meniscectomy: Prevalence of radiographic changes after twenty-one years, compared with matched controls. Arthritis Rheum. 1998; 41:687–693.
Disclosures
Each author (HS, KG, CF) certifies that he or she has or may receive payments, stock ownership and benefits as employees of a commercial entity (Pfizer Discovery Research) related to this work.
About this article
Cite this article
Seeherman, H., Georgiadis, K. & Flannary, C. Chondroprotection Following Acute Joint Injury: Prevention of Osteoarthritis. HSS Jrnl 8, 75–77 (2012). https://doi.org/10.1007/s11420-011-9244-x
Received:

Accepted:

Published:

Issue Date:
Keywords
Chondroprotection

Osteoarthritis

Prevention

Joint trauma