Abstract
Electrodiagnostic studies are used to anatomically localize nerve injuries. These tests help differentiate between cervical radiculopathies, brachial plexopathies, and peripheral nerve injuries. They also help to identify or rule out other underlying neurological diseases and disorders. In this case report, a 22-year-old male swimmer presented with left finger extensor weakness following pull-up exercises. Left wrist extension remained intact. Electrodiagnostic testing revealed a severe but incomplete posterior interosseous neuropathy. Magnetic resonance imaging confirmed inflammation of the nerve in the forearm. Posterior interosseous neuropathy is an uncommon but well-studied condition. Typically, this condition presents with weakness in finger and thumb extension with preserved wrist extension as the extensor carpi radialis longus is innervated proximal to the site of nerve compression in most cases. It is important to understand the anatomic course and distribution of the radial nerve in order to make an accurate diagnosis. Once the anatomy is understood, electrodiagnostic testing may be used to identify the location of nerve injury and exclude other disorders.
This is a preview of subscription content, log in to check access.
Access options
Buy single article
Instant access to the full article PDF.
US$ 39.95
Price includes VAT for USA
Subscribe to journal
Immediate online access to all issues from 2019. Subscription will auto renew annually.
US$ 99
This is the net price. Taxes to be calculated in checkout.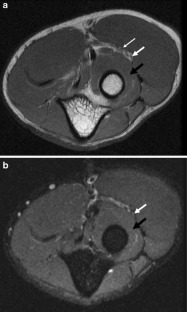 References
1.

Akuthota V., Herring SA. Nerve and vascular injuries in sports medicine. Springer, New York. 2009: 79–81

2.

Bayramoglu M. Entrapment neuropathies of the upper extremity. Neuroanatomy. 2004, 3: 18–24.

3.

Braddom, RL. Physical medicine and rehabilitation. Elsevier Science, Saunders, 3rd Edition, Philadelphia. 2007: 211–212.

4.

Brown, WF, Bolton CF, Aminoff MJ. Neuromuscular function and Disease. Basic, clinical, and electrodiagnostic aspects. Volume 1. Elsevier Science, Saunders, Philadelphia. 2002: 924–926.

5.

Cho CH, Lee KJ, Min BW. Tardy posterior interosseous nerve palsy resulting from residual dislocation of the radial head in a Monteggia fracture: a case report. Journal of Medical Case Reports. 2009; 3:9300.

6.

Cho TK, Kim JM, Bak KH, Kim CH. Posterior interosseous nerve (PIN) syndrome caused by anomalous vascular leash. J Korean Neurosurgery. 2005; 37:293–295.

7.

Dang AC, Rodner CM. Unusual compression neuropathies of the forearm, part II: median nerve. J Hand Surg. 2009;34A:1915–1920

8.

Dhall U, Kanta S. Variations in the nerve supply to extensor carpi radialis brevis. J Ant Soc India. 2001; 50(2). 134–136.

9.

Dickerman R.D, Stevens Q.E.J., Cohen A.J., Jaikumar S. Radial tunnel syndrome in an elite power athlete: a case of direct compressive neuropathy. Journal of the Peripheral Nervous System. 2002; 4: 229–232.

10.

Hazani R, Engineer N J, Mowlavi A, Neumeister M, Lee A, Wilhelmi BJ. Anatomic Landmarks for the Radial Tunnel. Eplasty. 2004; 8: 377–382.

11.

Kirichi Y., Irmak M.K. Investigation of two possible compression sites of the deep branch of the radial nerve and the nerve supply of the extensor carpi radialis brevis muscle. Neurol Med Chir (Tokyo) 2004; 44: 14–19.

12.

Kromberg A.J., Pestronk A. Chronic motor neuropathies: diagnosis, therapy, and pathogenesis. Annals of Neurology. 1995: 37(1): 43–50.

13.

Latinovic R, Gulliford MC, Hughes RAC. Incidence of common compressive neuropathies in primary care. J Neurol Neurosurg Psychiatry. 2006; 77:263–265

14.

Loh YC, Lam WL, Stanley JK, Soames RW. A new clinical test for radial tunnel syndrome: the rule of nine test: a cadaveric study. J Orthop Surg (Hong Kong) 2004: 12(1): 83–86.

15.

McCarty E.C, Tsairis P., Warten R.F. Brachial neuritis. Clinical Orthopedics and Related Research. 1999; 368: 37–42.

16.

Miclan A, Ozge A, Sahin G, Saracoglu M, Kuyurtar F. The role of electrophysiologic tests in the early diagnosis of posterior interosseous neuropathy in patients thought to have lateral epicondylitis.Acta Orthop Traumatol Turc 2004; 38(5): 326–329.

17.

Molina A.E.P, Bout C., Oberline C., Nzeusseu A., Vanwijk R. The posterior interosseous nerve and the radial tunnel syndrome: an anatomical study. International Orthopaedics. 1998; 22: 102–106.

18.

Monteiro E., Moura A., Barros F., Carvalho P. Lipoma causing a posterior interosseous nerve syndrome. European Journal Plastic Surgery. 2002; 25: 35–37.

19.

Mulholland R.C. Non-traumatic progressive paralysis of the posterior interosseous nerve. Journal of Bone and Joint Surgery. 1966; 48B, No. 4: 781–785.

20.

Planchier KD, Peterson RK, Steichen JB. Compressive neuropathies and tendinopathies in the athletic elbow and wrist. Clin Sports Med 1996;15(2):331–71.

21.

Prasartritha T., Prasert L., Rohanakit A., A study of the posterior interosseous nerve (PIN) and the radial tunnel in 30 Thai cadavers. The Journal of Hand Surgery. 1993; 18A:107–12.

22.

Ragoonwansi R., Kirkpatrick NW, Moss ALH. Posterior interosseous nerve palsy after intravenous cannulation of the forearm. Journal of the Royal Society of Medicine. 1999; 92: 411.

23.

Roles NC, Maudsley RH: Radial tunnel syndrome: resistant tennis elbow as a nerve entrapment, Journal of Bone and Joint Surgery. 1972; 54B(3): 499–508.

24.

Rosenbaum R. Disputed radial tunnel syndrome. Muscle and Nerve. 1999; 22: 960–967.

25.

Russel SM. (2006) Examination of peripheral nerve injuries: An anatomical approach. Thieme Medical Publishers, New York. 2006: 62–64.

26.

Siegel IM. Dorsal interrosseous nerve compression syndrome from the use of a Canadian crutch. Muscle Nerve. 1988. 11 (12):1273–1274.

27.

Spinner M. The arcade of Frohse and its relationship to posterior interosseous nerve paralysis. The Journal of Bone and Joint Surgery. 1968; 50B: 809–812.

28.

Sunderamoorthy D, Chaudhury M. An uncommon peripheral nerve injury after penetrating injury to the forearm: the importance of clinical examination. Emerg Med Journal. 2003; 20: 565–566.

29.

Werner CO, Haeffner F., Rosen I. Direct recording of local pressure in the radial tunnel during passive stretch and active contraction of the supinator muscle. Archives of Orthopaedic and Traumatic Surgery. 1980; 96: 299–301.

30.

Werner CO. Paralysis of the posterior interosseous nerve caused by tumour: brief report. The Journal of Bone and Joint Surgery. 1987; 69 B(4): 670–671.

31.

White SH, Goodfellow JW, Mowat A. Posterior interosseous nerve palsy in rheumatoid arthritis. J Bone Joint Surg Br. 1988. 70B (3): 468–471.

32.

Vreiling C., Robinson P.H., Geertzen, J.H.B. Posterior interosseous nerve syndrome: literature review and report of 14 cases. Eur J Plast Surg. 1998; 21: 196–202.
Disclosures
Each author certifies that he or she has no commercial associations (e.g., consultancies, stock ownership, equity interest, patent/licensing arrangements, etc.) that might pose a conflict of interest in connection with the submitted article.
Each author certifies that his or her institution has approved the reporting of this case, that all investigations were conducted in conformity with ethical principles of research.
About this article
Cite this article
Bevelaqua, A., Hayter, C.L., Feinberg, J.H. et al. Posterior Interosseous Neuropathy: Electrodiagnostic Evaluation. HSS Jrnl 8, 184–189 (2012). https://doi.org/10.1007/s11420-011-9238-8
Received:

Accepted:

Published:

Issue Date:
Keywords
posterior interosseous nerve

nerve injury

electromyography (EMG)

electrodiagnostics

finger extension weakness