Abstract
Background
Current methods to achieve lumbosacral interbody fusion have been complicated by approach-related morbidity, nerve root or cauda equina injury, or difficulty in implanting a large lordotic graft posteriorly. There is little information in the literature evaluating the presacral axial approach to the lumbosacral disc space.
Questions/Purposes
What are the short-term clinical and radiographic outcomes in patients undergoing axial lumbosacral interbody fixation and fusion at the end of long fusion constructs using the AxiaLIF implant (Trans1 Inc., Wilmington, NC, USA)? Furthermore, what complications are associated with this procedure?
Patients and Methods
We performed a retrospective evaluation of nine patients who underwent presacral axial lumbosacral interbody fixation and fusion at the end of long fusion constructs using the AxiaLIF implant. Preoperative diagnoses included adjacent segment degeneration below a long fusion construct for adult scoliosis and progressive sagittal plane deformity.
Results
There were two pseudoarthroses, one at L4–5 and one at L5–S1. No major complications occurred. There were no significant differences in coronal or sagittal plane alignment at the time periods measured. There was no significant difference in implant position between immediate postoperative and final follow-up periods. There were significant postoperative improvements in Scoliosis Research Society-22 scores, specifically in the pain, self-image, and satisfaction with management domains.
Conclusions
The axial lumbosacral interbody fusion is a minimally invasive and safe method to obtain lumbosacral fixation and arthrodesis distal to a long fusion construct. Longer follow-up of larger numbers of patients are needed prior to recommending this procedure as a routine method to fuse L4–5 or L5–S1.
This is a preview of subscription content, log in to check access.
Access options
Buy single article
Instant access to the full article PDF.
US$ 39.95
Price includes VAT for USA
Subscribe to journal
Immediate online access to all issues from 2019. Subscription will auto renew annually.
US$ 99
This is the net price. Taxes to be calculated in checkout.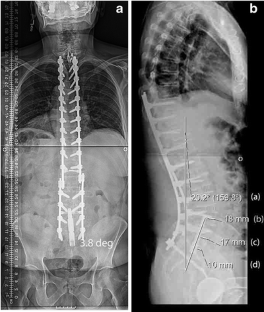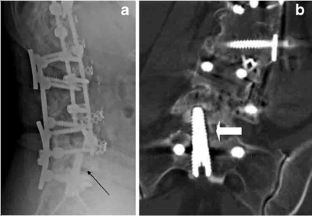 References
1.

Anand N, Baron EM, Thaiyananthan G, Khalsa K, Goldstein TB. Minimally invasive multilevel percutaneous correction and fusion for adult lumbar degenerative scoliosis: a technique and feasibility study. J Spinal Disord Tech (2008); 21(7): 459–67.

2.

Anand N, Rosemann R, Khalsa B, Baron EM. Mid-term to long-term clinical and functional outcomes of minimally invasive correction and fusion for adults with scoliosis. Neurosurg Focus (2010); 28(3): E6.

3.

Aryan HE, Newman CB, Gold JJ, Acosta FL, Jr., Coover C, Ames CP. Percutaneous axial lumbar interbody fusion (AxiaLIF) of the L5-S1 segment: initial clinical and radiographic experience. Minim Invasive Neurosurg (2008); 51(4): 225–30.

4.

Bartolozzi P, Sandri A, Cassini M, Ricci M. One-stage posterior decompression-stabilization and trans-sacral interbody fusion after partial reduction for severe L5-S1 spondylolisthesis. Spine (2003); 28(11): 1135–41.

5.

Botolin S, Agudelo J, Dwyer A, Patel V, Burger E. High rectal injury during trans-1 axial lumbar interbody fusion L5-S1 fixation: a case report. Spine (2010); 35(4): E144-8.

6.

Cragg A, Carl A, Casteneda F, Dickman C, Guterman L, Oliveira C. New percutaneous access method for minimally invasive anterior lumbosacral surgery. J Spinal Disord Tech (2004); 17(1): 21–8.

7.

Emami A, Deviren V, Berven S, Smith JA, Hu SS, Bradford DS. Outcome and complications of long fusions to the sacrum in adult spine deformity: Luque–Galveston, combined iliac and sacral screws, and sacral fixation. Spine (2002); 27(7): 776–86.

8.

Erkan S, Wu C, Mehbod AA, Hsu B, Pahl DW, Transfeldt EE. Biomechanical evaluation of a new AxiaLIF technique for two-level lumbar fusion. Eur Spine J (2009); 18(6): 807–14.

9.

Fantini GA, Pappou IP, Girardi FP, Sandhu HS, Cammisa FP, Jr. Major vascular injury during anterior lumbar spinal surgery: incidence, risk factors, and management. Spine (2007); 32(24): 2751–8.

10.

Kuklo TR. Principles for selecting fusion levels in adult spinal deformity with particular attention to lumbar curves and double major curves. Spine (2006); 31(19 Suppl): S132-8.

11.

Ledet EH, Tymeson MP, Salerno S, Carl AL, Cragg A. Biomechanical evaluation of a novel lumbosacral axial fixation device. J Biomech Eng (2005); 127(6): 929–33.

12.

MacMillan M, Fessler RG, Gillespy M, Montgomery WJ. Percutaneous lumbosacral fixation and fusion: anatomic study and two-year experience with a new method. Neurosurg Clin N Am (1996); 7(1): 99–106.

13.

Marotta N, Cosar M, Pimenta L, Khoo LT. A novel minimally invasive presacral approach and instrumentation technique for anterior L5-S1 intervertebral discectomy and fusion: technical description and case presentations. Neurosurg Focus (2006); 20(1): E9.

14.

Mok JM, Hu SS. Surgical strategies and choosing levels for spinal deformity: how high, how low, front and back. Neurosurg Clin N Am (2007); 18(2): 329–37.

15.

Moskowitz A. Transforaminal lumbar interbody fusion. Orthop Clin North Am (2002); 33(2): 359–66.

16.

Sasso RC, Kenneth Burkus J, LeHuec JC. Retrograde ejaculation after anterior lumbar interbody fusion: transperitoneal versus retroperitoneal exposure. Spine (2003); 28(10): 1023–6.

17.

Sharma AK, Kepler CK, Girardi FP, Cammisa FP, Huang RC, Sama AA. Lateral lumbar interbody fusion: clinical and radiographic outcomes at 1 year: a preliminary report. J Spinal Disord Tech (2011); 24(4):242–50

18.

Shen FH, Samartzis D, Khanna AJ, Anderson DG. Minimally invasive techniques for lumbar interbody fusions. Orthop Clin North Am (2007); 38(3): 373–86; abstract vi.

19.

Smith MD, Bohlman HH. Spondylolisthesis treated by a single-stage operation combining decompression with in situ posterolateral and anterior fusion. An analysis of eleven patients who had long-term follow-up. J Bone Joint Surg Am (1990); 72(3): 415–21.

20.

Weistroffer JK, Perra JH, Lonstein JE, Schwender JD, Garvey TA, Transfeldt EE, et al. Complications in long fusions to the sacrum for adult scoliosis: minimum five-year analysis of fifty patients. Spine (Phila Pa 1976) (2008); 33(13): 1478–83.
Disclosures
One author (O.B-A.) certifies that he has received or may receive payments or benefits from a commercial entity related to this work.
Each author certifies that his or her institution has approved the reporting of these cases, that all investigations were conducted in conformity with ethical principles of research, and that informed consent for participating in the study was obtained.
Additional information
Level of Evidence: Therapeutic Study Level IV.
About this article
Cite this article
Issack, P.S., Boachie-Adjei, O. Axial Lumbosacral Interbody Fusion Appears Safe as a Method to Obtain Lumbosacral Arthrodesis Distal to Long Fusion Constructs. HSS Jrnl 8, 116–121 (2012). https://doi.org/10.1007/s11420-011-9227-y
Received:

Accepted:

Published:

Issue Date:
Keywords
presacral lumbosacral interbody fusion

degenerative

AxiaLIF