Abstract
Background
Degenerative and iatrogenic conditions may lead to flat back or even to kyphotic deformity, and sagittal imbalance can cause significant clinical impairment. Minor imbalance cases are usually treated with conservative care. Among currently popular surgical techniques for the correction of sagittal imbalance are posterior-based procedures, which are associated with access-related risks (mostly neurological) and postoperative morbidity risks.
Purpose
This study aims to report a minimally invasive lateral approach using hyperlordotic cages in the treatment of mild sagittal imbalance. Radiological correction, clinical improvement, and safety will be analyzed.
Methods
Eight patients (mean age 71.8 years, SD 7.8; mean BMI 27.5, SD 2.3) with symptomatic sagittal imbalance were retrospectively reviewed. Eight cases were treated by anterior interbody fusion with lordotic cages. A minimally invasive lateral retroperitoneal approach was used in the surgical procedures, with or without percutaneous pedicle screw supplementation.
Results
No major complications occurred and just one case needed revision for direct decompression. Clinical outcomes Visual Analog Scale score changed from 88 at preoperative visit to 51 at 1-week visit, and Oswestry Disability Index score decreased from 82 at preoperative visit to 44 at 6-week visit. The 6-month radiological assessment revealed improvement in spinopelvic parameters: Focal lordosis improved from 2.3° ± 7.7 to 27.1° ± 6.7. Sagittal vertical alignment improved from 11.7 ± 5.3 to 6.2 ± 4.0 cm. Preoperative sacral slope improved from 20.1° ± 5.8 to 29.4° ± 10.3 and preoperative pelvic tilt improved from 35.2° ± 5.2 to 23.8° ± 4.3. Short-term results indicate that the minimally invasive lateral approach can be applied to the treatment of mild sagittal imbalance, with special advantage in elderly patients or those in which posterior approaches are relatively contraindicated.
Access options
Buy single article
Instant access to the full article PDF.
USD 39.95
Price excludes VAT (USA)
Tax calculation will be finalised during checkout.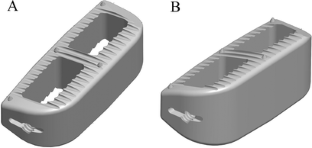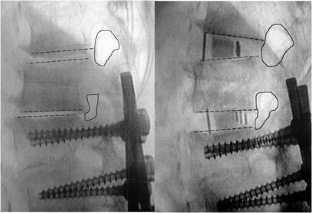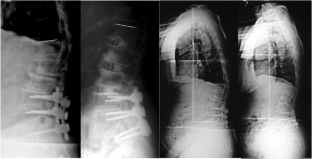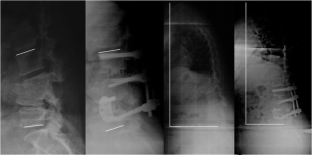 References
Benglis DM, Elhammady MS, Levi AD, Vanni S. Minimally invasive anterolateral approaches for the treatment of back pain and adult degenerative deformity. Neurosurgery. 2008 set;63(3 Suppl):191–196.

Bergey DL, Villavicencio AT, Goldstein T, Regan JJ. Endoscopic lateral transpsoas approach to the lumbar spine. Spine. 2004 ago 1;29(15):1681–1688.

Billinghurst J, Akbarnia BA. Extreme lateral interbody fusion - XLIF. Current Orthopaedic Practice. 2009;20(3):238–251.

Bridwell KH, Lewis SJ, Edwards C, Lenke LG, Iffrig TM, Berra A, et al. Complications and outcomes of pedicle subtraction osteotomies for fixed sagittal imbalance. Spine. 2003 set 15;28(18):2093–2101.

Bridwell KH, Lewis SJ, Lenke LG, Baldus C, Blanke K. Pedicle subtraction osteotomy for the treatment of fixed sagittal imbalance. J Bone Joint Surg Am. 2003 mar;85-A(3):454–463.

Bridwell KH. Decision making regarding Smith-Petersen vs. pedicle subtraction osteotomy vs. vertebral column resection for spinal deformity. Spine. 2006 set 1;31(19 Suppl):S171-178.

Bridwell KH. Causes of sagittal spinal imbalance and assessment of the extent of needed correction. Instr Course Lect. 2006;55:567–575.

Cho K-J, Bridwell KH, Lenke LG, Berra A, Baldus C. Comparison of Smith-Petersen versus pedicle subtraction osteotomy for the correction of fixed sagittal imbalance. Spine. 2005 set 15;30(18):2030–2037; discussion 2038.

Chow DH, Luk KD, Evans JH, Leong JC. Effects of short anterior lumbar interbody fusion on biomechanics of neighboring unfused segments. Spine. 1996 mar 1;21(5):549–555.

Dakwar E, Cardona RF, Smith DA, Uribe JS. Early outcomes and safety of the minimally invasive, lateral retroperitoneal transpsoas approach for adult degenerative scoliosis. Neurosurgical FOCUS. 2010 mar;28(3):E8.

Dezawa A, Yamane T, Mikami H, Miki H. Retroperitoneal laparoscopic lateral approach to the lumbar spine: a new approach, technique, and clinical trial. J Spinal Disord. 2000 abr;13(2):138–143.

Hyun S-J, Rhim S-C. Clinical outcomes and complications after pedicle subtraction osteotomy for fixed sagittal imbalance patients : a long-term follow-up data. J Korean Neurosurg Soc. 2010 fev;47(2):95–101.

Isaacs RE, Hyde J, Goodrich JA, Rodgers WB, Phillips FM. A prospective, nonrandomized, multicenter evaluation of extreme lateral interbody fusion for the treatment of adult degenerative scoliosis: perioperative outcomes and complications. Spine. 2010 dez 15;35(26 Suppl):S322-330.

Jang J-S, Lee S-H, Min J-hong, Maeng DH. Changes in sagittal alignment after restoration of lower lumbar lordosis in patients with degenerative flat back syndrome. J Neurosurg Spine. 2007 out;7(4):387–392.

Karikari IO, Grossi PM, Nimjee SM, Hardin C, Hodges TR, Hughes BD, et al. Minimally Invasive Lumbar Interbody Fusion in Patients Over Seventy Years of Age: analysis of peri- and post-operative complications. Neurosurgery. 2011 abr;68(4):897–902.

Kim K-T, Park K-J, Lee J-H. Osteotomy of the spine to correct the spinal deformity. Asian Spine J. 2009 dez;3(2):113–123.

Klopfenstein JD, Kim LJ, Feiz-Erfan I, Dickman CA. Retroperitoneal approach for lumbar interbody fusion with anterolateral instrumentation for treatment of spondylolisthesis and degenerative foraminal stenosis. Surg Neurol. 2006 fev;65(2):111–116; discussion 116.

Knight R, Jackson R, Killian J, Stanley E. White paper on sagittal alignment [Internet]. Available from: http://www.srs.org/professionals/resources/sagittal_plane_white_paper.pdf.

Kostuik JP, Maurais GR, Richardson WJ, Okajima Y. Combined single stage anterior and posterior osteotomy for correction of iatrogenic lumbar kyphosis. Spine. 1988 mar;13(3):257–266.

Kumar MN, Baklanov A, Chopin D. Correlation between sagittal plane changes and adjacent segment degeneration following lumbar spine fusion. Eur Spine J. 2001 ago;10(4):314–319.

Lazennec JY, Ramaré S, Arafati N, Laudet CG, Gorin M, Roger B, et al. Sagittal alignment in lumbosacral fusion: relations between radiological parameters and pain. Eur Spine J. 2000 fev;9(1):47–55.

Legaye J, Duval-Beaupère G, Hecquet J, Marty C. Pelvic incidence: a fundamental pelvic parameter for three-dimensional regulation of spinal sagittal curves. Eur Spine J. 1998;7(2):99–103.

Mundis GM, Akbarnia BA, Phillips FM. Adult Deformity Correction Through Minimally Invasive Lateral Approach Techniques. Spine. 2010 dez;35(Supplement):S312-S321.

Oliveira L, Marchi L, Coutinho E, Abdala N, Pimenta L. The use of rh-BMP2 in Standalone eXtreme Lateral Interbody Fusion (XLIF®): Clinical and Radiological Results After 24 Months Follow-up. WSCJ. 2010;1(1):19–25.

Oliveira L, Marchi L, Coutinho E, Pimenta L. A Radiographic Assessment of the Ability of the Extreme Lateral Interbody Fusion Procedure to Indirectly Decompress the Neural Elements. Spine. 2010 dez;35(Supplement):S331-S337.

Ozgur BM, Aryan HE, Pimenta L, Taylor WR. Extreme Lateral Interbody Fusion (XLIF): a novel surgical technique for anterior lumbar interbody fusion. The Spine Journal. 2006;6(4):435–443.

Rodgers WB, Gerber EJ, Patterson J. Intraoperative and early postoperative complications in extreme lateral interbody fusion: an analysis of 600 cases. Spine. 2011 jan 1;36(1):26–32.

Rodgers WB, Cox C, Gerber E. Experience and Early Results with a Minimally Invasive Technique for Anterior Column Support Through eXtreme Lateral Interbody Fusion (XLIF®). US Musculoskelet Rev. 2007;2:28–32.

Rodgers WB, Cox CS, Gerber EJ. Early Complications of Extreme Lateral Interbody Fusion in the Obese. J Spinal Disord Tech [Internet]. 2010 jan 15 [citado 2010 ago 2];Available from: http://www.ncbi.nlm.nih.gov/pubmed/20084027.

Rodgers WB, Gerber EJ, Rodgers JA. Lumbar Fusion in Octogenarians. Spine. 2010 dez;35(Supplement):S355-S360.

Roussouly P, Nnadi C. Sagittal plane deformity: an overview of interpretation and management. Eur Spine J. 2010 nov;19(11):1824–1836.

Sharma AK, Kepler CK, Girardi FP, Cammisa FP, Huang RC, Sama AA. Lateral Lumbar Interbody Fusion: Clinical and Radiographic Outcomes at 1 Year: A Preliminary Report. J Spinal Disord Tech [Internet]. 2010 set 14 [citado 2010 nov 17];Available from: http://www.ncbi.nlm.nih.gov/pubmed/20844451.

Smith WD, Dakwar E, Le TV, Christian G, Serrano S, Uribe JS. Minimally Invasive Surgery for Traumatic Spinal Pathologies. Spine. 2010 dez;35(Supplement):S338-S346.

Smith-Petersen MN, Larson CB, Aufranc OE. Osteotomy of the spine for correction of flexion deformity in rheumatoid arthritis. Clin Orthop Relat Res 1969 out;66:6–9.

Vaz G, Roussouly P, Berthonnaud E, Dimnet J. Sagittal morphology and equilibrium of pelvis and spine. Eur Spine J. 2002 fev;11(1):80–87.

Wang MY, Mummaneni PV. Minimally invasive surgery for thoracolumbar spinal deformity: Initial clinical experience with clinical and radiographic outcomes. Neurosurgical Focus. 2010;28(3):1–8.

Weinhoffer SL, Guyer RD, Herbert M, Griffith SL. Intradiscal pressure measurements above an instrumented fusion. A cadaveric study. Spine. 1995 mar 1;20(5):526–531.

Yang BP, Ondra SL, Chen LA, Jung HS, Koski TR, Salehi SA. Clinical and radiographic outcomes of thoracic and lumbar pedicle subtraction osteotomy for fixed sagittal imbalance. J Neurosurg Spine. 2006 jul;5(1):9–17.

Youssef JA, McAfee PC, Patty CA, Raley E, DeBauche S, Shucosky E, et al. Minimally Invasive Surgery: Lateral Approach Interbody Fusion. Spine. 2010 dez;35(Supplement):S302-S311.
Acknowledgements
Portions of this work, including early and interim reports, were presented in abstract/poster/oral presentation form at the Society of Lateral Access Surgery (SOLAS) in Mar 31, 2011; San Diego, California; the Spine Arthroplasty Society (SAS) in April 28, 2010; New Orleans, Louisiana; North America Spine Society (NASS) in October 6, 2010; Orlando, Florida; and Congress of Neurological Surgeons (CNS) in October 20, 2010; San Francisco, California; as well at the Honorary and Distinguished Lecture at the Hospital for Special Surgery (HSS) June 3 2011; New York, New York.
Disclosures
One of the authors (L.P.) certifies that he or she has received or may receive payments or benefits from NuVasive, Inc. Other authors have nothing to disclose.
Each author certifies that his or her institution has approved the reporting of these cases, that all investigations were conducted in conformity with ethical principles of research, and that informed consent for participating in the study was obtained.
Work was performed at Instituto de Patologia da Coluna, São Paulo, Brazil.
Additional information
Level of Evidence: Level IV retrospective case series.
About this article
Cite this article
Marchi, L., Oliveira, L., Amaral, R. et al. Anterior Elongation as a Minimally Invasive Alternative for Sagittal Imbalance—A Case Series. HSS Jrnl 8, 122–127 (2012). https://doi.org/10.1007/s11420-011-9226-z
Received:

Accepted:

Published:

Issue Date:

DOI: https://doi.org/10.1007/s11420-011-9226-z
Keywords
spine

lumbar spine

spine fusion

sagittal balance

minimally invasive surgery

interbody fusion