Abstract
Background
Cervical radiculopathy is defined as a syndrome of pain and/or sensorimotor deficits due to compression of a cervical nerve root. Understanding of this disease is vital for rapid diagnosis and treatment of patients with this condition, facilitating their recovery and return to regular activity.
Purpose
This review is designed to clarify (1) the pathophysiology that leads to nerve root compression; (2) the diagnosis of the disease guided by history, physical exam, imaging, and electrophysiology; and (3) operative and non-operative options for treatment and how these should be applied.
Methods
The PubMed database was searched for relevant articles and these articles were reviewed by independent authors. The conclusions are presented in this manuscript.
Results
Facet joint spondylosis and herniation of the intervertebral disc are the most common causes of nerve root compression. The clinical consequence of radiculopathy is arm pain or paresthesias in the dermatomal distribution of the affected nerve and may or may not be associated with neck pain and motor weakness. Patient history and clinical examination are important for diagnosis. Further imaging modalities, such as x-ray, computed tomography, magnetic resonance imaging, and electrophysiologic testing, are of importance. Most patients will significantly improve from non-surgical active and passive therapies. Indicated for surgery are patients with clinically significant motor deficits, debilitating pain that is resistant to conservative modalities and/or time, or instability in the setting of disabling radiculopathy. Surgical treatment options include anterior cervical decompression with fusion and posterior cervical laminoforaminotomy.
Conclusion
Understanding the pathophysiology, diagnosis, treatment indications, and treatment techniques is essential for rapid diagnosis and care of patients with cervical radiculopathy.
This is a preview of subscription content, log in to check access.
Access options
Buy single article
Instant access to the full article PDF.
US$ 39.95
Price includes VAT for USA
Subscribe to journal
Immediate online access to all issues from 2019. Subscription will auto renew annually.
US$ 99
This is the net price. Taxes to be calculated in checkout.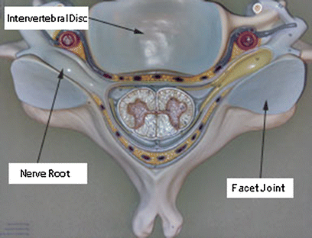 References
1.

Carette S, Fehlings MG. Clinical practice. Cervical radiculopathy. N Engl J Med. Jul 28 2005;353(4):392–399

2.

Ellenberg MR, Honet JC, Treanor WJ. Cervical radiculopathy. Arch Phys Med Rehabil. Mar 1994;75(3):342–352.

3.

Fouyas IP, Statham PF, Sandercock PA. Cochrane review on the role of surgery in cervical spondylotic radiculomyelopathy. Spine (Phila Pa 1976). Apr 1 2002;27(7):736–747

4.

Humphreys SC, Chase J, Patwardhan A, Shuster J, Lomasney L, Hodges SD. Flexion and traction effect on C5-C6 foraminal space. Arch Phys Med Rehabil. Sep 1998;79(9):1105–1109.

5.

Drake RL, Gray H. Gray's atlas of anatomy. 1st ed. Philadelphia: Churchill Livingstone; 2008.

6.

Benzel EC. Spine surgery : techniques, complication avoidance, and management. 2005.

7.

Bush K, Chaudhuri R, Hillier S, Penny J. The pathomorphologic changes that accompany the resolution of cervical radiculopathy. A prospective study with repeat magnetic resonance imaging. Spine (Phila Pa 1976). Jan 15 1997;22(2):183–186; discussion 187

8.

Buttermann GR. Prospective nonrandomized comparison of an allograft with bone morphogenic protein versus an iliac-crest autograft in anterior cervical discectomy and fusion. Spine J. May-Jun 2008;8(3):426–435.

9.

Devereaux M. Neck pain. Med Clin North Am. Mar 2009;93(2):273–284, vii

10.

Wainner RS, Gill H. Diagnosis and nonoperative management of cervical radiculopathy. J Orthop Sports Phys Ther. Dec 2000;30(12):728–744.

11.

Petiot P, Bernard E. [Diagnostic pitfalls in carpal tunnel syndrome]. Rev Neurol (Paris). Jan 2011;167(1):64–71.

12.

DeMyer W. Technique of the neurologic examination: a programmed text. 3 d ed. New York: McGraw-Hill; 1980.

13.

Viikari-Juntura E, Porras M, Laasonen EM. Validity of clinical tests in the diagnosis of root compression in cervical disc disease. Spine (Phila Pa 1976). Mar 1989;14(3):253–257

14.

Yoss RE, Corbin KB, Maccarty CS, Love JG. Significance of symptoms and signs in localization of involved root in cervical disk protrusion. Neurology. Oct 1957;7(10):673–683.

15.

Youdas JW, Carey JR, Garrett TR. Reliability of measurements of cervical spine range of motion--comparison of three methods. Phys Ther. Feb 1991;71(2):98–104; discussion 105–106

16.

Alrawi MF, Khalil NM, Mitchell P, Hughes SP. The value of neurophysiological and imaging studies in predicting outcome in the surgical treatment of cervical radiculopathy. Eur Spine J. Apr 2007;16(4):495–500.

17.

Jagannathan J, Shaffrey CI, Oskouian RJ, et al. Radiographic and clinical outcomes following single-level anterior cervical discectomy and allograft fusion without plate placement or cervical collar. J Neurosurg Spine. May 2008;8(5):420–428.

18.

Mochida K, Komori H, Okawa A, Muneta T, Haro H, Shinomiya K. Regression of cervical disc herniation observed on magnetic resonance images. Spine (Phila Pa 1976). May 1 1998;23(9):990–995; discussion 996–997

19.

Nardin RA, Patel MR, Gudas TF, Rutkove SB, Raynor EM. Electromyography and magnetic resonance imaging in the evaluation of radiculopathy. Muscle Nerve. Feb 1999;22(2):151–155.

20.

Radhakrishnan K, Litchy WJ, O'Fallon WM, Kurland LT. Epidemiology of cervical radiculopathy. A population-based study from Rochester, Minnesota, 1976 through 1990. Brain. Apr 1994;117 (Pt 2):325–335

21.

Sampath P, Bendebba M, Davis JD, Ducker T. Outcome in patients with cervical radiculopathy. Prospective, multicenter study with independent clinical review. Spine (Phila Pa 1976). Mar 15 1999;24(6):591–597

22.

Aarabi B, Alexander M, Mirvis SE, et al. Predictors of outcome in acute traumatic central cord syndrome due to spinal stenosis. J Neurosurg Spine. Dec 17 2010.

23.

Fehlings MG, Rabin D, Sears W, Cadotte DW, Aarabi B. Current practice in the timing of surgical intervention in spinal cord injury. Spine (Phila Pa 1976). Oct 1 2010;35(21 Suppl):S166–173

24.

Lenehan B, Fisher CG, Vaccaro A, Fehlings M, Aarabi B, Dvorak MF. The urgency of surgical decompression in acute central cord injuries with spondylosis and without instability. Spine (Phila Pa 1976). Oct 1 2010;35(21 Suppl):S180–186

25.

Arnasson O, Carlsson CA, Pellettieri L. Surgical and conservative treatment of cervical spondylotic radiculopathy and myelopathy. Acta Neurochir (Wien). 1987;84(1–2):48–53.

26.

Dreyer SJ, Boden SD. Nonoperative treatment of neck and arm pain. Spine (Phila Pa 1976). Dec 15 1998;23(24):2746–2754

27.

Jette DU, Jette AM. Physical therapy and health outcomes in patients with spinal impairments. Phys Ther. Sep 1996;76(9):930–941; discussion 942–935.

28.

Tan JC, Nordin M. Role of physical therapy in the treatment of cervical disk disease. Orthop Clin North Am. Jul 1992;23(3):435–449.

29.

Anonymous. Pain in the neck and arm: a multicentre trial of the effects of physiotherapy, arranged by the British Association of Physical Medicine. Br Med J. Jan 29 1966;1(5482):253–258.

30.

Swezey RL, Swezey AM, Warner K. Efficacy of home cervical traction therapy. Am J Phys Med Rehabil. Jan-Feb 1999;78(1):30–32.

31.

Valtonen EJ, Kiuru E. Cervical traction as a therapeutic tool. A clinical anlaysis based on 212 patients. Scand J Rehabil Med. 1970;2(1):29–36

32.

van der Heijden GJ, Beurskens AJ, Koes BW, Assendelft WJ, de Vet HC, Bouter LM. The efficacy of traction for back and neck pain: a systematic, blinded review of randomized clinical trial methods. Phys Ther. Feb 1995;75(2):93–104.

33.

Wong AM, Lee MY, Chang WH, Tang FT. Clinical trial of a cervical traction modality with electromyographic biofeedback. Am J Phys Med Rehabil. Jan-Feb 1997;76(1):19–25.

34.

Bush K, Hillier S. Outcome of cervical radiculopathy treated with periradicular/epidural corticosteroid injections: a prospective study with independent clinical review. Eur Spine J. 1996;5(5):319–325.

35.

Castagnera L, Maurette P, Pointillart V, Vital JM, Erny P, Senegas J. Long-term results of cervical epidural steroid injection with and without morphine in chronic cervical radicular pain. Pain. Aug 1994;58(2):239–243.

36.

Kwon JW, Lee JW, Kim SH, et al. Cervical interlaminar epidural steroid injection for neck pain and cervical radiculopathy: effect and prognostic factors. Skeletal Radiol. May 2007;36(5):431–436.

37.

Lee JW, Park KW, Chung SK, et al. Cervical transforaminal epidural steroid injection for the management of cervical radiculopathy: a comparative study of particulate versus non-particulate steroids. Skeletal Radiol. Nov 2009;38(11):1077–1082.

38.

van Gijn J, Reiners K, Toyka KV, Braakman R. Management of cervical radiculopathy. Eur Neurol. 1995;35(6):309–320.

39.

Waldman SD. Complications of cervical epidural nerve blocks with steroids: a prospective study of 790 consecutive blocks. Reg Anesth. May-Jun 1989;14(3):149–151.

40.

Benny B, Azari P, Briones D. Complications of cervical transforaminal epidural steroid injections. Am J Phys Med Rehabil. Jul 2010;89(7):601–607.

41.

Beneliyahu DJ. Chiropractic management and manipulative therapy for MRI documented cervical disk herniation. J Manipulative Physiol Ther. Mar-Apr 1994;17(3):177–185.

42.

Hubka MJ, Phelan SP, Delaney PM, Robertson VL. Rotary manipulation for cervical radiculopathy: observations on the importance of the direction of the thrust. J Manipulative Physiol Ther. Nov-Dec 1997;20(9):622–627.

43.

Di Fabio RP. Manipulation of the cervical spine: risks and benefits. Phys Ther. Jan 1999;79(1):50–65.

44.

Fessler RG, Sekhar LN. Atlas of neurosurgical techniques : spine and peripheral nerves. New York: Thieme; 2006.

45.

Cloward RB. The anterior approach for removal of ruptured cervical disks. J Neurosurg. Nov 1958;15(6):602–617.

46.

Estridge MN, Smith RA. Anterior Cervical Fusion; Solution of a Particular Problem. J Neurosurg. May 1963;20:441–444.

47.

Abd-Alrahman N, Dokmak AS, Abou-Madawi A. Anterior cervical discectomy (ACD) versus anterior cervical fusion (ACF), clinical and radiological outcome study. Acta Neurochir (Wien). 1999;141(10):1089–1092.

48.

Barlocher CB, Barth A, Krauss JK, Binggeli R, Seiler RW. Comparative evaluation of microdiscectomy only, autograft fusion, polymethylmethacrylate interposition, and threaded titanium cage fusion for treatment of single-level cervical disc disease: a prospective randomized study in 125 patients. Neurosurg Focus. Jan 15 2002;12(1):E4

49.

Bohlman HH, Emery SE, Goodfellow DB, Jones PK. Robinson anterior cervical discectomy and arthrodesis for cervical radiculopathy. Long-term follow-up of one hundred and twenty-two patients. J Bone Joint Surg Am. Sep 1993;75(9):1298–1307.

50.

Heary RF, Ryken TC, Matz PG, et al. Cervical laminoforaminotomy for the treatment of cervical degenerative radiculopathy. J Neurosurg Spine. Aug 2009;11(2):198–202.

51.

Madawi AA, Powell M, Crockard HA. Biocompatible osteoconductive polymer versus iliac graft. A prospective comparative study for the evaluation of fusion pattern after anterior cervical discectomy. Spine (Phila Pa 1976). Sep 15 1996;21(18):2123–2129; discussion 2129–2130

52.

Watters WC, 3rd, Levinthal R. Anterior cervical discectomy with and without fusion. Results, complications, and long-term follow-up. Spine (Phila Pa 1976). Oct 15 1994;19(20):2343–2347.

53.

Jho HD. Microsurgical anterior cervical foraminotomy for radiculopathy: a new approach to cervical disc herniation. J Neurosurg. Feb 1996;84(2):155–160.

54.

Jho HD, Kim MH, Kim WK. Anterior cervical microforaminotomy for spondylotic cervical myelopathy: part 2. Neurosurgery. Nov 2002;51(5 Suppl):S54–59.

55.

Johnson JP, Filler AG, McBride DQ, Batzdorf U. Anterior cervical foraminotomy for unilateral radicular disease. Spine (Phila Pa 1976). Apr 15 2000;25(8):905–909

56.

Boakye M, Mummaneni PV, Garrett M, Rodts G, Haid R. Anterior cervical discectomy and fusion involving a polyetheretherketone spacer and bone morphogenetic protein. J Neurosurg Spine. May 2005;2(5):521–525.

57.

Davis RA. A long-term outcome study of 170 surgically treated patients with compressive cervical radiculopathy. Surg Neurol. Dec 1996;46(6):523–530; discussion 530–523.

58.

McGuire KJ, Harrast J, Herkowitz H, Weinstein JN. Geographic Variation in the Surgical Treatment of Degenerative Cervical Disc Disease: American Board of Orthopedic Surgery (ABOS) Quality Improvement Initiative; Part II Candidates. Spine (Phila Pa 1976). Feb 4 2011.

59.

Fraser JF, Hartl R. Anterior approaches to fusion of the cervical spine: a metaanalysis of fusion rates. J Neurosurg Spine. Apr 2007;6(4):298–303.

60.

Samartzis D, Shen FH, Lyon C, Phillips M, Goldberg EJ, An HS. Does rigid instrumentation increase the fusion rate in one-level anterior cervical discectomy and fusion? Spine J. Nov-Dec 2004;4(6):636–643

61.

Peolsson A, Peolsson M. Predictive factors for long-term outcome of anterior cervical decompression and fusion: a multivariate data analysis. Eur Spine J. Mar 2008;17(3):406–414.

62.

Park HW, Lee JK, Moon SJ, Seo SK, Lee JH, Kim SH. The efficacy of the synthetic interbody cage and Grafton for anterior cervical fusion. Spine (Phila Pa 1976). Aug 1 2009;34(17):E591–595

63.

Jawahar A, Cavanaugh DA, Kerr EJ, 3 rd, Birdsong EM, Nunley PD. Total disc arthroplasty does not affect the incidence of adjacent segment degeneration in cervical spine: results of 93 patients in three prospective randomized clinical trials. Spine J. Dec 2010;10(12):1043–1048.

64.

Song KJ, Choi BW, Kim GH, Song JH. Usefulness of polyetheretherketone (PEEK) cage with plate augmentation for anterior arthrodesis in traumatic cervical spine injury. Spine J. Jan 2010;10(1):50–57.

65.

Papadopoulos EC, Huang RC, Girardi FP, Synnott K, Cammisa FP, Jr. Three-level anterior cervical discectomy and fusion with plate fixation: radiographic and clinical results. Spine (Phila Pa 1976). Apr 15 2006;31(8):897–902

66.

Uribe JS, Sangala JR, Duckworth EA, Vale FL. Comparison between anterior cervical discectomy fusion and cervical corpectomy fusion using titanium cages for reconstruction: analysis of outcome and long-term follow-up. Eur Spine J. May 2009;18(5):654–662.

67.

Coric D, Nunley PD, Guyer RD, et al. Prospective, randomized, multicenter study of cervical arthroplasty: 269 patients from the Kineflex|C artificial disc investigational device exemption study with a minimum 2-year follow-up. J Neurosurg Spine. Jun 24 2011.

68.

Caspar W, Geisler FH, Pitzen T, Johnson TA. Anterior cervical plate stabilization in one- and two-level degenerative disease: overtreatment or benefit? J Spinal Disord. Feb 1998;11(1):1–11.

69.

Kozak JA, Hanson GW, Rose JR, Trettin DM, Tullos HS. Anterior discectomy, microscopic decompression, and fusion: a treatment for cervical spondylotic radiculopathy. J Spinal Disord. Mar 1989;2(1):43–46.

70.

Ducker TB, Zeidman SM. The posterior operative approach for cervical radiculopathy. Neurosurg Clin N Am. Jan 1993;4(1):61–74.

71.

Korinth MC, Kruger A, Oertel MF, Gilsbach JM. Posterior foraminotomy or anterior discectomy with polymethyl methacrylate interbody stabilization for cervical soft disc disease: results in 292 patients with monoradiculopathy. Spine (Phila Pa 1976). May 15 2006;31(11):1207–1214; discussion 1215–1206

72.

Witzmann A, Hejazi N, Krasznai L. Posterior cervical foraminotomy. A follow-up study of 67 surgically treated patients with compressive radiculopathy. Neurosurg Rev. Dec 2000;23(4):213–217

73.

Jagannathan J, Sherman JH, Szabo T, Shaffrey CI, Jane JA. The posterior cervical foraminotomy in the treatment of cervical disc/osteophyte disease: a single-surgeon experience with a minimum of 5 years' clinical and radiographic follow-up. J Neurosurg Spine. Apr 2009;10(4):347–356.

74.

Grieve JP, Kitchen ND, Moore AJ, Marsh HT. Results of posterior cervical foraminotomy for treatment of cervical spondylitic radiculopathy. Br J Neurosurg. Feb 2000;14(1):40–43.

75.

Herkowitz HN, Kurz LT, Overholt DP. Surgical management of cervical soft disc herniation. A comparison between the anterior and posterior approach. Spine (Phila Pa 1976). Oct 1990;15(10):1026–1030

76.

Campbell PG, Yadla S, Malone J, et al. Early complications related to approach in cervical spine surgery: single-center prospective study. World Neurosurg. Aug-Sep 2010;74(2–3):363–368.
Additional information
Each author certifies that he or she has no commercial associations (e.g., consultancies, stock ownership, equity interest, patent/licensing arrangements, etc.) that might pose a conflict of interest in connection with the submitted article.
About this article
Cite this article
Caridi, J.M., Pumberger, M. & Hughes, A.P. Cervical Radiculopathy: A Review. HSS Jrnl 7, 265–272 (2011). https://doi.org/10.1007/s11420-011-9218-z
Received:

Accepted:

Published:

Issue Date:
Keywords
cervical radiculopathy

disc herniation

ACDF

ADF

posterior cervical laminoforaminotomy

posterior cervical foraminotomy