Abstract
Background Knee prosthesis instability (KPI) is a frequent cause of failure of total knee arthroplasty. Moreover, the degree of constraint required to achieve immediate and long-term stability in total knee arthroplasty (TKA) is frequently debated. Questions This review aims to define the problem, analyze risk factors, and review strategies for prevention and treatment of KPI. Methods A PubMed (MEDLINE) search of the years 2000 to 2010 was performed using two key words: TKA and instability. One hundred and sixty-five initial articles were identified. The most important (17) articles as judged by the author were selected for this review. The main criteria for selection were that the articles addressed and provided solutions to the diagnosis and treatment of KPI. Results Patient-related risk factors predisposing to post-operative instability include deformity requiring a large surgical correction and aggressive ligament release, general or regional neuromuscular pathology, and hip or foot deformities. KPI can be prevented in most cases with appropriate selection of implants and good surgical technique. When ligament instability is anticipated post-operatively, the need for implants with a greater degree of constraint should be anticipated. In patients without significant varus or valgus malalignment and without significant flexion contracture, the posterior cruciate ligament (PCL) can be retained. However, the PCL should be sacrificed when deformity exists particularly in patients with rheumatoid arthritis, previous patellectomy, previous high tibial osteotomy or distal femoral osteotomy, and posttraumatic osteoarthritis with disruption of the PCL. In most cases, KPI requires revision surgery. Successful outcomes can only be obtained if the cause of KPI is identified and addressed. Conclusions Instability following TKA is a common cause of the need for revision. Typically, knees with deformity, rheumatoid arthritis, previous patellectomy or high tibial osteotomy, and posttraumatic arthritis carry higher risks of post-operative instability and are indications for more constrained TKA designs. Instability following TKA usually requires revision surgery which must address the cause of the instability for success.
This is a preview of subscription content, log in to check access.
Access options
Buy single article
Instant access to the full article PDF.
US$ 39.95
Price includes VAT for USA
Subscribe to journal
Immediate online access to all issues from 2019. Subscription will auto renew annually.
US$ 99
This is the net price. Taxes to be calculated in checkout.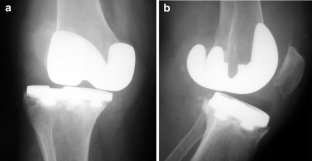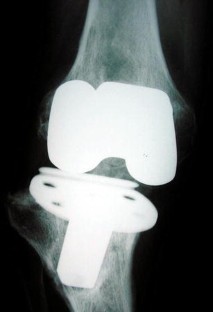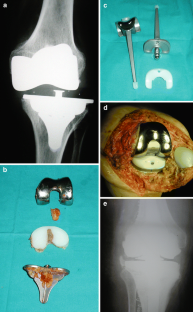 References
1.

Babis GC, Trousdale RT, Morrey BF. The effectiveness of isolated tibial insert exchange in revision total knee arthroplasty. J Bone Joint Surg Am 2002; 84: 64–8.

2.

Barrack RL. Evolution of the rotating hinge for complex total knee arthroplasty. Clin Orthop Relat Res 2001; 392: 292–9.

3.

Callaghan JJ, O'Rourke MR, Liu SS. The role of implant constraint in revision total knee arthroplasty: Not too little, not too much. J Arthroplasty 2005; 20: 41–3.

4.

Easley ME, Insall JN, Scuderi GR, Bullek DD. Primary constrained condylar knee arthroplasty for the arthritic valgus knee. Clin Orthop Relat Res 2000; 380: 58–64.

5.

Engh GA, Koralewicz LM, Pereles TR. Clinical results of modular polyethylene insert exchange with retention of total knee arthroplasty components. J Bone Joint Surg Am 2000; 82: 516–23.

6.

Fan CY, Hsieh JT, Hsieh MS, Shih YC, Lee CH. Primitive results after medial-pivot knee arthroplasties: a minimum 5-year follow-up study. J Arthroplasty 2010; 25: 492–6.

7.

Giori NJ, Lewallen DG. Total knee arthroplasty in limbs affected by poliomyelitis. J Bone Joint Surg Am 2002; 84: 1157–61.

8.

Gustke KA. Preoperative planning for revision total knee arthroplasty: Avoiding chaos. J Arthroplasty 2005; 20: 37–40.

9.

Kim YH, Kim JS, Oh SW. Total knee arthroplasty in neuropathic arthropathy. J Bone Joint Surg Br 2002; 84: 216–9.

10.

Kim YH, Yoon SH, Kim JS. Early outcome of TKA with a medial pivot fixed-bearing prosthesis is worse than with a PFC mobile-bearing prosthesis. Clin Orthop Relat Res 2009; 467:493–503.

11.

Lachiewicz PF, Soileau ES. Ten year survival and clinical results of constrained components in primary total knee arthroplasty. J Arthroplasty 2006; 21: 803–8.

12.

Leopold SS, McStay C, Klafeta K, Jacobs JJ, Berger RA, Rosenberg AG. Primary repair of intraoperative disruption of the medial collateral ligament during total knee arthroplasty. J Bone Joint Surg Am 2001; 83: 86–91.

13.

Lombardi AV Jr, Berend KR. Posterior cruciate ligament-retaining, posterior stabilized, and varus/valgus posterior stabilized constrained articulations in total knee arthroplasty.Instr Course Lect 2006; 55:419–27.

14.

McAuley JP, Engh GA. Constraint in total knee arthroplasty: When and what? J Arthroplasty 2003; 18: 51–4.

15.

Parrate S, Pagnano MW. Instability after total knee arthroplasty. J Bone Joint Surg Am 2008; 90: 184–94.

16.

Vince KG, Abdeen A, Sugimori T. The unstable total knee arthroplasty: Causes and cures. J Arthroplasty 2006; 21: 44–9.

17.

Westrich GH, Mollano AV, Sculco TP, Buly RL, Laskin RS, Windsor R. Rotating hinge total knee arthroplasty in severely affected knees. Clin Orthop Relat Res 2000; 379: 195–208.
Additional information
The author certifies that he has no commercial associations (e.g., consultancies, stock ownership, equity interest, patent/licensing arrangements, etc.) that might pose a conflict of interest in connection with the submitted article.
About this article
Cite this article
Rodriguez-Merchan, E.C. Instability Following Total Knee Arthroplasty. HSS Jrnl 7, 273–278 (2011). https://doi.org/10.1007/s11420-011-9217-0
Received:

Accepted:

Published:

Issue Date:
Keywords
knee

arthroplasty

instability

risk factors

prevention

treatment