Abstract
Deep venous thrombosis is extremely rare after arthroscopic shoulder surgery. In this report, we describe one such case in a patient with a history of cardiac pacemaker placement. He presented with complaints of pain and swelling in the operated extremity several days after rotator cuff surgery and underwent ultrasound evaluation that confirmed thrombosis of the axillary vein with extension into the brachial and basilic veins, down to the level of the elbow. He was treated with Coumadin, as well as enoxaparin (Lovenox) at therapeutic dosages until INR levels were in the therapeutic range. Follow-up ultrasound at 6 months demonstrated successful recanalization of the affected vessels and no further complications were noted. This is the first report we are aware of that documents axillary vein thrombosis in the setting of arthroscopic shoulder surgery. Though the patient had several risk factors for hypercoagulability, including diabetes and hypertension, we suggest that his cardiac pacemaker leads may have contributed to a thrombogenic environment and cite medical literature that reports an association with thrombosis in the axillary and subclavian veins with pacemakers and defibrillators.
This is a preview of subscription content, log in to check access.
Access options
Buy single article
Instant access to the full article PDF.
US$ 39.95
Price includes VAT for USA
Subscribe to journal
Immediate online access to all issues from 2019. Subscription will auto renew annually.
US$ 99
This is the net price. Taxes to be calculated in checkout.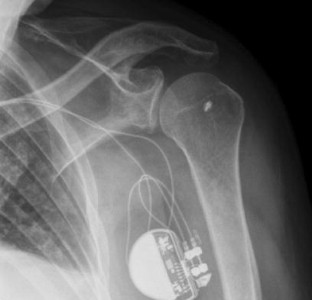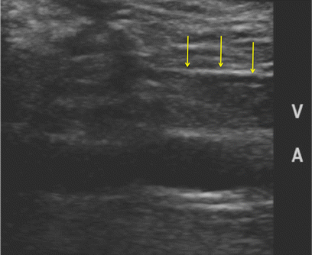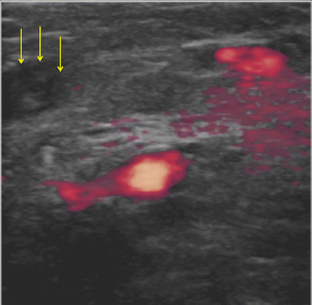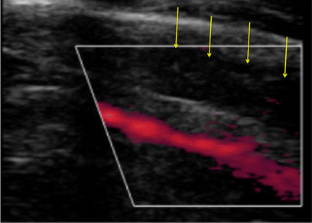 References
1.

Amarasekera SS, van Dalen J, Thompson TJ, Osman, M: Pulmonary embolism after acromioplasty and rotator cuff repair. J Shoulder Elbow Surg 2008; 17(5): e13–e14. doi:10.1016/j.jse.2008.02.001

2.

Bongiovanni SL, Ranalletta M, Guala A, Maignon, GD: Case reports: heritable thrombophilia associated with deep venous thrombosis after shoulder arthroscopy. Clin Orthop Relat Res 2009; 467(8): 2196–2199. doi:10.1007/s11999-009-0895-6

3.

Breuls NP, Res JC: Acute subclavian or axillary vein occlusion during biventricular pacemaker implantation. Pacing Clin Electrophysiol 2006; 29 (10): 1170–1173. doi:10.1111/j.1540-8159.2006.00509.x

4.

Brislin KJ, Field LD, Savoie FH 3rd: Complications after arthroscopic rotator cuff repair. Arthroscopy 2007; 23(2): 124–128. doi:10.1016/j.arthro.2006.09.001

5.

Burkhart SS: Deep venous thrombosis after shoulder arthroscopy. Arthroscopy 1990; 6(1): 61–63. doi:10.1016/0749-8063(90)90100-R

6.

Carter R, Dickerson SC, Berry R: Axillary–subclavian vein thrombosis as a complication of permanent transvenous cardiac pacing. Va Med 1978; 105(7): 515–518.

7.

Clagett GP, Anderson FA Jr, Levine MN, Salzman EW, Wheeler HB: Prevention of venous thromboembolism. Chest 1992; 102(4 Suppl): 391S–407S.

8.

Cortes ZE, Hammerman SM, Gartsman GM: Pulmonary embolism after shoulder arthroscopy: could patient positioning and traction make a difference? J Shoulder Elbow Surg 2007; 16(2): e16–e17. doi:10.1016/j.jse.2006.05.009

9.

Creighton RA, Cole BJ: Upper extremity deep venous thrombosis after shoulder arthroscopy: a case report. J Shoulder Elbow Surg 2007; 16(1): e20–e22. doi:10.1016/j.jse.2006.04.002

10.

Cullison TR, Muldoon MP, Gorman JD, Goff WB: The incidence of deep venous thrombosis in anterior cruciate ligament reconstruction. Arthroscopy 1996; 12(6): 657–659.

11.

Demers C, Marcoux S, Ginsberg JS, Laroche F, Cloutier R, Poulin J: Incidence of venographically proved deep vein thrombosis after knee arthroscopy. Arch Intern Med 1998; 158(1): 47–50.

12.

Friedman SA, Berger N, Cerruti MM, Kosmoski J: Venous thrombosis and permanent cardiac pacing. Am Heart J 1973; 85(4): 531–533.

13.

Geerts WH, Heit JA, Clagett GP, Pineo GF, Colwell CW, Anderson FA Jr, Wheeler HB: Prevention of venous thromboembolism. Chest 2001; 119(1 Suppl): 132S–175S.

14.

Hariri A, Nourissat G, Dumontier C, Doursonian L: Pulmonary embolism following thrombosis of the brachial vein after shoulder arthroscopy. A case report. Rev Chir Orthop Traumatol 2009; 95(5): 377–379. doi:10.1016/j.otsr.2009.03.016

15.

Illig KA, Doyle AJ: Paget-Schroetter syndrome: A comprehensive review. J Vasc Surg 2010; 51(6) 1538–1547. doi:10.1016/j.jvs.2009.12.022

16.

Kakkar VV, Howe CT, Flanc C, Clarke MB: Natural history of postoperative deep-vein thrombosis. Lancet 1969; 2(7614): 230–232.

17.

Korkeila P, Nyman K, Ylitalo A, Koistinen J, Karjalainen P, Lund J et al: Venous obstruction after pacemaker implantation. Pacing Clin Electrophysiol 2007; 30(2): 199–206. doi:10.1111/j.1540-8159.2007.00650.x

18.

Lieberman JR, Geerts WH: Prevention of venous thromboembolism after total hip and knee arthroplasty. J Bone Joint Surg Am 1994; 76(8): 1239–1250.

19.

Malerba M, Radaeli A, Ragnoli B: Upper extremity deep vein thrombosis as an uncommon complication of pacemaker implantation: a case report. J Biol Regul Homeost Agents 2009; 23(4): 273–275. http://www.biolifesas.org/jbrha.htm

20.

Polo-Romero FJ, Galvez-Hernandez G, Andreu-Plaza J, Atienza-Ayala SV: Axillary thrombosis and pulmonary embolism alter pacemaker implantation. An Med Interna 2008; 25(3): 150–151. doi:10.4321/S0212-71992008000300011

21.

Polzhofer GK, Petersen W, Hassenpflug J: Thromboembolic complication after arthroscopic shoulder surgery. Arthroscopy 2003; 19(9): E129–E132. doi:10.1016/j.arthro.2003.09.016

22.

Schippinger G, Wirnsberger GH, Obernosterer A, Babinski K: Thromboembolic complications after arthroscopic knee surgery. Incidence and risk factors in 101 patients. Acta Orthop Scand 1998; 69(2): 144–146.

23.

Swinkels BM, Ophuis AJ, Zegers ES, Hertzberger DP, Meursing BT: Recurrent pacemaker lead induced axillary subclavian vein thrombosis. Pacing Clin Electrophysiol 2001; 24(5): 910–911.

24.

Wirth T, Schneider B, Misselwitz F, Lomb M, Tuylu H, Egbring R, Griss P: Prevention of venous thromboembolism after knee arthroscopy with low-molecular weight heparin (reviparin): results of a randomized controlled trial. Arthroscopy 2001; 17(4): 393–399.
Additional information
Each author certifies that he or she has no commercial associations (e.g., consultancies, stock ownership, equity interest, patent/licensing arrangements, etc.) that might pose a conflict of interest in connection with the submitted article.
Each author certifies that his or her institution has approved the reporting of this case, that all investigations were conducted in conformity with ethical principles of research.
About this article
Cite this article
Delos, D., Rodeo, S.A. Venous Thrombosis After Arthroscopic Shoulder Surgery: Pacemaker Leads as a Possible Cause. HSS Jrnl 7, 282–285 (2011). https://doi.org/10.1007/s11420-011-9215-2
Received:

Accepted:

Published:

Issue Date:
Keywords
deep venous thrombosis

shoulder

arthroscopy

rotator cuff