Abstract
Purpose
To use computer navigation software to investigate the specific origins of the hip capsuloligamentous complex.
Methods
Six fresh frozen cadaver hips were anatomically landmarked utilizing a three-dimensional computer navigation system. The acetabular origins of the iliofemoral, pubofemoral, and ischiofemoral ligaments were statically digitized. Computer software was used to create a 180° (6:00) meridian line positioned over the midpoint of the acetabular notch, and to present the results in a clocklike manner in hours and minutes (00:00) and also degrees relative to the 12 o'clock position.
Results
The iliofemoral ligament origin starts at 17° (±31°) from the 12 o'clock position, or 12:35 (±1:02) in hours and minutes, and ends at 69° (±13°) or 2:18 (±0:25), spanning a mean distance of 52° (±19°). The ischiofemoral ligament has the broadest origin, starting at 262° (±12°) or 8:44 (±0:24), and ending at 353° (±17°) or 11:45 (±0:14), spanning a mean distance of 90° (±6°). The pubofemoral ligament origin is the smallest, starting at 121° (±5°) or 4:02 (±0:11), and ending at 163° (±9°) or 5:27 (±0:18), spanning a mean distance of 42° (±5°). The iliofemoral ligament origin demonstrates the greatest anatomic variability with regards to its location and its size (p = 0.002).
Conclusion
This study demonstrates that there is significant variability in the size and location of the iliofemoral ligament origin versus the pubofemoral and ischiofemoral ligaments.
Level of Evidence
Level IV anatomic cadaveric study. See the guidelines online for a complete description of level of evidence.
This is a preview of subscription content, log in to check access.
Access options
Buy single article
Instant access to the full article PDF.
US$ 39.95
Price includes VAT for USA
Subscribe to journal
Immediate online access to all issues from 2019. Subscription will auto renew annually.
US$ 99
This is the net price. Taxes to be calculated in checkout.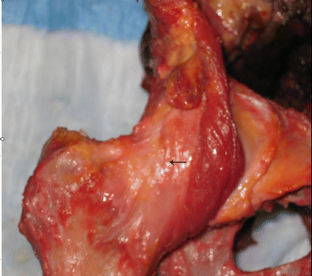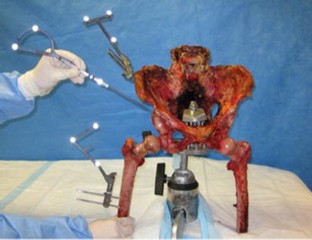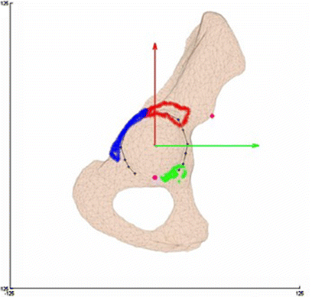 References
1.

Crowninshield RD, Johnston RC, Andrews JG, Brand RA. A biomechanical investigation of the human hip. J Biomech. 1978;11:75–85.

2.

DePalma AF, Callery G, Bennett GA. Variational anatomy and degenerative lesions of the shoulder joint. Instr Course Lect. 6. 1949:255–281.

3.

Fuss FK, Bacher A. New aspects of the morphology and function of the human hip joint ligaments. Am J Anat. 1991;192:1–13.

4.

Hewitt J, Guilak F, Glisson R, Vail TP. Regional material properties of the human hip joint capsule ligaments. J Orthop Res. 2001;19:359–364.

5.

Hewitt JD, Glisson RR, Guilak F, Vail TP. The mechanical properties of the human hip capsule ligaments. J Arthroplasty. 2002;17:82–89.

6.

Hughes PE, Hsu JC, Matava MJ. Hip anatomy and biomechanics in the athlete. Sports Med Arthrosc Rev. 2002;10:103–114.

7.

Köhnlein W, Ganz R, Impellizzeri FM, Leunig M. Acetabular morphology: implications for joint-preserving surgery. Clin Orthop Relat Res. 2009;467:682–691.

8.

O'Brien SJ, Neves MC, Arnoczky SP, Rozbruck SR, Dicarlo EF, Warren RF, Schwartz R, Wickiewicz TL. The anatomy and histology of the inferior glenohumeral ligament complex of the shoulder. Am J Sports Med. 1990;18:449–456.

9.

Stewart KJ, Edmonds-Wilson RH, Brand RA, Brown TD. Spatial distribution of hip capsule structural and material properties. J Biomech. 2002;35:1491–1498.

10.

Stindel E, Gil D, Briard JL, Merloz P, Dubrana F, Lefevre C. Detection of the center of the hip joint in computer-assisted surgery: An evaluation study of the surgetics algorithm. Comput Aided Surg. 2005;10:133–139.

11.

Warwick R, Williams PL. Gray's Anatomy. 35th ed. Philadelphia, PA: Saunders; 1973.
Additional information
Each author certifies that he or she has no commercial associations (e.g., consultancies, stock ownership, equity interest, patent/licensing arrangements, etc.) that might pose a conflict of interest in connection with the submitted article.
Each author certifies that his or her institution has approved the reporting of this study, that all investigations were conducted in conformity with ethical principles of research.
About this article
Cite this article
Nam, D., Osbahr, D.C., Choi, D. et al. Defining the Origins of the Iliofemoral, Ischiofemoral, and Pubofemoral Ligaments of the Hip Capsuloligamentous Complex Utilizing Computer Navigation. HSS Jrnl 7, 239–243 (2011). https://doi.org/10.1007/s11420-011-9214-3
Received:

Accepted:

Published:

Issue Date:
Keywords
hip ligaments

computer navigation

hip capsule

hip arthroscopy