Abstract
Multiple myeloma (MM) is a very radiosensitive tumor. Fractionated external beam radiation, which takes approximately 2 weeks of therapy, is typically used to irradiate myelomatous bone lesions with the goal of palliation. However, traditional radiotherapeutic techniques are not only lengthy but they also involve a considerable amount of healthy bone marrow in the treatment ports, which may undermine the total marrow reserve of a patient. Because of the limited survival time of patients with metastatic cancer, novel treatment concepts shortening the overall treatment time is desirable. We present an innovative approach of delivering targeted intra-operative radiotherapy to a solitary osteolytic metastasis in one application, while sparing healthy bone marrow from radiation toxicity and substantially reducing the overall treatment time. A 78-year-old Caucasian male with MM, previously treated with chemotherapy, who was off chemotherapy for 2 years due to bone marrow suppression, presented with a solitary recurrence at the left anterior superior iliac spine of the left iliac wing as diagnosed by PET-CT scan. This lesion was treated with a minimally invasive osteoplasty and intra-operative brachytherapy with to a dose of 8 Gy delivered to the surgical cavity only, followed by injection of the bone cement into the cavity. Three months after the procedure, the area of treatment demonstrated no uptake on a follow-up PET-CT scan. At 1.5 years after this procedure, 100% local control continues to persist in the treated area, as evidenced on nuclear imaging. To our knowledge, this is the first case of using focal intra-operative brachytherapy confined to the area of the pelvis in a patient treated for a solitary metastasis from MM. The purpose of the article is to present a novel approach as a more convenient and focal treatment of bony lesions of MM.
This is a preview of subscription content, log in to check access.
Access options
Buy single article
Instant access to the full article PDF.
US$ 39.95
Price includes VAT for USA
Subscribe to journal
Immediate online access to all issues from 2019. Subscription will auto renew annually.
US$ 99
This is the net price. Taxes to be calculated in checkout.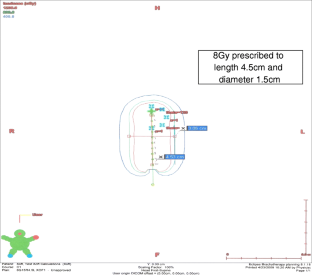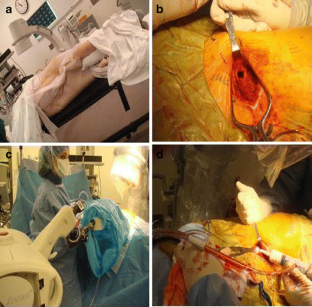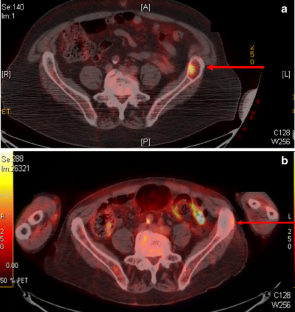 References
1.

Ashamalla H, Cardoso E, Macedon M, et al. Phase I trial of vertebral intracavitary Cement and samarium (VICS): novel technique for treatment of painful vertebral metastasis. Int J Radiat Oncol Biol Phys 2009; 75:836–842.

2.

Bayouth JE, Macey DJ, Kasi LP, Fossella FV. Dosimetry and toxicity of samarium-153-EDTMP administered for bone pain due to skeletal metastases. J Nucl Med 1994;35:63–69.

3.

Bone Pain Trial Working Party. 8 Gy single fraction radiotherapy for the treatment of metastatic skeletal pain: randomised comparison with a multifraction schedule over 12 months of patient follow-up. Radiother Oncol 1999;52:111–121.

4.

Bosch A, Frias Z. Radiotherapy in treatment of multiple myeloma. Int J Radiat Oncol Biol Phys 1998;15:1363–1369.

5.

Chang EL, Shiu AS, Mendel E, et al. Phase I/II study of stereotactic body radiotherapy for spinal metastasis and its pattern of failure. J Neurosurg Spine 2007;7:151–160.

6.

Cotten A, Deprez X, Migaud H, Chabanne B, Duquesnoy B, Chastanet P. Malignant acetabularosteolyses: percutaneous injection of acrylic bone cement. Radiology 1995; 197:307–310.

7.

Dean JR, Ison KT, Gishen P. The strengthening effect of percutaneous vertebroplasty. Clin Radiol 2000; 55: 471–476.

8.

Farhangi M, Osserman E. The treatment of multiple myeloma. Semin Hematol 1973;10:149–161.

9.

Galibert P, Deramond H, Rosat P, Le Gars D. Preliminary note on the treatment of vertebral angioma by percutaneous acrylic vertebroplasty. Neurochirurgie 1987; 33:166–168.

10.

Gerszten PC, Burton SA, Ozhasoglu C, Welch WC. Radiosurgery for spinal metastases: clinical experience in 500 cases from a single institution. Spine 2007;32:193–199.

11.

Gerszten PC, Germanwala A, Burton SA, et al. Combination kyphoplasty and spinal radiosurgery: a new treatment paradigm for pathological fractures. J Neurosurg Spine 2005;3:296–301.

12.

Gibbs IC. Spinal and paraspinal lesions: the role of stereotactic body radiotherapy. Front Radiat Ther Oncol 2007;40:407–414.

13.

Hierholzer J, Anselmetti G, Fuchs H, Depriester C, Koch K, Pappert D. Percutaneous osteoplasty as a treatment for painful malignant bone lesions of the pelvis and femur. J Vasc Interv Radiol 2003; 14: 773–777.

14.

Kaasa S, Brenne E, Lund JA, et al. Prospective randomised multicenter trial on single fraction radiotherapy (8 Gy °× 1) versus multiple fractions (3 Gy °× 10) in the treatment of painful bone metastases. Radiother Oncol 2006;79:278–284.

15.

Kawai N, SatoM, Iwamoto T, Tanihata H, Minamiguti H, Nakata K. Percutaneous osteoplasty with use of a cement-filled catheter for a pathologic fracture of the humerus. J Vasc Interv Radiol 2007;18:805–809.

16.

Kelekis A, Lovblad KO, Mehdizade A, et al. Pelvic osteoplasty in osteolytic metastases: technical approach under fluoroscopic guidance and early clinical results. J Vasc Interv Radiol 2005;16:81–88.

17.

Leigh B, Kurtts, Mack C, et al. Radiation therapy for palliation of multiple myeloma. Int J Radiat Oncol Biol Physic 1993;25:801–804.

18.

Nielsen OS, Bentzen SM, Sandberg E, et al. Randomized trial of single dose versus fractionated palliative radiotherapy of bone metastases. Radiother Oncol 1998;47:233–240.

19.

Ryu S, Jin R, Jin JY, et al. Pain control by image-guided radiosurgery for solitary spinal metastasis. J Pain Symptom Manage 2008;35:292–298.

20.

Pommersheim W, Huang-Hellinger F, Baker M, Morris P. Sacroplasty: a treatment for sacral insufficiency fractures. Am J Neuroradiol 2003;24:1003–1007.

21.

Schneider F, Greineck F, Clausen S, et al. Development of a novel method for Intraoperative radiotherapy during kyphoplasty for spinal metastases (kypho-iort). Int J Rad Oncol Biol Phys 2010; Ahead of print. Oct 7

22.

Singh A, Holmes RA, Farhangi M, et al. Human pharmacokinetics of samarium-153 EDTMP in metastatic cancer. J Nucl Med 1989;30:1814–1818.

23.

Steenland E, Leer JW, van Houwelingen H, et al. The effect of a single fraction compared to multiple fractions on painful bone metastases: a global analysis of the Dutch Bone Metastasis Study. Radiother Oncol 1999;52:101–109.

24.

Uemura A, Matsusako M, Numaguchi Y, et al. Percutaneous sacroplasty for hemorrhagic metastases from hepatocellular carcinoma. AJNR Am J Neuroradiol 2005;26:493–495.

25.

Weill A, Kobaiter H, Chiras J. Acetabulum malignancies: technique and impact on pain of percutaneous injection of acrylic surgical cement. Eur Radiol 1998; 8:123–129.

26.

Yamada Y, Bilsky MH, Lovelock DM, et al. High-dose, single-fraction image-guided intensity-modulated radiotherapy for metastatic spinal lesions. Int J Radiat Oncol Biol Phys 2008;71:484–490.

27.

Yamada K, Matsumoto Y, Kita M, et al. Clinical outcome of percutaneous osteoplasty for pain caused by metastatic bone tumors in the pelvis and femur. J Anesth 2007;21:277–281.

28.

Zhou B, Wu CG, Li MH, et al. Percutaneous osteoplasty for painful sternal lesion From multiple myeloma. Skelet Radiol 2009;38:281–285.
Disclosures
Each author certifies that he or she has no commercial associations (e.g., consultancies, stock ownership, equity interest, patent/licensing arrangements, etc.) that might pose a conflict of interest in connection with the submitted article.
Each author certifies that his or her institution has approved the reporting of these cases, that all investigations were conducted in conformity with ethical principles of research, and that informed consent for participating in the study was obtained.
About this article
Cite this article
Wernicke, A.G., Sabbas, A., Kulidzhanov, F. et al. A Single-Dose Conformal Delivery of Radiotherapy Following Osteoplasty . HSS Jrnl 8, 169–174 (2012). https://doi.org/10.1007/s11420-011-9213-4
Received:

Accepted:

Published:

Issue Date:
Keywords
multiple myeloma

radiotherapy

conformal radiation

brachytherapy