Abstract
Anterior cruciate ligament (ACL) reconstruction is one of the most common procedures performed by orthopedic surgeons. While autograft reconstruction remains the gold standard, allograft tissues have become a controversial option for ACL reconstruction. No data currently exist regarding recent trends in graft choices, and no consensus exists over which graft type is most appropriate for which patient. In this article, we examine trends in ACL graft choice at our institution, and review the pertinent information a surgeon must consider when making this decision. We reviewed operating room records from 2002 to 2008 to determine trends in graft choice for primary single bundle ACL reconstruction. Total number of procedures performed, graft choices, and patient ages were recorded. Patients were divided into the following age groups: less than 16, 16 to 20, 21 to 30, 31 to 40, 41 to 50, and over 50. Percent of ACL reconstructions using allograft was calculated for each year, as well as for each age group. Data were analyzed for trends in ACL graft choice over this time period as well as for trends in graft choice by age. We hypothesized that the rate of allograft use in primary ACL reconstruction had increased over time and that allograft use was associated with higher patient age. We also review the risks, safety, and standards for tissue procurement. Allograft use increased significantly (p < 0.001) from 2002 (17%) to 2008 (46%). There was also a significant difference (p < 0.001) in average age of patients receiving allografts (40.4 years) and autografts (26.4 years). Allograft use was significantly associated with higher patient age (p < 0.05) and increased with each successive age group from a rate of 9.9% in patients under 16 to 79.9% in patients over 50. Our study found that allograft use in primary ACL reconstruction has significantly increased from 2002 to 2008 and is significantly more common in older patients.
This is a preview of subscription content, log in to check access.
Access options
Buy single article
Instant access to the full article PDF.
US$ 39.95
Price includes VAT for USA
Subscribe to journal
Immediate online access to all issues from 2019. Subscription will auto renew annually.
US$ 99
This is the net price. Taxes to be calculated in checkout.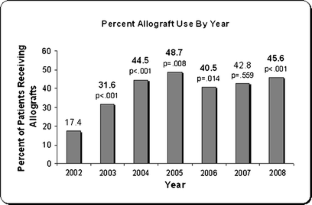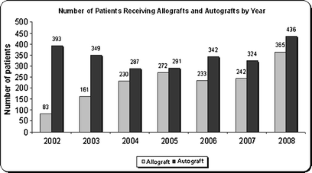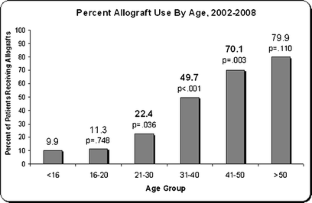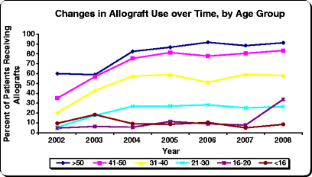 References
1.

Fu F, Christel P, Miller MD, Johnson DL. Graft selection for anterior cruciate ligament reconstruction Instr Course Lect. 2009;58:337–354.

2.

Jackson DW, Grood ES, Goldstein JD, et al. A comparison of patellar tendon autograft and allograft used for anterior cruciate ligament reconstruction in the goat model Am J Sports Med. 1993;21(2):176–185.

3.

Cole DW, Ginn TA, Chen GJ, et al. Cost comparison of anterior cruciate ligament reconstruction: autograft versus allograft Arthroscopy. 2005;21(7):786–790.

4.

Kainer MA, Linden JV, Whaley DN, et al. Clostridium infections associated with musculoskeletal-tissue allografts N Engl J Med. 2004;350(25):2564–2571.

5.

Simonds RJ, Holmberg SD, Hurwitz RL, et al. Transmission of human immunodeficiency virus type 1 from a seronegative organ and tissue donor N Engl J Med. 1992;326(11):726–732.

6.

Mroz TE, Joyce MJ, Steinmetz MP, Lieberman IH, Wang JC. Musculoskeletal allograft risks and recalls in the United States J Am Acad Orthop Surg. 2008;16(10):559–565.

7.

Malinin TI, Levitt RL, Bashore C, Temple HT, Mnaymneh W. A study of retrieved allografts used to replace anterior cruciate ligaments Arthroscopy. 2002;18(2):163–170.

8.

Chang SK, Egami DK, Shaieb MD, Kan DM, Richardson AB. Anterior cruciate ligament reconstruction: allograft versus autograft Arthroscopy. 2003;19(5):453–462.

9.

Walker C. Documents say more than 450 claims filed in body parts scam. Associated Press. May 15, 2007.

10.

Edgar CM, Zimmer S, Kakar S, Jones H, Schepsis AA. Prospective comparison of auto and allograft hamstring tendon constructs for ACL reconstruction Clin Orthop Relat Res. 2008;466(9):2238–2246.

11.

Leever Research (2006) Orthopaedic Surgical Procedure Survey on Allografts—American Orthopaedic Society for Sports Medicine. http://www.sportsmed.org/tabs/research/downloads/AOSSM06AllograftsSurveyFINALREPORTFINAL.pdf. Updated 2006. Accessed 17 October, 2010.

12.

Vangsness CT, Dellamaggiora RD (2009) Current Safety Sterilization and Tissue Banking Issues for Soft Tissue Allografts. Clin Sports Med 28:183–189

13.

Centers for Disease Control and Prevention. Workshop on Preventing Organ and Tissue Allograft-Transmitted Infection: Priorities for Public Health Intervention. http://www.cdc.gov/ncidod/dhqp/pdf/bbp/organ_tissueWorkshop_June2005.pdf. Updated 2005. Accessed 17 October, 2010.

14.

McAllister DR, Joyce MJ, Mann BJ, Vangsness CT. Allograft Update : The Current Status of Tissue Regulation, Procurement, Processing, and Sterilization. Am J Sports Med. 2007;35:2148.

15.

Vaishnav S C. New Techniques in Allograft Tissue Processing. Clin Sports Med. 2009;28:127–141.

16.

Department of Health and Human Services—Office of Inspector General. Oversight of Tissue Banking. http://oig.hhs.gov/oei/reports/oei-01-00-00441.pdf. Updated 2001. Accessed 18 October, 2010.

17.

Department of Health and Human Services. Current Good Tissue Practice for Human Cell, Tissue, and Cellular and Tissue-Based Product Establishments; Inspection and Enforcement; Final Rule. Federal Register. 2004;226:68611.

18.

Joyce M, Greenwald A, Boden S, Brubaker S, Heim C. Musculoskeletal Allograft Tissue Safety—American Academy of Orthopaedic Surgeons. http://aatb.kma.net/aatb/files/ccLibraryFiles/Filename/000000000103/AAOStissuesafety.pdf. Updated 2008. Accessed 18 October, 2010.

19.

Vangsness C, Triffon M, Joyce M, Moore T. Soft Tissue For Allograft Reconstruction of the Human Knee: A Survey of the American Association of Tissue Banks. Am J Sports Med. 1996;24:230.

20.

Stramer S, Glynn S, Kleinman S, et al. Detection of HIV-1 and HCV infections among antibody-negative blood donors by nucleic acid-amplification testing. New Engl J Med. 2004;351(8):760–8.

21.

Zou S, Dodd R, Stramer S, Strong D. Probability of viremia with HBV, HCV, HIV, and HTLV among tissue donors in the United States. New Engl J Med. 2004;351(8):751–9.

22.

Suarez L, Richmond J. Overview of Procurement, Processing, and Sterilization of Soft Tissue Allografts for Sports Medicine. Sports Med Arthrosc Rev. 2007;15:106–113.

23.

Sun K, Tian S, Zhang J, Xia C, Zhang C, Yu T. Anterior cruciate ligament reconstruction with BPTB autograft, irradiated versus non-irradiated allograft: a prospective randomized clinical study. Knee Surg Sports Traumatol Arthrosc. 2009;17(5):464–74.

24.

Shelton W, Treacy S, Dukes A, Bomboy A. Use of allografts in knee reconstruction: I. Basic science aspects and current status. J Am Acad Orthop Surg. 1998;6(3):165–8.

25.

Campbell D, Li P. Sterilization of HIV with irradiation: relevance to infected bone allografts. Aust N Z J Surg. 1999;69(7):517–21.

26.

Fideler B, Vangsness C, Moore T, Li Z, Rasheed S. Effects of gamma irradiation on the human immunodeficiency virus. A study in frozen human bone-patellar ligament-bone grafts obtained from infected cadavera. J Bone Joint Surg. 1994;76-A(7):1032–5.

27.

Lavernia C, Malinin T, Temple H, Moreyra C. Bone and Tissue Allograft Use by Orthopaedic Surgeons. J Arthroplasty. 2004;19(4):430–5.

28.

Barrett G, Stokes D, White M. Anterior cruciate ligament reconstruction in patients older than 40 years: allograft versus autograft patellar tendon Am J Sports Med. 2005;33(10):1505–1512.

29.

Grafe MW, Kurzweil PR. Anterior cruciate ligament reconstruction with Achilles tendon allografts in revisions and in patients older than 30 Am J Orthop. 2008;37(6):302–308.

30.

Prodromos CC, Han YS, Keller BL, Bolyard RJ. Stability results of hamstring anterior cruciate ligament reconstruction at 2- to 8-year follow-up Arthroscopy. 2005;21(2):138–146.

31.

Shelton WR, Papendick L, Dukes AD. Autograft versus allograft anterior cruciate ligament reconstruction Arthroscopy. 1997;13(4):446–449.

32.

Kleipool AE, Zijl JA, Willems WJ. Arthroscopic anterior cruciate ligament reconstruction with bone-patellar tendon-bone allograft or autograft. A prospective study with an average follow up of 4 years Knee Surg Sports Traumatol Arthrosc. 1998;6(4):224–230.

33.

Nikolaou PK, Seaber AV, Glisson RR, Ribbeck BM, Bassett FH,3 rd. Anterior cruciate ligament allograft transplantation. Long-term function, histology, revascularization, and operative technique Am J Sports Med. 1986;14(5):348–360.
Additional information
Each author certifies that he or she has no commercial associations (e.g., consultancies, stock ownership, equity interest, patent/licensing arrangements, etc.) that might pose a conflict of interest in connection with the submitted article
Each author certifies that his or her institution has approved the reporting of this case, that all investigations were conducted in conformity with ethical principles of research.
Level of Evidence: Level IV (Retrospective Case Series)
About this article
Cite this article
Jost, P.W., Dy, C.J., Robertson, C.M. et al. Allograft Use in Anterior Cruciate Ligament Reconstruction. HSS Jrnl 7, 251–256 (2011). https://doi.org/10.1007/s11420-011-9212-5
Received:

Accepted:

Published:

Issue Date:
Keywords
ACL

anterior cruciate

allograft

autograft

graft choice

knee ligament reconstruction