Abstract
The development of iatrogenic nerve lesions during and following limb lengthening procedures present a challenge to orthopedic surgeons. Early treatment of nerve damage is critical in salvaging full function of the nerve. Precise location of damage, however, must be determined in order to appropriately administer treatment. We report a patient with a short humerus caused by a growth arrest undergoing a 7-cm lengthening who developed a neurapraxic injury of the radial nerve. Nerve compromise was noted 1 month into the lengthening program. Nerve conduction studies and electromyography could not be used to determine the precise site of injury. Likewise, magnetic resonance imaging and computed tomography were contraindicated and inconclusive, respectively, due to the presence of a metallic external fixation device. High-resolution ultrasonography (US) findings, however, correlated with our clinical examination of the patient's radial nerve function and permitted identification of the precise site of nerve involvement. Treatment was administered by removing a causative half-pin. Several days following treatment, nerve function returned to normal. There are a limited number of articles in the literature regarding nerve injuries associated with limb lengthening and their corrective treatments. The outcome of this case underscores the usefulness of US over various other diagnostic techniques under certain circumstances.
This is a preview of subscription content, log in to check access.
Access options
Buy single article
Instant access to the full article PDF.
US$ 39.95
Price includes VAT for USA
Subscribe to journal
Immediate online access to all issues from 2019. Subscription will auto renew annually.
US$ 99
This is the net price. Taxes to be calculated in checkout.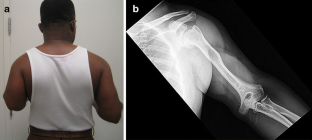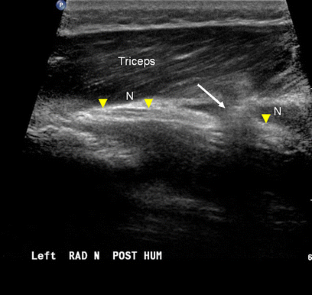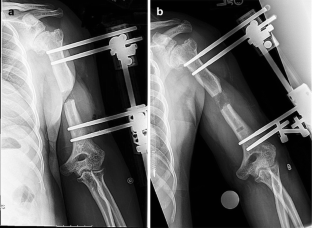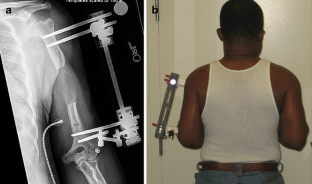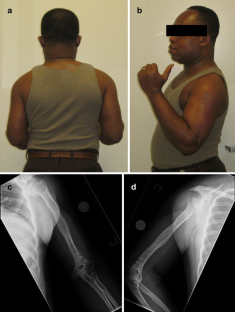 References
1.

Atar D, Lehman WB, Grant AD, Strongwater A, Frankel V, Golyakhovsky V. Treatment of complex limb deformities in children with the Ilizarov technique. Orthopedics. 1991;14:961–967.

2.

Bodner G, Huber B, Schwabegger A, Lutz M, Waldenberger P. Sonographic detection of radial nerve entrapment within a humerus fracture. J Ultrasound Med. 1999;18:703–706.

3.

Chuang TY, Chan RC, Chin LS, Hsu TC. Neuromuscular injury during limb lengthening: a longitudinal follow-up by rabbit tibial model. Arch Phys Med Rehabil. 1995;76:467–470.

4.

Cokluk C, Aydin K. Ultrasound examination in the surgical treatment for upper extremity peripheral nerve injuries: part I. Turk Neurosurg. 2007;17:277–282.

5.

Cokluk C, Aydin K. Ultrasound examination in the surgical treatment of lower extremity peripheral nerve injuries: part II. Turk Neurosurg. 2007;17:197–201.

6.

Coleman SS. Simultaneous femoral and tibial lengthening for limb length discrepancies. Arch Orthop Trauma Surg. 1985;103:359–366.

7.

Coleman SS, Stevens PM. Tibial lengthening. Clin Orthop Relat Res. 1978;(136):92–104.

8.

Dahl MT, Gulli B, Berg T. Complications of limb lengthening. A learning curve. Clin Orthop Relat Res. 1994;(301):10–18.

9.

Eggli S, Hankemayer S, Muller ME. Nerve palsy after leg lengthening in total replacement arthroplasty for developmental dysplasia of the hip. J Bone Joint Surg Br. 1999;81:843–845.

10.

Eldridge JC, Bell DF. Problems with substantial limb lengthening.Orthop Clin North Am. 1991;22:625–631.

11.

Fornage BD. Sonography of peripheral nerves of the extremities. Radiol Med. 1993;85:162–167.

12.

Foxall GL, Skinner D, Hardman JG, Bedforth NM. Ultrasound anatomy of the radial nerve in the distal upper arm. Reg Anesth Pain Med. 2007;32:217–220.

13.

Galardi G, Comi G, Lozza L, Marchettini P, Novarina M, Facchini R, Paronzini A. Peripheral nerve damage during limb lengthening. Neurophysiology in five cases of bilateral tibial lengthening. J Bone Joint Surg Br. 1990;72:121–124.

14.

Karabay N, Toros T, Ademoglu Y, Ada S. Ultrasonographic evaluation of the iatrogenic peripheral nerve injuries in upper extremity. Eur J Radiol. 2008. (in press).

15.

Lee MJ, Kim S, Lee SA, Song HT, Huh YM, Kim DH, Han SH, Suh JS. Overcoming artifacts from metallic orthopedic implants at high-field-strength MR imaging and multi-detector CT. Radiographics. 2007;27:791–803.

16.

Martinoli C, Bianchi S, Dahmane M, Pugliese F, Bianchi-Zamorani MP, Valle M. Ultrasound of tendons and nerves. Eur Radiol. 2002;12:44–55.

17.

Martinoli C, Bianchi S, Derchi LE. Ultrasonography of peripheral nerves. Semin Ultrasound CT MR. 2000;21:205–213.

18.

Nogueira MP. Obstacles in limb lengthening: Nerve problems. In: Rozbruch SR, Ilizarov S, eds. Limb lengthening and reconstruction surgery. New York: Informa Healthcare; 2007:669–675.

19.

Nogueira MP, Paley D, Bhave A, Herbert A, Nocente C, Herzenberg JE. Nerve lesions associated with limb-lengthening. J Bone Joint Surg Am. 2003;85-A:1502–1510.

20.

Paley D. Problems, obstacles, and complications of limb lengthening by the Ilizarov technique. Clin Orthop Relat Res. 1990;(250):81–104.

21.

Peer S, Bodner G, Meirer R, Willeit J, Piza-Katzer H. Examination of postoperative peripheral nerve lesions with high-resolution sonography. AJR Am J Roentgenol. 2001;177:415–419.

22.

Velazquez RJ, Bell DF, Armstrong PF, Babyn P, Tibshirani R. Complications of use of the Ilizarov technique in the correction of limb deformities in children. J Bone Joint Surg Am. 1993;75:1148–1156.
Additional information
Each author certifies that he or she has no commercial associations (e.g., consultancies, stock ownership, equity interest, patent/licensing arrangements, etc.) that might pose a conflict of interest in connection with the submitted article.
Each author certifies that all investigations were conducted in conformity with ethical principles of research and that informed consent for participation in the study was obtained.
About this article
Cite this article
Rozbruch, S.R., Fryman, C., Bigman, D. et al. Use of Ultrasound in Detection and Treatment of Nerve Compromise in a Case of Humeral Lengthening. HSS Jrnl 7, 80–84 (2011). https://doi.org/10.1007/s11420-010-9182-z
Received:

Accepted:

Published:

Issue Date:
Keywords
ultrasound

neurapraxia

humeral lengthening

osteotomy

monolateral frame

distraction osteogenesis