Abstract
Accessory and anomalous muscles have been described in humans, but only a few at the level of the knee. The aim of this retrospective cohort analysis was to determine the prevalence of a new accessory muscle located at the level of the knee detected with magnetic resonance imaging (MRI). The accessory muscle is designated an accessory plantaris muscle in this study due to its intimate origin with the normal plantaris muscle. Retrospective review of 1,000 consecutive MRI exams of the knee performed on patients presenting with acute or chronic knee symptoms revealed an accessory plantaris muscle in 63 of the 1,000 patients (6.3%)—38 males (7.5%) and 25 females (5.1%). Origin of 62 of 63 of the accessory plantaris muscles merged with the origin of the normal plantaris muscle, and one of 63 merged with the origin of the lateral head of the gastrocnemius muscle. These accessory plantaris muscles inserted into the iliotibial band, the lateral patellar retinaculum, or the iliotibial tract.
This is a preview of subscription content, log in to check access.
Access options
Buy single article
Instant access to the full article PDF.
US$ 39.95
Price includes VAT for USA
Subscribe to journal
Immediate online access to all issues from 2019. Subscription will auto renew annually.
US$ 99
This is the net price. Taxes to be calculated in checkout.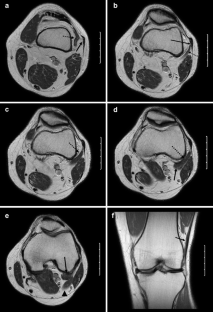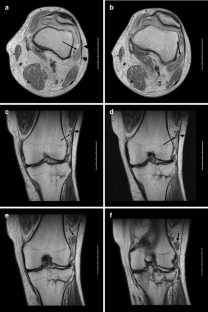 References
1.

Banjo AO. Aberrant popliteus muscle: anatomy and clinical consideration. Afr J Med Med Sci. 1996;25:69–73.

2.

Bergman RA, Thompson SA, Afifi AK, Saadeh FA. Compendium of human anatomic variation. Baltimore: Urban & Schwarzendberg; 1988; 22–28.

3.

Chason DP, Schultz SM, Fleckenstein JL. Tensor fascia suralis: depiction on MR images. AJR. 1995;165:1220–1221.

4.

Macedo TA, Johnson CM, Hallett JW, Breen JF. Popliteal artery entrapment syndrome: role of imaging in the diagnosis. AJR. 2003;181:1259–1265.

5.

Montet X, Sandoz A, Mauget D, Martinoli C, Bianchi S. Sonographic and MRI appearance of tensor fasciae suralis muscle, an uncommon cause of popliteal swelling. Skeletal Radiol. 2002;31:536–538.

6.

Sinav A, Gumusalan Y, Arifoglu Y, Onderoglu S. Accessory muscular bundles arising from the biceps femoris muscle. Kaibogaku Zasshi. 1995;70:245–247.
Additional information
The author certifies that he has no commercial associations (e.g., consultancies, stock ownership, equity interest, patent/licensing arrangements, etc.) that might pose a conflict of interest in connection with the submitted article.
The author certifies that his institution has approved the reporting of these cases and that all investigations were conducted in conformity with ethical principles of research.
Level of evidence: Level IV Diagnostic Study
About this article
Cite this article
Herzog, R.J. Accessory Plantaris Muscle: Anatomy and Prevalence. HSS Jrnl 7, 52–56 (2011). https://doi.org/10.1007/s11420-010-9175-y
Received:

Accepted:

Published:

Issue Date:
Keywords
accessory plantaris muscle

accessory knee muscle