Abstract
We report a case of an 83-year-old gentleman presenting with acute low back pain and radicular left lower extremity pain after golfing. A magnetic resonance imaging (MRI) of the lumbar spine revealed a low-signal-density lesion compressing the L5 nerve. A computed tomography scan was then ordered, confirming an extra-foraminal disc protrusion at the L5–S1 level, containing a focus of gas that was compressing the left L5 nerve root and communicating with the vacuum disc at L5–S1. After a failed left L5 transforaminal epidural steroid injection, the patient was brought back for a percutaneous intradiscal aspiration of the vacuum disc gas. This resulted in immediate relief for the patient. A follow-up MRI performed 2 months after the procedure found an approximate 25% reduction in the size of the vacuum disc herniation. Six months after the procedure, the patient remains free of radicular pain. This case report suggests that a percutaneous aspiration of gas from a vacuum disc herniation may assist in the treatment of radicular pain.
This is a preview of subscription content, log in to check access.
Access options
Buy single article
Instant access to the full article PDF.
US$ 39.95
Price includes VAT for USA
Subscribe to journal
Immediate online access to all issues from 2019. Subscription will auto renew annually.
US$ 99
This is the net price. Taxes to be calculated in checkout.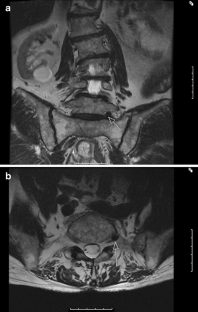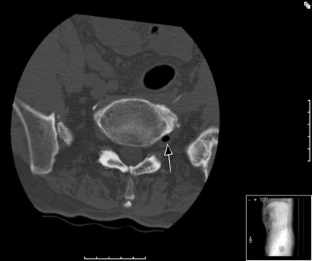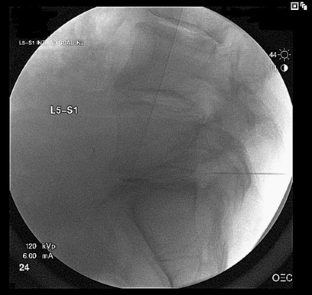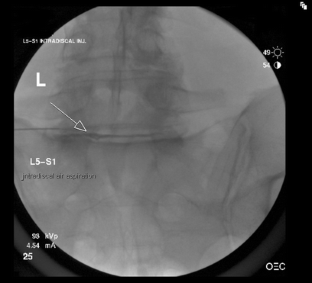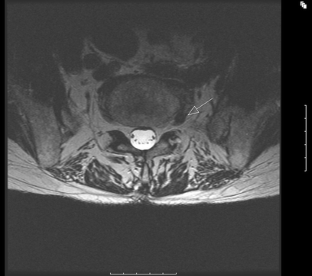 References
1.

Anda S, Stovring J, Ro M. CT of extraforaminal disc herniation with associated vacuum phenomenon. Neuroradiology. 1988;30(1):76–77.

2.

Beks JW, ter Weeme CA. Herniated lumbar discs in teenagers. Acta Neurochir (Wien). 1975;31(3–4):195–199.

3.

Borgesen SE, Vang PS. Herniation of the lumbar intervertebral disk in children and adolescents. Acta Orthop Scand. 1974;45(4):540–549.

4.

Bradford DS, Garcia A. Lumbar intervertebral disk herniations in children and adolescents. Orthop Clin North Am. 1971;2(2):583–592.

5.

Bulos S. Herniated intervertebral lumbar disc in the teenager. J Bone Joint Surg Br. 1973;55(2):273–278.

6.

Burnei G, Gavriliu S, Vlad C, Georgescu I, Hurmuz L, Hodorogea D. Discal hernia in children and teenagers: medical, surgical and recovery treatment. Rom J Intern Med. 2006;44(4):477–481.

7.

Cohen SP, Hurley RW, Christo PJ, Winkley J, Mohiuddin MM, Stojanovic MP. Clinical predictors of success and failure for lumbar facet radiofrequency denervation. Clin J Pain. 2007;23(1):45–52.

8.

Cohen SP, Stojanovic MP, Crooks M, et al. Lumbar zygapophysial (facet) joint radiofrequency denervation success as a function of pain relief during diagnostic medial branch blocks: a multicenter analysis. Spine J. 2008;8(3):498–504.

9.

Dreyfuss P, Halbrook B, Pauza K, Joshi A, McLarty J, Bogduk N. Efficacy and validity of radiofrequency neurotomy for chronic lumbar zygapophysial joint pain. Spine. 2000;25(10):1270–1277.

10.

Ebersold MJ, Quast LM, Bianco AJ, Jr. Results of lumbar discectomy in the pediatric patient. J Neurosurg. 1987;67(5):643–647.

11.

Gibson MJ, Szypryt EP, Buckley JH, Worthington BS, Mulholland RC. Magnetic resonance imaging of adolescent disc herniation. J Bone Joint Surg Br. 1987;69(5):699–703.

12.

Gofeld M, Jitendra J, Faclier G. Radiofrequency denervation of the lumbar zygapophysial joints: 10-year prospective clinical audit. Pain Physician. 2007;10(2):291–300.

13.

Hidalgo-Ovejero AM, Martinez-Grande M, Garcia-Mata S. Disc herniation with gas. Spine (Phila Pa 1976). 1994;19(19):2210–2212.

14.

Kawaguchi S, Yamashita T, Ida K, Ikeda T, Ohwada O. Gas-filled intradural cyst of the lumbar spine. Case report. J Neurosurg. 2001;95(2 Suppl):257–259.

15.

Kornick C, Kramarich SS, Lamer TJ, Todd Sitzman B. Complications of lumbar facet radiofrequency denervation. Spine. 2004;29(12):1352–1354.

16.

Lau P, Mercer S, Govind J, Bogduk N. The surgical anatomy of lumbar medial branch neurotomy (facet denervation). Pain Med. 2004;5(3):289–298.

17.

Luukkonen M, Partanen K, Vapalahti M. Lumbar disc herniations in children: a long-term clinical and magnetic resonance imaging follow-up study. Br J Neurosurg. 1997;11(4):280–285.

18.

Manejias EM, Hu J, Tatli Y, Lutz GE. Lumbar zygapophysial joint radiofrequency denervation: a long-term clinical outcome study. HSS J. 2008;4(2):180–187.

19.

Martinez-Lage JF, Fernandez Cornejo V, Lopez F, Poza M. Lumbar disc herniation in early childhood: case report and literature review. Childs Nerv Syst. 2003;19(4):258–260. doi:10.1007/s00381-003-0720-6.

20.

Martinez-Lage JF, Martinez Robledo A, Lopez F, Poza M. Disc protrusion in the child. Particular features and comparison with neoplasms. Childs Nerv Syst. 1997;13(4):201–207.

21.

Matsui H, Terahata N, Tsuji H, Hirano N, Naruse Y. Familial predisposition and clustering for juvenile lumbar disc herniation. Spine. 1992;17(11):1323–1328.

22.

Mikeladze G, Espinal R, Finnegan R, Routon J, Martin D. Pulsed radiofrequency application in treatment of chronic zygapophyseal joint pain. Spine J. 2003;3(5):360–362.

23.

Mortensen WW, Thorne RP, Donaldson WF,3rd. Symptomatic gas-containing disc herniation. Report of four cases. Spine (Phila Pa 1976). 1991;16(2):190–192.

24.

Nath S, Nath CA, Pettersson K. Percutaneous lumbar zygapophysial (facet) joint neurotomy using radiofrequency current, in the management of chronic low back pain: a randomized double-blind trial. Spine. 2008;33(12):1291–1297; discussion 1298.

25.

Ozgen S, Konya D, Toktas OZ, Dagcinar A, Ozek MM. Lumbar disc herniation in adolescence. Pediatr Neurosurg. 2007;43(2):77–81.

26.

Parisini P, Di Silvestre M, Greggi T, Miglietta A, Paderni S. Lumbar disc excision in children and adolescents. Spine. 2001;26(18):1997–2000.

27.

Pierpaolo L, Luciano M, Fabrizio P, Paolo M. Gas-containing lumbar disc herniation. A case report and review of the literature. Spine (Phila Pa 1976). 1993;18(16):2533–2536.

28.

Righini A, Lucchi S, Reganati P, Zavanone M, Bettinelli A. Percutaneous treatment of gas-containing lumbar disc herniation. Report of two cases. J Neurosurg. 1999;91(1 Suppl):133–136.

29.

Rugtveit A. Juvenile lumbar disc herniations. Acta Orthop Scand. 1966;37(4):348–356.

30.

Salpietro FM, Alafaci C, Collufio D, et al. Radicular compression by lumbar intraspinal epidural gas pseudocyst in association with lateral disc herniation. Role of the posterior longitudinal ligament. J Neurosurg Sci. 2002;46(2):93–95; discussion 95.

31.

Shillito J, Jr. Pediatric lumbar disc surgery: 20 patients under 15 years of age. Surg Neurol. 1996;46(1):14–18.

32.

Simonetti G, Martino V, Santilli S, Chiappetta F. Lumbar root compression by a gas-containing cyst in the extradural space. Case report. J Neurosurg Sci. 1992;36(2):101–102.

33.

Smorgick Y, Floman Y, Millgram MA, Anekstein Y, Pekarsky I, Mirovsky Y. Mid- to long-term outcome of disc excision in adolescent disc herniation. Spine J. 2006;6(4):380–384.

34.

van Boxem K, van Eerd M, Brinkhuize T, Patijn J, van Kleef M, van Zundert J. Radiofrequency and pulsed radiofrequency treatment of chronic pain syndromes: the available evidence. Pain Pract. 2008;8(5):385–393.

35.

van Wijk RM, Geurts JW, Lousberg R, et al. Psychological predictors of substantial pain reduction after minimally invasive radiofrequency and injection treatments for chronic low back pain. Pain Med. 2008;9(2):212–221.

36.

Varlotta GP, Brown MD, Kelsey JL, Golden AL. Familial predisposition for herniation of a lumbar disc in patients who are less than twenty-one years old. J Bone Joint Surg Am. 1991;73(1):124–128.

37.

Zamani MH, MacEwen GD. Herniation of the lumbar disc in children and adolescents. J Pediatr Orthop. 1982;2(5):528–533.

38.

Zhu Q, Gu R, Yang X, Lin Y, Gao Z, Tanaka Y. Adolescent lumbar disc herniation and hamstring tightness: review of 16 cases. Spine. 2006;31(16):1810–1814.

39.

Zucker L, Amacher AL, Eltomey A. Juvenile lumbar discs. Childs Nerv Syst. 1987;3(2):125–127.
Additional information
Each author certifies that he or she has no commercial associations (e.g. consultancies, stock ownership, equity interest, patent/licencing arrangements, etc.) that might pose a conflict of interest in connection with the submitted article.
Each author certifies that his or her institution has approved the reporting of this case, that all investigations were conducted in conformity with ethical principles of research and that informed consent for participation in the study was obtained.
The study is a case report or individual case and therefore its level of evidence is a 3.
About this article
Cite this article
Pak, K.I., Hoffman, D.C., Herzog, R.J. et al. Percutaneous Intradiscal Aspiration of a Lumbar Vacuum Disc Herniation: A Case Report. HSS Jrnl 7, 89–93 (2011). https://doi.org/10.1007/s11420-010-9168-x
Received:

Accepted:

Published:

Issue Date:
Keywords
vacuum disc phenomenon

lumbar spine

intervertebral disc

epidural gas

percutaneous procedure