Abstract
The most important clinical strategy for management of patients with hemophilia is the avoidance of recurrent hemarthroses by means of continuous, intravenous hematological prophylaxis. When only intravenous on-demand hematological treatment is available, frequent evaluations are necessary for the early diagnosis and treatment of episodes of intra-articular bleeding. The natural history of the disease in patients with poorly controlled intra-articular bleeding is the development of chronic synovitis and, later, multi-articular hemophilic arthropathy. Once arthropathy develops, the functional prognosis is poor. Treatment of these patients should be conducted through a comprehensive program by a multidisciplinary hemophilia unit. Although continuous prophylaxis can avoid the development of the orthopedic complications of hemophilia still seen in the twenty-first century, such a goal has not, so far, been achieved even in developed countries. Therefore, many different surgical procedures such as arthrocentesis, radiosynoviorthesis (radiosynovectomy) (yttrium-90, rhenium-186), tendon lengthenings, alignment osteotomies, joint arthroplasties, removal of pseudotumours, and fixation of fractures are still frequently needed in the care of these patients.
This is a preview of subscription content, log in to check access.
Access options
Buy single article
Instant access to the full article PDF.
US$ 39.95
Price includes VAT for USA
Subscribe to journal
Immediate online access to all issues from 2019. Subscription will auto renew annually.
US$ 99
This is the net price. Taxes to be calculated in checkout.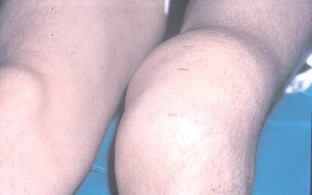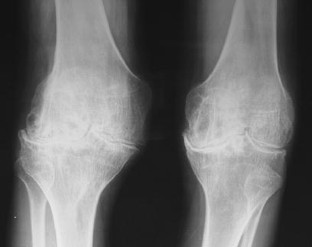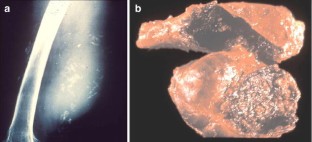 References
1.

Rodriguez-Merchan EC (1998) Management of orthopedic complications of haemophilia. J. Bone Joint Surg. (Br) 80B:191–196

2.

Nilsson IM, Berntorp E, Lofqvist T, Pettersson H (1992) Twenty-five years experience of prophylactic treatment in severe hemophilia A and B. J. Intern. Med 232:25–32

3.

Jansen NW, Roosendaal G, Bijlsma JW, Degroot J, Lafeber FP (2007) Exposure of human cartilage tissue to low concentrations of blood for a short period of time leads to prolonged cartilage damage: an in vitro study. Arthritis Rheum 56:199–207

4.

Valentino LA, Hakobyan N, Rodriguez N, Hoots WK (2007) Pathogenesis of haemophilic synovitis: experimental studies on blood-induced joint damage. Haemophilia 13(Suppl. 3):10–13

5.

Sevilla J, Alvarez MT, Hernandez D et al (1999) Therapeutic embolization and surgical excision of hemophilic pseudotumour. Haemophilia 5:360–363

6.

Horoszowski H, Heim M, Schulman S, Varon D, Martinowitz U (1996) Multiple joint procedures in a single operative session on hemophilic patients. Clin. Orthop. Relat. Res 328:60–64

7.

Silva M, Luck JV Jr, Siegel ME (2001) 32P chromic phosphate radiosynovectomy for chronic haemophilic synovitis. Haemophilia 7(Suppl. 2):40–49

8.

Manco-Johnson MJ, Nuss R, Lear J, Wiedel J, Geraghty SJ, Hacker MR, Funk S, Kilcoyne RF, Murphy J (2002) 32P radiosynoviorthesis in children with hemophilia. J. Pediatr. Hematol. Oncol 24:534–539

9.

Chew EM, Tien SL, Sundram FX, Ho YK, Howe TS (2003) Radionuclide synovectomy and chronic haemophilic synovitis in Asians: a retrospective study. Haemophilia 9:632–637

10.

Li P, Chen G, Zhang H, Shen Z (2004) Radiation synovectomy by 188Re-Sulfide in haemophilic synovitis. Haemophilia 10:422–427

11.

Grmek M, Milcinski M, Fettich J, Benedik-Dolnicar M, Brecelj J (2005) Radiosynoviorthesis for treatment of hemophilic hemarthrosis-Slovenian experience. Cancer Biother Radiopharm 20:338–343

12.

Lofqvist T, Petersson C, Nilsson IM (1997) Radioactive synoviorthesis in patients with hemophilia with factor inhibitor. Clin. Orthop. Relat. Res 343:37–41

13.

Wiedel JD (1996) Arthroscopic synovectomy of the knee in hemophilia. 10- to 15-year followup. Clin. Orthop. Relat. Res 328:46–53

14.

Greene WB (1994) Synovectomy of the ankle for hemophilic arthropathy. J. Bone Joint Surg. (Br) 76A:812–819

15.

Rodriguez-Merchan EC (2001) Methods to treat chronic haemophilic synovitis. Haemophilia 7:1–5

16.

Heim M, Horoszowski H, Varon D, Schulman S, Martinowitz U (1996) The fixed flexed and subluxed knee in the hemophilic child: what should be done? Haemophilia 1:47–50

17.

Cohen I, Heim M, Martinowitz V, Chechick A (2000) Orthopedic outcome of total knee replacement in haemophilia A. Haemophilia 6:104–109

18.

Kelley SS, Lachiewicz PF, Gilbert MS, Bolander ME, Jankiewicz JJ (1995) Hip arthroplasty in hemophilic arthropathy. J. Bone Joint Surg. (Am) 77A:828–834

19.

Lofqvist T, Sanzen L, Petersson C, Nilsson IM (1996) Total hip replacement in patients with hemophilia. Acta. Orthop. Scand 67:321–324

20.

Rodriguez-Merchan EC (2002) Orthopedic surgery of haemophilia in the 21st century: an overview. Haemophilia 8:360–368

21.

Rodriguez-Merchan EC (2002) Total knee arthroplasty in patients with haemophilia who are HIV-positive. J. Bone Joint Surg. (Br) 84-B:170–172

22.

Rodriguez-Merchan EC (2007) Total knee replacement in haemophilic arthropathy. J. Bone Joint Surg. (Br) 89B:186–188

23.

Rodriguez-Merchan EC (2002) Bone fractures in the haemophilic patient. Haemophilia 8:104–111

24.

Ragni MV, Crossett LS, Herndon JH (1995) Postoperative infection following orthopedic surgery in human immunodeficiency virus-infected hemophiliacs with CD4 counts < or =200/mm3. J. Arthoplasty 10:716–721

25.

Phillips AM, Sabin CA, Ribbans WJ, Lee CA (1997) Orthopedic surgery in hemophilic patients with human immunodeficiency virus. Clin. Orthop. Relat. Res 343:81–87
Additional information
The author certifies that he has no commercial associations (e.g., consultancies, stock ownership, equity interest, patent/licensing arrangements, etc.) that might pose a conflict of interest in connection with the submitted article.
About this article
Cite this article
Rodriguez-Merchan, E.C. Musculoskeletal Complications of Hemophilia. HSS Jrnl 6, 37–42 (2010). https://doi.org/10.1007/s11420-009-9140-9
Received:

Accepted:

Published:

Issue Date:
Keywords
hemophilia

orthopedic surgery

musculo-skeletal complications