Abstract
Fractures require adequate stability and blood supply to heal. The vascular supply to long bones is compromised in a fracture, and the ability to heal hinges on the ability of new blood vessels to proliferate from surrounding vessels in a process known as angiogenesis. This process is largely driven by the growth factor, vascular endothelial growth factor (VEGF), whose levels are increased locally and systemically during fracture healing. VEGF is involved in many steps throughout the fracture healing cascade, from initially being concentrated in fracture hematoma, to the promotion of bone turnover during the final remodeling phase. This article reviews the current literature surrounding the role of VEGF and other growth factors in reestablishing vascular supply to fractured bone, as well as medications and surgical techniques that may inhibit this process.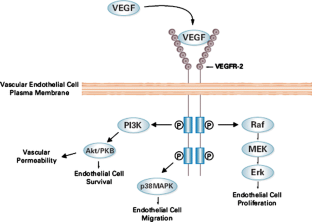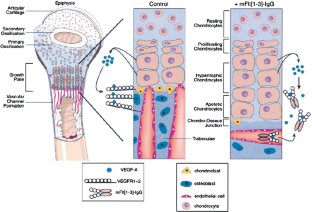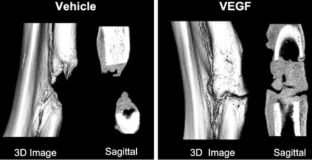 References
1.

Boden SD, Einhorn TA, Morgan TS et al (2005) An AOA critical issue. The future of the orthopaedic surgeon-proceduralist or keeper of the musculoskeletal system? J. Bone Joint Surg. Am. 87(12):2812–2821

2.

Glowacki J, Angiogenesis in fracture repair. Clin. Orthop. Relat. Res. 1998; (355 Suppl): S82–S89

3.

Brighton CT, Lorich DG, Kupcha R et al (1992) The pericyte as a possible osteoblast progenitor cell. Clin. Orthop. Relat. Res. 275:287–299

4.

Testa U, Pannitteri G, Condorelli GL (2008) Vascular endothelial growth factors in cardiovascular medicine. J. Cardiovasc. Med. (Hagerstown) 9(12):1190–1221

5.

Ferrara N, Gerber HP, LeCouter J (2003) The biology of VEGF and its receptors. Nat. Med. 9(6):669–676

6.

Josko J, Gwozdz B, Jedrzejowska-Szypulka H et al (2000) Vascular endothelial growth factor (VEGF) and its effect on angiogenesis. Med. Sci. Monit. 6(5):1047–1052

7.

Bluteau G, Julien M, Magne D et al (2007) VEGF and VEGF receptors are differentially expressed in chondrocytes. Bone 40(3):568–576

8.

Deckers MM, van Bezooijen RL, van der Horst G et al (2002) Bone morphogenetic proteins stimulate angiogenesis through osteoblast-derived vascular endothelial growth factor A. Endocrinology 143(4):1545–1553

9.

Mayr-Wohlfart U, Waltenberger J, Hausser H et al (2002) Vascular endothelial growth factor stimulates chemotactic migration of primary human osteoblasts. Bone 30(3):472–477

10.

Wang DS, Miura M, Demura H et al (1997) Anabolic effects of 1,25-dihydroxyvitamin D3 on osteoblasts are enhanced by vascular endothelial growth factor produced by osteoblasts and by growth factors produced by endothelial cells. Endocrinology 138(7):2953–2962

11.

Mishima Y, Lotz M (2008) Chemotaxis of human articular chondrocytes and mesenchymal stem cells. J. Orthop. Res. 26(10):1407–1412

12.

Lienau J, Schmidt-Bleek K, Peters A, et al., Differential regulation of blood vessel formation between standard and delayed bone healing. J. Orthop. Res. 2009

13.

Sarahrudi K, Thomas A, Braunsteiner T, et al., VEGF serum concentrations in patients with long bone fractures: A comparison between impaired and normal fracture healing. J. Orthop. Res. 2009

14.

Kawaguchi H, Kurokawa T, Hanada K et al (1994) Stimulation of fracture repair by recombinant human basic fibroblast growth factor in normal and streptozotocin-diabetic rats. Endocrinology 135(2):774–781

15.

Carano RA, Filvaroff EH (2003) Angiogenesis and bone repair. Drug Discov. Today 8(21):980–989

16.

Weiss S, Zimmermann G, Pufe T, et al., The systemic angiogenic response during bone healing. Arch. Orthop. Trauma Surg. 2008; 129: 989–997

17.

Ryaby JT, Sheller MR, Levine BP et al (2006) Thrombin peptide TP508 stimulates cellular events leading to angiogenesis, revascularization, and repair of dermal and musculoskeletal tissues. J. Bone Joint Surg. Am. 88(Suppl 3):132–139

18.

Gerber HP, Ferrara N (2000) Angiogenesis and bone growth. Trends Cardiovasc. Med. 10(5):223–228

19.

Harada S, Nagy JA, Sullivan KA et al (1994) Induction of vascular endothelial growth factor expression by prostaglandin E2 and E1 in osteoblasts. J. Clin. Invest. 93(6):2490–2496

20.

Weiss S, Baumgart R, Jochum M et al (2002) Systemic regulation of distraction osteogenesis: a cascade of biochemical factors. J. Bone Miner. Res. 17(7):1280–1289

21.

Weiss S, Zimmermann G, Baumgart R et al (2005) Systemic regulation of angiogenesis and matrix degradation in bone regeneration–distraction osteogenesis compared to rigid fracture healing. Bone 37(6):781–790

22.

Manabe T, Mori S, Mashiba T et al (2007) Human parathyroid hormone (1–34) accelerates natural fracture healing process in the femoral osteotomy model of cynomolgus monkeys. Bone 40(6):1475–1482

23.

Holstein JH, Menger MD, Scheuer C et al (2007) Erythropoietin (EPO): EPO-receptor signaling improves early endochondral ossification and mechanical strength in fracture healing. Life Sci. 80(10):893–900

24.

Simpson AH, Mills L, Noble B (2006) The role of growth factors and related agents in accelerating fracture healing. J. Bone Joint Surg. Br. 88(6):701–705

25.

Sena K, Sumner DR, Virdi AS (2007) Modulation of VEGF expression in rat bone marrow stromal cells by GDF-5. Connect. Tissue Res. 48(6):324–331

26.

Reher P, Doan N, Bradnock B et al (1999) Effect of ultrasound on the production of IL-8, basic FGF and VEGF. Cytokine 11(6):416–423

27.

Reed AA, Joyner CJ, Brownlow HC et al (2002) Human atrophic fracture non-unions are not avascular. J. Orthop. Res. 20(3):593–599

28.

Einhorn TA (2005) The science of fracture healing. J. Orthop. Trauma 19(10 Suppl):S4–S6

29.

Phillips AM (2005) Overview of the fracture healing cascade. Injury 36(Suppl 3):S5–S7

30.

Street J, Winter D, Wang JH et al (2000) Is human fracture hematoma inherently angiogenic? Clin. Orthop. Relat. Res. 378:224–237

31.

Brighton CT, Krebs AG (1972) Oxygen tension of nonunion of fractured femurs in the rabbit. Surg. Gynecol. Obstet. 135(3):379–385

32.

Semenza GL, Wang GL (1992) A nuclear factor induced by hypoxia via de novo protein synthesis binds to the human erythropoietin gene enhancer at a site required for transcriptional activation. Mol. Cell Biol. 12(12):5447–5454

33.

Komatsu DE, Hadjiargyrou M (2004) Activation of the transcription factor HIF-1 and its target genes, VEGF, HO-1, iNOS, during fracture repair. Bone 34(4):680–688

34.

Eckardt H, Ding M, Lind M et al (2005) Recombinant human vascular endothelial growth factor enhances bone healing in an experimental nonunion model. J. Bone Joint. Surg. Br. 87(10):1434–1438

35.

Street J, Bao M, deGuzman L et al (2002) Vascular endothelial growth factor stimulates bone repair by promoting angiogenesis and bone turnover. Proc. Natl. Acad. Sci. U. S. A. 99(15):9656–9661

36.

Li R, Stewart DJ, von Schroeder HP et al (2009) Effect of cell-based VEGF gene therapy on healing of a segmental bone defect. J. Orthop. Res. 27(1):8–14

37.

Shen X, Wan C, Ramaswamy G, et al., Prolyl hydroxylase inhibitors increase neoangiogenesis and callus formation following femur fracture in mice. J. Orthop. Res. 2009

38.

Street JT, McGrath M, O'Regan K et al (2000) Thromboprophylaxis using a low molecular weight heparin delays fracture repair. Clin. Orthop. Relat. Res. 381:278–289

39.

Tsopanoglou NE, Andriopoulou P, Maragoudakis ME (2002) On the mechanism of thrombin-induced angiogenesis: involvement of alphavbeta3-integrin. Am. J. Physiol. Cell Physiol. 283(5):C1501–C1510

40.

Mosesson MW (2005) Fibrinogen and fibrin structure and functions. J. Thromb. Haemost. 3(8):1894–1904

41.

Bar-Shavit R, Eldor A, Vlodavsky I (1989) Binding of thrombin to subendothelial extracellular matrix. Protection and expression of functional properties. J. Clin. Invest. 84(4):1096–1104

42.

Kon T, Cho TJ, Aizawa T et al (2001) Expression of osteoprotegerin, receptor activator of NF-kappaB ligand (osteoprotegerin ligand) and related proinflammatory cytokines during fracture healing. J Bone Miner. Res. 16(6):1004–1014

43.

Gerstenfeld LC, Cho TJ, Kon T et al (2003) Impaired fracture healing in the absence of TNF-alpha signaling: the role of TNF-alpha in endochondral cartilage resorption. J. Bone Miner. Res. 18(9):1584–1592

44.

Gerber HP, Vu TH, Ryan AM et al (1999) VEGF couples hypertrophic cartilage remodeling, ossification and angiogenesis during endochondral bone formation. Nat. Med. 5(6):623–628

45.

Carlevaro MF, Cermelli S, Cancedda R et al (2000) Vascular endothelial growth factor (VEGF) in cartilage neovascularization and chondrocyte differentiation: auto-paracrine role during endochondral bone formation. J. Cell Sci. 113(Pt 1):59–69

46.

Matsumoto T, Cooper GM, Gharaibeh B et al (2009) Cartilage repair in a rat model of osteoarthritis through intraarticular transplantation of muscle-derived stem cells expressing bone morphogenetic protein 4 and soluble Flt-1. Arthritis Rheum. 60(5):1390–1405

47.

Zelzer E, Mamluk R, Ferrara N et al (2004) VEGFA is necessary for chondrocyte survival during bone development. Development 131(9):2161–2171

48.

Murata M, Yudoh K, Masuko K (2008) The potential role of vascular endothelial growth factor (VEGF) in cartilage: how the angiogenic factor could be involved in the pathogenesis of osteoarthritis? Osteoarthr. Cartil. 16(3):279–286

49.

Kloen P, Doty SB, Gordon E et al (2002) Expression and activation of the BMP-signaling components in human fracture nonunions. J. Bone Joint Surg. Am. 84-A(11):1909–1918

50.

Swiontkowski MF, Aro HT, Donell S et al (2006) Recombinant human bone morphogenetic protein-2 in open tibial fractures. A subgroup analysis of data combined from two prospective randomized studies. J. Bone Joint Surg. Am. 88(6):1258–1265

51.

Murnaghan M, Li G, Marsh DR (2006) Nonsteroidal anti-inflammatory drug-induced fracture nonunion: an inhibition of angiogenesis? J. Bone Joint Surg. Am. 88(Suppl 3):140–147

52.

van der Heide HJ, Hannink G, Buma P et al (2008) No effect of ketoprofen and meloxicam on bone graft ingrowth: a bone chamber study in goats. Acta Orthop. 79(4):548–554

53.

Goodman S, Ma T, Trindade M et al (2002) COX-2 selective NSAID decreases bone ingrowth in vivo. J. Orthop. Res. 20(6):1164–1169

54.

Simon AM, O'Connor JP (2007) Dose and time-dependent effects of cyclooxygenase-2 inhibition on fracture-healing. J. Bone Joint Surg. Am. 89(3):500–511

55.

Burd TA, Hughes MS, Anglen JO (2003) Heterotopic ossification prophylaxis with indomethacin increases the risk of long-bone nonunion. J. Bone Joint Surg. Br. 85(5):700–705

56.

Glassman SD, Rose SM, Dimar JR et al (1998) The effect of postoperative nonsteroidal anti-inflammatory drug administration on spinal fusion. Spine 23(7):834–838

57.

Hashimoto K, Morishige K, Sawada K et al (2007) Alendronate suppresses tumor angiogenesis by inhibiting Rho activation of endothelial cells. Biochem. Biophys. Res. Commun. 354(2):478–484

58.

Huang RC, Khan SN, Sandhu HS et al (2005) Alendronate inhibits spine fusion in a rat model. Spine 30(22):2516–2522

59.

Koedam JA, Smink JJ, van Buul-Offers SC (2002) Glucocorticoids inhibit vascular endothelial growth factor expression in growth plate chondrocytes. Mol. Cell Endocrinol. 197(1–2):35–44

60.

Sawin PD, Dickman CA, Crawford NR et al (2001) The effects of dexamethasone on bone fusion in an experimental model of posterolateral lumbar spinal arthrodesis. J. Neurosurg. 94(1 Suppl):76–81

61.

Silcox DH 3rd, Daftari T, Boden SD et al (1995) The effect of nicotine on spinal fusion. Spine 20(14):1549–1553

62.

Grey A (2008) Skeletal consequences of thiazolidinedione therapy. Osteoporos. Int. 19(2):129–137

63.

Aspenberg P (2005) Drugs and fracture repair. Acta Orthop. 76(6):741–748

64.

Bartlett CS 3rd, Weiner LS, Yang EC (1997) Treatment of type II and type III open tibia fractures in children. J. Orthop. Trauma 11(5):357–362

65.

Utvag SE, Grundnes O, Reikeraos O (1996) Effects of periosteal stripping on healing of segmental fractures in rats. J. Orthop. Trauma 10(4):279–284

66.

Dirschl DR, Duff GP, Dahners LE et al (1998) High pressure pulsatile lavage irrigation of intraarticular fractures: effects on fracture healing. J. Orthop. Trauma 12(7):460–463
Additional information
Each author certifies that he or she has no commercial associations (e.g., consultancies, stock ownership, equity interest, patent/licensing arrangements, etc.) that might pose a conflict of interest in connection with the submitted article.
Level of Evidence: N/A (Review Article).
About this article
Cite this article
Beamer, B., Hettrich, C. & Lane, J. Vascular Endothelial Growth Factor: An Essential Component of Angiogenesis and Fracture Healing. HSS Jrnl 6, 85–94 (2010). https://doi.org/10.1007/s11420-009-9129-4
Received:

Accepted:

Published:

Issue Date:
Keywords
VEGF

growth factor

fracture

angiogenesis

non-union

blood supply

vascular endothelial growth factor

fracture healing