Abstract
We report the treatment of a volar dislocation to the fourth and fifth carpometacarpal (CMC) joints. Plain radiographs were used to evaluate this unusual injury before surgery. Open reduction and internal fixation using K-wires restored the normal anatomic relationships of the CMC joints. This very rare injury is often difficult to recognize. A careful neurologic assessment of the patient is a necessity, as well as obtaining proper radiographs of the hand. A review of the literature is presented.
This is a preview of subscription content, log in to check access.
Access options
Buy single article
Instant access to the full article PDF.
US$ 39.95
Price includes VAT for USA
Subscribe to journal
Immediate online access to all issues from 2019. Subscription will auto renew annually.
US$ 99
This is the net price. Taxes to be calculated in checkout.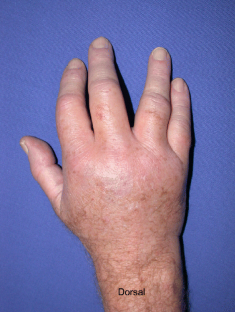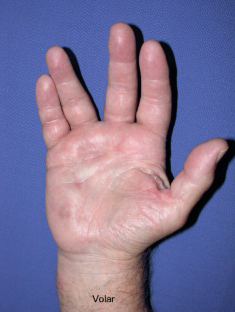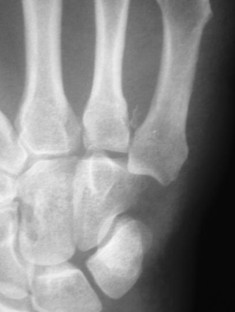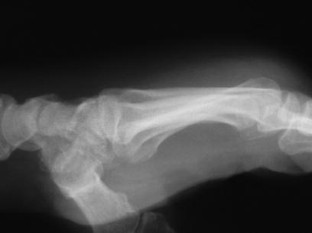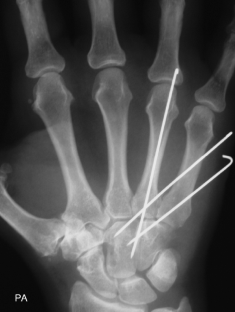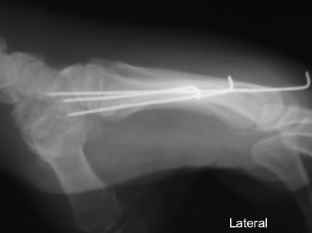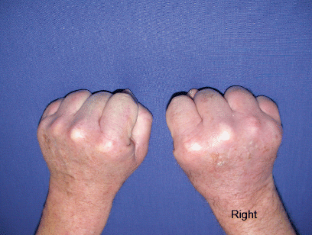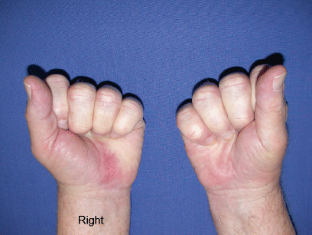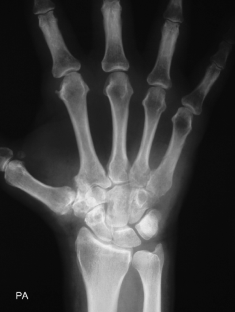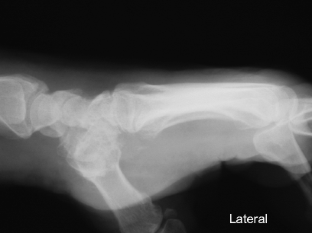 References
1.

Weiland AJ, Lister GD, Villareal-Rios A (1976) Volar fracture dislocations of the second and third carpometacarpal joints associated with acute carpal tunnel syndrome. J Trauma 16:672–675

2.

McWhorter GL (1918) Isolated and complete dislocation of the fifth carpometacarpal joint: open operation. Surg Clin Chicago 2:793–796

3.

Nalebuff EA (1968) Isolated anterior carpometacarpal dislocation of the fifth finger: classification and case report. J Trauma 8:1119–1123 doi:10.1097/00005373-196811000-00017

4.

Bajekal RA, Kotwal PP, Menon D (1992) Closed volar dislocations of the four ulnar carpometacarpal joints. Injury 23:355–356 doi:10.1016/0020-1383(92)90197-Z

5.

Berg EE, Murphy DF (1986) Ulnopalmar dislocation of the fifth carpometacarpal joint—successful closed reduction: review of the literature and anatomic reevaluation. J Hand Surg 11A:521–525

6.

Buzby BF (1934) Palmar carpo-metacarpal dislocation of the fifth metacarpal. Ann Surg 100:555–557 doi:10.1097/00000658-193409000-00022

7.

Chen VT (1987) Dislocation of carpometacarpal joint of the little finger. J Hand Surg 12B:260–263

8.

Dennyson WG, Stother IG (1976) Carpometacarpal dislocation of the little finger. Hand 8:161–164 doi:10.1016/0072-968X(76)90040-1

9.

Fernyhough J, Trumble T (1990) Late posttraumatic carpometacarpal dislocation of the ring and little finger. J Orthop Trauma 4:200–203 doi:10.1097/00005131-199004020-00019

10.

Fischer JW, Waseem M, Gambhir A, Creedon RJ (2002) Ulnopalmar dislocation of the fifth carpometacarpal joint: a rare injury. Acta Orthop Belg 68:175–177

11.

Gore DR (1971) Carpometacarpal dislocation producing compression of the deep branch of the ulnar nerve. J Bone Jt Surg 53A:1387–1390

12.

Gunther SF, Bruno PD (1985) Divergent dislocation of the carpometacarpal joint: a case report. J Hand Surg 10A:197–201

13.

Hartwig RH, Louis DS (1979) Multiple carpometacarpal dislocations: a review of four cases. J Bone Jt Surg 61A:906–908

14.

Harwin SF, Fox JM, Sedlin ED (1975) Volar dislocation of the bases of the second and third metacarpals. J Bone Jt Surg 57A:849–851

15.

Hazlett JW (1968) Carpometacarpal dislocations other than the thumb: a report of eleven cases. Can J Surg 11:315–323

16.

Ker HR (1955) Dislocation of the fifth carpo-metacarpal joint. J Bone Jt Surg 37B:254–256

17.

Kleinman WB, Grantham SA (1978) Multiple volar carpometacarpal joint dislocation: case report of traumatic volar dislocation of the medial four carpometacarpal joints in a child and review of the literature. J Hand Surg 3A:377–382

18.

Kumar R, Malhoutra R (2001) Divergent fracture-dislocation of the second carpometacarpal joint and the three ulnar carpometacarpal joints. J Hand Surg 26A:123–129

19.

Kumar S, Arora A, Jain AK, Agarwal A (1998) Volar dislocation of multiple carpometacarpal joints: report of four cases. J Orthop Trauma 12:523–526 doi:10.1097/00005131-199809000-00019

20.

Lintner SA, Rettig AC (1995) Isolated volar carpometacarpal dislocation of the fifth digit. Am J Orthop 24:918–919

21.

Mehara AK, Bhan S (1993) Rotatory dislocation of the second carpometacarpal joint: case report. J Trauma 34:464–466 doi:10.1097/00005373-199303000-00032

22.

North ER, Eaton RG (1980) Volar dislocation of the fifth metacarpal: report of two cases. J Bone Jt Surg 62A:657–659

23.

O'Rourke PJ, Quinlan W (1993) Fracture dislocation of the fifth metacarpal resulting in compression of the deep branch of the ulnar nerve. J Hand Surg 18B:190–191

24.

Roberts N, Holland CT (1936) Isolated dislocation of the base of the fifth metacarpal. Br J Surg 23:567–571 doi:10.1002/bjs.1800239110

25.

Schutt RC, Boswick JA, Scott FA (1981) Volar fracture-dislocation of the carpometacarpal joint of the index finger treated by delayed open reduction. J Trauma 21:986 doi:10.1097/00005373-198111000-00015

26.

Thomas WO, Gottliebson WM, D'Amore TF, Parry SW (1994) Isolated palmar displaced fracture of the base of the index metacarpal: a case report. J Hand Surg 19A:455–456

27.

Tountas AA, Kwok JMK (1984) Isolated volar dislocation of the fifth carpometacarpal joint: a case report. Clin Ortop 187:172–175

28.

Woo CC (1988) Traumatic volar dislocation of the second, third, and fourth carpometacarpal joints: mechanism and manipulation. J Manip Physiol Ther 11:124–129

29.

Hsu JD, Curtis RM (1970) Carpometacarpal dislocations on the ulnar side of the hand. J Bone Jt Surg 52A:927–930

30.

Henderson JJ, Arafa MAM (1987) Carpometacarpal dislocation: an easily missed diagnosis. J Bone Jt Surg 69B:212–214

31.

Waugh RL, Yancey AG (1948) Carpometacarpal dislocations. J Bone Jt Surg 30A:397–404

32.

Peterson P, Sacks S (1986) Fracture-dislocation of the base of the fifth metacarpal associated with injury to the deep motor branch of the ulnar nerve: a case report. J Hand Surg 11A:525–528

33.

Young TB (1987) Dorsal dislocation of the metacarpal base of the little and ring fingers with ulnar nerve compression. Injury 18:65–73 doi:10.1016/0020-1383(87)90392-5

34.

Glickel SZ, Barron OA, Eaton RG (1999) Dislocations and ligament injuries in the digits. In: Green DP (ed) Operative hand surgery, 4th edn. Churchill Livingstone, New York, p 786

35.

Bora FW, Didizian NH (1974) The treatment of injuries to the carpometacarpal joint of the little finger. J Bone Jt Surg 56A:1459–1463

36.

Fisher MR, Rogers LF, Hendrix RW (1983) Systematic approach to identifying fourth and fifth carpometacarpal joint dislocations. Am J Roentgenol 140:319–324

37.

Fisher MR, Rogers LF, Hendrix RW, Gilula LA (1984) Carpometacarpal dislocations. Crit Rev Diagn Imaging 22:95–126
About this article
Cite this article
Prokopis, P.M., Weiland, A.J. Volar Dislocation of the Fourth and Fifth Carpometacarpal Joints: A Case Report and Review of the Literature. HSS Jrnl 4, 138–142 (2008). https://doi.org/10.1007/s11420-008-9086-3
Received:

Accepted:

Published:

Issue Date:
Keywords
Internal Fixation

Carpal Tunnel Syndrome

Anatomic Reduction

Rare Injury

Small Finger