Abstract
There are several techniques that have been described for distal biceps tendon repair but there is still controversy regarding the optimal technique. Our hypothesis is that the single-incision technique will have a similar complication rate and functionally equivalent restoration of function compared with the two-incision approach. A retrospective review of consecutive biceps tendon repairs was performed at one institution over a 5-year period. Thirty-six patients met the inclusion criteria and 26 were available for follow-up including subjective assessment, physical examination, and strength testing. Patients were divided into two groups based on the surgical approach utilized: 12 patients underwent single-incision repair and 14 had a two-incision repair. The average follow-up was 33 months (minimum 13; maximum 75). There were no statistically significant differences in regards to flexion strength or endurance, supination strength or endurance, or complication rates between the two techniques. In conclusion, both surgical techniques led to adequate restoration of strength with a low complication rate. Both techniques are safe to perform and should be guided by surgeon comfort with the approach.
This is a preview of subscription content, log in to check access.
Access options
Buy single article
Instant access to the full article PDF.
US$ 39.95
Price includes VAT for USA
Subscribe to journal
Immediate online access to all issues from 2019. Subscription will auto renew annually.
US$ 99
This is the net price. Taxes to be calculated in checkout.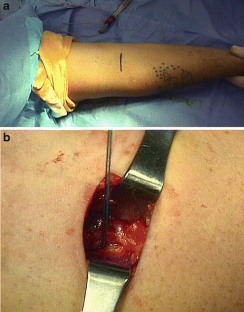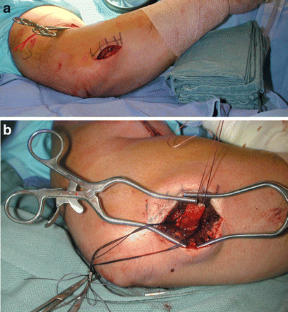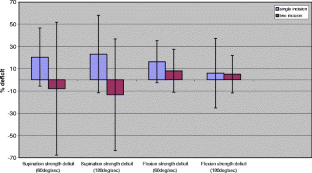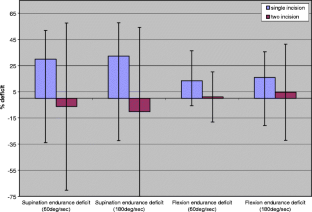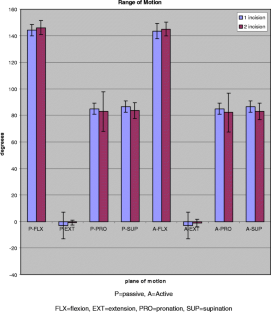 References
1.

Morrey BF (1999) Biceps tendon injury. Instr Course Lect 48:405–410

2.

Leighton MM, Bush-Joseph CA, Bach BR (1995) Distal biceps brachii repair. Results in dominant and nondominant extremities. Clin Orthop 317:114–121

3.

Morrey BF (2000) Injury of the flexors of the elbow: biceps in tendon injury. The elbow and its disorders, 3rd edn. Saunders, Philadelphia, pp 468–478

4.

Agins HJ, Chess JL, Hoekstra DV et al (1988) Rupture of the distal insertion of the biceps brachii tendon. Clin Orthop 234:34–38

5.

Baker BE, Bierwagen D (1985) Rupture of the distal tendon of the biceps brachii. Operative versus non-operative treatment. J Bone Joint Surg Am 67:414–417

6.

D'Alessandro DF, Shields CL, Tibone JE et al (1993) Repair of distal biceps tendon ruptures in athletes. Am J Sports Med 21:114–119 doi:10.1177/036354659302100119

7.

Friedmann E (1963) Rupture of the distal biceps brachii tendon. Report on 13 cases. Jama 184:60–63

8.

Hovelius L, Josefsson G (1977) Rupture of the distal biceps tendon. Report of five cases. Acta Orthop Scand 48:280–282

9.

Louis DS, Hankin FM, Eckenrode JE et al (1986) Distal biceps brachii tendon avulsion. A simplified method of operative repair. Am J Sports Med 14:234–236 doi:10.1177/036354658601400310

10.

Morrey BF, Askew LJ, An KN et al (1985) Rupture of the distal tendon of the biceps brachii. A biomechanical study. J Bone Joint Surg Am 67:418–421

11.

Norman WH (1985) Repair of avulsion of insertion of biceps brachii tendon. Clin Orthop 193:189–194

12.

Boucher PR, Morton KS (1967) Rupture of the distal biceps brachii tendon. J Trauma 7:626–632 doi:10.1097/00005373-196709000-00002

13.

Dobbie RP (1941) Avulsion of the lower biceps brachii tendon: analysis of fifty-one previously unreported cases. Am J Surgery 51:662–683 doi:10.1016/S0002-9610(41)90203-9

14.

Meherin JM, Kilgore ESJ (1960) The treatment of ruptures of the distal biceps brachii tendon. Am J Surgery 82:290–292

15.

Boyd H, Anderson L (1961) A method of reinsertion of the distal biceps brachii tendon. J Bone Joint Surg Am 43:1041–1043

16.

Davison BL, Engber WD, Tigert LJ (1996) Long term evaluation of repaired distal biceps brachii tendon ruptures. Clin Orthop 333:186–191 doi:10.1097/00003086-199612000-00019

17.

Failla JM, Amadio PC, Morrey BF et al (1990) Proximal radioulnar synostosis after repair of distal biceps brachii rupture by the two-incision technique. Report of four cases. Clin Orthop 253:133–136

18.

Lintner S, Fischer T (1996) Repair of the distal biceps tendon using suture anchors and an anterior approach. Clin Orthop 322:116–119 doi:10.1097/00003086-199601000-00014

19.

Barnes SJ, Coleman SG, Gilpin D (1993) Repair of avulsed insertion of biceps. A new technique in four cases. J Bone Joint Surg Br 75:938–939

20.

Le Huec JC, Moinard M, Liquois F et al (1996) Distal rupture of the tendon of biceps brachii. Evaluation by MRI and the results of repair. J Bone Joint Surg Br 78:767–770

21.

Rantanen J, Orava S (1999) Rupture of the distal biceps tendon. A report of 19 patients treated with anatomic reinsertion, and a meta-analysis of 147 cases found in the literature. Am J Sports Med 27:128–132

22.

Strauch RJ, Michelson H, Rosenwasser MP (1997) Repair of rupture of the distal tendon of the biceps brachii. Review of the literature and report of three cases treated with a single anterior incision and suture anchors. Am J Orthop 26:151–156

23.

Woods DA, Hoy G, Shimmin A (1999) A safe technique for distal biceps repair using a suture anchor and a limited anterior approach. Injury 30:233–237 doi:10.1016/S0020-1383(98)00244-7

24.

El-Hawary RJ, MacDermid JC, Faber KJ et al (2003) Distal biceps tendon repair: comparison of surgical techniques. J Hand Surg [Am] 28:496–502 doi:10.1053/jhsu.2003.50081

25.

Hoppenfeld S, de Boer P (1994) Surgical exposures in orthopaedics: the anatomic approach. Lippincott, Philadelphia

26.

Morrey BF (1994) Masters techniques in orthopaedic surgery—the elbow. Lippincott, Williams & Wilkins, Philadelphia

27.

Askew LJ, An K, Morrey BF et al (1987) Isometric elbow strength in normal individuals. Clin Orthop 222:261–266

28.

Lemos SE, Ebramzedeh E, Kvitne RS (2004) A new technique: in vitro suture anchor fixation has superior yield strength to bone tunnel fixation for distal biceps tendon repair. Am J Sports Med 32:406–410 doi:10.1177/0363546503261720

29.

Pereira DS, Kvitne RS, Liang M et al (2002) Surgical repair of distal biceps tendon ruptures: a biomechanical comparison of two techniques. Am J Sports Med 30:432–436
About this article
Cite this article
Johnson, T.S., Johnson, D.C., Shindle, M.K. et al. One- Versus Two-Incision Technique for Distal Biceps Tendon Repair. HSS Jrnl 4, 117–122 (2008). https://doi.org/10.1007/s11420-008-9085-4
Received:

Accepted:

Published:

Issue Date:
Keywords
Heterotopic Ossification

Biceps Brachii

Suture Anchor

Biceps Tendon

Distal Biceps Tendon