Abstract
Zygapophysial joint (z-joint) pain has long been suggested to be one of the sources of low back pain. Radiofrequency denervation of the medial branches of the dorsal rami to treat z-joint pain is an outpatient minimally invasive treatment option. There have been many short-term studies to determine the outcome of the procedure, but few long-term studies have been conducted. Our goal is to clarify whether radiofrequency denervation has any long-term clinical benefit. In this retrospective cohort study, a total of 42 patients (25 women and 17 men), with an average follow-up of 3.5 years, with clinical signs of zygapophysial joint involvement who had failed conservative treatment (pre-procedure symptom duration mean 6.03 years; range 5 months to 48 years) and had a favorable response to a diagnostic medial branch block or zygapophysial joint injection, were identified. The identified subjects underwent radiofrequency denervation at the Hospital for Special Surgery Physiatry Department from 1998 to 2006. Patient's records were reviewed, and a questionnaire was provided, completed on phone call follow-up, or mailed by the patient. The success of this intervention in providing improvement in pain and function was analyzed using the Numerical Rating Scale (NRS)—11, North American Spine Society (NASS) four-point satisfaction index, and a modified Roland–Morris Disability Questionnaire (RMDQ). Fifty-two percent of patients reported a successful outcome with improved function at a minimum follow-up period of 2 years (mean 3.5 years, range 2–8.8 years). Patients in the failure group were more likely to be older and have moderate to severe neuroforaminal stenosis (77.8%) compared to patients in the success group (24.2%). Radiofrequency denervation in selected patients with chronic zygapophysial joint-mediated low back pain provides long-term reduction in pain and improved function with minimum morbidity.
This is a preview of subscription content, log in to check access.
Access options
Buy single article
Instant access to the full article PDF.
US$ 39.95
Price includes VAT for USA
Subscribe to journal
Immediate online access to all issues from 2019. Subscription will auto renew annually.
US$ 99
This is the net price. Taxes to be calculated in checkout.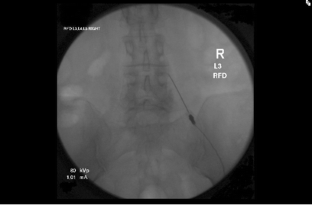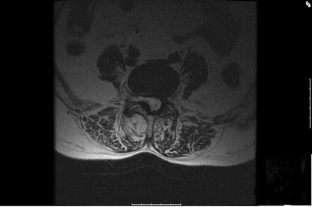 References
1.

Cypress BK (1991) Characteristics of physician visits for back symptoms: a national perspective. Am J Public Health 12:141–156

2.

Ghormley RK (1933) Low back pain with special reference to the articular facets with presentation of an operative procedure. JAMA 101:1773–1777

3.

Goldthwait JE (1911) The lumbosacral articulation: an explanation of many cases of lumbao, sciatica, and paraplegia. Boston Med Surg J 164:365–372

4.

Bogduk N, Long DM (1979) The anatomy of the so-called "articular nerves" and their relationship to facet denervation in the treatment of low-back pain. J Neurosurg 51(2):172–177

5.

Lynch MC, Taylor JF (1986) Facet joint injection for low back pain. A clinical study. J Bone Joint Surg [British volume] 68(1):138–141

6.

Merskey H, Bogduk N (1994) Classification of chronic pain. Descriptions of chronic pain syndromes and definition of pain terms, 2nd edn. IASP Press, Seattle

7.

Manchikanti L, Boswell MV, Singh V, Pampati V, Damron KS, Beyer CD (2004) Prevalence of facet joint pain in chronic spinal pain of cervical, thoracic, and lumbar regions. BMC Musculoskelet Disord 5:15

8.

Schwarzer AC, Aprill CN, Derby R, Fortin J, Kine G, Bogduk N (1994) Clinical features of patients with pain stemming from the lumbar zygapophysial joints. Is the lumbar facet syndrome a clinical entity? Spine 19:1132–1137

9.

Manchikanti L, Pampati VS, Fellows B, Pakanati RR (1999) Prevalence of lumbar facet joint pain in chronic low back pain. Pain Physician 2:59–64

10.

Manchikanti L, Pampati VS, Fellows B, Bakhit CE (2000) The diagnostic validity and therapeutic value of lumbar facet joint nerve blocks with or without adjuvant agents. Curr Rev Pain 4:337–344

11.

Manchikanti L, Singh V, Pampati VS, Damron KS, Barnhill RC, Beyer CD, Cash KA (2001) Evaluation of the relative contributions of various structures in chronic low back pain. Pain Physician 4:308–316

12.

Bogduk N (1997) International Spinal Injection Society guidelines for the performance of spinal injection procedures. Part 1: zygapophysial joint blocks. Clin J Pain 13:285–302

13.

Giles LG, Harvey AR (1987) Immunohistochemical demonstration of nociceptors in the capsule and synovial folds of human zygapophyseal joints. Br J Rheumatol 26(5):362–364 Oct

14.

Geraci MC, Baker RM, Sasso RC (2005) Lumbar zygapophysial joint evaluation and treatment. SpineLine 10–17

15.

Markwalder TM, Merat M (1994) The lumbar and lumbosacral facet syndrome: diagnostic measures, surgical treatment and results in 119 patients. Acta Neurochir 128:40–46

16.

Ferrara LA, Secor JL, Jin B, Wakefield A, Inceoglu S, Benzel EC (2003) A biomechanical comparison of facet screw fixation and pedicle screw fixation. Spine 28:1226–1234

17.

Geurts JW, van Wijk RM et al (2001) Efficacy of radiofrequency procedures for the treatment of spinal pain: a systematic review of randomized clinical trials. Reg Anesth Pain Med 269(5):394–400

18.

Hooten WM, Martin DP, Huntoon MA (2005) Radiofrequency neurotomy for low back pain: evidence-based procedural guidelines. Pain Medicine 6(2):129–138

19.

Dreyfuss P, Halbrook B, Pauza K, Joshi A, McLarty J, Bodguk N (2000) Efficacy and validity of radiofrequency neurotomy for chronic lumbar zygapophyseal joint pain. Spine 25(10):1270–7

20.

Boswell MV, Trescot AM, Datta S, Schultz DM (2007) Interventional techniques: evidence-based practice guidelines in the management of chronic spinal pain. Pain Physician 10(2):381 Mar

21.

Sehgal N, Shah RV, McKenzie-Brown AM, Everett CR (2005) Diagnostic utility of facet (zygapophysial) joint injections in chronic spinal pain: a systematic review of evidence. Pain Physician 8:211–224

22.

Schwarzer AC, Wang SC, Odriscoll D, Harrington T, Bogduk N, Laurent R (1995) The ability of computed tomography to identify a painful zygapophysial joint in patients with chronic low back pain. Spine 20:907–912

23.

Schwarzer AC, Scott AM, Wang SC, Hoschl R, Wiseman JC, Copper RA (1992) The role of bone scintigraphy in chronic low back pain: a comparison of SPECT and planar images and zygapophysial joint injection. Aust NZJ Med 22:185

24.

Raymond J, Dumas JM, Lisbona R (1984) Nuclear imaging as a screening test for patients referred for intra-articular facet block. J Can Assoc Radiol 35:291–292

25.

Schwarzer AC, Derby R, Aprill CN, Fortin J, Kine G, Bogduk N (1994) Pain from the lumbar zygapophysial joints: a test of two models. J Spinal Disord 7:331–336

26.

Bogduk N (2008) Evidence-informed management of chronic low back pain with facet injections and radiofrequency neurotomy. Spine J 8(1):56–64 Jan-Feb

27.

Shealy CN (1975) Percutaneous radiofrequency denervation of spinal facets. Treatment for chronic back pain and sciatica. J Neurosurg 43(4):448–451

28.

van Wijk RM, Geurts JW, Wynne HJ (2001) Long-lasting analgesic effect of radiofrequency treatment of the lumbosacral dorsal root ganglion. J Neurosurg 94(2suppl):227–231

29.

Kornick C, Kramarich SS, Lamer TJ, Todd Sitzman B (2004) Complications of lumbar facet radiofrequency denervation. Spine 29(12):1352–1354

30.

Slipman CW, Bhat AL, Gilchrist RV et al (2003) A critical review of the evidence for the use of zygapophysial injections and radiofrequency denervation in the treatment of low back pain. Spine J 3(4):310–316 Jul–Aug

31.

van Wijk RM, Geurts JW, Wynne HJ et al (2005) Radiofrequency denervation of lumbar facet joints in the treatment of chronic low back pain. Clin J Pain 21(4):335–344

32.

van Kleef M, Barendse GA, Kessels A et al (1999) Randomized trial of radiofrequency lumbar facet denervation for chronic low back pain. Spine 24(18):1937–1942

33.

Lilius G, Laasonen EM, Myllynen P, Harilainen A, Gronlund G (1989) Lumbar facet joint syndrome: a randomized clinical trial. J Bone Joint Surg 71B:681–684

34.

Gallagher J, Petriccione di Vadi PL, Wedley JR, Hamann W, Ryan P, Chikanza I et al (1994) Radiofrequency facet joint denervation in the treatment of low back pain: a prospective controlled double-blind study to assess its efficacy. The Pain Clinic 7(3):193–198

35.

Leclaire R, Fortin L, Lambert R, Bergeron YM, Rossignol M (2001) Radiofrequency facet joint denervation in the treatment of low back pain: a placebo-controlled clinical trial to assess efficacy. Spine 26(13):1411–1417

36.

North RB, Han M, Zahurak M, Kidd DH (1994) Radiofrequency lumbar facet denervation: analysis of prognostic factors. Pain 57(1):77–83

37.

Gofeld M, Jitendra J, Faclier G (2007) Radiofrequency denervation of the lumbar zygapophysial joints: 10-year prospective clinical audit. Pain Physician 10(2):291–300 Mar

38.

DeLoach LJ, Higgins MS, Caplan AB, Stiff JL (1998) The visual analog scale in the immediate postoperative period: intrasubject variability and correlation with a numeric scale. Anesth Analg 86(1):102–106 Jan

39.

Daltroy LH, Cats-Baril WL, Katz JN, Fossel AH, Liang MH (1996) The North American spine society lumbar spine outcome assessment instrument: reliability and validity tests. Spine 21(6):741–749 Mar 15

40.

Roland M, Fairbank J (2000) The Roland–Morris Disability Questionnaire and the Oswestry Disability Questionnaire. Spine 25(24):3115–3124

41.

Gofeld M Radiofrequency denervation of the lumbar zygapophysial joints–targeting the best practice. Pain Med - 01-MAR-2008; 9(2): 204-211

42.

Bogduk N International Spine Intervention Society. Lumbar medial neurotomy. Practice guidelines for spinal diagnostic and treatment procedures. San Francisco, CA: International Spinal Intervention Society, 2004:188–218

43.

Lau P, Mercer S, Govind J, Bogduk N (2004) The surgical anatomy of the lumbar medial branch neurotomy. Pain Med 5:289–298

44.

Schofferman J, Kine G (2004) Effectiveness of repeated radiofrequency neurotomy for lumbar facet pain. Spine 29:247–243
Additional information
Level of Evidence: Level IV Retrospective Review
About this article
Cite this article
Manejias, E.M., Hu, J., Tatli, Y. et al. Lumbar Zygapophysial Joint Radiofrequency Denervation: a Long-Term Clinical Outcome Study. HSS Jrnl 4, 180–187 (2008). https://doi.org/10.1007/s11420-008-9082-7
Received:

Accepted:

Published:

Issue Date:
Keywords
radiofrequency denervation

facet joint

lumbar zygapophysial joint

back pain

neurotomy

diagnostic block