Abstract
The amount of axial rotation in the tibia caused by high tibial osteotomy is relatively unknown. The authors hypothesize that the coronal plane high tibial osteotomy, a novel technique used to treat varus malalignment, alters the axial rotation of the tibia less than the opening wedge high tibial osteotomy. Eight, embalmed, stripped cadaveric tibia–fibula constructs with intact interosseous membranes were randomized to either opening wedge or coronal plane high tibial osteotomies. Sequential valgus corrections of 5°, 10°, and 15° were performed. The Qualisys Track Manager motion capture system was used to measure axial rotation. Student's t test was used to compare axial rotation between the two groups. A p value of 0.05 was determined to be significant. The coronal plane technique produced rotations about the tibial axis that were statistically significantly smaller than those of the opening wedge technique for all correction angles (1.2° internal rotation (IR) vs 16° external rotation (ER), respectively, at 5° correction; p = 0.02) (3.5° IR vs 21.2° ER at 10° correction; p = 0.04) (4.5° IR vs 23.0° ER at 15° correction; p = 0.01). The coronal plane high tibial osteotomy alters axial rotation of the tibia significantly less than the opening wedge high tibial osteotomy.
This is a preview of subscription content, log in to check access.
Access options
Buy single article
Instant access to the full article PDF.
US$ 39.95
Price includes VAT for USA
Subscribe to journal
Immediate online access to all issues from 2019. Subscription will auto renew annually.
US$ 99
This is the net price. Taxes to be calculated in checkout.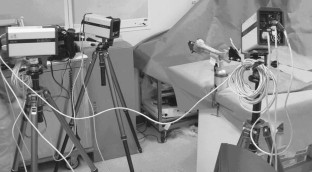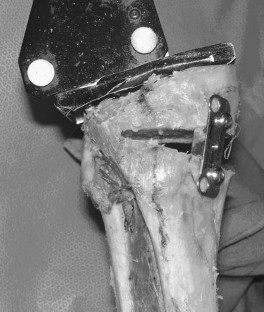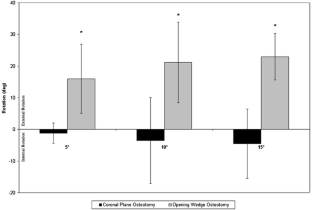 References
1.

Coventry MB (1965) Osteotomy of the upper portion of the tibia for degenerative arthritis of the knee. A preliminary report. J Bone Jt Surg Am 47:984–990

2.

Hernigou P, Medevielle D, Debeyre J, et al. (1987) Proximal tibial osteotomy for osteoarthritis with varus deformity. A ten to thirteen-year follow-up study. J Bone Jt Surg Am 69(3):332–354

3.

Koshino T, Murase T, Saito T (2003) Medial opening-wedge high tibial osteotomy with use of porous hydroxyapatite to treat medial compartment osteoarthritis of the knee. J Bone Jt Surg Am 85-A(1):78–85

4.

Kwok T (1992) Open wedge high tibial osteotomy using allo and autogenous bone grafts. J West Pac Orthop Assoc 29:93–97

5.

Magyar G, Toksvig-Larsen S, Lindstrand A (1999) Changes in osseous correction after proximal tibial osteotomy: radiostereometry of closed- and open-wedge osteotomy in 33 patients. Acta Orthop Scand 70(5):473–477
Acknowledgements
We would like to thank the Arthrex Corporation for donating their Tibial Opening Wedge Osteotomy System. In addition, we would like to thank Mark Lenhoff for assistance in reducing the axial rotation data.
About this article
Cite this article
Baumgarten, K.M., Meyers, K.N., Fealy, S. et al. The Coronal Plane High Tibial Osteotomy. Part II: A Comparison of Axial Rotation with the Opening Wedge High Tibial Osteotomy. HSS Jrnl 3, 155–158 (2007). https://doi.org/10.1007/s11420-007-9046-3
Key words
knee

osteotomy

malalignment

rotation

coronal