Abstract
Progressive and/or painful adult spinal deformity in the thoracolumbar and lumbar spine is sometimes treated surgically by long posterior fusions from the thoracic spine down to the pelvis, especially where there is a major thoracic curve component. Recent advances in anterior spinal instrumentation and spinal surgery technique have demonstrated the improved corrective ability offered by anterior stabilization systems, and the added benefit of limiting the number of vertebral fusion levels required for control of the deformity. The "hybrid technique" is a novel use of anterior instrumentation that applies limited anterior instrumentation down to the low lumbar spine (rods and screws), and partially overlapping short-segment posterior instrumentation to the sacrum (pedicle screws and rods). These constructs avoid posterior thoracic instrumentation and fusions, and avoid extension of posterior instrumentation to the pelvis. In the first 10 patients treated using this technique, thoracolumbar and lumbar major curve correction has averaged 71 and 82% in the immediate postoperative period (n = 7), respectively, and 59 and 68% at 2-year follow-up, respectively. The technique is an appealing and attractive alternative for treatment of thoracolumbar and lumbar scoliosis in the adult population, and avoids the requirement for applying spinal fixation to the thoracic spine and the pelvis.
This is a preview of subscription content, log in to check access.
Access options
Buy single article
Instant access to the full article PDF.
US$ 39.95
Price includes VAT for USA
Subscribe to journal
Immediate online access to all issues from 2019. Subscription will auto renew annually.
US$ 99
This is the net price. Taxes to be calculated in checkout.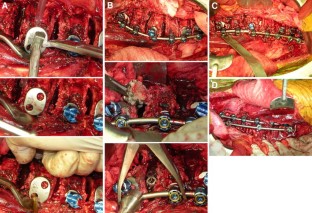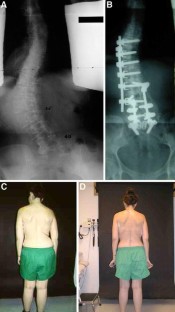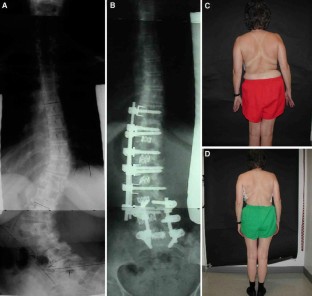 References
1.

Eck KR, Bridwell KH, Ungacta FF, Riew KD, Lapp MA, Lenke LG, Baldus C, Blanke K (2001) Complications and results of long adult deformity fusions down to l4, l5, and the sacrum. Spine 26(9):E182–E192

2.

Emami A, Deviren V, Berven S, Smith JA, Hu SS, Bradford DS (2002) Outcome and complications of long fusions to the sacrum in adult spine deformity: luque-galveston, combined iliac and sacral screws, and sacral fixation. Spine 27(7):776–786

3.

Kuklo TR, Bridwell KH, Lewis SJ, Baldus C, Blanke K, Iffrig TM, Lenke LG (2001) Minimum 2-year analysis of sacropelvic fixation and L5–S1 fusion using S1 and iliac screws. Spine 26(18):1976–1983

4.

Tsuchiya K, Bridwell KH, Kuklo TR, Lenke LG, Baldus C (2006) Minimum 5-year analysis of L5–S1 fusion using sacropelvic fixation (bilateral S1 and iliac screws) for spinal deformity. Spine 31(3):303–308

5.

McCord DH, Cunningham BW, Shono Y, Myers JJ, McAfee PC (1992) Biomechanical analysis of lumbosacral fixation. Spine 17(8 Suppl):S235–S243

6.

Perra JH (1994) Techniques of instrumentation in long fusions to the sacrum. Orthop Clin North Am 25(2):287–299

7.

Glattes RC, Bridwell KH, Lenke LG, Kim YJ, Rinella A, Edwards C, 2nd (2005) Proximal junctional kyphosis in adult spinal deformity following long instrumented posterior spinal fusion: incidence, outcomes, and risk factor analysis. Spine 30(14):1643–1649

8.

Betz RR, Harms J, Clements DH, 3rd, Lenke LG, Lowe TG, Shufflebarger HL, Jeszenszky D, Beele B (1999) Comparison of anterior and posterior instrumentation for correction of adolescent thoracic idiopathic scoliosis. Spine 24(3):225–239

9.

Ali RM, Boachie-Adjei O, Rawlins BA (2003) Functional and radiographic outcomes after surgery for adult scoliosis using third-generation instrumentation techniques. Spine 28(11):1163–1169 (discussion 9–70)
About this article
Cite this article
Boachie-Adjei, O., Charles, G. & Cunningham, M.E. Partially Overlapping Limited Anterior and Posterior Instrumentation for Adult Thoracolumbar and Lumbar Scoliosis: A Description of Novel Spinal Instrumentation, "The Hybrid Technique". HSS Jrnl 3, 93–98 (2007). https://doi.org/10.1007/s11420-006-9038-8
Key words
thoracolumbar

lumbar

spinal deformity

surgical technique