Abstract
We conducted a randomized controlled trial to assess the efficacy and safety of a multiple-component intervention designed to improve functional recovery after hip fracture. One hundred seventy-six patients who underwent surgery for a primary unilateral hip fracture were assigned randomly to receive usual care (control arm, n = 86) or a brief motivational videotape, supportive peer counseling, and high-intensity muscle-strength training (intervention arm, n = 90). Between-group differences on the physical functioning, role-physical, and social functioning domains of the SF-36 were assessed postoperatively at 6 months. At the end of the trial, 32 intervention and 27 control patients (34%) completed the 6-month outcome assessment. Although patient compliance with all three components of the intervention was uneven, over 90% of intervention patients were exposed to the motivational videotape. Intervention patients experienced a significant (P = 0.03) improvement in the role-physical domain (mean change, −11 ± 33) compared to control patients (mean change, −37 ± 41). Change in general health (P = 0.2) and mental health (P = 0.1) domain scores was also directionally consistent with the study hypothesis. Although our findings are consistent with previous reports of comprehensive rehabilitation efforts for hip fracture patients, the trial was undermined by high attrition and the possibility of self-selection bias at 6-month follow-up. We discuss the methodological challenges and lessons learned in conducting a randomized controlled trial that sought to implement and assess the impact of a complex intervention in a population that proved difficult to follow up once they had returned to the community.
This is a preview of subscription content, log in to check access.
Access options
Buy single article
Instant access to the full article PDF.
US$ 39.95
Price includes VAT for USA
Subscribe to journal
Immediate online access to all issues from 2019. Subscription will auto renew annually.
US$ 99
This is the net price. Taxes to be calculated in checkout.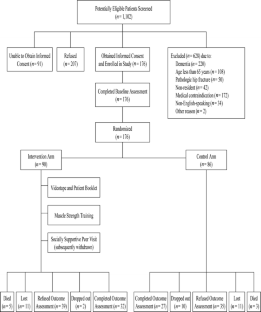 References
1.

Hauer K, Specht N, Schuler M et al (2002) Intensive physical training in geriatric patients after severe falls and hip surgery. Age Ageing 31:49–57

2.

Petrella RJ, Payne M, Myers A et al (2000) Physical function and fear of falling after hip fracture rehabilitation in the elderly. Am J Phys Med Rehabil 79:154–160

3.

Fortinsky RH, Bohannon RW, Litt MD et al (2002) Rehabilitation therapy self-efficacy and functional recovery after hip fracture. Int J Rehabil Res 25:241–246

4.

Magaziner J, Simonsick EM, Kashner TM et al (1990) Predictors of functional recovery one year following hospital discharge for hip fracture: a prospective study. J Gerontol 45:M101–M107

5.

Folstein MF, Folstein SE, McHugh PR (1975) "Mini-mental state." A practical method for grading the cognitive state of patients for the clinician. J Psychiatr Res 12:189–198

6.

Tinetti ME, Richman D, Powell L (1990) Falls efficacy as a measure of fear of falling. J Gerontol 45:P239–P243

7.

Radloff LS (1977) The CES-D: a self-report depression scale for research in a general population. Appl Psychol Meas 1:385–401

8.

Holmes TH, Rahe RH (1967) The social readjustment rating scale. J Psychosom Res 11:213–218

9.

Mattis S (1988) Dementia rating scale: professional manual. Psychological Assessment Resources, Odessa, FL

10.

Ware JE, Sherbourne CD (1992) The MOS 36-item short-form health survey (SF-36): I. Conceptual framework and item selection. Med Care 30:473–483

11.

Allegrante JP, MacKenzie CR, Robbins L et al (1991) Hip fracture in older persons: does self-efficacy-based intervention have a role in rehabilitation? Arthritis Care Res 4:39–47

12.

Ruchlin HS, Allegrante JP, Einstein J et al (1997) A method for documenting the economic efficacy of multiple-component interventions designed to enhance functional and social status. Arthritis Care Res 10:151–158

13.

Peterson MG, Allegrante JP, Cornell CN et al (2002) Measuring recovery after a hip fracture using the SF-36 and Cummings scales. Osteoporos Int 13:296–302

14.

Boereboom FT, Gerritsen J, Raymakers JA et al (1992) Results of rehabilitation after hip fractures in the Netherlands. J Rehabil Sci 5:102–106

15.

Cameron ID, Lyle DM, Quine S (1993) Accelerated rehabilitation after proximal femoral fracture: a randomized controlled trial. Disabil Rehabil 15:29–34

16.

Cameron ID, Lyle DM, Quine S (1994) Cost effectiveness of accelerated rehabilitation after proximal femoral fracture. J Clin Epidemiol 47:1307–1313

17.

Binder EF, Brown M, Sinacore DR et al (2004) Effects of extended outpatient rehabilitation after hip fracture: a randomized controlled trial. JAMA 292:837–846

18.

Tinetti ME, Baker DI, Gottschalk M et al (1999) Home-based multicomponent rehabilitation program for older persons after hip fracture: a randomized trial. Arch Phys Med Rehabil 80:916–922

19.

Penrod JD, Boockvar KS, Litke A et al (2004) Physical therapy and mobility 2 and 6 months after hip fracture. J Am Geriatr Soc 52:1114–1120

20.

Shepherd SM, Prescott RJ (1996) Use of standardised assessment scales in elderly hip fracture patients. J R Coll Physicians Lond 30:335–343
Acknowledgments
We thank James Hollenberg, MD, the late Lawren Daltroy, DrPH, William Evans, PhD, and Joseph Lane, MD, for consultative assistance during the early phases of planning the study. We are also indebted to Antonia Augurt, BA, Sherry Backus, MA, PT, Betty Chow, PT, James Dempsey, PT, Elena Elkin, PhD, Donna Kent, RN, Pat Marcus, PT, JeMe Cioppa-Mosca, PT, MBA, Linda Murray, OT, Douglas O'Connell, BA, Jean O'Doherty, RN, MA, and Janey Peterson, RN, MA, EdD, for their numerous contributions throughout the study, and Ray Marks, EdD, for reviewing and commenting on drafts of the manuscript. We also thank an anonymous reviewer for an extraordinarily thorough review and valuable suggestions for revision. This research was supported by the National Institute of Arthritis and Musculoskeletal and Skin Diseases (NIAMS 2P60-AR38520).
About this article
Cite this article
Allegrante, J.P., Peterson, M.G.E., Cornell, C.N. et al. Methodological Challenges of Multiple-Component Intervention: Lessons Learned from a Randomized Controlled Trial of Functional Recovery After Hip Fracture. HSS Jrnl 3, 63–70 (2007). https://doi.org/10.1007/s11420-006-9036-x
Key words
functional recovery

hip fracture

methodology

psychosocial intervention

randomized controlled trial

rehabilitation