Abstract
Infection is a devastating complication following total knee replacement (TKR). In the majority of cases, single- or two-stage revision has excellent results in eradicating infection and restoring function. Rarely, recurrent infection requires alternative treatments such as resection, amputation, or arthrodesis. A review of infections following TKR treated at two joint replacement centers identified 29 cases of resistant knee sepsis treated with a long intramedullary fusion nail. Clinical outcome and radiographs were reviewed at an average follow-up of 48 months (13–114). After the initial intramedullary arthrodesis union occurred in 24 of 29 patients (83%). The average time to fusion was 6 months (3–18 months). Failures included two cases of nail breakage, one of which subsequently achieved fusion following revision nailing, and three cases of recurrent infection requiring nail removal and permanent resection. At a minimum 2-year follow-up, 28% of the patients that achieved fusion complained of pain in the fused knee, 28% complained of ipsilateral hip pain, and two patients complained of contralateral knee pain. Four of the 25 fused patients (16%) remained nonambulatory after fusion, 17 required walking aids (68%) and only four ambulated unassisted. There was no association between age, number of previous procedures, the use of two-stage versus single stage technique, or infecting organism and failure of arthrodesis. Intramedullary arthrodesis is a viable treatment for refractory infection after TKR. Patients undergoing fusion should be informed of the potential for nonunion, recurrence of infection, pain in the ipsilateral extremity, and the long-term need for walking aids.
This is a preview of subscription content, log in to check access.
Access options
Buy single article
Instant access to the full article PDF.
US$ 39.95
Price includes VAT for USA
Subscribe to journal
Immediate online access to all issues from 2019. Subscription will auto renew annually.
US$ 99
This is the net price. Taxes to be calculated in checkout.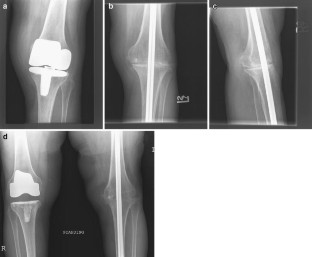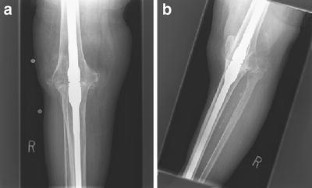 References
1.

Segawa H, Tsukayama DT, Kyle RF, Becker DA, Gustilo RB (1999) Infection after total knee arthroplasty. A retrospective study of the treatment of eighty-one infections. J Bone Jt Surg Am 81:1434–1445

2.

Windsor RE, Insall JN, Urs WK, Miller DV, Brause BD (1990) Two-stage reimplantation for the salvage of total knee arthroplasty complicated by infection. A further follow-up and refinement of indications. J Bone Jt Surg Am 72:272–277

3.

Conway JD, Mont MA, Bezwada HP (2004) Current concepts review: arthrodesis of the knee. J Bone Jt Surg Am 86:835–848

4.

Weidel JD (2002) Salvage of infected total knee fusion: The last option. Clin Orthop 404:139–142

5.

Hanssen AD, Trousdale RT, Osmon DR (1995) Patient outcome with reinfection following reimplantation for the infected total knee arthroplasty. Clin Orthop 321:55–67

6.

Damron TA, McBeath AA (1995) Arthrodesis following failed total knee arthroplasty: comprehensive review and meta-analysis of recent literature. Orthopedics 18:361–368

7.

Wasielewski RC, Barden RM, Rosenberg AG (1996) Results of different surgical procedures on total knee arthroplasty infections. J Arthroplast 11:931–938

8.

Salem KH, Keppler P, Kinzl L, Schmelz (2006) Hybrid external fixation for arthrodesis in knee sepsis. Clin Orthop May, Epub ahead of print

9.

Oostenbroek HJ, vanRoermund PM (2001) Arthrodesis of the knee after an infected arthroplasty using the Ilizarov method. J Bone Jt Surg Am 83:50–54

10.

Knutson K, Hovelius L, Lindstrand A, Lidgren L (1984) Arthrodesis after failed knee arthroplasty. A nationwide multicenter investigation of 91 cases. Clin Orthop 191:202–211

11.

Lai KA, Shen WJ, Yang CY (1998) Arthrodesis with a short Huckstep nail as a salvage procedure for failed total knee arthroplasty. J Bone Jt Surg Am 80:380–388

12.

Charnley J (1960) Arthrodesis of the knee. Clin Orthop 18:37–42

13.

Rand JA, Bryan RS, Chao EY (1987) Failed total knee arthroplasty treated by arthrodesis of the knee using the Ace-Fischer apparatus. J Bone Jt Surg Am 69:39–45

14.

Lucas DB, Murray WR (1961) Arthrodesis of the knee by double-plating. J Bone Jt Surg Am 43:795–808

15.

Nichols SJ, Landon GC, Tullos HS (1991) Arthrodesis with dual plates after failed total knee arthroplasty. J Bone Jt Surg Am 73:1020–1024

16.

Vlasak R, Gearen PF, Petty W (1995) Knee arthrodesis in the treatment of the failed total knee replacement. 321:138–144

17.

Waldeman BJ, Mont MA, Payman KR, Freiberg AA, Windsor RE, Sculco TP, Hungerford DS (1999) Infected total knee arthroplasty treated with arthrodesis using a modular nail. Clin Orthop 367:230–237

18.

Bargiotas K, Wohlrab D, Sewecke JJ, Lavigne G, DeMeo PJ, Sotereanos NG (2006) Arthrodesis of the knee with a long intramedullary nail following the failure of a total knee arthroplasty as the result of infection. J Bone Jt Surg Am 88:553–558

19.

Crockarell JR, Mihalko MJ (2005) Knee arthrodesis using an intramedullary nail. J Arthroplast 20:703–708

20.

McQueen DA, Cooke FW, Hahn DL (2006) Knee arthrodesis with the Wichita fusion nail. An outcome comparison. Clin Orthop 446:132–139

21.

Arroyo JS, Garvin KL, Neff JR (1997) Arthrodesis of the knee with a modular titanium intramedullary nail. J Bone Jt Surg Am 79:26–35

22.

MacDonald JH, Agarwal A, Lorei MP, Johanson NA, Freiberg AA (2006) Knee Arthrodesis 14:154–163

23.

Wilde AH, Stearns KL (1989) Intramedullary fixation for arthrodesis of the knee after infected total knee arthroplsty. Clin Orthop 248:87–92

24.

Donley BG, Mathews LS, Kaufer H (1991) Arthrodesis of the knee with an intramedullary nail. J Bone Jt Surg Am 73:907–913

25.

Knutson K, Lindstrand A, Lindgren L (1985) Arthrodesis for failed total knee arthroplasty. J Bone Jt Surg Br 67:47–52

26.

Rao N, Crossett LS, Sinha RK, Le Frock JL (2003) Long-term suppression of infection in total joint arthroplasty. Clin Orthop Relat Res 414:55–60

27.

Segreti J, Nelson JA, Trenholme GM (1998) Prolonged suppressive antibiotic therapy for infected orthopedic prosthesis. Clin Infect Dis 27:714–716

28.

Waters RL, Perry J, Antonelli D, Hislop H (1976) Energy cost of walking of amputees: the influence of the level of amputation. J Bone Jt Surg Am 58:42–46

29.

Morrey BF, Westholm F, Schoifet S, Rand JA, Bryan RS (1989) Long term results for various treatment options for infected total knee arthroplasty. Clin Orthop 248:120–128

30.

Panagiotopoulos E, Kouzelis A, Matzaroglou C, Saradis A, Lambiris E (2006) Intramedullary knee arthrodesis as a salvage procedure after failed total knee replacement. Int Orthop, Epub ahead of print
About this article
Cite this article
Talmo, C.T., Bono, J.V., Figgie, M.P. et al. Intramedullary Arthrodesis of the Knee in the Treatment of Sepsis After TKR. HSS Jrnl 3, 83–88 (2007). https://doi.org/10.1007/s11420-006-9034-z
Keywords
Total Knee Replacement

Complex Regional Pain Syndrome

Resection Arthroplasty

Transfemoral Amputation

Titanium Nail