Abstract
Background
The risk of radiographic knee degeneration after partial or total meniscectomy is well documented, but no prior study has employed cartilage-sensitive MRI technology to assess degenerative changes after meniscectomy.
Hypothesis
Arthroscopic partial meniscectomy results in early articular cartilage wear and subchondral bony degeneration, even in the absence of clinical symptoms, and these findings can be evaluated with cartilage-sensitive MRI.
Study design
Retrospective cohort.
Methods
Twenty-nine patients (ages: 15–40) who had undergone isolated arthroscopic partial medial or lateral meniscectomy with at least 5-year follow-up were evaluated. All patients had arthroscopically normal articular cartilage at the time of initial meniscectomy. Seventeen patients (18 knees) underwent partial medial meniscectomy (MM) and 12 patients underwent partial lateral meniscectomy (LM) with mean follow-up of 8.4 and 7.1 years, respectively. Follow-up evaluation included physical examination, outcome questionnaires, and cartilage-sensitive MRI examination with modified Outerbridge grading of articular surfaces.
Results
Outerbridge grades II–IV were noted in 64% of medial compartment joint surfaces in group MM knees versus 33% of lateral compartment joint surfaces in group LM knees. Abnormal cartilage surfaces (grades II–IV), subchondral sclerosis, and condylar squaring were all significantly more frequent after medial meniscectomy (p < 0.05). Groups MM and LM had no significant differences among outcome scores, which remained excellent in both groups. A significant negative correlation was found between the severity of cartilage wear and functional scoring in the MM group, suggesting that functional disability lags behind early MRI evidence of degeneration.
Conclusions
Despite optimal preoperative prognostic factors and excellent functional outcomes, MRI evidence of early articular cartilage degeneration was present in both partial medial and lateral meniscectomy patients at a minimum 5-year follow-up. Results support the use of cartilage-sensitive MRI as a noninvasive screening technique to evaluate cartilage changes after arthroscopic partial meniscectomy and may help to counsel the high-risk patient in regard to postoperative activity.
This is a preview of subscription content, log in to check access.
Access options
Buy single article
Instant access to the full article PDF.
US$ 39.95
Price includes VAT for USA
Subscribe to journal
Immediate online access to all issues from 2019. Subscription will auto renew annually.
US$ 99
This is the net price. Taxes to be calculated in checkout.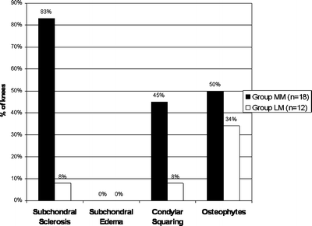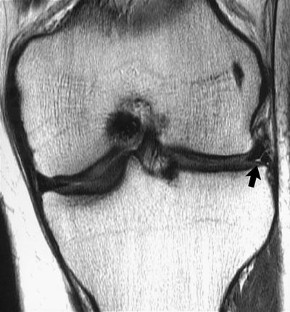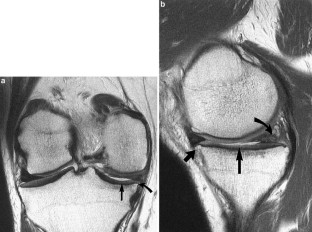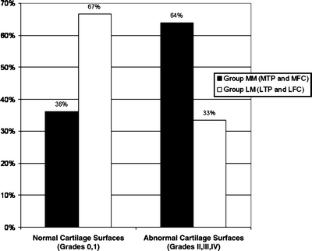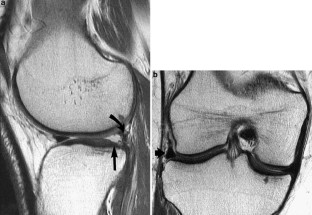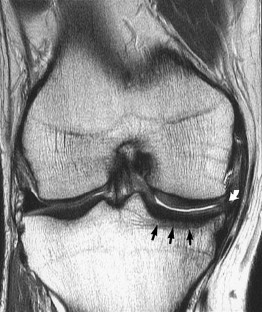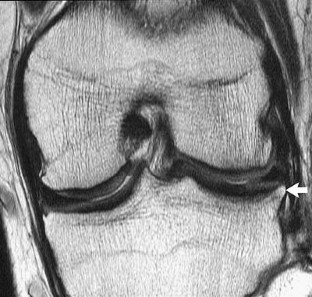 References
1.

Aagaard H, Verdonk R (1999) Function of the normal meniscus and consequences of meniscal resection. Scand J Med Sci Sports 9:134–140

2.

Abdon P, Turner MS, Pettersson H, Lindstrand A, Stenstrom A, Swanson AJ (1990) A long-term follow-up study of total meniscectomy in children. Clin Orthop 257:166–170

3.

Aglietti P, Buzzi R, Bassi PB, Pisaneschi A (1986) Results of arthroscopic meniscectomy. Ital J Orthop Traumatol 12:315–325

4.

Baratz ME, Fu FH, Mengato R (1986) Meniscal tears: the effect of meniscectomy and of repair on intraarticular contact areas and stress in the human knee. A preliminary report. Am J Sports Med 14:270–275

5.

Benedetto KP, Rangger C (1993) Arthroscopic partial meniscectomy: 5-year follow-up. Knee Surg Sports Traumatol Arthrosc 1:235–238

6.

Bolano LE, Grana WA (1993) Isolated arthroscopic partial meniscectomy. Functional radiographic evaluation at five years. Am J Sports Med 21:432–437

7.

Burks RT, Metcalf MH, Metcalf RW (1997) Fifteen-year follow-up of arthroscopic partial meniscectomy. Arthroscopy 13:673–679

8.

Cox JS, Nye CE, Schaefer WW, Woodstein IJ (1975) The degenerative effects of partial and total resection of the medial meniscus in dogs' knees. Clin Orthop 109:178–183

9.

Fairbanks TJ (1948) Knee joint changes after meniscectomy. J Bone Joint Surg Br 30B:664–670

10.

Fauno P, Nielsen AB (1992) Arthroscopic partial meniscectomy: a long-term follow-up. Arthroscopy 8:345–349

11.

Gillquist J, Hamberg P, Lysholm J (1982) Endoscopic partial and total meniscectomy. A comparative study with a short term follow up. Acta Orthop Scand 53:975–979

12.

Hede A, Larsen E, Sandberg H (1992) Partial versus total meniscectomy. A prospective, randomised study with long-term follow-up. J Bone Joint Surg Br 74:118–121

13.

Higuchi H, Kimura M, Shirakura K, Terauchi, M Takagishi K (2000) Factors affecting long-term results after arthroscopic partial meniscectomy. Clin Orthop 377:161–168

14.

Jackson JP (1968) Degenerative changes in the knee after meniscectomy. Br Med J 2:525–527

15.

Jaureguito JW, Elliot JS, Lietner T, Dixon LB, Reider B (1995) The effects of arthroscopic partial lateral meniscectomy in an otherwise normal knee: a retrospective review of functional, clinical, and radiographic results. Arthroscopy 11:29–36

16.

Johnson RJ, Kettelkamp DB, Clark W, Leaverton P (1974) Factors effecting late results after meniscectomy. J Bone Joint Surg Am 56:719–729

17.

Jorgensen U, Sonne-Holm S, Lauridsen F, Rosenklint A (1987) Long-term follow-up of meniscectomy in athletes. A prospective longitudinal study. J Bone Joint Surg Br 69:80–83

18.

Krause WR, Pope MH, Johnson RJ, Wilder DG (1976) Mechanical changes in the knee after meniscectomy. J Bone Joint Surg Am 58:599–604

19.

Levy IM, Torzilli PA, Gould JD, Warren RF (1989) The effect of lateral meniscectomy on motion of the knee. J Bone Joint Surg Am 71:401–406

20.

Levy IM, Torzilli PA, Warren RF (1982) The effect of medial meniscectomy on anterior–posterior motion of the knee. J Bone Joint Surg Am 64:883–888

21.

McBride ID, Reid JG (1988) Biomechanical considerations of the menisci of the knee. Can J Sport Sci 13:175–187

22.

McGinity JB, Geuss LF, Marvin RA (1977) Partial or total meniscectomy: A comparative analysis. J Bone Joint Surg Am 59:763–766

23.

Northmore-Ball MD, Dandy DJ, Jackson RW (1983) Arthroscopic, open partial, and total meniscectomy. A comparative study. J Bone Joint Surg Br 65:400–404

24.

Outerbridge RE, Dunlop JA (1975) The problem of chondromalacia patellae. Clin Orthop 110:177–196

25.

Potter HG, Linklater JM, Allen AA, Hannafin JA, Haas SB (1998) Magnetic resonance imaging of articular cartilage in the knee. An evaluation with use of fast-spin–echo imaging. J Bone Joint Surg Am 80:1276–1284

26.

Rangger C, Klestil T, Gloetzer W, Kemmler G, Benedetto KP (1995) Osteoarthritis after arthroscopic partial meniscectomy. Am J Sports Med 23:240–244

27.

Rockborn P, Gillquist J (1995) Outcome of arthroscopic meniscectomy. A 13-year physical and radiographic follow-up of 43 patients under 23 years of age. Acta Orthop Scand 66:113–117

28.

Rockborn P, Gillquist J (1996) Long-term results after arthroscopic meniscectomy. The role of preexisting cartilage fibrillation in a 13 year follow-up of 60 patients. Int J Sports Med 17:608–613

29.

Schimmer RC, Brulhart KB, Duff C, Glinz W (1998) Arthroscopic partial meniscectomy: A 12-year follow-up and two-step evaluation of the long-term course. Arthroscopy 14:136–142

30.

Tapper EM, Hoover NW (1969) Late results after meniscectomy. J Bone Joint Surg Am 51:517–526 (passim)

31.

Teurlings L (1999) Meniscal injuries. In: Arendt EA (ed) Orthopaedic knowledge update: sports medicine 2. American Academy of Orthopedic Surgeons, Rosemont, IL, pp 349–353

32.

Walker PS, Erkman MJ (1975) The role of the menisci in force transmission across the knee. Clin Orthop 109:184–192
Acknowledgements
This study was supported by a grant from the Institute for Sports Medicine Research, New York, New York. The authors acknowledge the assistance of Stephen J. O'Brien, MD; David W. Altchek, MD; Thomas J. Wickiewicz, MD; and Russell F. Warren, MD in the completion of this manuscript.
About this article
Cite this article
Williams, R.J., Warner, K.K., Petrigliano, F.A. et al. MRI Evaluation of Isolated Arthroscopic Partial Meniscectomy Patients at a Minimum Five-Year Follow-up. HSS Jrnl 3, 35–43 (2007). https://doi.org/10.1007/s11420-006-9031-2
Key words