Abstract
The VATER/VACTERL association is a syndrome notable for congenital vertebral malformations, anal atresia, cardiovascular anomalies, tracheoesophageal fistula, esophageal atresia, and renal or limb malformations. Vertebral malformations may include the entire spectrum of congenital spinal deformities, including kyphosis, as was seen in this case. A 14-year-old girl presented to our institution with severe rigid sagittal deformity in the thoracolumbar spine that had recurred following three prior spinal fusion surgeries: the first posterior only, the second anterior and posterior, and the third a posterior only proximal extension. These surgeries were performed to control progressive kyphosis from a complex failure of segmentation that resulted in a 66° kyphosis from T11 to L3 by the time she was 9 years old. Our evaluation revealed solid arthrodesis from the most recent procedures with resultant sagittal imbalance, and surgical options to restore balance included anterior and posterior revision spinal fusion with osteotomies, multiple posterior extension osteotomies with circumferential spine fusion, and posterior vertebral column resection with circumferential spine fusion. She was advised that multiple posterior extension osteotomies would likely be insufficient to restore sagittal balance in the setting of solid arthrodesis from anterior and posterior surgery, and that the posterior-only vertebral column resection would provide results equivalent to revision anterior and posterior surgery, without the morbidity of the anterior approach. She successfully underwent posterior vertebrectomy and circumferential spinal fusion with instrumentation and is doing well 2 years postoperatively. Severe rigid sagittal deformity can be effectively managed with a posterior-only surgical approach, vertebrectomy, and circumferential spinal fusion with instrumentation.
This is a preview of subscription content, log in to check access.
Access options
Buy single article
Instant access to the full article PDF.
US$ 39.95
Price includes VAT for USA
Subscribe to journal
Immediate online access to all issues from 2019. Subscription will auto renew annually.
US$ 99
This is the net price. Taxes to be calculated in checkout.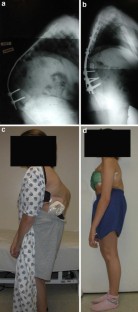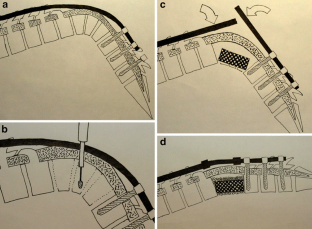 References
1.

Lawhon SM, MacEwen GD, Bunnell WP (1986) Orthopaedic aspects of the VATER association. J Bone Jt Surg, Am 68(3):424–429

2.

Muraji T, Mahour GH (1984) Surgical problems in patients with VATER-associated anomalies. J Pediatr Surg 19(5):550–554

3.

Weber TR, Smith W, Grosfeld JL (1980) Surgical experience in infants with the VATER association. J Pediatr Surg 15(6):849–854

4.

Botto LD, Khoury MJ, Mastroiacovo P, Castilla EE, Moore CA, Skjaerven R, Mutchinick OM, Borman B, Cocchi G, Czeizel AE, Goujard J, Irgens LM, Lancaster PA, Martinez-Frias ML, Merlob P, Ruusinen A, Stoll C, Sumiyoshi Y (1997) The spectrum of congenital anomalies of the VATER association: an international study. Am J Med Genet 71(1):8–15

5.

Patankar JZ, Vidyadhar M, Prabhakaran K, Bo L, Lsk Loh D (2004) Urogenital sinus, rectovaginal fistula, and an anterior stenosed anus—another cloacal variant. Pediatr Surg Int 20(7):556–558

6.

James HE, Chesnut R, Krous H, Billman G, Jones KL, Jones M (1994) Distal spinal cord pathology in the VATER association. J Pediatr Surg 29(11):1501–1503

7.

Warf BC, Scott RM, Barnes PD, Hendren WH, 3rd (1993) Tethered spinal cord in patients with anorectal and urogenital malformations. Pediatr Neurosurg 19(1):25–30

8.

Pang D (1993) Sacral agenesis and caudal spinal cord malformations. Neurosurgery 32(5):755–778; discussion 78–79

9.

Tongsong T, Wanapirak C, Piyamongkol W, Sudasana J (1999) Prenatal sonographic diagnosis of VATER association. J Clin Ultrasound 27(7):378–384

10.

del Rio Holgado M, Martinez JM, Gomez O, Casals G, Bargallo N, Fortuny A, Puerto B (2005) Ultrasonographic diagnosis of Jarcho–Levin syndrome at 20 weeks' gestation in a fetus without previous family history. Fetal Diagn Ther 20(2):136–140

11.

Hanauer A, Young ID (2002) Coffin–Lowry syndrome: clinical and molecular features. J Med Genet 39(10):705–713

12.

Yassir WK, Grottkau BE, Goldberg MJ (2003) Costello syndrome: orthopaedic manifestations and functional health. J Pediatr Orthop 23(1):94–98

13.

Lalonde F, Jarvis J (1999) Congenital kyphosis in myelomeningocele. The effect of cordotomy on bladder function. J Bone Jt Surg Br 81(2):245–249

14.

Lintner SA, Lindseth RE (1994) Kyphotic deformity in patients who have a myelomeningocele. Operative treatment and long-term follow-up. J Bone Jt Surg Am 76(9):1301–1307

15.

Martin J Jr, Kumar SJ, Guille JT, Ger D, Gibbs M (1994) Congenital kyphosis in myelomeningocele: results following operative and nonoperative treatment. J Pediatr Orthop 14(3):323–328

16.

Mintz LJ, Sarwark JF, Dias LS, Schafer MF (1991) The natural history of congenital kyphosis in myelomeningocele. A review of 51 children. Spine 16(8 Suppl):S348–350

17.

Niall DM, Dowling FE, Fogarty EE, Moore DP, Goldberg C (2004) Kyphectomy in children with myelomeningocele: a long-term outcome study. J Pediatr Orthop 24(1):37–44

18.

Nolden MT, Sarwark JF, Vora A, Grayhack JJ (2002) A kyphectomy technique with reduced perioperative morbidity for myelomeningocele kyphosis. Spine 27(16):1807–1813

19.

Sarwark JF (1999) Kyphosis deformity in myelomeningocele. Orthop Clin North Am 30(3):451–455, viii–ix

20.

Lonstein JE (1977) Post-laminectomy kyphosis. Clin Orthop Relat Res (128):93–100

21.

Otsuka NY, Hey L, Hall JE (1998) Postlaminectomy and postirradiation kyphosis in children and adolescents. Clin Orthop Relat Res (354):189–194

22.

Papagelopoulos PJ, Peterson HA, Ebersold MJ, Emmanuel PR, Choudhury SN, Quast LM (1997) Spinal column deformity and instability after lumbar or thoracolumbar laminectomy for intraspinal tumors in children and young adults. Spine 22(4):442–451

23.

Farcy JP, Schwab FJ (1997) Management of flatback and related kyphotic decompensation syndromes. Spine 22(20):2452–2457

24.

Mason DE, Sanders JO, MacKenzie WG, Nakata Y, Winter R (2002) Spinal deformity in chondrodysplasia punctata. Spine 27(18):1995–2002

25.

Basu PS, Elsebaie H, Noordeen MH (2002) Congenital spinal deformity: a comprehensive assessment at presentation. Spine 27(20):2255–2259

26.

Cil A, Yazici M, Alanay A, Acaroglu RE, Uzumcugil A, Surat A (2004) The course of sagittal plane abnormality in the patients with congenital scoliosis managed with convex growth arrest. Spine 29(5):547–552; discussion 52–53

27.

Walhout RJ, van Rhijn LW, Pruijs JE (2002) Hemi-epiphysiodesis for unclassified congenital scoliosis: immediate results and mid-term follow-up. Eur Spine J 11(6):543–549

28.

Dias RC, Miller F, Dabney K, Lipton GE (1997) Revision spine surgery in children with cerebral palsy. J Spinal Disord 10(2):132–144

29.

Lenke LG (2004) Kyphosis of the thoracic and thoracolumbar spine in the pediatric patient: prevention and treatment of surgical complications. Instr Course Lect 53:501–510

30.

McMaster MJ, Singh H (1999) Natural history of congenital kyphosis and kyphoscoliosis. A study of one hundred and twelve patients. J Bone Jt Surg Am 81(10):1367–1383

31.

McMaster MJ, Singh H (2001) The surgical management of congenital kyphosis and kyphoscoliosis. Spine 26(19):2146–2154; discussion 55

32.

Montgomery SP, Hall JE (1982) Congenital kyphosis. Spine 7(4):360–364

33.

Shimode M, Kojima T, Sowa K (2002) Spinal wedge osteotomy by a single posterior approach for correction of severe and rigid kyphosis or kyphoscoliosis. Spine 27(20):2260–2267

34.

Smith JT, Gollogly S, Dunn HK (2005) Simultaneous anterior–posterior approach through a costotransversectomy for the treatment of congenital kyphosis and acquired kyphoscoliotic deformities. J Bone Jt Surg Am 87(10):2281–2289
About this article
Cite this article
Cunningham, M.E., Charles, G. & Boachie-Adje, O. Posterior Vertebral Column Resection for VATER/VACTERL Associated Spinal Deformity: A Case Report. HSS Jrnl 3, 71–76 (2007). https://doi.org/10.1007/s11420-006-9021-4
Key words
VATER

VACTERL

kyphosis

kyphectomy

spinal deformity

recurrent