Abstract
This is a prospective review of 135 HA-coated ABG I total hip arthroplasty (THA) systems with a mean clinical and radiographic follow-up of 8.5 years. The 5-year survival rate was 85%, but 22% of the patients were dissatisfied. Revision THA was already indicated in 28% of the patients, with 26% indicated for cup loosening. PE wear was detected by x-ray in 42%. Disproportionate substantial wear with an average linear loss of 2.6 mm at the inner rim of the insert was observed in 23% of the cases. The mean annual wear rate was calculated 0.1–0.25 mm/year. Laboratory examination of the retrieved PE revealed polishing, cracks, and subsurface delamination. Radiographic evidence of acetabular cysts were found to be excessive granuloma during surgery. Polarization microscopy revealed debris particles phagocytized by reticuloendothelial cells. Results confirm the general opinion that aseptic osteolysis is a cell-mediated process driven by the presence of particles generated from wear debris. The findings also suggest that the main reasons for the failure of the first-generation ABG hip system were an insufficient locking mechanism and poor PE congruency, and not solely poor PE quality.
This is a preview of subscription content, log in to check access.
Access options
Buy single article
Instant access to the full article PDF.
US$ 39.95
Price includes VAT for USA
Subscribe to journal
Immediate online access to all issues from 2019. Subscription will auto renew annually.
US$ 99
This is the net price. Taxes to be calculated in checkout.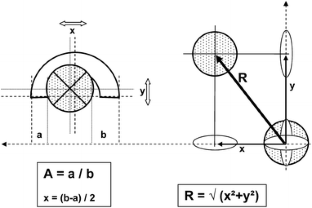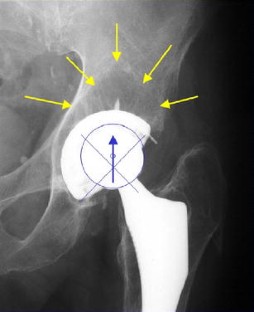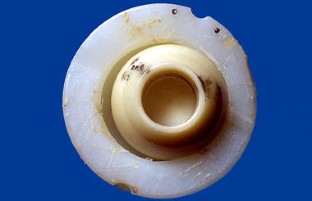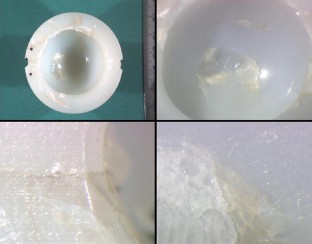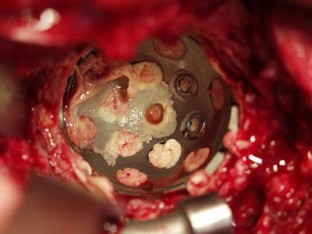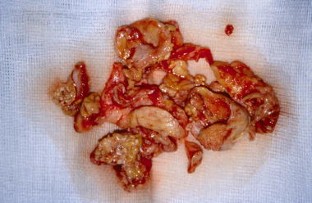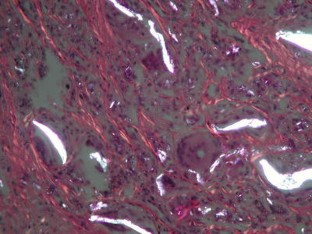 References
1.

Geesink RG, de Groot K, Klein CP (1988) Bonding of bone to apatite-coated implants. J Bone Jt Surg Br 70:17–22

2.

Tonino A, Oosterboos C, Rahmy A, Thèrin M, Doyle C (2001) Hydroxyapatite-coated acetabular components. J Bone Jt Surg Am 83:817–825

3.

Bloebaum RD, Bachus KN, Rubman MH, Dorr LD (1993) Postmortem comparative analysis of titanium and hydroxyapatite porous-coated femoral implants retrieved from the same patient. J Arthroplast 8:203–211

4.

Furlong R, Osborn JF (1991) Fixation of hip prosthesis by hydroxyapatite ceramic coatings. J Bone Jt Surg Br 73(5):741–745

5.

Laine HJ, Puolakka TJ, Moilanen T, Pajamaki KJ, Wirta J, Lehto MU (2000) The effects of cementless femoral stem shape and proximal surface texture on 'fit-and-fill' characteristics and on bone remodelling. Int Orthop 24(4):184–190

6.

van Rietbergen B, Huiskes R (2001) Load transfer and stress shielding of the hydroxyapatite-ABG hip: a study of stem length and proximal fixation. J Arthroplast 16(8)1:55–63

7.

d'Antonio JA, Capello WN, Manley MT (1996) Remodeling of bone around hydroxyapatite coated femoral stems. J Bone Jt Surg Am 78:1226

8.

Harris WH (1969) Traumatic arthritis of the hip after dislocation and acetabular fractures: treatment by mold arthroplasty. An end-result study using a new method of result evaluation. J Bone Jt Surg Am 51:737–755

9.

Merle d'Aubigné R, Pastel M (1954) Functional results of hip arthroplasty with acrylic prosthesis. J Bone Jt Surg Am 36:451–475

10.

Rossi P, Sibelli P, Fumero S, Crua E (1995) Short-term results of hydroxyapatite-coated primary total hip arthroplasty. Clin Orthop 310:98–102

11.

Garcia Araujo C, Fernandez Gonzalez J, Tonino A (1998) Rheumatoid arthritis and hydroxyapatite-coated hip prostheses: five-year results. International ABG Study Group. J Arthroplast 13(6):660–667

12.

Nourissat C (2000) Results with the ABG HA cup after over 10 years. Presented at the International Symposium "Charnley 2000," Lyon, France, December

13.

Tonino AJ, Rahmy AI (2000) The hydroxyapatite-ABG hip system: 5- to 7-year results from an international multicentre study. The International ABG Study Group. J Arthroplast 15(3):274–282

14.

Malchau H, Herberts P, Eisler T, Garellick G, Soderman P (2002) The Swedish Total Hip Replacement Register. J Bone Jt Surg Am 84-A(Suppl 2):2–20

15.

Puolakka TJ, Pajamaki KJ, Halonen PJ, Pulkkinen PO, Paavolainen P, Nevalainen JK (2001) The Finnish Arthroplasty Register: report of the hip register. Acta Orthop Scand 72(5):433–441

16.

Blacha J, Bednarek A, Buma P (2001) Osteolysis around HA-coated press-fit hip prosthesis. Presented at the 5th EFORT congress, Rhodes, Greece, June

17.

Giannikas KA, Din R, Sadiq S, Dunningham TH (2002) Medium-term results of the ABG total hip arthroplasty in young patients. J Arthroplast 17(2):184–188

18.

Rogers A, Kulkarni R, Downes EM (2003) The ABG hydroxyapatite-coated hip prosthesis: one hundred consecutive operations with average 6-year follow-up. J Arthroplast 18(5):619–625

19.

Morscher EW, Hefti A, Aebi U (1998) Severe osteolysis after third-body wear due to hydroxyapatite particles from acetabular cup coating. J Bone Jt Surg Br 80(2):267–272

20.

Witkiewicz H, Vidovszky T, Turner RT, Rock MG, Morrey BF, Bolander ME (1993) Fate of ultrahigh molecular weight polyethylene (UHMW-PE) wear debris in patients with hip implants. Tech Orthop 8(4):254–261

21.

Poole CE, Patil SS, d'Lima DD, Colwell CW (2005) Early follow-up for a hybrid total hip arthroplasty using a metal-backed acetabular component designed to reduce "backside" polyethylene wear. HSSJ 1(1):31–34

22.

Charnley J, Halley DK (1975) Rate of wear in total hip replacement. Clin Orthop 112:170–179

23.

Ilchmann T, Mjoberg B, Wingstrand H (1995) Measurement accuracy in acetabular cup wear. Three retrospective methods compared with Roentgen stereophotogrammetry. J Arthroplast 10(5):636–642

24.

Sarmiento A, Gruen TA (1985) Radiographic analysis of a low-modulus titanium-alloy femoral total hip component. Two to six-year follow-up. J Bone Jt Surg Am 67(1):48–56

25.

DeLee JG, Charnley J (1976) Radiological demarcation of cemented sockets in total hip replacement. Clin Orthop 121:20–32

26.

Johnston RC, Fitzgerald RH, Harris WH, Poss R, Muller ME, Sledge CB (1990) Clinical and radiological evaluation of total hip replacement. A standard system of terminology for reporting results. J Bone Jt Surg Am 72:161–168

27.

Lewinnek GE, Lewis JL, Tarr R, Compere CL, Zimmerman JR (1978) Dislocations after total hip-replacement arthroplasties. J Bone Jt Surg Am 60(2):217–220

28.

Duffy P, Sher JL, Partington PF (2004) Premature wear and osteolysis in an HA-coated uncemented total hip arthroplasty. J Bone Jt Surg Br 86(1):34–38

29.

Insley G, Jones E, Streicher R (2001) Risk factors for wear of first generation modular acetabular cups. 5th EFORT congress, Rhodes, Greece, June 3–7

30.

Muratoglu OK, Greenbaum ES, Bragdon CR, Jasty M, Freiberg AA, Harris WH (2004) Surface analysis of early retrieved acetabular polyethylene liners—a comparison of conventional and highly crosslinked polyethylenes. J Arthroplast 19(1):68–77

31.

Smith SL, Ash HE, Unsworth A (2000) A tribological study of UHMWPE acetabular cups and polyurethane compliant layer acetabular cups. J Biomed Mater Res 53(6):710–716

32.

Wirtz DC, Schopphoff E, Weichert D, Niethard FU (2001) Stretched polyethylene (UHMWPE)—a new substance modification for minimizing wear in artificial knee joint replacement. Biomed Tech 46(12):338–342

33.

Streicher RM, Thomsen M (2003) Polyethylene as an implant material. Orthopade 32(1):23–31
About this article
Cite this article
Ohnsorge, J.A.K., Davis, J., Maus, U. et al. Early Polyethylene Wear and Excessive Acetabular Granuloma in an Uncemented HA-Coated Total Hip Arthroplasty—Midterm Results of a Prospective Study. HSS Jrnl 2, 114 (2006). https://doi.org/10.1007/s11420-006-9001-8
Key words
cement-free total hip arthroplasty

THA

polyethylene

wear

osteolysis

loosening

revison

ABG I