Abstract
Haglund's syndrome is a cause of retrocalcaneal pain. The clinical diagnosis of Haglund's syndrome is often confusing as the clinical picture may mimic other causes of hindfoot pain such as isolated retrocalcaneal bursitis or hindfoot involvement from more systemic arthropathies such as Reiter's syndrome or rheumatoid arthritis. With the increasing frequency of employing sonography as a diagnostic tool in the evaluation of foot and ankle pathology, recognition of the sonographic appearance of Haglund's complex is important. We report a case of Haglund's syndrome diagnosed and treated with sonography.
This is a preview of subscription content, log in to check access.
Access options
Buy single article
Instant access to the full article PDF.
US$ 39.95
Price includes VAT for USA
Subscribe to journal
Immediate online access to all issues from 2019. Subscription will auto renew annually.
US$ 99
This is the net price. Taxes to be calculated in checkout.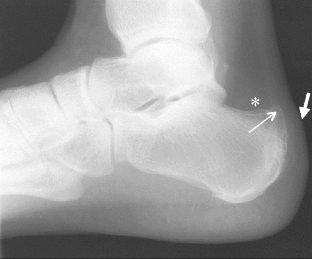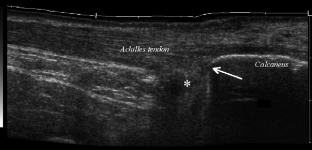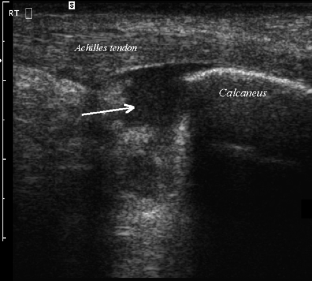 References
1.

P Haglund (1927) ArticleTitleBeitrag zur Klinik der Achillessehne Z Orthop Chir 49 49–58

2.

H Pavlov MA Heneghan A Hersh AB Goldman V Vigorita (1982) ArticleTitleThe Haglund syndrome: initial and differential diagnosis Radiology 144 IssueID1 83–88 Occurrence Handle1:STN:280:Bi2B383pvVY%3D Occurrence Handle7089270

3.

I Olivieri L Barozzi A Padula M DeMatteis A Pierro F Cantini C Salvarani P Pavlica (1998) ArticleTitleRetrocalcaneal bursitis in spondyloarthropathy: assessment by ultrasonography and magnetic resonance imaging J Rheumatol 25 IssueID7 1352–1357 Occurrence Handle1:STN:280:DyaK1czjvFeqsg%3D%3D Occurrence Handle9676768

4.

MM Stephens (1994) ArticleTitleHaglund's deformity and retrocalcaneal bursitis Orthop Clin North Am 25 IssueID1 41–46 Occurrence Handle1:STN:280:ByuC3MblsFU%3D Occurrence Handle8290230

5.

MA Heneghan H Pavlov (1984) ArticleTitleThe Haglund painful heel syndrome: experimental investigation of cause and therapeutic implications Clin Orthop 187 228–234 Occurrence Handle6744723

6.

EJ Sella DS Caminear EA McLarney (1998) ArticleTitleHaglund's syndrome J Foot Ankle Surg 37 IssueID2 110–114 Occurrence Handle1:STN:280:DyaK1c3jt12nug%3D%3D Occurrence Handle9571457

7.

P Kolodziej RR Glisson JA Nunley (1999) ArticleTitleRisk of avulsion of the Achilles tendon after partial excision for treatment of insertional tendonitis and Haglund's deformity: a biomechanical study Foot Ankle Int 20 IssueID7 433–437 Occurrence Handle1:STN:280:DyaK1MzmsVKgtQ%3D%3D Occurrence Handle10437926

8.

AD Watson RB Anderson WH Davis (2000) ArticleTitleComparison of results of retrocalcaneal decompression for retrocalcaneal bursitis and insertional Achilles tendinosis with calcific spur Foot Ankle Int 21 IssueID8 638–642 Occurrence Handle1:STN:280:DC%2BD3M%2FhvFGlug%3D%3D Occurrence Handle10966360

9.

RP Reinherz BA Smith KE Henning (1990) ArticleTitleUnderstanding the pathologic Haglund's deformity J Foot Surg 29 IssueID5 432–435 Occurrence Handle1:STN:280:By6D2sbjvFE%3D Occurrence Handle2258561
About this article
Cite this article
Sofka, C.M., Adler, R.S., Positano, R. et al. Haglund's Syndrome: Diagnosis and Treatment Using Sonography. HSS Jrnl 2, 27–29 (2006). https://doi.org/10.1007/s11420-005-0129-8
Keywords
Achilles Tendon

Bursitis

Retrocalcaneal Bursa

Retrocalcaneal Bursitis

Soft Tissue Interface