Abstract
The development of new instrumentation and techniques has led to the rapid advancement of less invasive surgical approaches in total knee arthroplasty (TKA). Compared to the standard approach, minimally invasive surgery (MIS) in TKA was shown to reduce postoperative pain, blood loss, and hospitalization time, and to improve functional recovery. Growing experience with MIS-TKA has defined the proper indications for this technique. With a limited exposure, the skin, capsular tissues, and bone surfaces receive higher stresses because of the retraction required. Several complications relating to the MIS learning curve are now being reported. The reliability of a TKA procedure performed through a mini-incision, and its success, seems to depend on patient selection, surgeon experience, and surgical environment.
This is a preview of subscription content, log in to check access.
Access options
Buy single article
Instant access to the full article PDF.
US$ 39.95
Price includes VAT for USA
Subscribe to journal
Immediate online access to all issues from 2019. Subscription will auto renew annually.
US$ 99
This is the net price. Taxes to be calculated in checkout.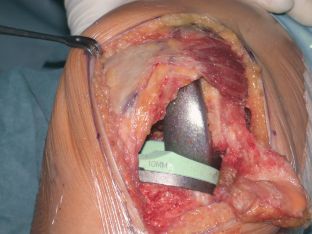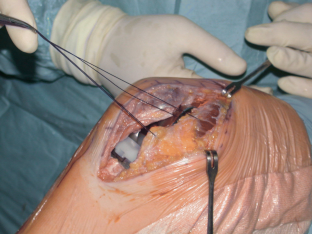 References
1.

Font-Rodriguez DE, Scuderi GR, Insall JN (1997 Dec) Survivorship of cemented total knee arthroplasty. Clin Orthop Relat Res (345):79–86

2.

Ritter MA, Berend ME, Meding JB, Keating EM, Faris PM, Crites BM (2001 Jul) Long-term followup of anatomic graduated components posterior cruciate-retaining total knee replacement. Clin Orthop Relat Res (388):51–57

3.

Rodriguez JA, Bhende H, Ranawat CS (2001 Jul) Total condylar knee replacement: a 20-year followup study. Clin Orthop Relat Res (388):10–17

4.

Insall JN, Dorr LD, Scott RD, Scott WN (1989 Nov) Rationale of the Knee Society clinical rating system. Clin Orthop Relat Res (248):13–14

5.

Ewald FC (1989 Nov) The Knee Society total knee arthroplasty roentgenographic evaluation and scoring system. Clin Orthop Relat Res (248):9–12

6.

Tria AJ Jr, Coon TM (2003 Nov) Minimal incision total knee arthroplasty: early experience. Clin Orthop Relat Res (416):185–190

7.

Laskin RS, Beksac B, Phongjunakorn A et al (2004 Nov) Minimally invasive total knee replacement through a mini-midvastus incision: an outcome study. Clin Orthop Relat Res (428):74–81

8.

Haas SB, Cook S, Beksac B (2004 Nov) Minimally invasive total knee replacement through a mini midvastus approach: a comparative study. Clin Orthop Relat Res (428):68–73

9.

PM Bonutti MA Mont M McMahon PS Ragland M Kester (2004) ArticleTitleMinimally invasive total knee arthroplasty J Bone Jt Surg Am 8-A IssueIDSuppl 2 26–32

10.

DC Lee DH Kim RD Scott K Suthers (1998 Aug) ArticleTitleIntraoperative flexion against gravity as an indication of ultimate range of motion in individual cases after total knee arthroplasty J Arthroplasty 13 IssueID5 500–503 Occurrence Handle10.1016/S0883-5403(98)90047-X Occurrence Handle1:STN:280:DyaK1czpt12itg%3D%3D

11.

Scuderi GR, Tenholder M, Capeci C (2004 Nov) Surgical approaches in mini-incision total knee arthroplasty. Clin Orthop Relat Res (428):61–67 (review)

12.

AJ Tria (2004) ArticleTitleMinimally invasive arthroplasty of the knee Minerva Ortop Traumatol 55 239–255
About this article
Cite this article
Aglietti, P., Baldini, A., Giron, F. et al. Minimally Invasive Total Knee Arthroplasty: Is it for Everybody?. HSS Jrnl 2, 22–26 (2006). https://doi.org/10.1007/s11420-005-0127-x
Key words
arthroplasty

knee

MIS

replacement