Abstract
The mechanism of pain relief of intradiskal electrothermal annuloplasty (IDET) in the treatment of lumbar diskogenic pain is uncertain. Theories include sealing of annular fissures via collagen denaturation and contraction. Prior studies offer conflicting qualitative data on the ability of IDET to denature collagen. The objective of the present study is to evaluate IDET treatment effect onannular collagen using quantitative data supplied by Fourier-transform infrared imaging spectroscopy.
The posterior annulus of disks (n = 3) from an intact human cadaveric spine at room temperature were treated with two different radiothermal catheters using standard intradiskal electrothermal annuloplasty (IDET) heating protocols. Disks were dissected free with catheters in place and fixed in formalin. Channels created by the catheters were marked and catheters were removed. Tissue samples of treated areas adjacent to the channels and internal control areas from the same disk were stained for light microscopy and placed on barium sulfate windows for Fourier transform infrared imaging spectroscopy (FT-IRIS) analysis.
Treated areas showed evidence of disruption in the fibrillar organization of annular collagen by light microscopy compared to intact stroma from control areas. Quantitative FT-IRIS analysis compared ratios of wavenumber regions known to be sensitive to collagen denaturation. Mean values for the ratios amide II/1,338 cm−1 (137.21 ± 25.84 treated, 76.94 ± 16.77 control) and 1,640/1,660 cm−1 (0.98 ± 0.03 treated, 0.89 ± 0.03 control) were significantly different between treated and control samples (p < 0.001), indicating a breakdown in collagen integrity. Separate analysis by catheter type suggests that catheter design may impact treatment effect.
This is a preview of subscription content, log in to check access.
Access options
Buy single article
Instant access to the full article PDF.
US$ 39.95
Price includes VAT for USA
Subscribe to journal
Immediate online access to all issues from 2019. Subscription will auto renew annually.
US$ 99
This is the net price. Taxes to be calculated in checkout.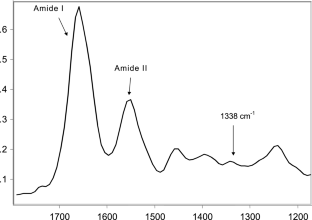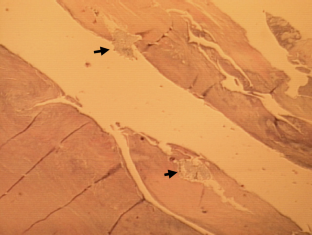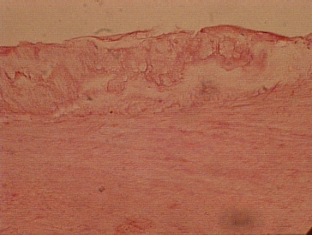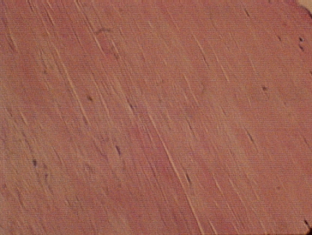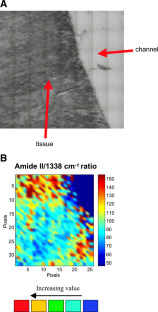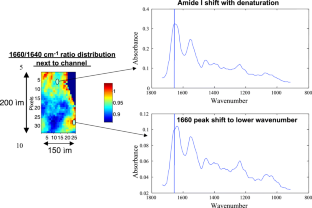 References
1.

AC Schwarzer CN Aprill R Derby et al. (1995) ArticleTitleThe prevalence and clinical features of internal disc disruption in patients with chronic low back pain Spine 20 1878–1883 Occurrence Handle1:STN:280:DyaK28%2FmtVWntA%3D%3D Occurrence Handle8560335

2.

M Karasek N Bogduk (2000) ArticleTitleTwelve-month follow-up of a controlled trial of intradiscal thermal annuloplasty for back pain due to internal disc disruption Spine 25 IssueID20 2601–2607 Occurrence Handle1:STN:280:DC%2BD3M%2FkvVWnsw%3D%3D Occurrence Handle11034644

3.

C O'Neill R Derby L Kenderes (1999) ArticleTitlePrecision injection techniques for diagnosis and treatment of lumbar disc disease Semin Spine Surg 11 104–118

4.

JS Saal JA Saal (2000) ArticleTitleManagement of chronic discogenic low back pain with a thermal intradiscal catheter: a preliminary report Spine 25 382–388 Occurrence Handle10.1097/00007632-200002010-00021 Occurrence Handle1:STN:280:DC%2BD3c7mslOmuw%3D%3D Occurrence Handle10703114

5.

KJ Pauza S Howell P Dreyfuss JH Peloza K Dawson N Bogduk (2004) ArticleTitleA randomized, placebo-controlled trial of intradiscal electrothermal therapy for the treatment of discogenic low back pain Spine J 4 27–35 Occurrence Handle10.1016/j.spinee.2003.07.001 Occurrence Handle14749191

6.

C Lutz GE Lutz PM Cooke (2003) ArticleTitleTreatment of chronic lumbar diskogenic pain with intradiskal electrothermal therapy: a prospective outcome study Arch Phys Med Rehabil 84 IssueID1 23–28 Occurrence Handle10.1053/apmr.2003.50059 Occurrence Handle12589616

7.

MS Lee G Cooper GE Lutz C Lutz HM Hong (2003) ArticleTitleIntradiscal electrothermal therapy (IDET) for treatment of chronic lumbar discogenic pain: a minimum 2-year clinical outcome study Pain Physician 6 IssueID4 443–448 Occurrence Handle16871296

8.

JA Saal JS Saal (2002) ArticleTitleIntradiscal electrothermal treatment for chronic discogenic low back pain. Prospective outcome study with a minimum 2-year follow-up Spine 27 966–974 Occurrence Handle11979172

9.

N Bogduk M Karasek (2002) ArticleTitleTwo-year follow-up of a controlled trial of intradiscal electrothermal anuloplasty for chronic low back pain resulting from internal disc disruption Spine J 2 343–350 Occurrence Handle10.1016/S1529-9430(02)00409-6 Occurrence Handle14589465

10.

BJC Freeman RM Walters RJ Moore RD Fraser (2003) ArticleTitleDoes intradiscal electrothermal therapy denervate and repair experimentally induced posterolateral annular tears in an animal model? Spine 28 IssueID23 2602–2608 Occurrence Handle14652477

11.

M Karasek N Bogduk (2001) ArticleTitleIntradiscal electrothermal annuloplasty: percutaneous treatment of chronic discogenic low back pain Tech Reg Anesth Pain Manag 5 130–135 Occurrence Handle10.1053/trap.2001.25284

12.

JC Houpt ES Conner EW McFarland (1996) ArticleTitleExperimental study of temperature distributions and thermal transport during radiofrequency current therapy of the intervertebral disc Spine 21 1808–1813 Occurrence Handle10.1097/00007632-199608010-00018 Occurrence Handle1:STN:280:DyaK2s%2FgvVehsQ%3D%3D Occurrence Handle8855467

13.

MS Wall XH Deng P Torzilli et al. (1999) ArticleTitleThermal modulation of collagen J Shoulder Elb Surg 8 339–344 Occurrence Handle1:STN:280:DyaK1MvgtFahtQ%3D%3D

14.

K Hayashi KL Massa GR Thabit et al. (1999) ArticleTitleHistologic evaluation of the glenohumeral joint capsule after the laser-assisted capsular shift procedure for glenohumeral instability Am J Sports Med 27 162–167 Occurrence Handle1:STN:280:DyaK1M3gt1ehsQ%3D%3D Occurrence Handle10102095

15.

SL Obrzut P Hecht K Hayashi et al. (1998) ArticleTitleThe effect of radiofrequency energy on the length and temperature properties of the glenohumeral joint capsule Arthroscopy 14 395–400 Occurrence Handle1:STN:280:DyaK1c3otF2ksQ%3D%3D Occurrence Handle9620651 Occurrence Handle10.1016/S0749-8063(98)70007-6

16.

RV Shah GE Lutz J Lee SB Doty S Rodeo (2001) ArticleTitleIntradiskal electrothermal therapy: a preliminary histologic study Arch Phys Med Rehabil 82 1230–1237 Occurrence Handle10.1053/apmr.2001.23897 Occurrence Handle1:STN:280:DC%2BD3Mrgt1ygsw%3D%3D Occurrence Handle11552196

17.

FS Kleinstueck CJ Diederich WH Nau CM Puttlitz JA Smith DS Bradford JC Lotz (2001) ArticleTitleAcute biomechanical and histological effects of intradiscal electrothermal therapy on human lumbar discs Spine 26 IssueID20 2198–2207 Occurrence Handle10.1097/00007632-200110150-00009 Occurrence Handle1:STN:280:DC%2BD3Mrlt1Wjuw%3D%3D Occurrence Handle11598508

18.

FS Kleinstueck CJ Diederich WH Nau et al. (2003) ArticleTitleTemperature and thermal dose distributions during intradiscal electrothermaltherapy in the cadaveric lumbar spine Spine 28 IssueID15 1700–1708 Occurrence Handle10.1097/00007632-200308010-00013 Occurrence Handle12897495

19.

EP Paschalis K Verdelis SB Doty AL Boskey et al. (2001) ArticleTitleSpectroscopic characterization of collagen cross-links in bone J Bone Miner Res 16 IssueID10 1821–1828 Occurrence Handle1:CAS:528:DC%2BD3MXnsVKqt7c%3D Occurrence Handle11585346

20.

PA West MPG Bostrom PA Torzilli PA Camacho (2004) ArticleTitleFourier transform infrared spectral analysis of degenerative cartilage: an infrared fiber optic probe and imaging study Appl Spectrosc 58 IssueID4 367–381 Occurrence Handle10.1366/000370204773580194

21.

T Miyazawa T Shimanouchi S Mizushima (1958) J Chem Phys 29 611 Occurrence Handle1:CAS:528:DyaG1MXhtVemsw%3D%3D

22.

JL Arrondo A Muga J Castresana FM Goni (1993) Prog Biophys Mol Biol 59 23 Occurrence Handle1:CAS:528:DyaK3sXns1ehtA%3D%3D Occurrence Handle8419985

23.

Griebenow K, Santos A, Carrasqillo, K (1998) Secondary structure of proteins in the amorphous dehydrated state probed by FTIR spectroscopy. Internet J. Vib. Spectrosc. Bol. 3, Ed. 1

24.

B Stuart B George P McIntyre (1996) Modern Infrared Spectroscopy Wiley New York

25.

Jackson M, Choo LP, Watson PH, Halliday WC, Mantsch HH (1995) Biochim Biophys Acta 1270

26.

M Reza Oboodi C Alva M Diem (1984) J Phys Chem 88 501

27.

GM Roberts O Lee J Calienni M Diem (1998) J Am Chem Soc 110 1749

28.

M Diem O Lee GM Roberts (1992) J Phys Chem 96 548 Occurrence Handle10.1021/j100181a011 Occurrence Handle1:CAS:528:DyaK38XntV2isQ%3D%3D

29.

Jackson M, Choo LP, Watson PH, Halliday WC, Mantsch HH (1995) Biochim Biophys Acta 1270

30.

Y Lazarev AV Lazareva (1978) Biopolymers 17 1197 Occurrence Handle1:CAS:528:DyaE1cXltFSgt7Y%3D

31.

KJ Payne A Veis (1988) ArticleTitleFourier transform IR spectroscopy ofcollagen and gelatin solutions: deconvolution of the amide I band for conformational studies Biopolymers 27 IssueID11 1749–1760 Occurrence Handle10.1002/bip.360271105 Occurrence Handle1:CAS:528:DyaL1MXjs1eguw%3D%3D Occurrence Handle3233328
About this article
Cite this article
Southern, D., Lutz, G., Bracilovic, A. et al. Histological and Molecular Structure Characterization of Annular Collagen after Intradiskal Electrothermal Annuloplasty. HSS Jrnl 2, 49–54 (2006). https://doi.org/10.1007/s11420-005-0126-y
Key words
Disk

IDET

annular collagen

FTIR