Abstract
MRI has been shown to be an extremely effective instrument in the management of painful hip arthroplasty. Its superior soft tissue contrast and direct multiplanar acquisition compared to computerized tomography (CT) and radiographs allows for reproducible visualization of periacetabular osteolysis, demonstrating compression of neurovascular bundles by extracapsular synovial deposits. In addition, MRI can often elucidate etiology of neuropathy in the perioperative period and is further helpful in evaluating the soft tissue envelope, including the attachment of the hip abductors, short external rotators and iliopsoas tendon. A further advantage of MRI over CT is its lack of ionizing radiation. Most importantly, MRI can disclose intracapsular synovial deposits that precede osteoclastic resorption of bone.
This is a preview of subscription content, log in to check access.
Access options
Buy single article
Instant access to the full article PDF.
US$ 39.95
Price includes VAT for USA
Subscribe to journal
Immediate online access to all issues from 2019. Subscription will auto renew annually.
US$ 99
This is the net price. Taxes to be calculated in checkout.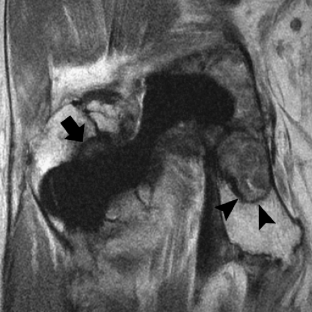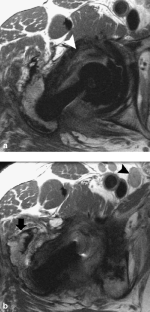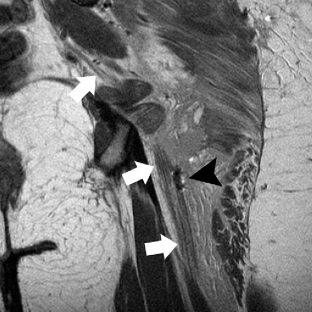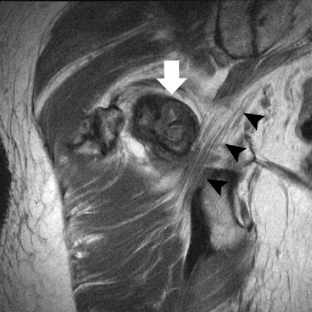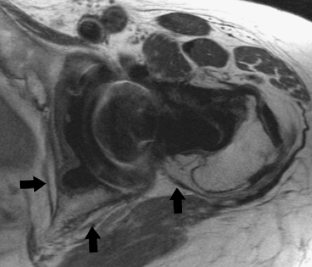 References
1.

HG Potter BJ Nestor CM Sofka ST Ho LE Peters EA Salvati (2004) ArticleTitleMagnetic resonance imaging after total hip arthroplasty: Evaluation of periprosthetic soft tissue J Bone Joint Surg Am 86 1947–1954 Occurrence Handle15342757

2.

HG Potter KD Montgomery DE Padgett EA Salvati DL Helfet (1995) ArticleTitleMagnetic resonance imaging of the pelvis: New orthopaedic applications Clin Orthop Rel Res 319 223–231

3.

LM White JK Kim M Mehta N Merchant ME Schweitzer WB Morrison CR Hutchinson AE Gross (2000) ArticleTitleComplications of total hip arthroplasty: MR imaging—initial experience Radiology 215 254–262

4.

NA Ebraheim ER Savolaine J Zeiss WT Jackson (1992) ArticleTitleTitanium hip implants for improved magnetic resonance and computed tomography examinations Clin Orthop Rel Res 275 194–198

5.

Walde TA, Weiland DE, Leung SB, Kitamura N, Synchterz CJ, Engh CA Jr, Claus AM, Potter HG, Engh CA Sr (2005) Comparison of CT, MRI, and radiographs in assessing pelvic osteolysis: A cadaveric study. Clin Orthop Rel Res (in press)

6.

CG Mohler DK Collis (1998) Early complications and their management JJ Callaghan AG Rosenberg HE Rubash (Eds) The adult hip, vol. II Lippincott-Raven Philadelphia 1125–1147

7.

BG Evans (1998) Late complications and their management JJ Callaghan AG Rosenberg HE Rubash (Eds) The adult hip, vol. II Lippincott-Raven Philadelphia 1149–1161

8.

P Aliabadi SS Tumeh BN Weissman et al. (1989) ArticleTitleCemented total hip prosthesis: Radiographic and scintigraphic evaluation Radiology 173 IssueID1 203–206

9.

JA Lemmens JR Horn Particlevan J Boer Particleden W Riet Particlevan der JH Ruljs (1986) ArticleTitleMR imaging of 22 Charnley-Muller total hip prostheses Rofo Fortschr Geb Rontgenstr Nuklearmed 145 311–315 Occurrence Handle3020635

10.

JW Sperling HG Potter EV Craig E Flatow RF Warren (2002) ArticleTitleMagnetic resonance imaging of painful shoulder arthroplasty J Shoulder Elbow Surg 11 315–321 Occurrence Handle10.1067/mse.2002.124426 Occurrence Handle12195247

11.

WJ Hozack JJ Mesa C Carey RH Rothman (1996) ArticleTitleRelationship between polyethylene wear, pelvic osteolysis, and clinical symptomatology in patients with cementless acetabular components. A framework for decision making J Arthroplasty 11 769–772 Occurrence Handle10.1016/S0883-5403(96)80175-6 Occurrence Handle8934315

12.

RC Johnston RH Fitzgerald SuffixJr WH Harris R Poss ME Muller CB Sledge (1990) ArticleTitleClinical and radiographic evaluation of total hip replacement. A standard system of terminology for reporting results J Bone Joint Surg Am 72 161–168 Occurrence Handle2303502

13.

WJ Maloney P Peters CA Engh H Chandler (1993) ArticleTitleSevere osteolysis of the pelvis in association with acetabular replacement without cement J Bone Joint Surg 75 1627–1635 Occurrence Handle8245055

14.

AS Carlsson CF Gentz (1984) ArticleTitleRadiographic versus clinical loosening of the acetabulur component in noninfected total hip arthroplasty Clin Orthop 185 145–150 Occurrence Handle6705372

15.

JP Hodgkinson P Shelley BM Wroblewski (1988) ArticleTitleThe correlation between the roentgenographic appearance and operative findings at the bone-cement junction of the socket in Charnley low friction arthroplasties Clin Orthop 228 105–109 Occurrence Handle3342551

16.

CJ Sutherland (1988) ArticleTitleRadiographic evaluation of acetabular bone stock in failed total hip arthroplasty J Arthroplasty 3 73–79 Occurrence Handle3361323

17.

RH Zimlich TK Fehring (2000) ArticleTitleUnderestimation of pelvic osteolysis: The value of the iliac oblique radiograph J Arthroplasty 15 796–801 Occurrence Handle10.1054/arth.2000.4330 Occurrence Handle11021458

18.

DG Southwell JE Bechtold WD Lew AH Schmidt (1999) ArticleTitleImproving the detection of acetabular osteolysis using oblique radiographs J Bone Joint Surg Br 81 289–295 Occurrence Handle10.1302/0301-620X.81B2.9334 Occurrence Handle10204936

19.

L Puri RL Wixson SH Stern J Kohli RW Hendrix SD Stulberg (2002) ArticleTitleUse of helical computed tomography for the assessment of acetabular osteolysis after total hip arthroplasty J Bone Joint Surg Am 84 609–614 Occurrence Handle11940623

20.

DD Robertson CJ Sutherland T Lopes J Yuan (1998) ArticleTitlePreoperative description of severe acetabular defects caused by failed total hip replacement J Comput Assist Tomogr 22 444–449 Occurrence Handle10.1097/00004728-199805000-00018 Occurrence Handle9606388

21.

Weiland DE, Walde TA, Leung JSJB, Sychterz CJ, Ho S, Engh CA, Potter HG (2005) Magnetic resonance imaging in the evaluation of periprosthetic acetabular osteolysis: A cadaveric study. J Orthop Res (in press)

22.

RL Barrack M Tanzer SV Kathapuram W Harris (1994) ArticleTitleThe value of contrast arthrography in assessing loosening of symptomatic uncemented total hip components Skeletal Radiol 23 37–41 Occurrence Handle10.1007/BF00203699 Occurrence Handle8160035

23.

TP Maus TH Berquist CE Bender JA Rand (1987) ArticleTitleArthrographic study of painful total hip arthroplasty: Refined criteria Radiology 162 IssueID3 721–727

24.

JE Seabold JV Nepola JL Marsh DR Hawes EP Justin JA Ponto WA Petit GY el-Khoury PT Kirchner (1991) ArticleTitlePostoperative bone marrow alterations: Potential pitfalls in the diagnosis of osteomyelitis with In-111 labeled leukocyte scintigraphy Radiology 180 741–747

25.

DG Lewallen (1995) ArticleTitleHeterotopic ossification following total hip arthroplasty Instr Course Lect 4 287–292

26.

SM Cook PM Pellicci HG Potter (2004) ArticleTitleUse of magnetic resonance imaging in the diagnosis of an occult fracture of the femoral component after total hip arthroplasty. A case report J Bone Joint Surg Am 86 IssueID1 149–153 Occurrence Handle14711959
About this article
Cite this article
Potter, H.G., Foo, L.F. & Nestor, B.J. What is the Role of Magnetic Resonance Imaging in the Evaluation of Total Hip Arthroplasty?. HSS Jrnl 1, 89–93 (2005). https://doi.org/10.1007/s11420-005-0112-4
Key words
MRI

osteolysis

neuropathy

hip arthroplasty