Abstract
The emergence of new bone grafting options and alternatives has led to significant uncertainty when determining the most appropriate product for surgical procedures requiring bone graft in orthopedics. Allografts, demineralized bone matrices, synthetic bone graft substitutes, and osteoinductive growth factors are all viable options, yet there is a lack of data reporting clinical usage of these products. This correspondence reports on the use of bone grafting products at the Hospital for Special Surgery for a 27-month period and makes recommendations based on surgical usage, safety, and cost. Approximately half (48.6%) of all bone graft substitutes were implanted during spinal surgery. Arthroplasty, trauma, and foot/hand cases all used considerable amounts of bone grafting products as well (20.1%, 19.0%, 12.1%, respectively). Considerable differences were noticed in usage of bone grafting products among each orthopedic discipline. Of all bone graft substitutes used in arthroplasty, 14.4% were demineralized bone matrices, whereas 56.8% were allografts. Demineralized bone matrix grafts were used in 82% of trauma surgery and 89% of foot/hand cases. An increase in synthetic bone graft alternatives was noticed near the end of our investigation period.
This is a preview of subscription content, log in to check access.
Access options
Buy single article
Instant access to the full article PDF.
US$ 39.95
Price includes VAT for USA
Subscribe to journal
Immediate online access to all issues from 2019. Subscription will auto renew annually.
US$ 99
This is the net price. Taxes to be calculated in checkout.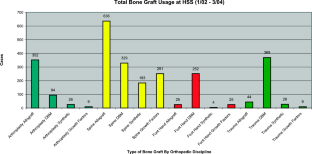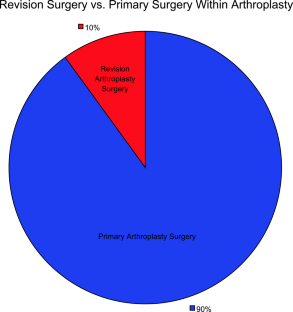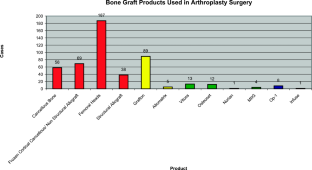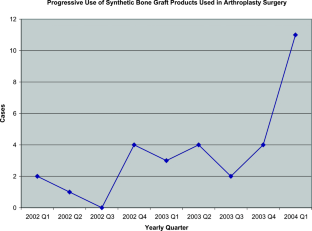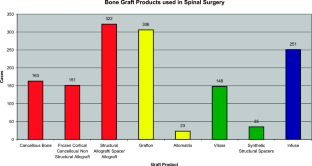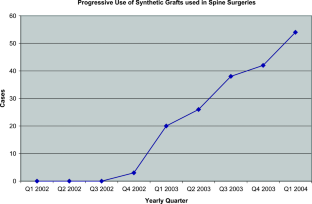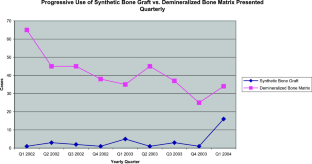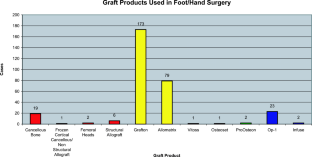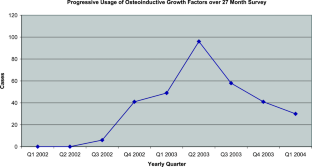 References
1.

American Association of Tissue Banks. http://www.aatb.org. August 6, 2004

2.

RSV Balabhadra DH Kim H Zhang (2004) ArticleTitleAnterior cervical fusion using dense cancellous allografts and dynamic plating Neurosurgery 54 1405–1412 Occurrence Handle10.1227/01.NEU.0000125543.38952.87 Occurrence Handle15157297

3.

TW Bauer GF Muschler (2000) ArticleTitleBone graft materials: An overview of the basic science Clin Orthop 371 10–27 Occurrence Handle10.1097/00003086-200002000-00003

4.

CM Bono CK Lee (2004) ArticleTitleCritical analysis of trends in fusion for degenerative disc disease over the past 20 years Spine 29 455–463 Occurrence Handle10.1097/01.BRS.0000090825.94611.28 Occurrence Handle15094543

5.

SD Boden D Grob C Damien (2004) ArticleTitleNe-Osteo bone growth factor for posterolateral lumbar spine fusion: results from a nonhuman primate study and a prospective human clinical pilot study Spine 29 504–514 Occurrence Handle10.1097/01.BRS.0000101446.26071.EB Occurrence Handle15129063

6.

MPG Bostrom NP Camacho (1998) ArticleTitlePotential role of bone morphogenetic proteins in fracture healing Clin Orthop 355S S274–S282 Occurrence Handle10.1097/00003086-199810001-00028

7.

MPG Bostrom X Yang M Kennan H Sandhu E Dicarlo JM Lane (2001) ArticleTitleAn unexpected outcome during testing of commerciallyavailable demineralized bone graft materials Spine 26 1425–1428 Occurrence Handle10.1097/00007632-200107010-00007 Occurrence Handle11458144

8.

RW Bucholz (2002) ArticleTitleNonallograft osteoconductive bone graft Substitutes Clin Orthop 395 44–52 Occurrence Handle11937865

9.

FP Cammisa SuffixJr G Lowery SR Garfin FH Geisler PM Klara RA McGuire WR Sassard H Stubbs JE Block (2004) ArticleTitleTwo-year fusion rate equivalency between Grafton® DBM gel and autograft in posterolateral spine fusion Spine 29 660–666 Occurrence Handle10.1097/01.BRS.0000116588.17129.B9 Occurrence Handle15014276

10.

SN Khan JF Fraser HS Sandhu FP Cammisa SuffixJr FP Girardi JM Lane (2005) ArticleTitleUse of osteopromotive growth factors, demineralized bone matrix, and ceramics to enhance spinal fusion J Am Acad Orthop Surg 13 129–137 Occurrence Handle15850370

11.

SD Cook SL Salkeld LP Patron RL Barrack (2002) ArticleTitleThe effect of demineralized bone matrix gel on bone ingrowth and fixation of porous implants J Arthroplasty 17 402–408 Occurrence Handle10.1054/arth.2002.32169 Occurrence Handle12066267

12.

JT Edwards MH Diegmann NL Scarborough (1998) ArticleTitleOsteoinduction of human demineralized bone: characterization in a rat model Clin Orthop 357 219–228 Occurrence Handle10.1097/00003086-199812000-00028 Occurrence Handle9917720

13.

TA Einhorn (2003) ArticleTitleClinical applications of recombinant human BMPs: early experience and future development J Bone Joint Surg Am 85 82–88 Occurrence Handle12925614

14.

CG Finkemeier (2002) ArticleTitleBone-grafting and bone-graft substitutes J Bone Joint Surg 84 454–464 Occurrence Handle11886919

15.

SC Gamradt JR Lieberman (2003) ArticleTitleBone graft for revision hip arthroplasty biology and future applications Clin Orthop 413 183–194 Occurrence Handle12897609

16.

AR Gazdag JM Lane D Glaser RA Forster (1995) ArticleTitleAlternatives to autogenous bone graft: efficacy and indications J Am Acad Orthop Surg 3 1–8 Occurrence Handle10790647

17.

S Gibson I McLeod D Wardlaw S Urbaniak (2002) ArticleTitleAllograft vs. autograft in instrumented posterolateral lumbar spinal fusion Spine 27 1599–1603 Occurrence Handle10.1097/00007632-200208010-00002 Occurrence Handle12163718

18.

JO Hollinger J Brekke E Gruskin D Lee (1996) ArticleTitleRole of bone substitutes Clin Orthop 324 55–65 Occurrence Handle10.1097/00003086-199603000-00008 Occurrence Handle8595778

19.

JF Keating MM McQueen (2001) ArticleTitleSubstitutes for autologous bone graft in orthopaedic trauma J Bone Joint Surg 83-B 3–8 Occurrence Handle10.1302/0301-620X.83B1.11952

20.

DH Kim L Jenis SC Berta AR Vaccaro (2003) ArticleTitleBone graft alternatives in spinal fusion surgery Cur Opin in Orthop 14 127–137 Occurrence Handle10.1097/00001433-200306000-00002

21.

M Kligman DE Padgett R Vered M Roffman (2003) ArticleTitleCortical and cancellous morselized allograft in acetabular revision total hip replacement minimum 5-year follow-up J Arthroplasty 18 907–913 Occurrence Handle10.1016/S0883-5403(03)00337-1 Occurrence Handle14566748

22.

CJ Lavernia TI Malinin HT Temple CE Moreyra (2004) ArticleTitleBone and tissue allograft used by orthopaedic surgeons J Arthroplasty 19 430–435 Occurrence Handle10.1016/j.arth.2003.11.006 Occurrence Handle15188100

23.

CH Lohmann D Andreacchio G Koster DL Carnes BD Dean Z Schwartz (2001) ArticleTitleTissue response and osteoinduction of human bone grafts in vivo Arch Orthop Trauma Surg 121 583–590 Occurrence Handle10.1007/s004020100291 Occurrence Handle11768641

24.

J Louis-Ugbow H Murakami H Kim A Minamide SD Boden (2004) ArticleTitleEvidence of osteoinduction by Grafton demineralized bone matrix in nonhuman primate spinal fusion Spine 29 360–366 Occurrence Handle10.1097/01.BRS.0000090823.12652.F9 Occurrence Handle15094531

25.

L Lu BL Currier MJ Yaszemski (2000) ArticleTitleSynthetic bone substitutes Curr Opin Orthop 11 383–390 Occurrence Handle10.1097/00001433-200010000-00010

26.

GJ Martin SuffixJr SD Boden L Titus NL Scarborough (1999) ArticleTitleNew formulations of demineralized bone matrix as a more effective graft alternative in experimental posterolateral lumbar spine arthrodesis Spine 24 637–645 Occurrence Handle10.1097/00007632-199904010-00005 Occurrence Handle10209791

27.

HD Morgan W McCallister MS Cho MT Casnellie SS Leopold (2004) ArticleTitleImpaction allografting for femoral component revision Clin Orthop 420 160–169 Occurrence Handle15057092

28.

JJ Pokorny H Davids M Moneim (2003) ArticleTitleVascularized bone graft for scaphoid nonunion Tech Hand Up Extrem Surg 7 32–36 Occurrence Handle10.1097/00130911-200303000-00007

29.

CT Price JF Connolly AC Carantzas I Ilyas (2003) ArticleTitleComparison of bone grafts for posterior spinal fusion in adolescent idiopathic scoliosis Spine 28 793–798 Occurrence Handle10.1097/00007632-200304150-00012 Occurrence Handle12698123

30.

DK Resnick (2002) ArticleTitleVitoss™ bone substitute Neurosurgery 50 1162–1164 Occurrence Handle10.1097/00006123-200205000-00044 Occurrence Handle11987275

31.

EH Riley JM Lane UR Marshall LM Karen JR Lieberman (1996) ArticleTitleBone morphogenic protein-2 Biol Appl 324 39–46

32.

ST Sauer JV Marymont MS Mizel (2004) ArticleTitleSpecialty update: What's new in foot and ankle surgery J Bone Joint Surg 86 878–886 Occurrence Handle15069165

33.

Stryker® Biotech (2003) Hopkinton, MA

34.

TM Thien MLM Welten N Verdonschot P Buma P Yong W Schreurs (2001) ArticleTitleAcetabular revision with impacted freeze-dried cancellous bone chips and a cemented cup a report of 7 cases at 5 to 9 years' follow-up J Arthroplasty 16 666–670 Occurrence Handle10.1054/arth.2001.23582 Occurrence Handle11503128

35.

MR Urist E Dawson (1981) ArticleTitleIntertransverse process fusion with the aid of chemosterilized autolyzed antigen-extracted allogeneic (AAA) bone Clin Orthop 154 97–113 Occurrence Handle7009018

36

InstitutionalAuthorNameVitoss™ (2000) Synthetic cancellous bone void filler—an overview Orthovita Malvern, Pa

37.

M Yazici MA Asher (1997) ArticleTitleFreeze-dried allograft for posterior spinal fusion in patients with neuromuscular spinal deformities Spine 22 1467–1471 Occurrence Handle10.1097/00007632-199707010-00008 Occurrence Handle9231965

38.

AJM Yee HW Bae D Friess M Robbin B Johnstone JU Yoo (2003) ArticleTitleAugmentation of rabbit posterolateral spondylodesis using a novel demineralized bone matrix-hyaluronan putty Spine 28 2435–2440 Occurrence Handle14595160
About this article
Cite this article
Bostrom, M.P.G., Seigerman, D.A. The Clinical Use of Allografts, Demineralized Bone Matrices, Synthetic Bone Graft Substitutes and Osteoinductive Growth Factors: A Survey Study. HSS Jrnl 1, 9–18 (2005). https://doi.org/10.1007/s11420-005-0111-5
Key words
Bone Graft

DBM

Allograft

Bonegraft substitutes