Abstract
The management of hip injuries in the athlete has evolved significantly in the past few years with theadvancement of arthroscopic techniques. The application of minimally invasive surgical techniques has facilitated relatively rapid returns to sporting activity in recreational and elite athletes alike. Recent advancements in both hip arthroscopy and magnetic resonance imaging have elucidated several sources of intraarticular pathology that result in chronic and disabling hip symptoms. Many of these conditions were previously unrecognized and thus, left untreated. Current indications for hip arthroscopy include management of labral tears, osteoplasty for femoroacetabular impingement, thermal capsulorrhaphy and capsular plication for subtle rotational instability and capsular laxity, lateral impact injury and chondral lesions, osteochondritis dissecans, ligamentum teres injuries, internal and external snapping hip, removal of loose bodies, synovial biopsy, subtotal synovectomy, synovial chondromatosis, infection, and certain cases of mild to moderate osteoarthritis with associated mechanical symptoms. In addition, patients with long-standing, unresolved hip joint pain and positive physical findings may benefit from arthroscopic evaluation. Patients with reproducible symptoms and physical findings that reveal limited functioning, and who have failed an adequate trial of conservative treatment will have the greatest likelihood of success after surgical intervention. Strict attention to thorough diagnostic examination, detailed imaging, and adherence to safe and reproducible surgical techniques, as described in this review, are essential for the success of this procedure.
This is a preview of subscription content, log in to check access.
Access options
Buy single article
Instant access to the full article PDF.
US$ 39.95
Price includes VAT for USA
Subscribe to journal
Immediate online access to all issues from 2019. Subscription will auto renew annually.
US$ 99
This is the net price. Taxes to be calculated in checkout.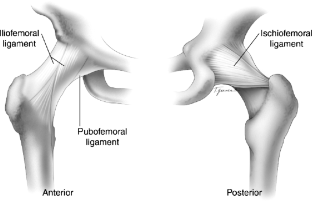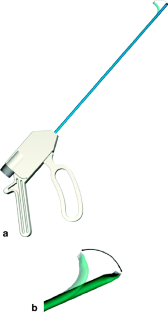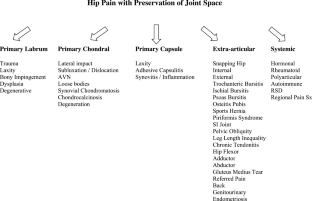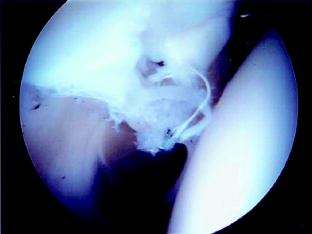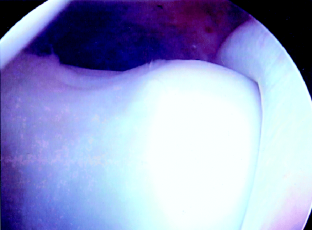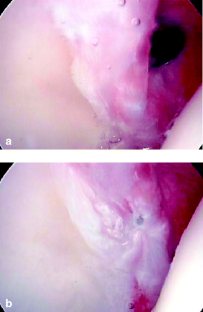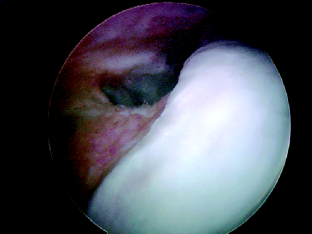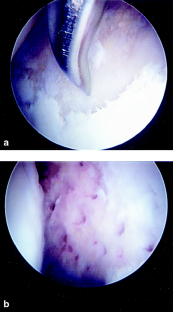 References
1.

WC Allen R Cope (1995) ArticleTitleCoxa saltans: the snapping hip revisited J Am Acad Orthop Surg 3 IssueID5 303–308 Occurrence Handle10790668

2.

M Beck M Leunig J Parvizi V Boutier D Wyss R Ganz (2004) ArticleTitleAnterior femoroacetabular impingement: part II. Midterm results of surgical treatment Clin Orthop 418 67–73 Occurrence Handle15043095

3.

Bharam S, Draovitch P, Fu F, Philippon MJ (2002) Return to competition in professional athletes with traumatic labral tears ofthe hip. In: 28th Annual Meeting of American Orthopaedic Society of Sports Medicine, Orlando, Fl

4.

Bharam S, Kandemir V, Draovitch P, Fu F, Philippon MJ (2003) Management of hip injuries in PGA golfers with arthroscopy. In: 70th Annual Meeting of American Academy of OrthopaedicSurgeons, New Orleans, LA, p 485

5.

JW Byrd (2003) ArticleTitleHip arthroscopy in athletes Instr Course Lect 52 701–709 Occurrence Handle12690895

6.

JW Byrd (2001) ArticleTitleHip arthroscopy. The supine position Clin Sports Med 20 IssueID4 703–731 Occurrence Handle10.1016/S0278-5919(05)70280-5 Occurrence Handle11675882

7.

JW Byrd (2001) ArticleTitleLateral impact injury: a source of occult hip pathology Clin Sports Med 20 IssueID4 801–815 Occurrence Handle10.1016/S0278-5919(05)70280-5 Occurrence Handle11675888

8.

JW Byrd KS Jones (2004) ArticleTitleDiagnostic accuracy of clinical assessment, magnetic resonance imaging, magnetic resonance arthrography, and intra-articular injection in hip arthroscopy patients Am J Sports Med 32 IssueID7 1668–1674 Occurrence Handle10.1177/0363546504266480 Occurrence Handle15494331

9.

JW Byrd KS Jones (2003) ArticleTitleHip arthroscopy in the presence of dysplasia Arthroscopy 19 IssueID10 1055–1060 Occurrence Handle14673446

10.

MB Dobbs JE Gordon SJ Luhmann DA Szymanski PL Schoenecker (2002) ArticleTitleSurgical correction of the snapping iliopsoas tendon in adolescents J Bone Joint Surg Am 84 IssueID3 420–424 Occurrence Handle11886912

11.

JH Dorrell A Catterall (1986) ArticleTitleThe torn acetabular labrum JBone Joint Surg Br 68 IssueID3 400–403

12.

M Dvorak CP Duncan B Day (1990) ArticleTitleArthroscopic anatomy of the hip Arthroscopy 6 264–273 Occurrence Handle2264893

13.

DJ Edwards D Lomas RN Villar (1995) ArticleTitleDiagnosis of the painful hip by magnetic resonance imaging and arthroscopy J BoneJoint Surg Br 77 IssueID3 374–376

14.

AA Faraj A Moulton VM Sirivastava (2001) ArticleTitleSnapping iliotibial band. Report of ten cases and review of the literature Acta Orthop Belg 67 IssueID1 19–23 Occurrence Handle11284267

15.

SJ Ferguson JT Bryant R Ganz K Ito (2000) ArticleTitleThe acetabular labrum seal: a poroelastic finite element model Clin Biomech 15 IssueID6 463–468 Occurrence Handle10.1016/S0268-0033(99)00099-6

16.

SJ Ferguson JT Bryant R Ganz K Ito (2003) ArticleTitleAn in vitro investigation of the acetabular labral seal in hip joint mechanics J Biomech 36 IssueID2 171–178 Occurrence Handle10.1016/S0021-9290(02)00365-2 Occurrence Handle12547354

17.

SJ Ferguson JT Bryant R Ganz K Ito (2000) ArticleTitleThe influence of the acetabular labrum on hip joint cartilage consolidation: A poroelastic finite element model J Biomech 33 IssueID8 953–960 Occurrence Handle10.1016/S0021-9290(00)00042-7 Occurrence Handle10828325

18.

RH Fitzgerald SuffixJr (1995) ArticleTitleAcetabular labrum tears. Diagnosis and treatment Clin Orthop 311 60–68 Occurrence Handle7634592

19.

LH Frich J Lauritzen M Juhl (1989) ArticleTitleArthroscopy in diagnosis and treatment of hip disorders Orthopedics 12 IssueID3 389–392 Occurrence Handle2710700

20.

R Ganz TJ Gill E Gautier K Ganz N Krugel U Berlemann (2001) ArticleTitleSurgical dislocation of the adult hip a technique with full access to the femoral head and acetabulum without the risk of avascular necrosis J Bone Joint Surg Br 83 IssueID8 1119–1124 Occurrence Handle10.1302/0301-620X.83B8.11964 Occurrence Handle11764423

21.

B Gondolph-Zink (1992) ArticleTitleCurrent status of diagnostic and surgical hip arthroscopy Orthopade 21 IssueID4 249–256 Occurrence Handle1408116

22.

GS Gruen TN Scioscia JE Lowenstein (2002) ArticleTitleThe surgicaltreatment of internal snapping hip Am J Sports Med 30 IssueID4 607–613 Occurrence Handle12130417

23.

RB Hawkins (1989) ArticleTitleArthroscopy of the hip Clin Orthop 249 44–47 Occurrence Handle2582677

24.

T Ikeda G Awaya S Suzuki Y Okada H Tada (1988) ArticleTitleTorn acetabular labrum in young patients. Arthroscopic diagnosis and management J Bone Joint Surg Br 70 IssueID1 13–16 Occurrence Handle3339044

25.

T Jacobson WC Allen (1990) ArticleTitleSurgical correction of the snapping iliopsoas tendon Am J Sports Med 18 IssueID5 470–474 Occurrence Handle2252086

26.

X Janssens J Meirhaeghe ParticleVan R Verdonk P Verjans C Cuvelier EM Veys (1987) ArticleTitleDiagnostic arthroscopy of the hip jointin pigmented villonodular synovitis Arthroscopy 3 IssueID4 283–287 Occurrence Handle3689528

27.

GS Keene RN Villar (1994) ArticleTitleArthroscopic anatomy of the hip: an in vivo study Arthroscopy 10 392–399

28.

BT Kelly GS Shapiro CW Digiovanni RL Buly HG Potter JA Hannafin (2005) ArticleTitleVascularity of the hip labrum: a cadaveric investigation Arthroscopy 21 IssueID1 3–11 Occurrence Handle15650660

29.

BT Kelly RJ Williams SuffixIII MJ Philippon (2003) ArticleTitleHip arthroscopy: current indications, treatment options, and management issues Am J Sports Med 31 IssueID6 1020–1037 Occurrence Handle14623676

30.

DH Kim MF Baechler MJ Berkowitz RC Rooney DB Judd (2002) ArticleTitleCoxa saltans externa treated with Z-plasty of the iliotibial tract in a military population Mil Med 167 IssueID2 172–173 Occurrence Handle11873546

31.

M Lavigne J Parvizi M Beck KA Siebenrock R Ganz M Leunig (2004) ArticleTitleAnterior femoroacetabular impingement: part I. Techniques of joint preserving surgery Clin Orthop 418 61–66 Occurrence Handle15043094

32.

JB Mason (2001) ArticleTitleAcetabular labral tears in the athlete Clin Sports Med 20 IssueID4 779–790 Occurrence Handle10.1016/S0278-5919(05)70284-2 Occurrence Handle11675886

33.

JC McCarthy B Busconi (1995) ArticleTitleThe role of hip arthroscopy in the diagnosis and treatment of hip disease Orthopedics 18 IssueID8 753–756

34.

JC McCarthy JA Lee (2002) ArticleTitleThe role of hip arthroscopy: Useful adjunct or devil's tool? Orthopedics 25 IssueID9 947–948 Occurrence Handle12269422

35.

BJ McGrory DP Endrizzi (2000) ArticleTitleAdhesive capsulitis of the hip after bilateral adhesive capsulitis of the shoulder Am J Orthop 29 IssueID6 457–460 Occurrence Handle10.1007/s001320050467 Occurrence Handle10890460

36.

DN Mintz T Hooper D Connell R Buly DE Padgett HG Potter (2005) ArticleTitleMagnetic resonance imaging of the hip: Detection of labral and chondral abnormalities using noncontrast imaging Arthroscopy 21 IssueID4 385–393 Occurrence Handle15800516

37.

MA Mont JM Lindsey DS Hungerford (1999) ArticleTitleAdhesive capsulitis of the hip Orthopedics 22 IssueID3 343–345 Occurrence Handle10192266

38.

CT Moorman SuffixIII RF Warren EB Hershman JF Crowe HG Potter R Barnes SJ O'Brien JH Guettler (2003) ArticleTitleTraumatic posterior hip subluxation in American football J Bone Joint Surg Am 85 IssueID7 1190–1196 Occurrence Handle10.1302/0301-620X.85B8.13516 Occurrence Handle12851341

39.

JA O'Leary K Berend TP Vail (2001) ArticleTitleThe relationship between diagnosis and outcome in arthroscopy of the hip Arthroscopy 17 IssueID2 181–188 Occurrence Handle11172248

40.

Y Okada G Awaya T Ikeda H Tada S Kamisato T Futami (1989) ArticleTitleArthroscopic surgery for synovial chondromatosis of the hip J Bone Joint Surg Br 71 IssueID2 198–199 Occurrence Handle2925734

41.

J Parvizi R Ganz M Beck M Leunig K Sibenrock (2004) ArticleTitleFemoroacetabular impingement: mid-term clinical results JArthroplasty 19 IssueID2 261–262 Occurrence Handle10.1016/j.arth.2003.12.049

42.

W Petersen F Petersen B Tillmann (2003) ArticleTitleStructure and vascularization of the acetabular labrum with regard to the pathogenesis and healing of labral lesions Arch Orthop Trauma Surg 123 IssueID6 283–288 Occurrence Handle10.1007/s00402-003-0527-7 Occurrence Handle12802599

43.

MJ Philippon (2003) Arthroscopy of the hip in the managementof the athlete JB McGinty (Eds) Operative arthroscopy Lippincott, Williams & Wilkins Philadelphia, PA 879–883

44.

MJ Philippon (2002) ArticleTitleDebridement of acetabular labral tears withassociated thermal capsulorrhaphy Oper Tech Sports Med 10 IssueID4 215–218 Occurrence Handle10.1053/otsm.2002.35885

45.

MJ Philippon (2001) ArticleTitleThe role of arthroscopic thermal capsulorrhaphy in the hip Clin Sports Med 20 IssueID4 817–829 Occurrence Handle10.1016/S0278-5919(05)70287-8 Occurrence Handle11675889

46.

HG Potter JM Linklater AA Allen JA Hannafin SB Haas (1998) ArticleTitleMagnetic resonance imaging of articular cartilage in the knee. An evaluation with use of fast-spin-echo imaging J Bone Joint Surg Am 80 IssueID9 1276–1284 Occurrence Handle9759811

47.

JE Schaberg MC Harper WC Allen (1984) ArticleTitleThe snapping hip syndrome Am J Sports Med 12 IssueID5 361–365 Occurrence Handle6496831

48.

RM Seldes V Tan J Hunt M Katz R Winiarsky RH Fitzgerald SuffixJr (2001) ArticleTitleAnatomy, histologic features, and vascularity of the adult acetabular labrum Clin Orthop 382 232–240 Occurrence Handle11153993

49.

KA Siebenrock KH Wahab S Werlen M Kalhor M Leunig R Ganz (2004) ArticleTitleAbnormal extension of the femoral head epiphysis as a cause of cam impingement Clin Orthop 418 54–60 Occurrence Handle15043093

50.

H Takechi H Nagashima S Ito (1982) ArticleTitleIntra-articular pressure of the hip joint outside and inside the limbus J Jpn Orthop Assoc 56 529–536
About this article
Cite this article
Kelly, B.T., Buly, R.L. Hip Arthroscopy Update. HSS Jrnl 1, 40–48 (2005). https://doi.org/10.1007/s11420-005-0105-3
Keywords
Femoral Head

Complex Regional Pain Syndrome

Loose Body

Labral Tear

Femoroacetabular Impingement