Abstract
Operative management of displaced acetabular fractures yields better results than nonoperative management. Over the past decade, surgical approaches to the acetabulum and the surgical tactic for repair of common fracture patterns have been advanced. Excellent outcomes after repair of these injuries can be achieved. In some cases, as in the elderly, or in those cases in which there is significant destruction of the articular cartilage, primary total hip arthroplasty may provide the best solution. Removal of the femoral head allows for excellent exposure of the acetabulum, making it possible to stabilize most fractures without the need for extensile or intrapelvic approaches. The surgical technique that has been successfully used calls for gaining primary stability of the acetabular columns by open reduction and internal fixation and then using the acetabular component to replace the articular surface. The columns need not be anatomically reduced. Multiholed acetabular shells can be used as internal fixation devices by placing screws into the columns enhancing the stability of the repair. In older individuals with severe osteoporosis, a typical fracture pattern results in intrapelvic dislocation of the femoral head with a blowout fracture of the anterior column and medial wall. Reinforcement rings with cemented acetabular fixation can be used in these cases. The femoral head can be used as bulk bone graft to replace and reinforce the reconstruction. Techniques common to revision of failed acetabular components are helpful in this setting. The results of reconstruction of severe acetabular fractures with total hip replacement have been reported to be similar to those achieved for reconstruction of osteoarthritis.
This is a preview of subscription content, log in to check access.
Access options
Buy single article
Instant access to the full article PDF.
US$ 39.95
Price includes VAT for USA
Subscribe to journal
Immediate online access to all issues from 2019. Subscription will auto renew annually.
US$ 99
This is the net price. Taxes to be calculated in checkout.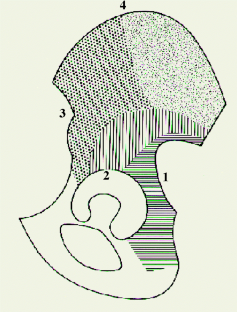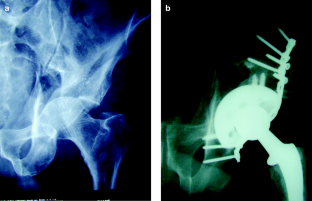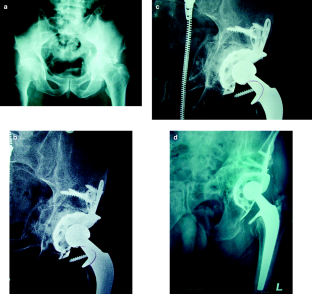 References
1.

DC Mears (1999) ArticleTitleSurgical treatment of acetabular fractures in elderly patients with osteoporotic bone J Am Acad Orthop Surg 7 128–141 Occurrence Handle10217820

2.

R Judet J Judet E Letournel (1964) ArticleTitleFractures of the acetabulum: classification and surgical approaches for open reduction—preliminary report J Bone Joint Surg Am 46 1615–1646 Occurrence Handle14239854

3.

RF Spencer (1989) ArticleTitleAcetabular fractures in older patients J Bone Joint Surg Br 71 774–776 Occurrence Handle2584245

4.

JO Anglen TA Burd KJ Hendricks P Harrison (2003) ArticleTitleThe gull sign: Harbinger of failure for internal fixation of geriatric acetabular fractures J Orthop Trauma 17 625–634 Occurrence Handle10.1097/00005131-200310000-00005 Occurrence Handle14574190

5.

JM Matta (1996) ArticleTitleFractures of the acetabulum: accuracy of reduction and clinical results in patients managed operatively within three weeks after injury J Bone Joint Surg Am 78 1632–1645 Occurrence Handle8934477

6.

DL Helfet J Borrelli T DiPasquale (1992) ArticleTitleStabilization of acetabular fractures in elderly patients J Bone Joint Surg Am 74 753–765 Occurrence Handle1624491

7.

DC Mears JH Velyvis (2002) ArticleTitleAcute total hip arthroplasty for selected displaced acetabular fractures J Bone Joint Surg Am 84 1–9 Occurrence Handle10.1302/0301-620X.84B1.12792

8.

AE Gross DG Allan M Catre DS Garbuz I Stocking (1993) ArticleTitleBone grafts in hip replacement surgery Orthop Clin North Am 24 679–695 Occurrence Handle8414434

9.

Tile M, Rubenstein J (1995) Fractures of the pelvis and acetabulum. In: Tile M (ed), 2nd edn. Williams and Wilkins, Chapter 17

10.

PE Beaule DB Griffin JM Matta (2004) ArticleTitleThe levine anterior approach for total hip replacement for an acute acetabular fracture J Orthop Trauma 18 623–629 Occurrence Handle10.1097/00005131-200410000-00008 Occurrence Handle15448452

11.

CS Kang BW Min (2002) ArticleTitleCable fixation in displaced fractures of the acetabulum Acta Orthop Scand 73 619–624 Occurrence Handle10.1080/000164702321039561 Occurrence Handle12553507

12.

E Mouhsine R Garofalo O Borens J Fischer X Crevoisier et al. (2002) ArticleTitleAcute total hip arthroplasty for acetabular fractures in the elderly Acta Orthop Scand 73 615–618 Occurrence Handle10.1080/000164702321039552 Occurrence Handle12553506

13.

E Mouhsine R Garofalo O Borens C Blanc M Wettstein PF Leyvraz (2004) ArticleTitleCable fixation and early total hip arthroplasty in treatment of acetabular fractures in elderly patients J Arthroplast 19 344–348 Occurrence Handle10.1016/j.arth.2003.08.020

14.

J Tidermark R Blomfeldt S Ponzer A Soderqvist H Tornkvist (2003) ArticleTitlePrimary total hip arthroplasty with a Burch-Schneider antiprotrusion cage and autologous bone grafting for acetabular fractures in elderly patients J Orthop Trauma 17 193–197 Occurrence Handle10.1097/00005131-200303000-00007 Occurrence Handle12621260

15.

J Tidermark S Ponzer O Svensson A Soderqvist H Tornkvist (2003) ArticleTitleInternal fixation compared with total hip replacement for displaced femoral neck fractures in the elderly. A randomized, controlled study J Bone Joint Surg Br 85 380–388 Occurrence Handle10.1302/0301-620X.85B3.13609 Occurrence Handle12729114
About this article
Cite this article
Cornell, C.N. Management of Acetabular Fractures in the Elderly Patient. HSS Jrnl 1, 25–30 (2005). https://doi.org/10.1007/s11420-005-0101-7
Keywords
Femoral Head

Acetabular Component

Medial Wall

Acetabular Fracture

Anterior Column