Abstract
A crystalline powder was found in an unclaimed lost article shipped from Vietnam to South Korea, and it was seized by narcotics agents as an item of suspicious trade. The chemical was suspected to be methamphetamine crystals, and was sent to the National Forensic Service for forensic identification. Elucidation of the chemical structure was carried out using gas chromatography–electron impact ionization–mass spectrometry, liquid chromatography–time-of-flight–mass spectrometry, and 1D and 2D nuclear magnetic resonance spectroscopy. The compound was identified as N-ethyl-α-ethylphenethylamine. Although the narcotic effect of this compound remains unverified, it may be classified as a phenethylamine-based designer drug on the basis of its structure. It appeared that the recipient of this article sought to abuse this chemical in the same way as amphetamines. There is a possibility that this chemical will be widely abused for recreational use in the near future.
Access options
Buy single article
Instant access to the full article PDF.
USD 39.95
Price includes VAT (USA)
Tax calculation will be finalised during checkout.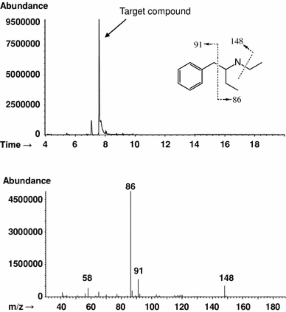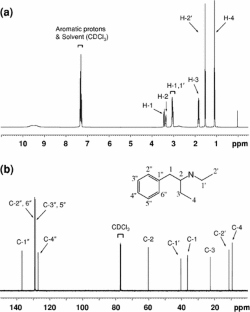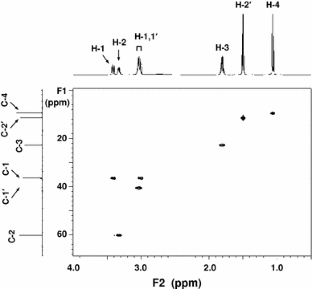 References
1.

Namera A, Nakamoto A, Saito T, Nagao M (2011) Colorimetric detection and chromatographic analyses of designer drugs in biological materials: a comprehensive review. Forensic Toxicol 29:1–24

2.

Auwärter V, Dresen S, Weinmann W, Müller M, Pütz M, Fereirós N (2009) 'Spice' and other herbal blends: harmless incense or cannabinoid designer drugs? J Mass Spectrom 44:832–837

3.

Uchiyama N, Kawamura M, Kikura-Hanajiri R, Goda Y (2011) Identification and quantitation of two cannabimimetic phenylacetylindoles JWH-251 and JWH-250, and four cannabimimetic naphthoylidoles JWH-081, JWH-015, JWH-200, and JWH-073 as designer drugs in illegal products. Forensic Toxicol 29:25–37

4.

2011 Annual report of the state of the drugs problem in Europe. European Monitoring Centre for Drugs and Drug Addiction (EMCDDA), Lisbon, November 2011

5.

World Drug Report (2011) United Nations Office of Drugs and Crime (UNODC). June, Vienna 2011

6.

Hillebrand J, Olszewski D, Sedefov R (2010) Legal highs on the Internet. Subst Use Misuse 45:330–340

7.

Zaitsu K, Katagi M, Tatsuno M, Sato T, Tsuchihasi H, Suzuki K (2011) Recently abused β-keto derivatives of 3,4-methylenedioxyphenylalkylamines: a review of their metabolisms and toxicological analysis. Forensic Toxicol 29:73–84

8.

Zuba D (2012) Identification of cathinones and other active components of 'legal highs' by mass spectrometric methods. Trends Anal Chem 32:15–30

9.

Coppola M, Mondola R (2012) 3,4-Methylenedioxypyrovalerone (MDPV): chemistry, pharmacology and toxicology of a new designer drug of abuse marketed online. Toxicol Lett 208:12–15

10.

Gibbons S, Zloh M (2010) An analysis of the 'legal high' mephedrone. Bioorg Med Chem Lett 20:4135–4139

11.

Maheux CR, Copeland CR, Pollard MM (2010) Characterization of three methcathinone analogs: 4-methylmethcathinone, methylone, and bk-MBDB. Microgram J 7:42–49

12.

Theobald DS, Maurer HH (2007) Identification of monoamine oxidase and cytochrome P450 isoenzymes involved in the deamination of phenethylamine-derived designer drugs (2C-series). Biochem Pharmacol 73:287–297

13.

Rösner P, Quednow B, Girreser U, Junge T (2005) Isomeric fluoro-methoxy-phenylalkylamines: a new series of controlled-substance analogues (designer drugs). Forensic Sci Int 148:143–156

14.

Gosav S, Dinica R, Praisler M (2008) Choosing between GC–FTIR and GC–MS spectra for an efficient intelligent identification of illicit amphetamines. J Mol Struct 887:269–278

15.

Junet R (1956) Ethylamphetamine in the treatment of obesity. Praxis 45:986–988 (article in French)

16.

Oberlender R, Nicholas DE (1991) Structural variation and (+)-amphetamine like discriminative stimulus properties. Pharmacol Biochem Behav 38:581–586

17.

Nicholas DE (1986) Differences between the mechanism of action of MDMA, MBDB, and the classic hallucinogens. Identification of a new therapeutic class: entactogens. J Psychoactive Drugs 18:305–313

18.

Misuse of Drugs Act 1971. Parliament of the United Kingdom, May 1971
Acknowledgments
This study was supported by funding from the National R&D Program of the Ministry of Education, Science, and Technology (2012-0009836) and the National Forensic Service of Korea.
Additional information
This article is for the special issue TIAFT2012 edited by Osamu Suzuki.
About this article
Cite this article
Lee, J., Choe, S., Choi, H. et al. Identification of N-ethyl-α-ethylphenethylamine in crystalline powder seized for suspected drug trafficking: a research chemical or a new designer drug?. Forensic Toxicol 31, 54–58 (2013). https://doi.org/10.1007/s11419-012-0158-1
Received:

Accepted:

Published:

Issue Date:
Keywords
N-Ethyl-α-ethylphenethylamine

Drug trafficking

Structural elucidation

GC–EI–MS

LC–TOF–MS

NMR