Abstract
Determination of methamphetamine (MP) and its metabolite amphetamine (AP) in hair and meconium samples from a neonate was performed to estimate the fetal abuse of MP during pregnancy. Five hundred micrograms of the neonate's hair spiked with 1-methyl-3-phenylpropylamine (internal standard) were used for the determination. After digestion with 1 M NaOH for 20 min, the resultant was extracted with heptane and the organic layer was evaporated and labeled with 4-(N,N-dimethylaminosulfonyl)-7-fluoro-2,1,3-benzoxadiazole. The MP in 10 mg of the neonate's meconium was determined using the standard addition method. The determination of MP and AP in the hair was performed by a semi-micro-HPLC–peroxyoxalate chemiluminescence method. The hair sample (total length = ca. 3 cm) was divided into two fragments (the root and the tip). The concentrations of MP in the fragments were 1.68 ± 0.18 ng/mg (root) and 1.29 ± 0.03 ng/mg (tip). AP was not found in either of the fragments. The concentrations of MP and AP in meconium, based on measurements performed in triplicate, were 0.27 ± 0.04 ng/mg and 0.16 ± 0.03 ng/mg, respectively. As a result, fetal abuse of MP during the pregnancy was confirmed.
Access options
Buy single article
Instant access to the full article PDF.
USD 39.95
Price excludes VAT (USA)
Tax calculation will be finalised during checkout.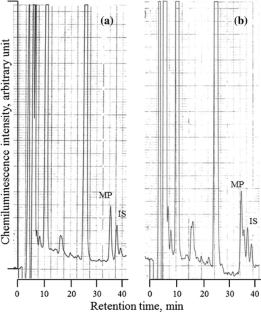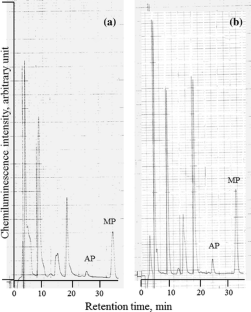 References
Matic A (2008) Neonatal abstinence syndrome—case report. Acta Medica Medianae 47:55–58

Wada M, Ikeda R, Kuroda N, Nakashima K (2010) Analytical methods for abused drugs in hair and their applications. Anal Bioanal Chem 397:1039–1067

Kintz P, Villain M (2011) Violence under the influence of methylphenidate as determined by hair analysis. Forensic Toxicol 28:115–118

Kaddoumi A, Wada M, Nakashima K (2011) In vivo incorporation of fenfluramine and norfenfluramine into pigmented and nonpigmented hair of rats measured by HPLC–fluorescence detection. Forensic Toxicol 29:44–50

Garcia-Bournissen F, Rokach B, Karaskov T, Gareri J, Koren G (2010) Methamphetamine detection in maternal and neonatal hair: implications for fatal safety. Arch Dis Child Fetal Neonatal Ed 92:351–355

Garcia-Bournissen F, Rokach B, Karaskov T, Gareri J, Koren G (2007) Detection of stimulant drugs of abuse in maternal and neonatal hair. Forens Sci Med Pathol 3:115–118

Gray TR, Kelly T, LaGasse LL, Smith LM, Derauf C, Haning W, Grant P, Shah R, Arria A, Strauss A, Lester BM, Huestis MA (2009) Novel biomarkers of prenatal methamphetamine exposure in human meconium. Ther Drug Monit 31:70–75

Gray TR, Kelly T, LaGasse LL, Smith LM, Derauf C, Grant P, Shah R, Arria A, Haning W, Grotta SD, Strauss A, Lester BM, Huestis MA (2010) New meconium biomarkers of prenatal methamphetamine exposure increase identification of affected neonates. Clin Chem 56:856–860

Ristimaa J, Gergov M, Pelander A, Halmesmäki E, Ojanperä I (2010) Broad-spectrum drug screening of meconium by liquid chromatography with tandem mass spectrometry and time-of-flight mass spectrometry. Anal Bioanal Chem 398:925–935

Ostrea EM, Knapp DK, Tannenbaum L, Ostrea AR, Romero A, Salari V, Ager J (2001) Estimates of illicit drug use during pregnancy by maternal interview, hair analysis, and meconium analysis. J Pediatr 138:344–348

Nakamura S, Wada M, Crabtree BL, Reeves PM, Montgomery JH, Byrd HJ, Harada S, Kuroda N, Nakashima K (2007) A sensitive semi-micro column HPLC method with peroxyoxalate chemiluminescence detection and column switching for determination of MDMA-related compounds in hair. Anal Bioanal Chem 387:1983–1990
About this article
Cite this article
Wada, M., Sugimoto, Y., Ikeda, R. et al. Determination of methamphetamine in neonatal hair and meconium samples: estimation of fetal drug abuse during pregnancy. Forensic Toxicol 30, 80–83 (2012). https://doi.org/10.1007/s11419-011-0129-y
Received:

Accepted:

Published:

Issue Date:

DOI: https://doi.org/10.1007/s11419-011-0129-y
Keywords