Abstract
In Ayurveda, a traditional Indian medicine system, clarified butter is called ghee and is used for food and medicinal purposes. Since butter is subjected to heat to prepare ghee, the heating process affects the ghee quality, such as oxidation, flavor, nutritional value, and biological activity. Therefore, this study focused on the Maillard reaction progress and free-radical scavenging activity with temperature and time during ghee preparation. First, ghee was prepared at low to high temperatures, and its quality (milk fat content, retinol, α-tocopherol, peroxide value, Maillard reaction progress, and free radical scavenging activity) was evaluated. Maillard reaction progress was enhanced at medium and high temperatures (120–160 ℃), and the free radical-scavenging activity of ghee corresponded to the Maillard reaction progress. Since ghee is often reheated during use, we further evaluated the effect of the reheating process. The reheating process did not alter the Maillard reaction progress or the free radical scavenging activity. Our findings serve as good quality control measures for ghee preparation.
Graphical abstract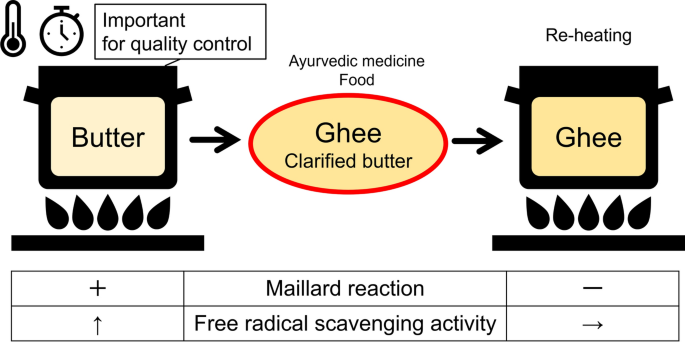 Access options
Buy single article
Instant access to the full article PDF.
USD 39.95
Price excludes VAT (USA)
Tax calculation will be finalised during checkout.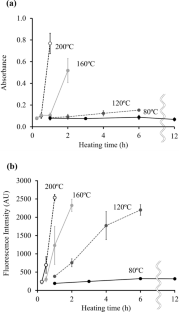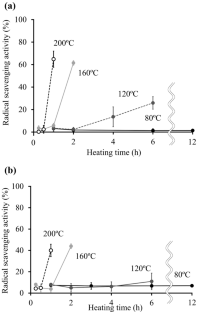 References
Sserunjogi ML, Abrahamsen RK, Narvhus J (1998) A review paper: current knowledge of ghee and related products. Int Dairy J 8(8):677–688. https://doi.org/10.1016/S0958-6946(98)00106-X

Alganesh TG, Yetenayet BT (2017) Traditional butter and ghee production, processing and handling in Ethiopia: a review. Afr J Food Sci 11(4):95–105. https://doi.org/10.5897/AJFS2016.1544

Government of India ministry of health & family welfare department of ayush, the ayurvedic pharmacopoeia of India (2008) vol I(VI), 1st edn. CCXXXVIII, New Delhi

Afsaneh Morshedi A, Hosseinpour A, Mina A (2016) Investigation of quality, advantages and disadvantages, processing and characteristics of ghee: a review paper. Indian J Fundam Appl Life Sci 6(2):1–7

Johnson JM, Conforti FD (2003) Lactose, Encyclopedia of food science and nutrition (2nd Edition). Academic Press, Cambridge, pp 3472–3476

Farrell HM Jr, Jimenez-Flores R, Bleck GT, Brown EM, Butler JE, Creamer LK, Hicks CL, Hollar CM, Ng-Kwai-Hang KF, Swaisgood HE (2004) Nomenclature of the proteins of cows' milk-Sixth revision. J Dairy Sci 87(6):1641–1674. https://doi.org/10.3168/jds.S0022-0302(04)73319-6

Ferretti A, Flanagan VP (1971) Lactose casein (Maillard) browning system: volatile components. J Agric Food Chem 19(2):245–249. https://doi.org/10.1021/jf60174a039

Wang HY, Qian H, Yao WR (2011) Melanoidins produced by the Maillard reaction: structure and biological activity. Food Chem 128(3):573–584. https://doi.org/10.1016/j.foodchem.2011.03.075

Rufián-Henares JA, Morales FJ (2007) Functional properties of melanoidins: in vitro antioxidant, antimicrobial and antihypertensive activities. Food Res Int 40(8):995–1002. https://doi.org/10.1016/j.foodres.2007.05.002

Manzocco L, Calligaris S, Mastrocola D, Nicoli MC, Lerici CR (2001) Review of nonenzymatic browning and antioxidant capacity in processed foods. Trends Food Sci Technol 11:340–346. https://doi.org/10.1016/S0924-2244(01)00014-0

Kaleem A, Aziz S, Iqtedar M (2015) Investigating changes and effect of peroxide values in cooking oils subject to light and heat. Fuuast J Biol 5(2):191–196

Yokogawa T, Atsumi T, Yanagigawa N, Ohtsuka I (2020) Effect of heating on the quality of clarified butter, called ghee. Ayurveda Milk Sci 69(3):146–154. https://doi.org/10.11465/milk.69.146

The American Oil Chemists' Society (2017) Official Methods and Recommended Practices of the AOAC, 7th edn. AOCS, Urbana, Cd 8–53

Kitamura M, Kiba Y, Suzuki R, Tomida N, Uwaya A, Isami F, Deng S (2020) Cannabidiol content and in vitro biological activities of commercial cannabidiol oils and hemp seed oils. Medicines 7(9):57. https://doi.org/10.3390/medicines7090057

Yanagisawa K, Makita Z, Shiroshita K, Ueda T, Fusegawa T, Kuwajima S, Takeuchi M, Koike T (1998) Specific fluorescence assay for advanced glycation end products in blood and urine of diabetic patients. Metabolism 47(11):1348–1353. https://doi.org/10.1016/S0026-0495(98)90303-1

Christodouleas DC, Fotakis C, Nikokavoura A, Papadopoulos K, Calokerinos AC (2015) Modified DPPH and ABTS assays to assess the antioxidant profile of untreated oils. Food Anal Methods 8(5):1294–1302. https://doi.org/10.1007/s12161-014-0005-6

Brown A (2014) Understanding food: principles and preparation, 5th (edition). Wadsworth Publishing Co., Belmont, p 468

Lewis C (2014) Enteroimmunology: a guide to the prevention and treatment of chronic inflammatory disease, 3rd edn. Psy Press, Caravelle, p 53

FAO/WHO, Alimentarius C (2018) Standard for milkfat products. CODEX STAN 1973:280

Cämmerer B, Jalyschko W, Kroh LW (2002) Intact carbohydrate structures as part of the melanoidin skeleton. J Agric Food Chem 50(7):2083–2087. https://doi.org/10.1021/jf011106w

Benjakul S, Lertittikul W, Bauer F (2005) Antioxidant activity of Maillard reaction products from a porcine plasma protein-sugar model system. Food Chem 93(2):189–196. https://doi.org/10.1016/j.foodchem.2004.10.019

Karmas R, Pilar Buera M, Karel M (1992) Effect of glass transition on rates of nonenzymic browning in food systems. J Agric Food Chem 40(5):873–879. https://doi.org/10.1021/jf00017a035

Lievonen SM, Laaksonen TJ, Roos YH (2002) Nonenzymatic browning in food models in the vicinity of the glass transition: effects of fructose, glucose, and xylose as reducing sugar. J Agric Food Chem 50(24):7034–7041. https://doi.org/10.1021/jf0255275

Morales FJ, Van Boekel MAJS (1997) A study on advanced Maillard reaction in heated casein/sugar solutions. Int Dairy J 7(11):675–683. https://doi.org/10.1016/S0958-6946(97)00071-X

Mehta M (2013) Consumption pattern and fatty acid composition of ghee. Food Sci Res 4(2):116–120

Tamanna N, Mahmood N (2015) Food processing and Maillard reaction products: effect on human health and nutrition. Int J Food Sci 2015:526762. https://doi.org/10.1155/2015/526762

Surh YJ, Liem A, Miller JA, Tannenbaum SR (1994) 5-sulfooxymethylfurfural as a possible ultimate mutagenic and carcinogenic metabolite of the Maillard reaction product, 5-hydroxymethylfurfural. Carcinogenesis 15(10):2375–2377. https://doi.org/10.1093/carcin/15.10.2375

Kim H, Kim B, Kim H, Um S, Lee J, Ryoo H, Jung H (2008) Synthesis and in vitro biological activity of retinyl retinoate, a novel hybrid retinoid derivative. Bioorg Med Chem 16(12):6387–6393. https://doi.org/10.1016/j.bmc.2008.05.005

Tsuchiya M, Scita G, Freisleben HJ, Kagan VE, Packer L (1992) Antioxidant radical-scavenging activity of carotenoids and retinoids compared to α-tocopherol. In Methods Enzymol 213:460–472. https://doi.org/10.1016/0076-6879(92)13148-Q

O'Byrne SM, Blaner WS (2013) Retinol and retinyl esters: biochemistry and physiology. J Lipid Res 54(7):1731–1743. https://doi.org/10.1194/jlr.R037648
Funding
The funding was provided by Japanese Dairy Science Association Foundation.
Ethics declarations
Conflict of interest
The authors declare that no conflicts of interest are associated with this manuscript.
Additional information
Publisher's Note
Springer Nature remains neutral with regard to jurisdictional claims in published maps and institutional affiliations.
About this article
Cite this article
Yokogawa, T., Yamazaki, C., Hara, M. et al. Effect of Maillard reaction on the quality of clarified butter, ghee. J Nat Med 77, 230–237 (2023). https://doi.org/10.1007/s11418-022-01661-y
Received:

Accepted:

Published:

Issue Date:

DOI: https://doi.org/10.1007/s11418-022-01661-y
Keywords