Abstract
Periodontal diseases are a major public health problem affecting over half of the adult population worldwide. Lipopolysaccharide (LPS) produced by the periodontopathic bacterium Porphyromonas gingivalis induces the expression of inflammatory cytokines that promote inflammatory bone destruction. Mounting evidence supports that periodontal diseases are involved in the onset and progression of several systemic diseases, such as aspiration pneumonia and diabetes. Although treatment of periodontal diseases by removing the periodontopathic bacteria by brushing is a standard practice, it has limitations and is not effective in all cases. Therefore, a new method to replace or complement brushing is needed for the treatment of periodontal diseases. In this study, we investigated the anti-inflammatory effects of an extract from Cynara scolymus L. and its pharmacologically effective compound cynaropicrin, a sesquiterpene lactone, on human gingival fibroblasts (HGFs) stimulated by LPS and the potential anti-osteoclastogenic effects on RAW264.7 cells induced by receptor activator of NF-κB ligand (RANKL). We found that cynaropicrin inhibited IL-8 and IL-6 mRNA and protein synthesis in LPS-stimulated HGFs in a dose-dependent manner. P. gingivalis LPS-induced degradation of IκBα and phosphorylation of NF-κB p65 were also suppressed by cynaropicrin, as was LPS-stimulated NF-κB transactivation. Thus, cynaropicrin's inhibition of P. gingivalis LPS-induced IL-8 and IL-6 expression may be due to the inhibition of the NF-κB pathway. Furthermore, we showed that cynaropicrin dramatically reduced RANKL-induced osteoclast differentiation. These results suggest that cynaropicrin may be useful for preventing periodontal diseases and could prove valuable in the development of more effective preventative approaches for periodontal diseases.
This is a preview of subscription content, log in to check access.
Access options
Buy single article
Instant access to the full article PDF.
US$ 39.95
Price includes VAT for USA
Subscribe to journal
Immediate online access to all issues from 2019. Subscription will auto renew annually.
US$ 99
This is the net price. Taxes to be calculated in checkout.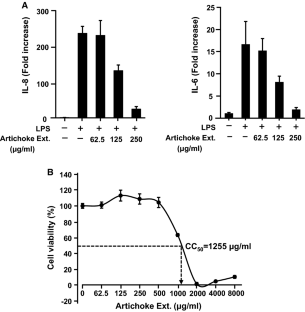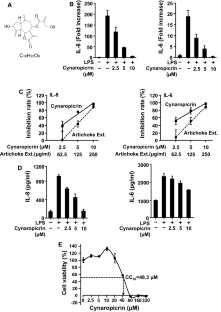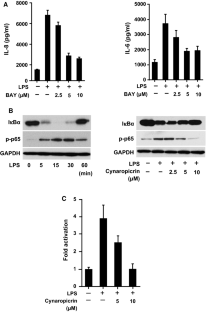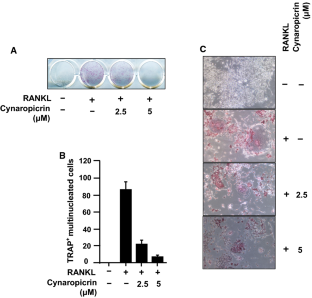 References
1.

Pihlstrom BL, Michalowicz BS, Johnson NW (2005) Periodontal diseases. Lancet 366:1809–1820

2.

Hajishengallis G (2015) Periodontitis: from microbial immune subversion to systemic inflammation. Nat Rev Immunol 15:30–44

3.

Mysak J, Podzimek S, Sommerova P, Lyuya-Mi Y, Bartova J, Janatova T, Prochazkova J, Duskova J (2014) Porphyromonas gingivalis: major periodontopathic pathogen overview. J Immunol Res 2014:476068

4.

Amarasekara DS, Yun H, Kim S, Lee N, Kim H, Rho J (2018) Regulation of osteoclast differentiation by cytokine networks. Immune Netw 18:e8

5.

Darré L, Vergnes JN, Gourdy P, Sixou M (2008) Efficacy of periodontal treatment on glycaemic control in diabetic patients: a meta-analysis of interventional studies. Diabetes Metab 34:497–506

6.

Sjögren P, Nilsson E, Forsell M, Johansson O, Hoogstraate J (2008) A systematic review of the preventive effect of oral hygiene on pneumonia and respiratory tract infection in elderly people in hospitals and nursing homes: effect estimates and methodological quality of randomized controlled trials. J Am Geriatr Soc 56:2124–2130

7.

Munenaga Y, Yamashina T, Tanaka J, Nishimura F (2013) Improvement of glycated hemoglobin in Japanese subjects with type 2 diabetes by resolution of periodontal inflammation using adjunct topical antibiotics: results from the Hiroshima Study. Diabetes Res Clin Pract 100:53–60

8.

Corrêa MG, Pires PR, Ribeiro FV, Pimentel SZ, Casarin RC, Cirano FR, Tenenbaum HT, Casati MZ (2017) Systemic treatment with resveratrol and/or curcumin reduces the progression of experimental periodontitis in rats. J Periodont Res 52:201–209

9.

Noorafshan A, Ashkani-Esfahani S (2013) A review of therapeutic effects of curcumin. Curr Pharm Des 19:2032–2046

10.

Yun HJ, Yoo WH, Han MK, Lee YR, Kim JS, Lee SI (2008) Epigallocatechin-3-gallate suppresses TNF-alpha-induced production of MMP-1 and -3 in rheumatoid arthritis synovial fibroblasts. Rheumatol Int 29:23–29

11.

Mehmetçik G, Ozdemirler G, Koçak-Toker N, Cevikbaş U, Uysal M (2008) Effect of pretreatment with artichoke extract on carbon tetrachloride-induced liver injury and oxidative stress. Exp Toxicol Pathol 60:475–480

12.

Ishida K, Kojima R, Tsuboi M, Tsuda Y, Ito M (2010) Effects of artichoke leaf extract on acute gastric mucosal injury in rats. Biol Pharm Bull 33:223–229

13.

Siedle B, García-Piñeres AJ, Murillo R, Schulte-Mönting J, Castro V, Rüngeler P, Klaas CA, Da Costa FB, Kisiel W, Merfort I (2004) Quantitative structure-activity relationship of sesquiterpene lactones as inhibitors of the transcription factor NF-κB. J Med Chem 47:6042–6054

14.

Sun X, Jiang C, Ma L, Zhao X, Chang J, Zheng B, Li L, Xie W, Li X (2015) 3β-Angeloyloxy-8β,10β-dihydroxyeremophila-7(11)-en-12,8α-lactone Inhibits lipopolysaccharide-Induced nitric oxide Production in. Biol Pharm Bull 38:836–843

15.

Tamura R, Chen Y, Shinozaki M, Arao K, Wang L, Tang W, Hirano S, Ogura H, Mitsui T, Taketani S, Ando M, Kataoka T (2012) Eudesmane-type sesquiterpene lactones inhibit multiple steps in the NF-κB signaling pathway induced by inflammatory cytokines. Bioorg Med Chem Lett 22:207–211

16.

Ogata Y, Niisato N, Sakurai T, Furuyama S, Sugiya H (1995) Comparison of the characteristics of human gingival fibroblasts and periodontal ligament cells. J Periodontol 66:1025–1031

17.

Imai K, Okamoto T, Ochiai K (2015) Involvement of Sp1 in butyric acid-induced HIV-1 gene expression. Cell Physiol Biochem 37:853–865

18.

Victoriano AF, Imai K, Togami H, Ueno T, Asamitsu K, Suzuki T, Miyata N, Ochiai K, Okamoto T (2011) Novel histone deacetylase inhibitor NCH-51 activates latent HIV-1 gene expression. FEBS Lett 585:1103–1111

19.

Imai K, Kamio N, Cueno ME, Saito Y, Inoue H, Saito I, Ochiai K (2014) Role of the histone H3 lysine 9 methyltransferase Suv39 h1 in maintaining Epstein-Barr virus latency in B95-8 cells. FEBS J 281:2148–2158

20.

Kamio N, Imai K, Shimizu K, Cueno ME, Tamura M, Saito Y, Ochiai K (2015) Neuraminidase-producing oral mitis group streptococci potentially contribute to influenza viral infection and reduction in antiviral efficacy of zanamivir. Cell Mol Life Sci 72:357–366

21.

Zhao N, Tsuda H, Murofushi T, Imai K, Ochiai K, Yang P, Suzuki N (2015) 1-7 Chaetocin inhibits RANKL-induced osteoclast differentiation through reduction of Blimp1 in Raw264.7 cells. Life Sci 143:1–7

22.

Hayden MS, Ghosh S (2004) Signaling to NF-κB. Genes Dev 18:2195–2224

23.

Mundy GR (2007) Osteoporosis and inflammation. Nutr Rev 65:S147–S151

24.

Zhou X, Han J, Liu Z, Song Y, Wang Z, Sun Z (2014) Effects of periodontal treatment on lung function and exacerbation frequency in patients with chronic obstructive pulmonary disease and chronic periodontitis: a 2-year pilot randomized controlled trial. J Clin Periodontol 41:564–572

25.

Takashiba S, Takigawa M, Takahashi K, Myokai F, Nishimura F, Chihara T, Kurihara H, Nomura Y, Murayama Y (1992) Interleukin-8 is a major neutrophil chemotactic factor derived from cultured human gingival fibroblasts stimulated with interleukin-1β or tumor necrosis factor α. Infect Immun 60:5253–5258

26.

Bickel M (1993) The role of interleukin-8 in inflammation and mechanisms of regulation. J Periodontol 64:456–460

27.

Hunter CA, Jones SA (2015) IL-6 as a keystone cytokine in health and disease. Nat Immunol 16:448–457

28.

Hwang YS, Lee SK, Park KK, Chung WY (2012) Secretion of IL-6 and IL-8 from lysophosphatidic acid-stimulated oral squamous cell carcinoma promotes osteoclastogenesis and bone resorption. Oral Oncol 48:40–48

29.

Tsai CC, Ho YP, Chen CC (1995) Levels of interleukin-1 beta and interleukin-8 in gingival crevicular fluids in adult periodontitis. J Periodontol 66:852–859

30.

Jin L, Söder B, Corbet EF (2000) Interleukin-8 and granulocyte elastase in gingival crevicular fluid in relation to periodontopathogens in untreated adult periodontitis. J Periodontol 71:929–939

31.

Bozkurt FY, Berker E, Akkuş S, Bulut S (2000) Relationship between interleukin-6 levels in gingival crevicular fluid and periodontal status in patients with rheumatoid arthritis and adult periodontitis. J Periodontol 71:1756–1760

32.

Brandolini L, Sergi R, Caselli G, Boraschi D, Locati M, Sozzani S, Bertini R (1997) Interleukin-1β primes interleukin-8-stimulated chemotaxis and elastase release in human neutrophils via its type I receptor. Eur Cytokine Netw 8:173–178

33.

Reinhardt RA, Masada MP, Kaldahl WB, DuBois LM, Kornman KS, Choi JI, Kalkwarf KL, Allison AC (1993) Gingival fluid IL-1 and IL-6 levels in refractory periodontitis. J Clin Periodontol 20:225–231

34.

Iotsova V, Caamaño J, Loy J, Yang Y, Lewin A, Bravo R (1997) Osteopetrosis in mice lacking NF-κB1 and NF-κB2. Nat Med 3:1285–1289

35.

Kikuchi T, Matsuguchi T, Tsuboi N, Mitani A, Tanaka S, Matsuoka M, Yamamoto G, Hishikawa T, Noguchi T, Yoshikai Y (2001) Gene expression of osteoclast differentiation factor is induced by lipopolysaccharide in mouse osteoblasts via Toll-like receptors. J Immunol 166:3574–3579

36.

Tanaka YT, Tanaka K, Kojima H, Hamada T, Masutani T, Tsuboi M, Akao Y (2013) Cynaropicrin from Cynara scolymus L. suppresses photoaging of skin by inhibiting the transcription activity of nuclear factor-κB. Bioorg Med Chem Lett 23:518–523
Acknowledgements
This work was supported by JSPS KAKENHI, the Dental Research Center, Nihon University School of Dentistry, and the Nihon University Multidisciplinary Research Grant for 2017.
Ethics declarations
Conflict of interest
The authors confirm that there are no conflicts of interests.
About this article
Cite this article
Hayata, M., Watanabe, N., Kamio, N. et al. Cynaropicrin from Cynara scolymus L. suppresses Porphyromonas gingivalis LPS-induced production of inflammatory cytokines in human gingival fibroblasts and RANKL-induced osteoclast differentiation in RAW264.7 cells. J Nat Med 73, 114–123 (2019). https://doi.org/10.1007/s11418-018-1250-6
Received:

Accepted:

Published:

Issue Date:
Keywords
Cynaropicrin

Periodontal diseases

Inflammatory cytokine

Human gingival fibroblasts

Osteoclast differentiation