Abstract
Gelsemium elegans Benth. is a toxic plant that has been used as an ancient Chinese herbal remedy for rheumatoid arthritis (RA) and nervous pain, spasticity, skin ulcers, and cancers. Koumine, one of its representative alkaloids, shows numerous promising pharmacological activities, including anti-inflammatory and analgesic activities. Here, we investigated the analgesic effect of koumine on the collagen-induced arthritis (CIA) rat model of RA and explored the potential pharmacological mechanisms underlying the analgesia. In the CIA rats, repeated koumine treatments significantly reduced pain compared to controls and attenuated the collagen-induced increase in levels of glial fibrillary acidic protein (GFAP) and the pro-inflammatory cytokines tumour necrosis factor α (TNF-α) and interleukin 1β (IL-1β). Cultured astrocytes showed reduced astrocyte reactivation and decreased production of both tested cytokines. Based on our results, koumine exerted both analgesic and anti-inflammatory effects on the CIA rat model that were apparently mediated by inhibiting astrocyte reactivation and pro-inflammatory cytokine production.
This is a preview of subscription content, log in to check access.
Access options
Buy single article
Instant access to the full article PDF.
US$ 39.95
Tax calculation will be finalised during checkout.
Subscribe to journal
Immediate online access to all issues from 2019. Subscription will auto renew annually.
US$ 79
Tax calculation will be finalised during checkout.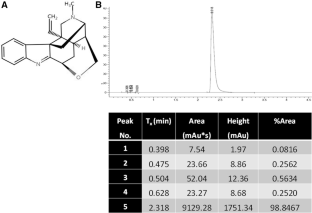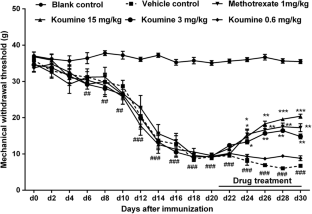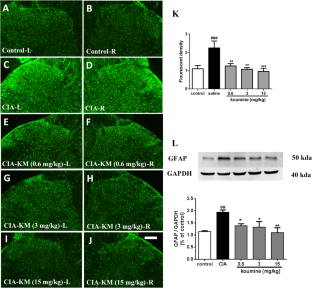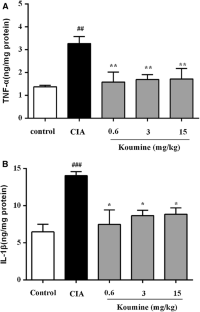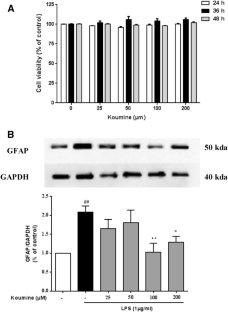 References
1.

McInnes IB, Schett G (2011) The pathogenesis of rheumatoid arthritis. N Engl J Med 365:2205–2219

2.

Bas DB, Su J, Wigerblad G, Svensson CI (2016) Pain in rheumatoid arthritis: models and mechanisms. Pain Manag 6:265–284

3.

Calabro A, Caterino AL, Elefante E, Valentini V, Vitale A, Talarico R, Cantarini L, Frediani B (2016) One year in review 2016: novelties in the treatment of rheumatoid arthritis. Clin Exp Rheumatol 34:357–372

4.

Walsh DA, McWilliams DF (2014) Mechanisms, impact and management of pain in rheumatoid arthritis. Nat Rev Rheumatol 10:581–592

5.

Meeus M, Vervisch S, De Clerck LS, Moorkens G, Hans G, Nijs J (2012) Central sensitization in patients with rheumatoid arthritis: a systematic literature review. Semin Arthritis Rheu 41:556–567

6.

Woolf CJ (2018) Pain amplification—a perspective on the how, why, when, and where of central sensitization. J Appl Biobehav Res 23:e12124

7.

Nieto FR, Clark AK, Grist J, Hathway GJ, Chapman V, Malcangio M (2016) Neuron-immune mechanisms contribute to pain in early stages of arthritis. J Neuroinflammation 13:96

8.

Bas DB, Su J, Sandor K, Agalave NM, Lundberg J, Codeluppi S, Baharpoor A, Nandakumar KS, Holmdahl R, Svensson CI (2012) Collagen antibody-induced arthritis evokes persistent pain with spinal glial involvement and transient prostaglandin dependency. Arthritis Rheum 64:3886–3896

9.

Carr FB, Geranton SM, Hunt SP (2014) Descending controls modulate inflammatory joint pain and regulate CXC chemokine and iNOS expression in the dorsal horn. Mol Pain 10:39

10.

Salaffi F, Giacobazzi G, Di Carlo M (2018) (2018) Chronic pain in inflammatory arthritis: mechanisms, metrology, and emerging targets—a focus on the JAK-STAT pathway. Pain Res Manage 3:8564215

11.

Inglis JJ, Notley CA, Essex D, Wilson AW, Feldmann M, Anand P, Williams R (2007) Collagen-induced arthritis as a model of hyperalgesia: functional and cellular analysis of the analgesic actions of tumor necrosis factor blockade. Arthritis Rheum 56:4015–4023

12.

Christianson CA, Dumlao DS, Stokes JA, Dennis EA, Svensson CI, Corr M, Yaksh TL (2011) Spinal TLR4 mediates the transition to a persistent mechanical hypersensitivity after the resolution of inflammation in serum-transferred arthritis. Pain 152:2881–2891

13.

Schaible HG, von Banchet GS, Boettger MK, Brauer R, Gajda M, Richter F, Hensellek S, Brenn D, Natura G (2010) The role of proinflammatory cytokines in the generation and maintenance of joint pain. Ann N Y Acad Sci 1193:60–69

14.

Ji RR, Chamessian A, Zhang YQ (2016) Pain regulation by non-neuronal cells and inflammation. Science 354:572–577

15.

Hansen RR, Malcangio M (2013) Astrocytes—multitaskers in chronic pain. Eur J Pharmacol 716:120–128

16.

Gao YJ, Ji RR (2010) Targeting astrocyte signaling for chronic pain. Neurotherapeutics 7:482–493

17.

Ji RR, Xu ZZ, Gao YJ (2014) Emerging targets in neuroinflammation-driven chronic pain. Nat Rev Drug Discovery 13:533–548

18.

Jin G-L, Su Y-P, Liu M, Xu Y, Yang J, Liao K-J, Yu C-X (2014) Medicinal plants of the genus Gelsemium (Gelsemiaceae, Gentianales)—a review of their phytochemistry, pharmacology, toxicology and traditional use. J Ethnopharmacol 152:33–52

19.

Ghorbani A, Langenberger G, Feng L, Sauerborn J (2011) Ethnobotanical study of medicinal plants utilised by Hani ethnicity in Naban River Watershed National Nature Reserve, Yunnan, China. J Ethnopharmacol 134:651–667

20.

Rujjanawate C, Kanjanapothi D, Panthong A (2003) Pharmacological effect and toxicity of alkaloids from Gelsemium elegans Benth. J Ethnopharmacol 89:91–95

21.

Xu Y, Qiu H-Q, Liu H, Liu M, Huang Z-Y, Yang J, Su Y-P, Yu C-X (2012) Effects of koumine, an alkaloid of Gelsemium elegans Benth., on inflammatory and neuropathic pain models and possible mechanism with allopregnanolone. Pharmacol Biochem Behav 101:504–514

22.

Chen CJ, Zhong ZF, Xin ZM, Hong LH, Su YP, Yu CX (2017) Koumine exhibits anxiolytic properties without inducing adverse neurological effects on functional observation battery, open-field and Vogel conflict tests in rodents. J Nat Med 71:397–408

23.

Xiong BJ, Xu Y, Jin GL, Liu M, Yang J, Yu CX (2017) Analgesic effects and pharmacologic mechanisms of theGelsemiumalkaloid koumine on a rat model of postoperative pain. Sci Rep 7:14269

24.

Jian Y, Cai HD, Zeng YL, Chen ZH, Fang MH, Su YP, Huang HH, Ying X, Yu CX (2016) Effects of koumine on adjuvant- and collagen-induced arthritis in rats. J Nat Prod 79:2635–2643

25.

Su Y-P, Shen J, Xu Y, Zheng M, Yu C-X (2011) Preparative separation of alkaloids from Gelsemium elegans Benth. using pH-zone-refining counter-current chromatography. J Chromatogr A 1218:3695–3698

26.

Mitrirattanakul S, Ramakul N, Guerrero AV, Matsuka Y, Ono T, Iwase H, Mackie K, Faull KF, Spigelman I (2006) Site-specific increases in peripheral cannabinoid receptors and their endogenous ligands in a model of neuropathic pain. Pain 126:102–114

27.

Woolf CJ (2011) Central sensitization: implications for the diagnosis and treatment of pain. Pain 152:S2–15

28.

Milligan ED, Watkins LR (2009) Pathological and protective roles of glia in chronic pain. Nat Rev Neurosci 10:23–36

29.

Agalave NM, Larsson M, Abdelmoaty S, Su J, Baharpoor A, Lundback P, Palmblad K, Andersson U, Harris H, Svensson CI (2014) Spinal HMGB1 induces TLR4-mediated long-lasting hypersensitivity and glial activation and regulates pain-like behavior in experimental arthritis. Pain 155:1802–1813

30.

Clark AK, Grist J, Al-Kashi A, Perretti M, Malcangio M (2012) Spinal cathepsin S and fractalkine contribute to chronic pain in the collagen-induced arthritis model. Arthritis Rheum 64:2038–2047

31.

Sun S, Cao H, Han M, Li TT, Pan HL, Zhao ZQ, Zhang YQ (2007) New evidence for the involvement of spinal fractalkine receptor in pain facilitation and spinal glial activation in rat model of monoarthritis. Pain 129:64–75

32.

Svensson M, Eriksson NP, Aldskogius H (1993) Evidence for activation of astrocytes via reactive microglial cells following hypoglossal nerve transection. J Neurosci Res 35:373–381

33.

Tanga FY, Raghavendra V, DeLeo JA (2004) Quantitative real-time RT-PCR assessment of spinal microglial and astrocytic activation markers in a rat model of neuropathic pain. Neurochem Int 45:397–407

34.

Zhang J, De Koninck Y (2006) Spatial and temporal relationship between monocyte chemoattractant protein-1 expression and spinal glial activation following peripheral nerve injury. J Neurochem 97:772–783

35.

Bao L, Zhu Y, Elhassan AM, Wu Q, Xiao B, Zhu J, Lindgren JU (2001) Adjuvant-induced arthritis: IL-1β, IL-6 and TNF-α are up-regulated in the spinal cord. NeuroReport 12:3905–3908

36.

Gruber-Schoffnegger D, Drdla-Schutting R, Hönigsperger C, Wunderbaldinger G, Gassner M, Sandkühler J (2013) Induction of thermal hyperalgesia and synaptic long-term potentiation in the spinal cord lamina I by TNF-α and IL-1β is mediated by glial cells. J Neurosci 33:6540–6551

37.

Hess A, Axmann R, Rech J, Finzel S, Heindl C, Kreitz S, Sergeeva M, Saake M, Garcia M, Kollias G et al (2011) Blockade of TNF-alpha rapidly inhibits pain responses in the central nervous system. Proc Natl Acad Sci USA 108:3731–3736

38.

Boettger MK, Weber K, Grossmann D, Gajda M, Bauer R, Bar KJ, Schulz S, Voss A, Geis C, Brauer R et al (2010) Spinal tumor necrosis factor alpha neutralization reduces peripheral inflammation and hyperalgesia and suppresses autonomic responses in experimental arthritis: a role for spinal tumor necrosis factor alpha during induction and maintenance of peripheral inflammation. Arthritis Rheum 62:1308–1318

39.

Berta T, Liu YC, Xu ZZ, Ji RR (2013) Tissue plasminogen activator contributes to morphine tolerance and induces mechanical allodynia via astrocytic IL-1β and ERK signaling in the spinal cord of mice. Neuroscience 247:376–385

40.

Constandil L, Hernandez A, Pelissier T, Arriagada O, Espinoza K, Burgos H, Laurido C (2009) Effect of interleukin-1beta on spinal cord nociceptive transmission of normal and monoarthritic rats after disruption of glial function. Arthritis Res Ther 11:R105

41.

Marchand F, Perretti M, McMahon SB (2005) Role of the immune system in chronic pain. Nat Rev Neurosci 6:521–532

42.

Binshtok AM, Wang H, Zimmermann K, Amaya F, Vardeh D, Shi L, Brenner GJ, Ji RR, Bean BP, Woolf CJ et al (2008) Nociceptors are interleukin-1beta sensors. J Neurosci 28:14062–14073

43.

Kawasaki Y, Zhang L, Cheng JK, Ji RR (2008) Cytokine mechanisms of central sensitization: distinct and overlapping role of interleukin-1beta, interleukin-6, and tumor necrosis factor-alpha in regulating synaptic and neuronal activity in the superficial spinal cord. J Neurosci 28:5189–5194
Acknowledgements
This work was supported by grants from the National Natural Science Foundation of China (Nos. 81603094 and 81773716), the Natural Science Foundation of Fujian Province of China (Nos. 2016J05191 and 2016J01367), and the Joint Funds for the Innovation of Science and Technology, Fujian province (Grant Nos. 2016Y9049 and 2016Y9058).
Ethics declarations
Ethical approval
The study protocols complied with the guidelines of the Ethics Committee of Fujian Medical University and conformed to the NIH Guide for the Care and Use of Laboratory Animals (Authorization number: 2016-13).
Conflicts of interest
The authors have no conflicts of interest to declare.
About this article
Cite this article
Jin, GL., Yang, J., Chen, WQ. et al. The analgesic effect and possible mechanisms by which koumine alters type II collagen-induced arthritis in rats. J Nat Med 73, 217–225 (2019). https://doi.org/10.1007/s11418-018-1229-3
Received:

Accepted:

Published:

Issue Date:
Keywords
Koumine

Inflammation

Pain

Astrocyte

Rheumatoid arthritis

Rats