Abstract
Vanilla flavour is familiar to consumers through foods, cosmetics, household products and some medicines. Vanilla flavouring agents typically contain vanillin or its analogue ethyl vanillin. Our previous study revealed that the inhalation of eugenol, which contains a vanillyl group, has an appetite-enhancing effect, and the inhalation of aroma compounds containing the vanillyl group or its analogues led to increased food intake in mice. Here, we found that vanillin, ethyl vanillin and eugenol showed appetite-enhancing effects, whereas isoeugenol and safrole did not. These results suggest that the appetite-enhancing effects could be attributable to the vanillyl group and could be affected by the position of the double bond in the aliphatic chain. Furthermore, the results of intraperitoneal administration of eugenol and vanillin suggest that their appetite-enhancing effects could occur via stimulation of olfactory receptors.
Access options
Buy single article
Instant access to the full article PDF.
US$ 39.95
Tax calculation will be finalised during checkout.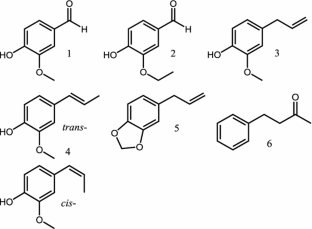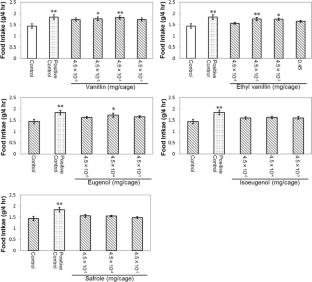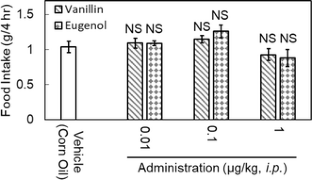 References
1.

Hotta M, Ogata K, Nitta A, Hoshikawa K, Yanagi M, Yamazaki K (1989) Useful plants of the world. Heibonsha, Tokyo

2.

Nishi T (1999) Shokubutsu-no hanashi arekore 7. Puranta 64:49–53

3.

Dignum MJW, Kerler J, Verpoorte R (2002) Vanilla curing under laboratory conditions. Food Chem 79:165–171

4.

Ogawa K, Ito M (2016) Appetite-enhancing effects of curry oil. Biol Pharm Bull 39:1559–1563

5.

Ito M, Toyoda M, Yuba A, Honda G (1999) Gentic analysis of nothoapiol formation in Perilla frutescens. Biol Pharm Bull 22:598–601

6.

Duquensnoy E, Dinh NH, Castola V, Casanova J (2006) Composition of a pyrolytic oil from Cupressus funebris Endl. of Vietnamese origin. Flavour Fragr J 21:453–457

7.

Choi HS, Kim MSL, Sawamura M (2002) Constituents of the essential oil of cnidium officinale Makino, a Korean medicinal plant. Flavour Fragr J 17:49–53

8.

National Institute of Standards and Technology (2016) Trans-Isoeugenol. http://webbook.nist.gov/cgi/cbook.cgi?ID=C5932683&Mask=200. Accessed on 24 Feb 2018

9.

National Institute of Standards and Technology (2016) Cis-Isoeugenol. http://webbook.nist.gov/cgi/cbook.cgi?ID=5912-86-7. Accessed on 24 Feb 2018

10.

Ogawa K, Ito M (2016) Appetite-enhancing effects: the influence of concentrations of benzylacetone and trans-cinnamaldehyde and their inhalation time, as well as the effect of aroma, on body weight in mice. Biol Pharm Bull 39:794–798

11.

Ogawa K, Ito M (2016) Appetite-enhancing effects of trans-cinnamaldehyde, benzylacetone and 1-phenyl-2-butanone by inhalation. Planta Med 82:84–88

12.

Kajiya K, Inaki K, Tanaka M, Haga T, Kataoka H, Touhara K (2001) Molecular bases of odor discrimination: reconstitution of olfactory receptors that recognize overlapping sets of odorants. J Neurosci 21:6018–6025

13.

Schwartz MW, Woods SC, Porte D Jr, Seeley RJ, Baskin DG (2000) Central nervous system control of food intake. Nature 404:661–671

14.

Choi SJ, Ye SB, Na HG, Kim GO, Bae CH, Song SY, Kim YW, Park SY, Kim YD (2011) Effect of geranium essential oil on food intake via olfactory stimulus. Korean J Otorhinolaryngol Head Neck Surg 54:766–770

15.

Yamamoto T, Inui T, Tsuji T (2013) The odor of Osmanthus fragrans attenuates food intake. Sci Rep 3:1518. https://doi.org/10.1038/srep01518

16.

Cai X, Mai RZ, Zou JJ, Zhang HY, Zeng XL, Zheng RR, Wang CY (2014) Analysis of aroma-active compounds in three sweet osmanthus (Osmanthus fragrans) cultivars by GC-olfactometry and GC–MS. J Zhejiang Univ Sci B 15:348–638

17.

Babu KGD, Kaul VK (2005) Variation in essential oil composition of rose-scented geranium (Pelargonium sp.) distilled by different distillation techniques. Flavour Fragr J 20:222–231

18.

Higuchi Masaki (2016) EVERYDAY Sweets Mainichi tabetai, tsukuritai sweets recipes 100. Graphic-sha Publishing, Tokyo
Ethics declarations
Conflict of interest
The authors declare no conflicts of interest.
About this article
Cite this article
Ogawa, K., Tashima, A., Sadakata, M. et al. Appetite-enhancing effects of vanilla flavours such as vanillin. J Nat Med 72, 798–802 (2018). https://doi.org/10.1007/s11418-018-1206-x
Received:

Accepted:

Published:

Issue Date:
Keywords
Vanilla flavouring agents

Appetite-enhancing effects

Inhalation