Abstract
Fomitopsis officinalis is a medicinal fungus, known as 'Agarikon', and is used traditionally in the treatment of asthma and rheumatism in Mongolia. The investigation of the chemical constituents of F. officinalis led to the isolation of 4 new lanostane triterpenoids together with 4 known triterpenoids. Inhibitory activity against Trypanosoma congolense, which causes fatal diseases in animals including livestock, was estimated for the isolated compounds. Compounds 2–5 and 8 exhibited moderate inhibition activities with IC50 values ranging from 7.0−27.1 µM.
Access options
Buy single article
Instant access to the full article PDF.
US$ 39.95
Tax calculation will be finalised during checkout.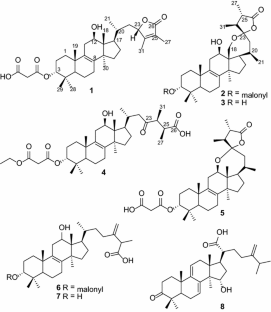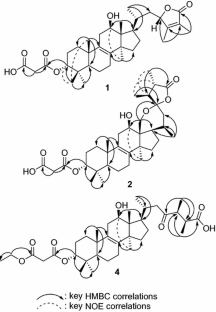 References
1.

Stamets PE (2014) Antiviral and antibacterial activity from medicinal mushrooms. US Patent 8,765,138 B2

2.

Grienke U, Zöll M, Peintner U, Rollinger JM (2014) European medicinal polypores-a modern view on traditional uses. J Ethnopharmacol 154:564–583

3.

Wu X, Yang JS, Yan M (2009) Four new triterpenes from fungus of Fomes officinalis. Chem Pharm Bull 57:195–197

4.

Feng W, Yang JS (2015) A new drimane sesquiterpenoid and a new triterpene lactone from fungus of Fomes officinalis. J Asian Nat Prod Res 17:1065–1072

5.

Wu X, Yang JS, Zhou L, Dong YS (2004) New lanostane-type triterpenes from Fomes officinalis. Chem Pharm Bull 52:1375–1377

6.

Han JX, Li L, Zhong JL, Tohtaton Z, Ren Q, Han L, Huang X, Yuan T (2016) Officimalonic acids A-H, lanostane triterpenes from the fruiting bodies of Fomes officinalis. Phytochemistry 130:193–200

7.

Anderson CG, Epstein WW, Van Lear G (1972) Minor triterpenoids of Fomes officinalis. Phytochemistry 11:2847–2852

8.

Epstein WW, Sweat FW, VanLear G, Lovell FM, Gabe EJ (1979) Structure and stereochemistry of officinalic acid, a novel triterpene from Fomes officinalis. J Am Chem Soc 101:2748–2750

9.

Anderson CG, Epstein WW (1971) Metabolic intermediates in the biological oxidation of lanosterol to eburicoic acid. Phytochemistry 10:2713–2717

10.

Hwang CH, Jaki BU, Klein LL, Lankin DC, McAlpine JB, Napolitano JG, Fryling NA, Franzblau SG, Cho SH, Stamets PE, Wang YH, Pauli GF (2013) Chlorinated coumarins from the polypore mushroom Fomitopsis officinalis and their activity against Mycobacterium tuberculosis. J Nat Prod 76:1916–1922

11.

Naranmandakh Sh, Bayarmaa E, Undarmaa B, Brantner AH (2010) Antibacterial active compounds of the fungus Fomitopsis officinalis (Vill. ex Fr; Bond. et Singer). Annual Scientific Reports, vol 11. ICCT, Mongolian Academy of Sciences, Ulaanbaatar, pp 67–71

12.

Banzragchgarav O, Murata T, Odontuya G, Buyankhishig B, Suganuma K, Davaapurev B, Inoue N, Batkhuu J, Sasaki K (2016) Trypanocidal activity of 2,5-diphenyloxazoles isolated from the roots of Oxytropis lanata. J Nat Prod 79:2933–2940

13.

Isaka M, Chinthanom P, Srichomthong K, Thummarukcharoen T (2017) Lanostane triterpenoids from fruiting bodies of the bracket fungus Fomitopsis feei. Tetrahedron Lett 58:1758–1761

14.

Kamo T, Asanoma M, Shibata H, Hirota M (2003) Anti-inflammatory lanostane-type triterpene acids from Piptoporus betulinus. J Nat Prod 66:1104–1106

15.

Quang DN, Arakawa Y, Hashimoto T, Asakawa Y (2005) Lanostane triterpenoids from the inedible mushroom Fomitopsis spraguei. Phytochemistry 66:1656–1661

16.

Hoet S, Pieters L, Muccioli GG, Habib-Jiwan JL, Opperdoes FR, Quetin-Leclercq J (2007) Antitrypanosomal activity of triterpenoids and sterols from the leaves of Strychnos spinosa and related compounds. J Nat Prod 70:1360–1363

17.

Umeyama A, Ohta C, Shino Y, Okada M, Nakamura Y, Hamagaki T, Imagawa H, Tanaka M, Ishiyama A, Iwatsuki M, Otoguro K, Ōmura S, Hashimoto T (2014) Three lanostane triterpenoids with antitrypanosomal activity from the fruiting body of Hexagonia tenuis. Tetrahedron 70:8312–8315

18.

Suganuma K, Allamanda P, Hakimi H, Zhou M, Angeles JM, Kawazu S, Inoue N (2014) Establishment of ATP-based luciferase viability assay in 96-well plate for Trypanosoma congolense. J Vet Med Sci 76:1437–1441

19.

Hirumi H, Hirumi K (1991) In vitro cultivation of Trypanosoma congolense bloodstream forms in the absence of feeder cell layers. Parasitology 102:225–236
Acknowledgements
We thank Ms. Y. Matsushita, National Research Center for Protozoan Diseases, Obihiro University of Agriculture and Veterinary Medicine, for assistance with the trypanocidal activity experiments, and Mr. S. Sato and Mr. T. Matsuki, Tohoku Medical and Pharmaceutical University, for assistance with the MS measurements. This work was supported by JICA M-JEED project and a grant from JSPS Kakenhi (Grant Number JP26860068). This work was partially supported by an Advanced Research Grant from the National University of Mongolia, the Kanno Foundation of Japan, a Cooperative Research Grant (28-joint-12, 29-joint-6) from the National Research Center for Protozoan Diseases, Obihiro University of Agriculture and Veterinary Medicine, and AMED/JICA SATREPS.
Ethics declarations
Conflict of interest
The authors indicate that there is no conflict of interest.
Electronic supplementary material
Below is the link to the electronic supplementary material.
About this article
Cite this article
Naranmandakh, S., Murata, T., Odonbayar, B. et al. Lanostane triterpenoids from Fomitopsis officinalis and their trypanocidal activity. J Nat Med 72, 523–529 (2018). https://doi.org/10.1007/s11418-018-1182-1
Received:

Accepted:

Published:

Issue Date:
Keywords
Fomitopsis officinalis

Traditional medicinal mushroom

Agarikon

Lanostane triterpenoid

Trypanosoma

Mongolia