Abstract
The leaves of fig (Ficus carica L.) have been used for traditional and Chinese medicine. We determined the composition of phenylpropanoids (polyphenols and furanocoumarins) as a functional agent in the leaves of 37 cultivars of fig. The most abundant polyphenol was caffeoylmalic acid (12.0–26.6 mg/g dry weight), followed by rutin (4.7–14.6 mg/g dry weight) and isoschaftoside (2.5–6.4 mg/g dry weight). Psoralen (3.8–23.0 mg/g dry weight) was dominant in the furanocoumarins. In molar amounts, psoralic acid glucoside (PAG), a precursor of psoralen, was equivalent to psoralen. Furanocoumarins and PAG were not detected in the leaves of only one cultivar, Grise de Tarascon. Fig leaves are potentially an excellent source of polyphenols such as caffeoylmalic acid and rutin. From the result of cluster analysis, some cultivars that contained large amount of polyphenols, and a small amount (e.g., Grise de Saint Jean) or no (Grise de Tarascon) furanocoumarins, were found. These cultivars are considered suitable for functional foods or medicinal products.
Access options
Buy single article
Instant access to the full article PDF.
US$ 39.95
Tax calculation will be finalised during checkout.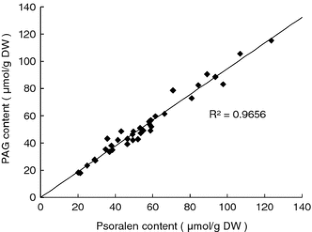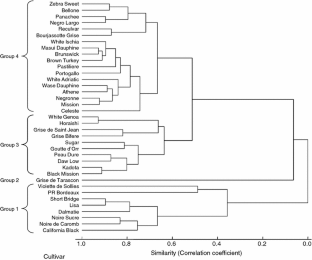 References
1.

Ryo H (2005) Toho Eiyo Shinsho. Medical Yukon, Kyoto, Japan, pp 70–71

2.

Barolo MI, Ruiz Mostacero N, López SN (2014) Ficus carica L. (Moraceae): an ancient source of food and health. Food Chem 164:119–127

3.

Chawla A, Kaur R, Sharma AK (2012) Ficus carica Linn.: a review on its pharmacognostic, phytochemical and pharmacological aspects. Int J Pharm Phytopharmacol Res 1:215–232

4.

Serraclara A, Hawkins F, Pérez C, Domínguez E, Campillo JE, Torres MD (1998) Hypoglycemic action of an oral fig-leaf decoction in type-I diabetic patients. Diabetes Res Clin Pract 39:19–22

5.

Pérez C, Domínguez E, Ramiro JM, Romero A, Campillo JE, Torres MD (1996) A study on the glycaemic balance in streptozotocin-diabetic rats treated with an aqueous extract of Ficus carica (fig tree) leaves. Phytother Res 10:82–83

6.

Pérez C, Canal JR, Campillo JE, Romero A, Torres MD (1999) Hypotriglyceridaemic activity of Ficus carica leaves in experimental hypertriglyceridaemic rats. Phytother Res 13:188–191

7.

Patil VV, Patil VR (2011) Evaluation of anti-inflammatory activity of Ficus carica Linn. leaves. Indian J Nat Prod Resour 2:151–155

8.

Takahashi T, Okiura A, Saito K, Kohno M (2014) Identification of phenylpropanoids in fig (Ficus carica L.) leaves. J Agric Food Chem 62:10076–10083. doi:10.1021/jf5025938

9.

Hunyadi A, Martins A, Hsieh TJ, Seres A, Zupko I (2012) Chlorogenic acid and rutin play a major role in the in vivo anti-diabetic activity of Morus alba leaf extract on type II diabetic rats. PLoS One 7:1–6

10.

Ola MS, Ahmed MM, Ahmed R, Abuohashish HM, Al-Rejaie SS, Alhomida AS (2015) Neuroprotective effects of rutin in streptozotocin-induced diabetic rat retina. J Mol Neurosci 56:440–448

11.

Pu F, Mishima K, Irie K, Motohashi K, Tanaka Y, Egawa T, Kitamura Y, Egashira N, Iwasaki K, Fujiwara M (2007) Neuroprotective effects of quercetin and rutin on spatial memory impairment in an 8-arm radical maze task and neuronal death induced by repeated cerebral ischemia in rats. J Pharmacol Sci 104:329–334

12.

Boegge SC, Kesper S, Verspohl EJ, Nahrstedt A (1996) Reduction of ACh-induced contraction of rat isolated ileum by coptisine, (+)-caffeoylmalic acid, Chelidonium majus, and Corydalis lutea extracts. Planta Med 62:173–174

13.

Pinelli P, Ieri F, Vignolini P, Bacci L, Baronti S, Romani A (2008) Extraction and HPLC analysis of phenolic compounds in leaves, stalks, and textile fibers of Urtica dioica L. J Agric Food Chem 56:9127–9132

14.

Zhang H, Li N, Li K, Li P (2014) Protective effect of Urtica dioica methanol extract against experimentally induced urinary calculi in rats. Mol Med Rep 10:3157–3162

15.

De Melo GO, Muzitano MF, Legora-Machado A, Almeida TA, De Oliveira DB, Kaiser CR, Koatz VL, Costa SS (2005) C-glycosylflavons from the aerial parts of Eleusine indica inhibit LPS-induced mouse lung inflammation. Planta Med 71:362–363

16.

Tani M (2002) Dermatopathy caused by chemical substance 36, Phytophototoxic contact dermatitis due to the plant. Med Drug J 38:2398–2405

17.

Hussein A, Shugaev I (2012) Phototoxic response to Ficus carica leaf and shoot saps. Isr Med Assoc J 14:399–400

18.

Schlatter J, Zimmerli B, Dick R, Panizzon R, Schlatter C (1991) Dietary intake and risk assessment of phototoxic furocoumarins in humans. Food Chem Toxicol 29:523–530

19.

Kao CH, Yu HS (1992) Comparison of the effect of 8-methoxypsoralen (8-MOP) plus UVA (PUVA) on human melanocytes in vitiligo vulgaris in vitro. J Invest Dermatol 98:734–740

20.

Halpern SM, Anstey AV, Dawe RS, Diffey BI, Farr PM, Ferguson J, Hawk JL, Ibbotson S, McGregor JM, Murphy GM, Thomas SE, Rhodes LE (2000) Guidelines for topical PUVA: a report of a workshop of the British Photodermatology Group. Br J Dermatol 142:22–31

21.

Iwanaga K, Okamoto R, Hayashi M, Hamahata Y, Arimune K, Miyazaki M, Kakemi M (2014) Inhibitory effect of intestinal cytochrome P450 3A by furanocoumarins in Kampo extracted medicines. Bull Osaka Univ Pharm Sci 8:109–118

22.

Condit IJ (1955) Fig varieties: a monograph. Hilgardia 23:322–538

23.

Sullivan ML, Zeller WE (2013) Efficacy of various naturally occurring caffeic acid derivatives in preventing post-harvest protein losses in forages. J Sci Food Agric 93:219–226

24.

Kitabayashi H, Ujihara A, Hirose T, Minami M (1995) Varietal difference and heritability for rutin content in common buckwheat, Fagopyrum esculentum Moench. Breed Sci 45:75–79

25.

Du SS, Zhang HM, Bai CQ, Wang CF, Liu QZ, Liu ZL, Wang YY, Deng ZW (2011) Nematocidal flavone-C-Glycosides against the root-knot nematode (Meloidogyne incognita) from Arisaema erubescens tubers. Molecules 16:5079–5086

26.

Simirgiotis MJ, Schmeda-Hirschmann G, Bórquez J, Kennelly EJ (2013) The Passiflora tripartite (banana passion) fruit: a source of bioactive flavonoid C-glycosides isolated by HSCCC and characterized by HPLC-DAD-ESI/MS/MS. Molecules 18:1672–1692

27.

Diawara MM, Trumble JT, Quiros CF, Hansen R (1995) Implications of distribution of linear furanocoumarins within celery. J Agric Food Chem 43:723–727

28.

Nigg HN, Strandberg JO, Beier RC, Petersen HD, Harrison JM (1997) Furanocoumarins in Florida celery varieties increased by fungicide treatment. J Agric Food Chem 45:1430–1436

29.

Lombaert GA, Siemens KH, Pellaers P, Mankotia M, Ng W (2001) Furanocoumarins in celery and parsnips: method and multiyear Canadian survey. J AOAC Int 84:1135–1143

30.

Anetai M, Masuda T, Takasugi M (2002) Preparation and chemical evaluation of Angelicae Radix (Part VI) examination of furanocoumarins used as indicator substances. Rep Hokkaido Inst Public Health 52:19–23

31.

Oyanagi M, Hiraoka N, Tomita Y, Ogawa T (1990) Variability of the furanocoumarin composition and isozyme pattern in Glehnia littoralis of different geographical origin. Shoyakugaku Zasshi 44:323–327

32.

Sigurdsson S, Jonsdottir S, Gudbjarnason S (2012) Geographical variation of the furanocoumarin composition of the fruits of Icelandic Angelica archangelica. Z Naturforsch 67:1–7

33.

Qiao CF, Han QB, Song JZ, Mo SF, Kong LD, Kung HF, Xu HX (2006) Quality assessment of Fructus Psoraleae. Chem Pharm Bull 54:887–890
About this article
Cite this article
Takahashi, T., Okiura, A. & Kohno, M. Phenylpropanoid composition in fig (Ficus carica L.) leaves. J Nat Med 71, 770–775 (2017). https://doi.org/10.1007/s11418-017-1093-6
Received:

Accepted:

Published:

Issue Date:
Keywords
Fig leaf

Polyphenol

Caffeoylmalic acid

Furanocoumarin

Psoralen

Psoralic acid glucoside