Abstract
The physiological activities of cannabidiolic acid (CBDA), a component of fiber-type cannabis plants, have been demonstrated and include its function as a protector against external invasion by inducing cannabinoid-mediated necrosis (Shoyama et al., Plant Signal Behav 3:1111–1112, 2008). The biological activities of CBDA have been attracting increasing attention. We previously identified CBDA as an inhibitor of the migration of MDA-MB-231 cells, a widely used human breast cancer cell line in cancer biology, due to its highly aggressive nature. The chemical inhibition and down-regulation of cyclooxygenase-2 (COX-2), the expression of which has been detected in ~40 % of human invasive breast cancers, are suggested to be involved in the CBDA-mediated abrogation of cell migration. However, the molecular mechanism(s) responsible for the CBDA-induced down-regulation of COX-2 in MDA-MB-231 cells have not yet been elucidated. In the present study, we describe a possible mechanism by which CBDA abrogates the expression of COX-2 via the selective down-regulation of c-fos, one component of the activator protein-1 (AP-1) dimer complex, a transcription factor for the positive regulation of the COX-2 gene.
Access options
Buy single article
Instant access to the full article PDF.
US$ 39.95
Tax calculation will be finalised during checkout.
Subscribe to journal
Immediate online access to all issues from 2019. Subscription will auto renew annually.
US$ 79
Tax calculation will be finalised during checkout.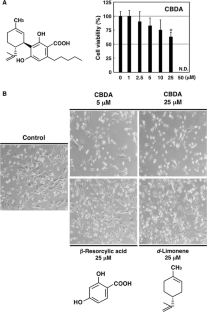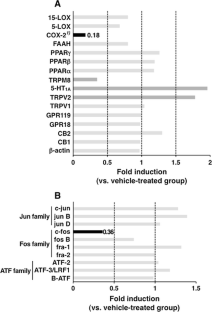 References
1.

Yamauchi T, Shoyama Y, Aramaki H, Azuma T, Nishioka I (1967) Tetrahydrocannabinolic acid, a genuine substance of tetrahydrocannabinol. Chem Pharm Bull (Tokyo) 15:1075–1076

2.

Turner CE, Elsohly MA, Boeren EG (1980) Constituents of Cannabis sativa L. XVII. A review of the natural constituents. J Nat Prod 43:169–234

3.

Taura F, Sirikantaramas S, Shoyama Y, Shoyama Y, Morimoto S (2007) Phytocannabinoids in Cannabis sativa: recent studies on biosynthetic enzymes. Chem Biodivers 4:1649–1663

4.

Appendino G, Gibbons S, Giana A, Pagani A, Grassi G, Stavri M, Smith E, Rahman MM (2008) Antibacterial cannabinoids from Cannabis sativa: a structure–activity study. J Nat Prod 71:1427–1430

5.

Takeda S, Misawa K, Yamamoto I, Watanabe K (2008) Cannabidiolic acid as a selective cyclooxygenase-2 inhibitory component in cannabis. Drug Metab Dispos 36:1917–1921

6.

Takeda S (2013) Medicinal chemistry and pharmacology focused on cannabidiol, a major component of the fiber-type cannabis. Yakugaku Zasshi 133:1093–1101

7.

Takeda S, Okazaki H, Ikeda E, Abe S, Yoshioka Y, Watanabe K, Aramaki H (2014) Down-regulation of cyclooxygenase-2 (COX-2) by cannabidiolic acid in human breast cancer cells. J Toxicol Sci 39:711–716

8.

Bolognini D, Rock EM, Cluny NL, Cascio MG, Limebeer CL, Duncan M, Stott CG, Javid FA, Parker LA, Pertwee RG (2013) Cannabidiolic acid prevents vomiting in Suncus murinus and nausea-induced behaviour in rats by enhancing 5-HT1A receptor activation. Br J Pharmacol 168:1456–1470

9.

Rock EM, Parker LA (2013) Effect of low doses of cannabidiolic acid and ondansetron on LiCl-induced conditioned gaping (a model of nausea-induced behaviour) in rats. Br J Pharmacol 169:685–692

10.

Takeda S, Okajima S, Miyoshi H, Yoshida K, Okamoto Y, Okada T, Amamoto T, Watanabe K, Omiecinski CJ, Aramaki H (2012) Cannabidiolic acid, a major cannabinoid in fiber-type cannabis, is an inhibitor of MDA-MB-231 breast cancer cell migration. Toxicol Lett 214:314–319

11.

Singh B, Berry JA, Shoher A, Ayers GD, Wei C, Lucci A (2007) COX-2 involvement in breast cancer metastasis to bone. Oncogene 26:3789–3796

12.

Holmes MD, Chen WY, Schnitt SJ, Collins L, Colditz GA, Hankinson SE, Tamimi RM (2011) COX-2 expression predicts worse breast cancer prognosis and does not modify the association with aspirin. Breast Cancer Res Treat 130:657–662

13.

Yoshinaka R, Shibata MA, Morimoto J, Tanigawa N, Otsuki Y (2006) COX-2 inhibitor celecoxib suppresses tumor growth and lung metastasis of a murine mammary cancer. Anticancer Res 26:4245–4254

14.

Karin M, Liu ZG, Zandi E (1997) AP-1 function and regulation. Curr Opin Cell Biol 9:240–246

15.

Dong Z, Huang C, Brown RE, Ma WY (1997) Inhibition of activator protein 1 activity and neoplastic transformation by aspirin. J Biol Chem 272:9962–9970

16.

Schmedtje JF Jr, Ji YS, Liu WL, DuBois RN, Runge MS (1997) Hypoxia induces cyclooxygenase-2 via the NF-κB p65 transcription factor in human vascular endothelial cells. J Biol Chem 272:601–608

17.

Qamri Z, Preet A, Nasser MW, Bass CE, Leone G, Barsky SH, Ganju RK (2009) Synthetic cannabinoid receptor agonists inhibit tumor growth and metastasis of breast cancer. Mol Cancer Ther 8:3117–3129

18.

Takeda S, Yoshida K, Nishimura H, Harada M, Okajima S, Miyoshi H, Okamoto Y, Amamoto T, Watanabe K, Omiecinski CJ, Aramaki H (2013) Δ9-Tetrahydrocannabinol disrupts estrogen-signaling through up-regulation of estrogen receptor β (ERβ). Chem Res Toxicol 26:1073–1079

19.

Faigenbaum R, Haklai R, Ben-Baruch G, Kloog Y (2013) Growth of poorly differentiated endometrial carcinoma is inhibited by combined action of medroxyprogesterone acetate and the Ras inhibitor Salirasib. Oncotarget 4:316–328

20.

Takeda S, Ikeda E, Su S, Harada M, Okazaki H, Yoshioka Y, Nishimura H, Ishii H, Kakizoe K, Taniguchi A, Tokuyasu M, Himeno T, Watanabe K, Omiecinski CJ, Aramaki H (2014) ∆9-THC modulation of fatty acid 2-hydroxylase (FA2H) gene expression: possible involvement of induced levels of PPARα in MDA-MB-231 breast cancer cells. Toxicology 326:18–24

21.

Izzo AA, Borrelli F, Capasso R, Di Marzo V, Mechoulam R (2009) Non-psychotropic plant cannabinoids: new therapeutic opportunities from an ancient herb. Trends Pharmacol Sci 30:515–527 [Erratum in Trends Pharmacol Sci (2009) 30:609]

22.

Kopp E, Ghosh S (1994) Inhibition of NF-kappa B by sodium salicylate and aspirin. Science 265:956–959

23.

Andradas C, Caffarel MM, Pérez-Gómez E, Salazar M, Lorente M, Velasco G, Guzmán M, Sánchez C (2011) The orphan G protein-coupled receptor GPR55 promotes cancer cell proliferation via ERK. Oncogene 30:245–252

24.

Ford LA, Roelofs AJ, Anavi-Goffer S, Mowat L, Simpson DG, Irving AJ, Rogers MJ, Rajnicek AM, Ross RA (2010) A role for L-α-lysophosphatidylinositol and GPR55 in the modulation of migration, orientation and polarization of human breast cancer cells. Br J Pharmacol 160:762–771

25.

Shoyama Y, Sugawa C, Tanaka H, Morimoto S (2008) Cannabinoids act as necrosis-inducing factors in Cannabis sativa. Plant Signal Behav 3:1111–1112
Acknowledgments
This study was supported in part by a Grant-in-Aid for Scientific Research (C) (25460182 to S.T.) and in part by a Grant-in-Aid for Young Scientists (Start-up) (15K19167 to H.O.) from the Japan Society for the Promotion of Science (JSPS) KAKENHI.
About this article
Cite this article
Takeda, S., Himeno, T., Kakizoe, K. et al. Cannabidiolic acid-mediated selective down-regulation of c-fos in highly aggressive breast cancer MDA-MB-231 cells: possible involvement of its down-regulation in the abrogation of aggressiveness. J Nat Med 71, 286–291 (2017). https://doi.org/10.1007/s11418-016-1030-0
Received:

Accepted:

Published:

Issue Date:
Keywords
Cannabidiolic acid

Cyclooxygenase-2

c-fos

MDA-MB-231 cells

Fiber-type cannabis plant