Abstract
Two new dammarane-type triterpene oligoglycosides, bacomosaponins A and B, and three new phenylethanoid glycosides, bacomosides A, B1, and B2, were isolated from the whole plant of Bacopa monniera Wettst. The chemical structures of the new constituents were characterized on the basis of chemical and physicochemical evidence. In the present study, bacomosaponins A and B with acyl groups were obtained from the whole plant of B. monniera. This is the first report of acylated dammarane-type triterpene oligoglycosides isolated from B. monniera. In addition, dammarane-type triterpene saponins significantly inhibited the aggregation of 42-mer amyloid β-protein.
Access options
Buy single article
Instant access to the full article PDF.
USD 39.95
Price includes VAT (USA)
Tax calculation will be finalised during checkout.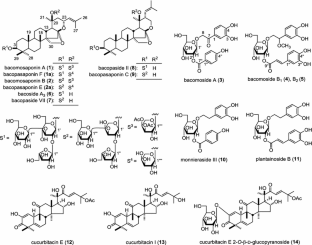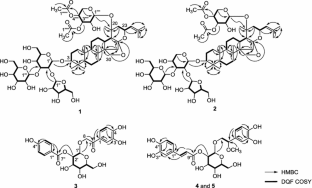 References
1.

Mukherjee GD, Dey CD (1966) Clinical trial on Brahmi. I. J Exp Med Sci 10:5–11

2.

Holcomb LA, Dhanasekaran M, Hitt AR, Young KA, Riggs M, Manyam BV (2006) Bacopa monniera extract reduces amyloid levels in PSAPP mice. J Alzheimers Dis 9:243–251

3.

Limpeanchob N, Jaipan S, Rattanakaruna S, Phrompittayarat W, Ingkaninan K (2008) Neuroprotective effect of Bacopa monnieri on beta-amyloid-induced cell death in primary cortical culture. J Ethnopharmacol 120:112–117

4.

Uabundit N, Wattanathorn J, Mucimapura S, Ingkaninan K (2010) Cognitive enhancement and neuroprotective effects of Bacopa monnieri in Alzheimer's disease model. J Ethnopharmacol 127:26–31

5.

Saini N, Singh D, Sandhir R (2012) Neuroprotective effects of Bacopa monnieri in experimental model of dementia. Neurochem Res 37:1928–1937

6.

Nakamura S, Moriura T, Park S, Fujimoto K, Matsumoto T, Ohta T, Matsuda H, Yoshikawa M (2012) Melanogenesis inhibitory and fibroblast proliferation accelerating effects of noroleanane- and oleanane-type triterpene oligoglycosides from the flower buds of Camellia japonica. J Nat Prod 75:1425–1430

7.

Ohta T, Nakamura S, Nakashima S, Matsumoto T, Ogawa K, Fujimoto K, Fukaya M, Yoshikawa M, Matsuda H (2015) Acylated oleanane-type triterpene oligoglycosides from the flower buds of Camellia sinensis var. assamica. Tetrahedron 71:846–851

8.

Matsumoto T, Nakamura S, Ohta T, Fujimoto K, Yoshikawa M, Ogawa K, Matsuda H (2014) A rare glutamine derivative from the flower buds of daylily. Org Lett 16:3076–3078

9.

Matsumoto T, Nakamura S, Nakashima S, Fujimoto K, Yoshikawa M, Ohta T, Ogawa K, Matsuda H (2014) Lignan dicarboxylates and terpenoids from the flower buds of Cananga odorata and their inhibitory effects on melanogenesis. J Nat Prod 77:990–999

10.

Nakamura S, Fujimoto K, Matsumoto T, Nakashima S, Ohta T, Ogawa K, Matsuda H, Yoshikawa M (2013) Acylated sucroses and acylated quinic acids analogs from the flower buds of Prunus mume and their inhibitory effect on melanogenesis. Phytochemistry 92:128–136

11.

Nakamura S, Nakashima S, Oda Y, Yokota N, Fujimoto K, Matsumoto T, Ohta T, Ogawa K, Maeda S, Nishida S, Matsuda H, Yoshikawa M (2013) Alkaloids from Sri Lankan curry-leaf (Murraya koenigii) display melanogenesis inhibitory activity: structures of karapinchamines A and B. Bioorg Med Chem 21:1043–1049

12.

Matsumoto T, Nakamura S, Nakashima S, Yoshikawa M, Fujimoto K, Ohta T, Morita A, Yasui R, Kashiwazaki E, Matsuda H (2013) Diarylheptanoids with inhibitory effects on melanogenesis from the rhizomes of Curcuma comosa in B16 melanoma cells. Bioorg Med Chem Lett 23:5178–5181

13.

Rastogi S, Pal R, Kulshreshtha DK (1994) Bacoside A3–A triterpenoid saponin from Bacopa monniera. Phytochemistry 36:133–137

14.

Zhou Y, Shen YH, Zhang C, Su J, Liu RH, Zhang WD (2007) Triterpene saponins from Bacopa monnieri and their antidepressant effects in two mice models. J Nat Prod 70:652–655

15.

Chakravarty AK, Sarkar T, Masuda K, Shiojima K, Nakane T, Kawahara N (2001) Bacopaside I and II: two pseudojujubogenin glycosides from Bacopa monniera. Phytochemistry 58:553–556

16.

Garai S, Mahato SB, Ohtani K, Yamasaki K (1996) Dammarane-type triterpenoid saponins from Bacopa monniera. Phytochemistry 42:815–820

17.

Chakaravarty AK, Sarkar T, Takahisa N, Kawahara N, Masuda K (2002) New phenylethanoid glycosides from Bacopa monnieri. Chem Pharm Bull 50:1616–1618

18.

Yoshikawa M, Morikawa T, Kobayashi H, Nakamura A, Matsuhira K, Nakamura S, Matsuda H (2007) Bioactive saponins and glycosides. XXVII. Structures of new cucurbitane-type triterpene glycosides and antiallergic constituents from Citrullus colocynthis. Chem Pharm Bull (Tokyo) 55:428–434

19.

Velde VV, Lavie D (1983) 13C NMR spectroscopy of cucurbitacins. Tetrahedron 39:317–321

20.

Hatam NAR, Whiting DA, Yousif NJ (1989) Cucurbitacin glycosides from Citrullus colocynthis. Phytochemistry 28:1268–1271

21.

Mahato SB, Garai S, Chakravarty AK (2000) Bacopasaponins E and F: two jujubogenin bisdesmosides from Bacopa monniera. Phytochemistry 53:711–714

22.

Tanaka T, Nakashima T, Ueda T, Tomii K, Kouno I (2007) Facile discrimination of aldose enantiomers by reversed-phase HPLC. Chem Pharm Bull (Tokyo) 55:899–901

23.

Miyamae Y, Kurisu M, Murakami K, Han J, Isoda H, Irie K, Shigemori H (2012) Protective effects of caffeoylquinic acids on the aggregation and neurotoxicity of the 42-residue amyloid β-protein. Bioorg Med Chem 20:5844–5849
About this article
Cite this article
Ohta, T., Nakamura, S., Nakashima, S. et al. Chemical structures of constituents from the whole plant of Bacopa monniera . J Nat Med 70, 404–411 (2016). https://doi.org/10.1007/s11418-016-0986-0
Received:

Accepted:

Published:

Issue Date:
Keywords
Bacopa monniera

Bacomosaponin

Bacomoside

Aβ42 aggregation

Ayurvedic traditional medicine