Abstract
The evaluation of the antioxidant, anti-secretory and anti-inflammatory potentials of the ethyl acetate fraction (ELC) from the root bark of Lycium chinense against ethanol-induced gastric ulcer in mice and the possible mechanisms underlying this action was performed. The results indicated that oral administration of ELC (50, 100, 200 and 400 mg/kg) before ethanol-induced ulcer increased the gastric mucus content, restored the superoxide dismutase and glutathione levels, reduced malondialdehyde levels and inhibited the activity of myeloperoxidase. Furthermore, ELC displayed its anti-secretory activity by decreasing the gastric juice and increased the gastric pH and reduced pro-inflammatory markers and caspase-3 tissue levels. These results suggest that L. chinense displays gastroprotective properties as a result of its antioxidant, anti-inflammatory, anti-secretory and anti-apoptotic effects.
Access options
Buy single article
Instant access to the full article PDF.
USD 39.95
Price excludes VAT (USA)
Tax calculation will be finalised during checkout.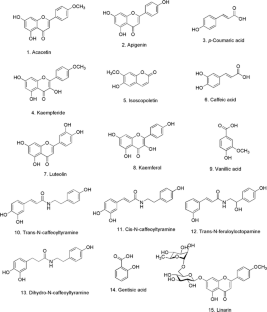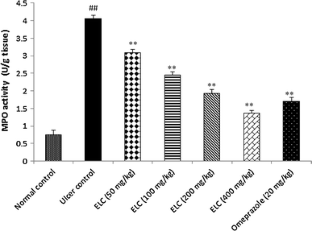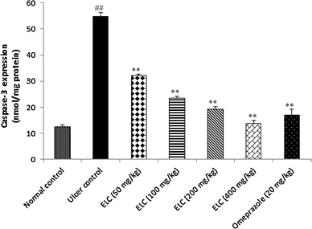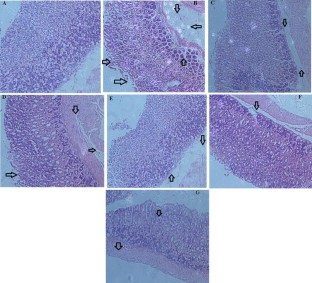 References
Ye Z, Huang Q, Ni HX, Wang D (2008) Cortex Lycii Radicis extracts improve insulin resistance and lipid metabolism in obese-diabetic rats. Phytother Res 22:1665–1670

Yao X, Peng Y, Xu LJ, Li L, Wu QL, Xiao PG (2011) Phytochemical and biological studies of Lycium medicinal plants. Chem Biodivers 8:976–1010

Wang L, Waltenberger B, Pferschy-Wenzig EM, Blunder M, Liu X, Malainer C, Blazevic T, Schwaiger S, Rollinger JM, Heiss EH, Schuster D, Kopp B, Bauer R, Stuppner H, Dirsch VM, Atanasov AG (2014) Natural product agonists of peroxisome proliferator-activated receptor gamma (PPARγ): a review. Biochem Pharmacol 92:73–89

Zhang JX, Guan SH, Feng RH, Wang Y, Wu ZY, Zhang YB, Chen XH, Bi KS, Guo DA (2013) Neolignanamides, lignanamides, and other phenolic compounds from the root bark of Lycium chinense. J Nat Prod 76:51–58

Mocan A, Vlase L, Vodnar DC, Bischin C, Hanganu D, Gheldiu AM, Oprean R, Silaghi-Dumitrescu R, Crişan G (2014) Polyphenolic content, antioxidant and antimicrobial activities of Lycium barbarum L. and Lycium chinense Mill. leaves. Molecules 19:10056–10073

Potterat O (2010) Goji (Lycium barbarum and L. chinense): phytochemistry, pharmacology and safety in the perspective of traditional uses and recent popularity. Planta Med 76:7–19

Jung K, Chin YW, Kim YC, Kim J (2005) Potentially hepatoprotective glycolipid constituents of Lycium chinense fruits. Arch Pharm Res 28:1381–1385

Chin YW, Lim SW, Kim SH, Shin DY, Suh YG, Kim YB, Kim YC, Kim J (2003) Hepatoprotective pyrrole derivatives of Lycium chinense fruits. Bioorg Biomed Chem Lett 13:79–81

Lee DG, Jung HJ, Woo ER (2005) Antimicrobial property of (+)-lyoniresinol-3alpha-O-beta-d-glucopyranoside isolated from the root bark of Lycium chinense Miller against human pathogenic microorganisms. Arch Pharm Res 28:1031–1036

Gao D, Li Q, Liu Z, Li Y, Liu Z, Fan Y, Li K, Han Z, Li J (2007) Hypoglycemic effects and mechanisms of action of Cortex Lycii Radicis on alloxan-induced diabetic mice. Yakugaku Zasshi 127:1715–1721

Behrman SW (2005) Management of complicated peptic ulcer disease. Arch Surg 140:201–208

Caldas GF, do Amaral Costa IM, da Silva JB, da Nóbrega RF, Rodrigues FF, da Costa JG, Wanderley AG (2011) Antiulcerogenic activity of the essential oil of Hyptis martiusii Benth. (Lamiaceae). J Ethnopharmacol 137:886–892

Klein LC Jr, Gandolfi RB, Santin JR, Lemos M, Cechinel Filho V, de Andrade SF (2010) Antiulcerogenic activity of extract, fractions, and some compounds obtained from Polygala cyparissias St. Hillaire & Moquin (Polygalaceae). Naunyn Schmiedebergs Arch Pharmacol 381:121–126

da Silva LM, Allemand A, Mendes DA, Dos Santos AC, André E, de Souza LM, Cipriani TR, Dartora N, Marques MC, Baggio CH, Werner MF (2013) Ethanolic extract of roots from Arctium lappa L. accelerates the healing of acetic acid-induced gastric ulcer in rats: involvement of the antioxidant system. Food Chem Toxicol 51:179–187

DeVault KR, Talley NJ (2009) Insights into the future of gastric acid suppression. Nat Rev Gastroenterol Hepatol 6:524–532

Kangwan N, Park JM, Kim EH, Hahm KB (2014) Quality of healing of gastric ulcers: natural products beyond acid suppression. World J Gastrointest Pathophysiol 5:40–47

Marotta F, Tajiri H, Safran P, Fesce E, Ideo G (1999) Ethanol-related gastric mucosal damage: evidence of a free radical-mediated mechanism and beneficial effect of oral supplementation with bionormalizer, a novel natural antioxidant. Digestion 60:538–543

Suzuki H, Matsuzaki J, Hibi T (2011) Ghrelin and oxidative stress in gastrointestinal tract. J Clin Biochem Nutr 48:122–125

Tuorkey M, Karolin K (2009) Anti-ulcer activity of curcumin on experimental gastric ulcer in rats and its effect on oxidative stress/antioxidant, IL-6 and enzyme activities. Biomed Environ Sci 22:488–495

Chattopadhyay I, Bandyopadhyay U, Biswas K, Maity P, Banerjee RK (2006) Indomethacin inactivates gastric peroxidase to induce reactive-oxygen-mediated gastric mucosal injury and curcumin protects it by preventing peroxidase inactivation and scavenging reactive oxygen. Free Radic Biol Med 40:1397–1408

Olatunji OJ, Chen H, Zhou Y (2015) Anti-ulcerogenic properties of Lycium chinense Mill extracts against ethanol-induced acute gastric lesion in animal models and its active constituents. Molecules 20:22553–22564

Shay H, Komarov SA, Fels SS, Meranze D, Gruenstein M, Siplet H (1945) A simple method for the uniform production of gastric ulceration in the rat. Gastroenterology 5:43–61

Al-Sayed E, El-Naga RN (2015) Protective role of ellagitannins from Eucalyptus citriodora against ethanol-induced gastric ulcer in rats: impact on oxidative stress, inflammation and calcitonin-gene related peptide. Phytomedicine 22:5–15

Laine L, Weinstein WM (1988) Histology of alcoholic hemorrhagic "gastritis": a prospective evaluation. Gastroenterology 94:1254–1262

Yang WJ, Liu C, Gu ZY, Zhang XY, Cheng B, Mao Y, Xue GP (2014) Protective effects of acacetin isolated from Ziziphora clinopodioides Lam. (Xintahua) on neonatal rat cardiomyocytes. Chin Med 9:28

Bergman M, Varshavsky L, Gottlieb HE, Grossman S (2001) The antioxidant activity of aqueous spinach extract: chemical identification of active fractions. Phytochemistry 58:143–152

Miyazawa M, Hisama M (2003) Antimutagenic activity of flavonoids from Chrysanthemum morifolium. Biosci Biotechnol Biochem 67:2091–2099

Liu YB, Cheng XR, Qin JJ, Yan SK, Jin HZ, Zhang WD (2011) Chemical constituents of Toona ciliata var. pubescens. Chin J Nat Med 9:115–119

Zhao XH, Chen DH, Si JY, Pan RL, Shen LG (2002) Studies on the phenolic acid constituents from Chinese medicine "sheng-ma", rhizome of Cimicifuga foetida L. Acta Pharm Sin 37:535–538

Lin LC, Pai YF, Tsai TH (2015) Isolation of luteolin and luteolin-7-O-glucoside from Dendranthema morifolium Ramat Tzvel and their pharmacokinetics in rats. J Agric Food Chem 63:7700–7706

Pan S, Wang X, Duan W, Yu Z, Zhang L, Liu W (2014) Preparative isolation and purification of flavonoids from Cuscuta chinensis Lam. by high-speed countercurrent chromatography. J Liq Chrom Relat Tech 37:2162–2171

Lee DG, Park Y, Kim MR, Jung HJ, Seu YB, Hahm KS, Woo ER (2004) Anti-fungal effects of phenolic amides isolated from the root bark of Lycium chinense. Biotechnol Lett 26:1125–1130

Zhao XM, Ye XQ, Zhu DY (2008) A novel compound isolated from the peels of Citrus changshan-huyou. Acta Pharm Sin 43:1208–1210

Fernández S, Wasowski C, Paladini AC, Marder M (2004) Sedative and sleep-enhancing properties of linarin, a flavonoid-isolated from Valeriana officinalis. Pharmacol Biochem Behav 77:399–404

Sidahmed HM, Hashim NM, Amir J, Abdulla MA, Hadi AH, Abdelwahab SI, Taha MM, Hassandarvish P, Teh X, Loke MF, Vadivelu J, Rahmani M (2013) Pyranocycloartobiloxanthone A, a novel gastroprotective compound from Artocarpus obtusus Jarret, against ethanol-induced acute gastric ulcer in vivo. Phytomedicine 20:834–843

Wallace JL (2008) Prostaglandins, NSAIDs, and gastric mucosal protection: why doesn't the stomach digest itself? Physiol Rev 88:1547–1565

Sairam KC, Rao CV, Babu MD, Kumar KV, Agrawal VK, Goel RK (2002) Antiulcerogenic effect of methanolic extract of Emblica officinalis: an experimental study. J Ethnopharmacol 82:1–9

Wassmann S, Stumpf M, Strehlow K, Schmid A, Schieffer B, Böhm M, Nickenig G (2004) Interleukin-6 induces oxidative stress and endothelial dysfunction by overexpression of the angiotensin II type 1 receptor. Circ Res 94:534–541

Bonamin F, Moraes TM, Dos Santos RC, Kushima H, Faria FM, Silva MA, Junior IV, Nogueira L, Bauab TM, Souza Brito ARM, da Rocha LRM, Hiruma-Lima CA (2014) The effect of a minor constituent of essential oil from Citrus aurantium: the role of β-myrcene in preventing peptic ulcer disease. Chem Biol Interact 212:11–19

Moezi L, Janahmadi Z, Amirghofran Z, Nekooeian AA, Dehpour AR (2014) The increased gastroprotective effect of pioglitazone in cholestatic rats: role of nitric oxide and tumour necrosis factor alpha. Int J Exp Pathol 95:78–85

Warzecha Z, Ceranowicz P, Dembinski M, Cieszkowski J, Ginter G, Ptak-Belowska A, Dembinski A (2014) Involvement of cyclooxygenase-1 and cyclooxygenase-2 activity in the therapeutic effect of ghrelin in the course of ethanol-induced gastric ulcers in rats. J Physiol Pharmacol 65:95–106

Luo XJ, Liu B, Dai Z, Li TB, Li NS, Zhang XJ, Yang ZC, Li YJ, Peng J (2013) Expression of apoptosis-associated microRNAs in ethanol-induced acute gastric mucosal injury via JNK pathway. Alcohol 47:481–493

Arab HH, Salama SA, Omar HA, Arafa el-SA, Maghrabi IA (2015) Diosmin protects against ethanol-induced gastric injury in rats: novel anti-ulcer actions. PLoS One 10:e0122417

Yu J, Peng H, Lin Y, Yi S (2013) Effect of moxibustion treatment on cell apoptosis and expressions of heat shock protein and second mitochondrial activator of caspase in acute gastric mucosal lesion of rats. J Tradit Chin Med 33:258–261

Nzowa LK, Barboni L, Teponno RB, Ricciutelli M, Lupidi G, Quassinti L, Bramucci M, Tapondjou LA (2010) Rheediinosides A and B, two antiproliferative and antioxidant triterpene saponins from Entada rheedii. Phytochemistry 71:254–261

Milner JA (1994) Reducing the risk of cancer. In: Goldberg I (ed) Functional foods: designer foods, pharmafoods, nutraceuticals. Chapman & Hall, New York, NY, pp 39–70

Duthie GG, Brown KM (1994) Reducing the risk of cardiovascular disease. In: Goldberg I (ed) Functional foods: designer foods, pharmafoods, nutraceuticals. Chapman & Hall, New York, NY, pp 19–38
Acknowledgments
Thanks go to the Public Science and Technology Research Funds Projects of Ocean (no. 201505023) and the Jiangsu Provincial Platform for Conservation and Utilization of Agricultural Germplasm (no. BM2014047) for the financial support.
Ethics declarations
Conflict of interest
The authors declare that there is no conflict of interest related to this article.
About this article
Cite this article
Chen, H., Olatunji, O.J. & Zhou, Y. Anti-oxidative, anti-secretory and anti-inflammatory activities of the extract from the root bark of Lycium chinense (Cortex Lycii) against gastric ulcer in mice. J Nat Med 70, 610–619 (2016). https://doi.org/10.1007/s11418-016-0984-2
Received:

Accepted:

Published:

Issue Date:

DOI: https://doi.org/10.1007/s11418-016-0984-2
Keywords