Abstract
Amygdalus communis L. (almond) has been traditionally used as a natural medicine in the treatment of various diseases. The present research studied the sedative and hypnotic effects of the aqueous fraction of seeds of almond in rats. In order to investigate these effects, a combination of behavioral methods (open field test and loss of righting reflex test) as well as quantitative and analytic methods (EEG and EMG) were applied. The results of the open field test showed that a dose of 400 mg/kg of the almond extract significantly inhibited the locomotion activity of rats compared to normal. The results also illustrated that the almond extract affected pentobarbital-induced sleep through increasing the number of fallings asleep and prolongation of sleeping time. Analysis of EEG recordings of the animals which had received the same dose of the almond extract as the open field test demonstrated marked changes in the animals' sleep architecture. Significant prolongation of total sleeping time as well as significant increase in NREM sleep were the main observed changes compared to the normal condition. These results suggest that the aqueous extract of almond has significant sedative and hypnotic effects, which may support its therapeutic use for insomnia.
Access options
Buy single article
Instant access to the full article PDF.
US$ 39.95
Tax calculation will be finalised during checkout.
Subscribe to journal
Immediate online access to all issues from 2019. Subscription will auto renew annually.
US$ 79
Tax calculation will be finalised during checkout.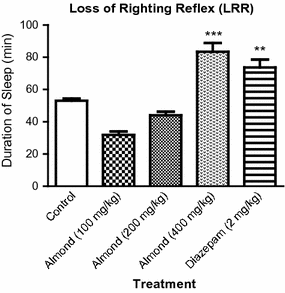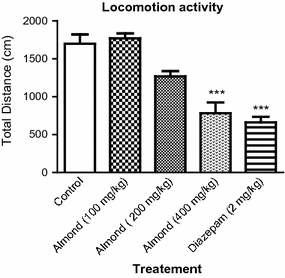 References
1.

Kimura T, Ho I, Yamamoto I (2001) Uridine receptor: discovery and its involvement in sleep mechanism. Sleep 24:251–260

2.

Fernandez-San-Martin MI, Masa-Font R, Palacios-Soler L, Sancho-Gomez P, Calbo-Caldentey C, Flores-Mateo G (2010) Effectiveness of Valerian on insomnia: a meta-analysis of randomized placebo-controlled trials. Sleep Med 11:505–511

3.

Benca R, Cirelli C, Tononi G (2009) Basic science of sleep. Wolters, Kluwer, Lippincott Williams and Wilkins, Philadelphia

4.

Wittels EH (1985) Obesity and hormonal factors in sleep and sleep apnea. Med Clin N Am 69:1265–1280

5.

Sagaspe P, Sanchez-Ortuno M, Charles A, Taillard J, Valtat C, Bioulac B et al (2006) Effects of sleep deprivation on Color-Word, Emotional, and Specific Stroop interference and on self-reported anxiety. Brain Cogn 60:76–87

6.

Yao K-W, Yu S, Cheng S-P, Chen I-J (2008) Relationships between personal, depression and social network factors and sleep quality in community-dwelling older adults. J Nurs Res 16:131–139

7.

Franzen PL, Buysse DJ, Rabinovitz M, Pollock BG, Lotrich FE (2010) Poor sleep quality predicts onset of either major depression or subsyndromal depression with irritability during interferon-alpha treatment. Psychiatry Res 177:240–245

8.

Jagoda Z, Klodzinski S, Maslowski J (1977) Problems of sleep and dreams in inmates of the Auschwitz–Birkenau concentration camp. Przegl Lek 34:28–66

9.

Most EI, Scheltens P, Van Someren EJ (2010) Prevention of depression and sleep disturbances in elderly with memory-problems by activation of the biological clock with light - a randomized clinical trial. Trials 11:19

10.

Schuld A, Haack M, Hinze-Selch D, Mullington J, Pollmacher T (2005) Experimental studies on the interaction between sleep and the immune system in humans. Psychother Psychosom Med Psychol 55:29–35

11.

Lima MG, Bergamo Francisco PM, de Azevedo Barros MB (2012) Sleep duration pattern and chronic diseases in Brazilian adults. Sleep Med 13:139–144

12.

Klink ME, Quan SF, Kaltenborn WT, Lebowitz MD (1992) Risk factors associated with complaints of insomnia in a general adult population. Influence of previous complaints of insomnia. Arch Intern Med 152:1634–1637

13.

Stewart SA (2005) The effects of benzodiazepines on cognition. J Clin Psychiatry 2:9–13

14.

Choi S, Kim KW, Choi JS, Han ST, Park YI, Lee SK et al (2002) Angiogenic activity of beta-sitosterol in the ischaemia/reperfusion-damaged brain of Mongolian gerbil. Planta Med 68:330–335

15.

Razi A (2007) Kitab Al-Havi fil Tibb. Central Council for Research in Unani Medicine Ministry of Health & Family Welfare Govt of India, New Delhi

16.

Al Sina I (2010) Qanoon fit tib (Urdu translation by Ghulam Hussain Kantori). Aijaz Publishing House, New Delhi

17.

Aghili AKSS (2008) Makhzan ul-Advia (In Persian). The Institue of Medical History, Islamic and Complementary Medicine Studies, Tehran

18.

Andrade C, Sudha S, Venkataraman B (2000) Herbal treatments for ECS-induced memory deficits: a review of research and a discussion on animal models. J ECT 16:144–156

19.

Kulkarni KS, Kasture S, Mengi S (2010) Efficacy study of Prunus amygdalus (almond) nuts in scopolamine-induced amnesia in rats. Indian J Pharmacol 42:168–173

20.

Bhattacharya S, Kumar A, Jaiswal A (1995) Effect of Mentat, a herbal formulation, on experimental models of Alzheimer's disease and central cholinergic markers in rats. Fitoterapia 66:216–221

21.

Achermann P (2009) EEG analysis applied to sleep. Epileptologie 26:28–33

22.

Campbell IG (2009) EEG recording and analysis for sleep research. Curr Protoc Neurosci. doi: 10.1002/0471142301.ns1002s49

23.

Pivik RT, Broughton RJ, Coppola R, Davidson RJ, Fox N, Nuwer MR (1993) Guidelines for the recording and quantitative analysis of electroencephalographic activity in research contexts. Psychophysiology 30:547–558

24.

Vasanits A, Kutlan D, Sass P, Molnar-Perl I (2000) Retention/quantitation properties of the o-phthaldialdehyde-3-mercaptopropionic acid and the o-phthaldialdehyde N-acetyl-l-cysteine amino acid derivatives in reversed-phase high-performance liquid chromatography. J Chromatogr A 870:271–287

25.

Bakalian MJ, Fernstrom JD (1990) Effects of l-tryptophan and other amino acids on electroencephalographic sleep in the rat. Brain Res 528:300–307

26.

Moja EA, Mendelson WB, Stoff DM, Gillin JC, Wyatt RJ (1979) Reduction of REM sleep by a tryptophan-free amino acid diet. Life Sci 24:1467–1470

27.

Hashimoto K (2011) Glycine transporter-1: a new potential therapeutic target for schizophrenia. Curr Pharm Des 17:112–120

28.

Blum K, Wallace JE, Geller I (1972) Synergy of ethanol and putative neurotransmitters: glycine and serine. Science 176:292–294

29.

Foret J, Aguirre A, Touitou Y, Clodoré M, Benoit O (1993) Effect of morning bright light on body temperature, plasma cortisol and wrist motility measured during 24 hour of constant conditions. Neurosci Lett 155:155–158

30.

Inagawa K, Hiraoka T, Kohda T, Yamadera W, Takahashi M (2006) Subjective effects of glycine ingestion before bedtime on sleep quality. Sleep Biol Rhythms 4:75–77

31.

Yamadera W, Inagawa K, Chiba S, Bannai M, Takahashi M, Nakayama K (2007) Glycine ingestion improves subjective sleep quality in human volunteers, correlating with polysomnographic changes. Sleep Biol Rhythms 5:126–131

32.

Yoshizawa F (2011) New therapeutic strategy for amino acid medicine: notable functions of branched chain amino acids as biological regulators. J Pharmacol Sci 118:149–155

33.

Barratt E, Adams P, Poffenbarger P, Fritz R, Abell C (1976) Effects of rapid depletion of phenylalanine and tyrosine on sleep and behavior. Pharmacol Biochem Behav 5:47–53

34.

Sathe S (1992) Solubilization, electrophoretic characterization and in vitro digestibility of almond (Prunus amygdalus) proteins 1, 2. J Food Biochem 16:249–264

35.

Dwivedi P, Singh R, Malik MT, Jawaid T (2012) A traditional approach to herbal nootropic agents: an overview. Int J Pharm Sci Res 3:630–636

36.

Sang S, Lapsley K, Jeong W-S, Lachance PA, Ho C-T, Rosen RT (2002) Antioxidative phenolic compounds isolated from almond skins (Prunus amygdalus Batsch). J Agric Food Chem 50:2459–2463

37.

Esfahlan AJ, Jamei R, Esfahlan RJ (2010) The importance of almond (Prunus amygdalus L.) and its by-products. Food Chem 120:349–360

38.

Heidelberger R, MN Waxham (2009) From molecules to networks. An introduction to cellular and molecular neuroscience. Academic Press, California

39.

Byrne JH, Heidelberger R, Waxham MN (2014) From molecules to networks: an introduction to cellular and molecular neuroscience. Academic Press, Waltham

40.

Foye WO, Lemke TL, Williams DA (2008) Foye's principles of medicinal chemistry. Lippincott Williams & Wilkins, Philadelphia

41.

D'haenen HA, den Boer JA, Willner P (2002) Biological psychiatry. Wiley, Chichester

42.

Hosli L, Hosli E (1983) Glutamate neurotransmission at the cellular level. In: Hertz L, Kvamme E, McGeer EG, Schousboe A (eds) Glutamine, glutamate, and GABA in the central nervous system. Alan R. Liss Inc, New York, pp 441–455

43.

Wu G (1998) Intestinal mucosal amino acid catabolism. J Nutr 128:1249–1252

44.

Kawai N, Bannai M, Seki S, Koizumi T, Shinkai K, Nagao K et al (2012) Pharmacokinetics and cerebral distribution of glycine administered to rats. Amino Acids 42:2129–2137

45.

Lavie L, Hefetz A, Luboshitzky R, Lavie P (2003) Plasma levels of nitric oxide and l-arginine in sleep apnea patients. J Mol Neurosci 21:57–63
Acknowledgments
This work has been fulfilled as part of a Ph.D. thesis financed by Traditional Medicine and Materia Medica Research Center, Shahid Beheshti University of Medical Sciences. Authors would like to thank the center for their help and support during the present research.
About this article
Cite this article
Abdollahnejad, F., Mosaddegh, M., Kamalinejad, M. et al. Investigation of sedative and hypnotic effects of Amygdalus communis L. extract: behavioral assessments and EEG studies on rat. J Nat Med 70, 190–197 (2016). https://doi.org/10.1007/s11418-015-0958-9
Received:

Accepted:

Published:

Issue Date:
Keywords
Amygdalus communis L.

Traditional medicine

Aqueous extract

Sedative and hypnotic effects