Abstract
Alcoholic liver disease (ALD) is a serious and challenging health issue. In the past decade, natural components possessing hepatoprotective properties have gained more attention for ALD intervention. In this study, the phytochemical components of anthocyanins from purple potato were assessed using UPLC-MS/MS, and the hepatoprotective effects of purple potato anthocyanins (PPAs) were investigated in the ALD mouse model. Serum and liver biochemical parameters were determined, along with histopathological changes in liver tissue. In addition, the major contributors to alcohol-induced oxidative stress were assessed. The results indicated that the levels of aspartate transaminase and alanine transaminase were lower in the serum of the PPA-treated group than the alcohol-treated group. PPAs significantly inhibited the reduction of total cholesterol and triglycerides. Higher levels of superoxide dismutase and reduced glutathione enzymes as well as a reduction in the formation of malondialdehyde occurred in mice fed with PPAs. In addition, PPAs protected against increased alcohol-induced levels and activity of cytochrome P450 2E1 (CYP2E1), which demonstrates the effects of PPAs against alcohol-induced oxidative stress and liver injury. This study suggests that PPAs could be an effective therapeutic agent in alcohol-induced liver injuries by inhibiting CYP2E1 expression and thereby strengthening antioxidant defenses.
This is a preview of subscription content, log in to check access.
Access options
Buy single article
Instant access to the full article PDF.
US$ 39.95
Price includes VAT for USA
Subscribe to journal
Immediate online access to all issues from 2019. Subscription will auto renew annually.
US$ 99
This is the net price. Taxes to be calculated in checkout.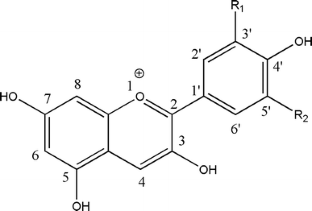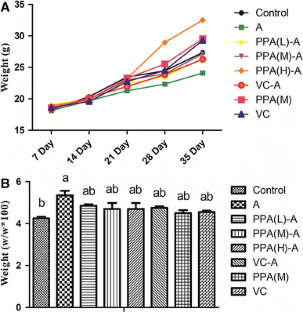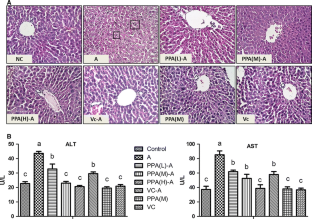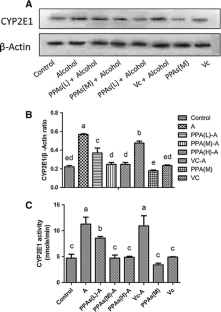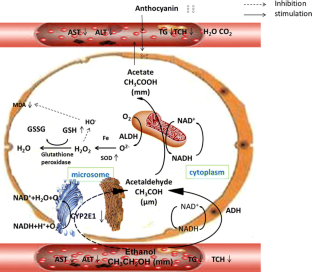 Abbreviations
ADH:

Alcohol dehydrogenase

ALD:

Alcoholic liver damage

ALDH:

Acetaldehyde dehydrogenase

AST:

Aspartate transaminase

ALT:

Alanine transaminase

CYP2E1:

Cytochrome P450 2E1

PP:

Purple potato

PPAs:

Purple potato anthocyanins

GSH:

Glutathione

MDA:

Malondialdehyde

SOD:

Superoxide dismutase

TCH:

Total cholesterol

TG:

Triglyceride
References
1.

Salaspuro MP, Shaw S, Jayatilleke E, Ross WA, Lieber CS (1981) Attenuation of the ethanol-induced hepatic redox change after chronic alcohol consumption in baboons: metabolic consequences in vivo and in vitro. Hepatology 1:33–38

2.

Kong JM, Chia LS, Goh NK, Chia TF, Brouillard R (2003) Analysis and biological activities of anthocyanins. Phytochemistry 64:923–933

3.

Mitcheva M, Astroug H, Drenska D, Popov A, Kassarova M (1993) Biochemical and morphological studies on the effects of anthocyans and vitamin E on carbon tetrachloride induced liver injury. Cell Mol Biol (Noisy-le-grand) 39:443–448

4.

Lee JS, Kim YR, Song IG, Ha SJ, Kim YE, Baek NI, Hong EK (2014) Cyanidin-3-glucoside isolated from mulberry fruit protects pancreatic beta-cells against oxidative stress-induced apoptosis. Int J Mol Med 131:1443–1452

5.

Fossen T, Andersen ØM (2000) Anthocyanins from tubers and shoots of the purple potato, Solanum tuberosum. J Hortic Sci Biotech 75:360–363

6.

Yao SL, Xu Y, Zhang YY, Lu YH (2013) Black rice and anthocyanins induce inhibition of cholesterol absorption in vitro. Food Funct 4:1602–1608

7.

Han KH, Sekikawa M, Shimada K, Hashimoto M, Hashimoto N, Noda T, Tanaka H, Fukushima M (2006) Anthocyanin-rich purple potato flake extract has antioxidant capacity and improves antioxidant potential in rats. Br J Nutr 96:1125–1133

8.

Obi FO, Usenu IA, Osayande JO (1998) Prevention of carbon tetrachloride-induced hepatotoxicity in the rat by H. rosasinensis anthocyanin extract administered in ethanol. Toxicology 131:93–98

9.

Mitcheva M, Astroug H, Drenska D, Popov A, Kassarova M (1993) Biochemical and morphological studies on the effects of anthocyans and vitamin E on carbon tetrachloride induced liver injury. Cell Mol Biol (Noisy-le-grand) 39:443–448

10.

Jiang B, Cai F, Gao S, Meng L, Liang F, Dai X, Xu W, Chen W (2012) Induction of cytochrome P450 3A by Shexiang Baoxin Pill and its main components. Chem-Biol Interact 195:105–113

11.

Reinke LA, Moyer MJ (1985) P-Nitrophenol hydroxylation. A microsomal oxidation which is highly inducible by ethanol. Drug Metab Dispos 13:548–552

12.

Tang Y, Gao C, Xing M, Li Y, Zhu L, Wang D, Yang X, Liu L, Yao P (2012) Quercetin prevents ethanol-induced dyslipidemia and mitochondrial oxidative damage. Food Chem Toxicol 50:1194–1200

13.

Tahir M, Sultana S (2011) Chrysin modulates ethanol metabolism in Wistar rats: a promising role against organ toxicities. Alcohol Alcohol 46:383–392

14.

Hou Z, Qin P, Ren G (2010) Effect of anthocyanin-rich extract from black rice (Oryza sativa L. Japonica) on chronically alcohol-induced liver damage in rats. J Agric Food Chem 58:3191–3196

15.

Wang Y, Millonig G, Nair J, Patsenker E, Stickel F, Mueller S, Bartsch H, Seitz HK (2009) Ethanol-induced cytochrome P4502E1 causes carcinogenic etheno-DNA lesions in alcoholic liver disease. Hepatology 50:453–461

16.

Purohit V, Gao B, Song BJ (2009) Molecular mechanisms of alcoholic fatty liver. Alcohol Clin Exp Res 33:191–205

17.

Keshavarzian A, Farhadi A, Forsyth CB, Rangan J, Jakate S, Shaikh M, Banan A, Fields JZ (2009) Evidence that chronic alcohol exposure promotes intestinal oxidative stress, intestinal hyperpermeability and endotoxemia prior to development of alcoholic steatohepatitis in rats. J Hepatol 50:538–547

18.

Harasym J, Oledzki R (2014) Effect of fruit and vegetable antioxidants on total antioxidant capacity of blood plasma. Nutrition 30:511–557

19.

Wang W, Li J, Wang Z, Gao H, Su L, Xie J, Chen X, Liang H, Wang C, Han Y (2014) Oral hepatoprotective ability evaluation of purple sweet potato anthocyanins on acute and chronic chemical liver injuries. Cell Biochem Biophys 69:539–548

20.

Balasubramanian T, Senthilkumar GP, Karthikeyan M, Chatterjee TK (2013) Protective effect of ethyl acetate fraction of stereospermum suaveolens against hepatic oxidative stress in STZ diabetic rats. J Tradit Complement Med 3:175–181

21.

Sun H, Mu T, Liu X, Zhang M, Chen J (2014) Purple sweet potato (Ipomoea batatas L.) anthocyanins: preventive effect on acute and subacute alcoholic liver damage and dealcoholic effect. J Agric Food Chem 62:2364–2373

22.

Nemś A, Pęksa A, Kucharska AZ, Sokół-Łętowska A, Kita A, Drożdż W, Hamouz K (2015) Anthocyanin and antioxidant activity of snacks with coloured potato. Food Chem 172:175–182

23.

Lu Y, Wu D, Wang X, Ward SC, Cederbaum AI (2010) Chronic alcohol-induced liver injury and oxidant stress are decreased in cytochrome P4502E1 knockout mice and restored in humanized cytochrome P4502E1 knock-in mice. Free Radic Biol Med 49:1406–1416

24.

Lin X, Zhang S, Huang R, Wei L, Tan S, Liang S, Tian Y, Wu X, Lu Z, Huang Q (2014) Helenalin attenuates alcohol-induced hepatic fibrosis by enhancing ethanol metabolism, inhibiting oxidative stress and suppressing HSC activation. Fitoterapia 95:203–213

25.

Lu Y, Zhang XH, Cederbaum AI (2012) Ethanol induction of CYP2A5: role of CYP2E1-ROS-Nrf2 pathway. Toxicol Sci 128:427–438

26.

Jin M, Ande A, Kumar A, Kumar S (2013) Regulation of cytochrome P450 2e1 expression by ethanol: role of oxidative stress-mediated pkc/jnk/sp1 pathway. Cell Death Dis 4:e554

27.

Lu Y, Wu D, Wang X, Ward SC, Cederbaum AI (2010) Chronic alcohol-induced liver injury and oxidant stress are decreased in cytochrome P4502E1 knockout mice and restored in humanized cytochrome P4502E1 knock-in mice. Free Radic Biol Med 49:1406–1416

28.

Montilla EC, Hillebrand S, Butschbach D, Baldermann S, Watanabe N, Winterhalter P (2010) Preparative isolation of anthocyanins from Japanese purple sweet potato (Ipomoea batatas L.) varieties by high-speed countercurrent chromatography. J Agric Food Chem 18:9899–9904

29.

Mulinacci N, Ieri F, Giaccherini C, Innocenti M, Andrenelli L, Canova G, Saracchi M, Casiraghi MC (2008) Effect of cooking on the anthocyanins, phenolic acids, glycoalkaloids, and resistant starch content in two pigmented cultivars of Solanum tuberosum L. J Agric Food Chem 56:11830–11837

30.

Alcalde-Eon C, Saavedra G, de Pascual-Teresa S, Rivas-Gonzalo JC (2004) Liquid chromatography-mass spectrometry identification of anthocyanins of isla oca (Oxalis tuberosa, Mol.) tubers. J Chromatogr A 2:211–215

31.

Simirgiotis MJ, Theoduloz C, Caligari PD et al (2009) Comparison of phenolic composition and antioxidant properties of two native Chilean and one domestic strawberry genotypes. Food Chem 113:377–385

32.

Otsuki T, Matsufuji H, Takeda M (2002) Acylated anthocyanins from red radish (Raphanus sativus L.). Phytochemistry 60:79–87

33.

Goda Y, Shimizu T, Kato Y (1997) Two acylated anthocyanins from purple sweet potato. Phytochemistry 44:183–186

34.

Reyes LF, Cisneros-Zevallos L (2007) Degradation kinetics and colour of anthocyanins in aqueous extracts of purple- and red-flesh potatoes (Solanum tuberosum L.). Food Chem 100:885–894

35.

Hong V, Wrolstad RE (1990) Use of HPLC separation/photodiode array detection for characterization of anthocyanins. J Agric Food Chem 38:708–715

36.

Naito K, Umemura Y, Mori M (1998) Acylated pelargonidin glycosides from a red potato. Phytochemistry 47:109–112

37.

Eichhorn S, Winterhalter P (2005) Anthocyanins from pigmented potato (Solanum tuberosum L.) varieties. Food Res Int 38:943–948
Acknowledgments
This work was supported by the High-end Foreign Experts Recruitment Programme of State Administration of Foreign Experts Affairs (GDW20146100228), the Ministry of Education and State Administration of Foreign Experts Affair "Overseas Teacher" Project (MS2011XBNL057), the Key Construction Program of International Cooperation Base in S&T, Shaanxi Province, China (2015SD0018), and Shannxi Provincial Science and Technology Coordinating innovative engineering project (2013ZDGC-04).
We thank Prof. Dr. Brain J. Sutton, King's College London, for language corrections to the manuscript.
Ethics declarations
Conflict of interest
The authors declare no competing financial interest.
Electronic supplementary material
Below is the link to the electronic supplementary material.
About this article
Cite this article
Jiang, Z., Chen, C., Wang, J. et al. Purple potato (Solanum tuberosum L.) anthocyanins attenuate alcohol-induced hepatic injury by enhancing antioxidant defense. J Nat Med 70, 45–53 (2016). https://doi.org/10.1007/s11418-015-0935-3
Received:

Accepted:

Published:

Issue Date:
Keywords
Anthocyanin

Hepatotoxicity

Alcohol

Oxidation stress

CYP2E1