Abstract
Terpinolene is a cyclic monoterpene compound found in some Labiatae herbs. In our previous study, we evaluated the sedative effect of inhaled essential oils of Microtoena patchoulii leaves in mice and isolated terpinolene as an active ingredient. We investigated the structure–activity relationships of terpinolene to identify the structural part essential to its sedative effect. Comparison of terpinolene analog activities showed that a double bond in the side-chain or pi bonds in the six-membered ring play important roles in the sedative effect. In another experiment using olfactory impaired mice, we further revealed that inhaled terpinolene exerted the effect after nasal absorption into the body.
This is a preview of subscription content, log in to check access.
Access options
Buy single article
Instant access to the full article PDF.
US$ 39.95
Price includes VAT for USA
Subscribe to journal
Immediate online access to all issues from 2019. Subscription will auto renew annually.
US$ 99
This is the net price. Taxes to be calculated in checkout.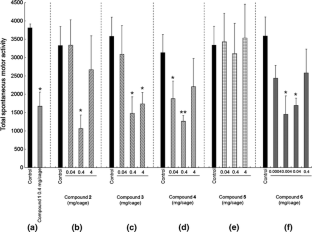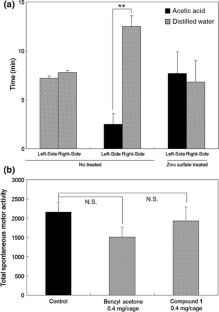 References
1.

Senpuku M, Nonaka K, Ito M, Honda G (2007) Chemical composition of the essential oil of Microtoena patchoulii [(CB Clarke ex JD Hooker) CY Wu et Hsuan]. J Essent Oil Res 19:336–337

2.

Ito K, Ito M (2011) Sedative effects of vapor inhalation of the essential oil of Microtoena patchoulii and its related compounds. J Nat Med 65:336–343

3.

Takemoto H, Ito M, Shiraki T, Yagura T, Honda G (2008) Sedative effects of vapor inhalation of agarwood oil and spikenard extract and identification of their active components. J Nat Med 62:41–46

4.

Takemoto H, Yagura T, Ito M (2009) Evaluation of volatile components from spikenard: valerena-4,7(11)-diene is a highly active sedative compound. J Nat Med 63:380–385

5.

Kimura Y, Furukawa M, Kamide M, Sakumoto M, Miwa T, Umeda R (1989) Experimental study on the effect of the topical application of steroids on olfactory disturbance in mice. Nihon Jibiinkoka Gakkai Kaiho 92:1869–1875

6.

Chuah MI, Tennent R, Jacobs I (1995) Response of olfactory Schwann cells to intranasal zinc sulfate irrigation. J Neurosci Res 42:470–478

7.

Revial G, Jabin I, Pfau M (2000) Enantioselective synthesis of (+)-α-vetivone through the Michael reaction of chiral imines. Tetrahedron Asymmetry 11:4975–4983

8.

Wallenstein S, Zucker CL, Fleiss JL (1980) Some statistical methods useful in circulation research. Circ Res 47:1–9

9.

Mathews DF (1972) Response patterns of single neurons in the tortoise olfactory epithelium and olfactory bulb. J Gen Physiol 60:166–180

10.

Imamura K, Mataga N, Mori K (1992) Coding of odor molecules by mitral/tufted cells in rabbit olfactory bulb. I. Aliphatic compounds. J Neurophysiol 68:1986–2002

11.

Johnson BA, Arguello S, Leon M (2007) Odorants with multiple oxygen-containing functional groups and other odorants with high water solubility preferentially activate posterior olfactory bulb glomeruli. J Comp Neurol 502:468–482
About this article
Cite this article
Ito, K., Ito, M. The sedative effect of inhaled terpinolene in mice and its structure–activity relationships. J Nat Med 67, 833–837 (2013). https://doi.org/10.1007/s11418-012-0732-1
Received:

Accepted:

Published:

Issue Date:
Keywords
Sedative effect

Inhalation

Terpinolene

Structure–activity relationship