Abstract
Improvement in blood fluidity leads to the prevention of various lifestyle-related diseases. A raw material for improving blood fluidity has been long desired in the research area of functional and supplemental foods. We successfully showed an improvement in blood fluidity by the Zingiberaceae plant, Kaempferia parviflora. The rhizome of the plant reduced the blood passage time through a micro slit using a disseminated intravascular coagulation model. The mechanism was attributed to the activation of fibrinolysis, as demonstrated by elongation of the euglobulin lysis time and an in-vitro fibrinolysis assay. The active principles were determined to be methoxyflavones. The results show that the rhizome of K. parviflora is a promising candidate preventive agent for treating lifestyle-related diseases.
This is a preview of subscription content, log in to check access.
Access options
Buy single article
Instant access to the full article PDF.
US$ 39.95
Tax calculation will be finalised during checkout.
Subscribe to journal
Immediate online access to all issues from 2019. Subscription will auto renew annually.
US$ 99
Tax calculation will be finalised during checkout.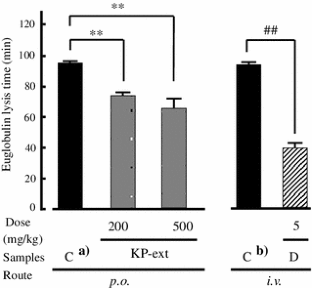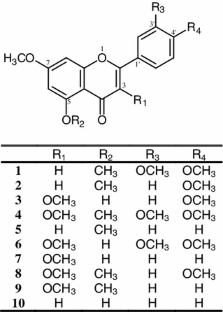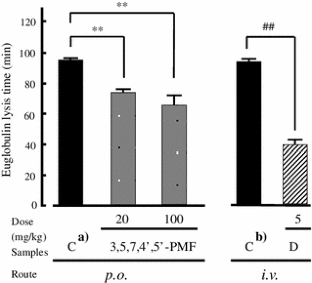 References
1.

Rujjanawate C, Kanjanapothi D, Amornlerdpison D, Pojanagaroon S (2005) Anti-gastric ulcer effect of Kaempferia parviflora. J Ethnopharm 102:120–122

2.

Chaturapanich G, Chiyakul S, Verawatnapakul V, Pholpramool C (2008) Effects of Kaempferia parviflora extracts on reproductive parameters and spermatic blood flow in male rats. Reproduction 136:515–522

3.

Nakao K, Murata K, Deguchi T, Itoh K, Fujita T, Higashino M, Yoshioka Y, Matsumura S, Tanaka R, Shinada T, Ohfune Y, Matsuda H (2011) Xanthine oxidase inhibitory activities and crystal structures of methoxyflavones from Kaempferia parviflora rhizome. Biol Pharm Bull 34:1143–1146

4.

Guh JH, Ko FN, Jong TT, Teng CM (1995) Antiplatelet effect of gingerol isolated from Zingiber officinale. J Pharm Pharmacol 47:329–332

5.

Hibino T, Yuzurihara M, Terawaki K, Kanno H, Kase Y, Takeda A (2008) Goshuyuto, a traditional Japanese medicine for migraine, inhibits platelet aggregation in guinea-pig whole blood. J Pharm Sci 108:89–94

6.

Schoendorf TH, Rosenberg M, Beller FK (1971) Endotoxin-induced disseminated intravascular coagulation in nonpregnant rats. Am J Pathol 65:51–58

7.

Kaulla KN, Schultz RL (1958) Methods for the evaluation of human fibrinolysis; studies with two combined technics. Am J Clin Pathol 29:104–112

8.

Norén I, Ramström G, Wallén P (1975) Fibrin plate method with reagents purified by affinity chromatography and its use for determination of fibrinolytic and other proteolytic activity in saliva, bile and plasma. Haemostasis 4:110–124
Acknowledgments
This study was financially supported by the "Antiaging Center Project" for Private Universities from the Ministry of Education, Culture, Sports, Science and Technology, 2008–2012.
About this article
Cite this article
Murata, K., Deguchi, T., Fujita, T. et al. Improvement in blood fluidity by Kaempferia parviflora rhizome. J Nat Med 67, 719–724 (2013). https://doi.org/10.1007/s11418-012-0729-9
Received:

Accepted:

Published:

Issue Date:
Keywords
Kaempferia parviflora

Fibrinolysis

Euglobulin lysis time

Disseminated intravascular coagulation

Methoxyflavones

Fibrinolytic area assay