Abstract
The present study investigated the gastroprotective effects of a cinnamon diet using different gastric ulcer mouse models. Dose dependency and the effective dose period of administration of a cinnamon powder diet were established using the water immersion stress gastric ulcer model. A cinnamon powder diet significantly protected mice against ulceration by stress, ethanol, HCl and oral administration of aspirin, but not against ulceration by oral administration of indomethacin or subcutaneous administration of indomethacin or aspirin. Such a diet conferred protection against gastric ulcers at an effective concentration of 100 mg cinnamon powder per gram of food after administration for 4 weeks and the active compound of cinnamon powder for gastroprotective activity was identified as cinnamaldehyde. These findings indicate that regular ingestion of cinnamon powder offers gastroprotection presumably through a cytoprotective mechanism but the efficacy against NSAIDs-induced gastric ulcers may be limited.
Access options
Buy single article
Instant access to the full article PDF.
US$ 39.95
Tax calculation will be finalised during checkout.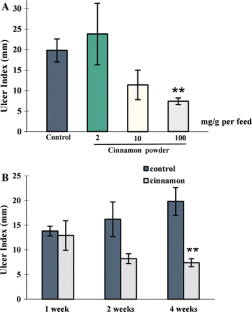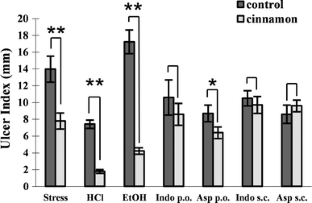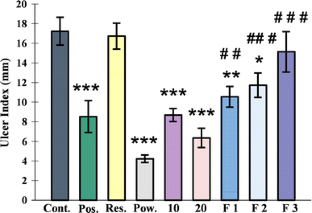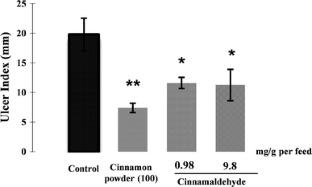 References
1.

Anoop A, Jegadeesan M (2003) Biochemical studies on the anti-ulcerogenic potential of Hemidesmusindicus R.Br. varindicus. J Ethnopharmacol 84:149–156

2.

Singh N, Shukla N, Singh P, Rajendran SM, Maurya R, Palit G (2010) Verbascoside isolated from Tectoniagrandis mediates protection in rats via inhibiting proton pump activity. Fitoterapia 81:755–761

3.

Ibrahim Abdulkarim Al Mofleh (2010) Spices, herbal xenobiotics and the stomach: Friends or foes? World J Gastroenterol 16(22): 2710–2719

4.

Lin CC, Wu SJ, Chang CH, Ng LT (2003) Antioxidant activity of Cinnamomum cassia. Phytotherapy 17:726–730

5.

Akira T, Tanaka S, Tabata M (1986) Pharmacological studies on the antiulcerogenic activity of Chinese cinnamon. Planta Med 52:440–443

6.

Tanaka S, Yoon YH, Fukumi H, Tabata M, Akira T, Okano K, Iwai M, Iga Y, Yokoyama K (1987) Antiulcerogenic compounds isolated from Chinese cinnamon. Planta Med 55:245–248

7.

Kuwayama H, Eastwood GL (1985) Effects of water immersion restraint stress and chronic indomethacin ingestion on gastric antral and fundic epithelial proliferation. Gastroenterology 88:362–365

8.

Robert A, Nezamis EJ, Lancaster C, Hanchar AJ (1979) Cytoprotection by prostaglandins in rats: Prevention of gastric necrosis produced by alcohol, HCl, NaOH, hypertonic NaCl, and thermal injury. Gastroenterology 77:433–443

9.

Suzuki K, Araki H, Mizoguchi H, Furukawa O, Takeuchi K (2001) Prostaglandin E inhibits indomethacin-induced gastric lesions through EP-1 receptors. Digestion 63:92–101

10.

Wang Z, Hasegawa J, Wang X, Matsuda A, Tokuda T, Miura N, Watanabe T (2011) Protective effects of ginger against aspirin-induced gastric ulcers in rats. Yonago Acta Med 54:11–19

11.

Iaquinto G, Giardullo N, Taccone W, Leandro G, Pasquale L, Luca L, Szabo S (2003) Role of endogenous endothelin-1 in ethanol induced gastric mucosal damage in humans. Dig Dis Sci 48:663–669

12.

Amar AR, Maysa ME (2010) Anti-ulcer effects of cinnamon and chamomile Aqueous Extracts in Rat Models. J Am Sci 6(12):209–216

13.

Okada M, Niida H, Takeuchi K, Okab S (1989) Role of prostaglandin deficiency in pathogenetic mechanism of gastric lesions induced by indomethacin. Dig Dis Sci 34(5):694–702

14.

Peskar BM, Maricic N (1998) Role of prostaglandins in gastroprotection. Dig Dis Sci 43:23S–29S

15.

Wallace JL, McKnight W, Reuter BK, Vergnolle N (2000) NSAID-induced gastric damage in rats: requirement for inhibition of both cyclooxygenase 1 and 2. Gastroenterology 119:706–714

16.

Whittle BJ (2003) Gastroprotective effects of nonsteroidal anti-inflammatory drugs. Fundam Clin Pharmacol 17(3):301–313

17.

Wallace JL (2008) Prostaglandins, NSAIDs, and gastric mucosal protection: Why doesn't the stomach digest itself? Physiol Rev 88:1547–1565

18.

Robert A, Bottcher W, Galanska E, Kauffman GL Jr (1985) Lack of correlation between mucus gel thickness and gastric cytoprotection in rats. Gastroenterology 86:610–674

19.

Hollander D, Tarnawski A, Krause WJ, Gergely H (1985) Protective effect of sucralfate against alcohol-induced gastric mucosal injury in the rat. Gastroenterology 88:374–388

20.

Hudson N, Murray FE, Cole AT (1997) Effect of sucralfate on aspirin induced mucosal injury and impaired haemostasis in humans. Gut 41:19–23

21.

Onodera S, Tanaka M, Aoyama M, Arai Y, Inaba N, Suzuki T, Nishizawa A, Shibata M, Sekine Y (1999) Antiulcer effect of Lafutidine on indomethacin-induced gastric antral ulcers in refed rats. Jpn J Pharmacol 80:229–235

22.

Holzer P (1998) Neural emergency system in the stomach. Gastroenterology 1998(114):823–839

23.

Peskar BM (2001) Neural aspects of prostaglandin involvement in gastric mucosal defense. J Physiol Pharmacol 52(4):555–568

24.

Ai HB, Zhang ZD (1990) Studies on the mechanism of gastric mucosal injury induced by water-immersion stress in rats. Sheng Li Xue Bao 42(5):496–502

25.

Shrikant VJ, Kalyani AK, Urvashi VM, Sandesh RL, Payal DS, Heta GV, Rushi BV, Bhavin AV, Gajanan GK (2001) Alteration of gastric mucus secretion in rats treated with Abelmoschus esculentus seed mucilage. Der Pharmacia Lettre 2011 3(5):183–188

26.

Rujjanawate C, Kanjanapothi D, Amornlerdpison D, Pojanagaroon S (2005) Anti-gastric effect of Kaempferia parviflora. Journal of Ethnopharmacology 102(2005):120–122

27.

Harada M, Yano S (1975) Pharmacological studies on Chinese cinnamon. Effects of cinnamaldehyde on the cardiovascular and digestive systems. Chem Pharm Bull 23:941–947

28.

Shaik MA, Aleem AK, Irshad A, Musaddiq M, Khaja SA, Polasa H, Venkateswar RL, Chittoor MH, Leonardo AS, Niyaz A (2005) Antimicrobial activities of Eugenol and Cinnamaldehyde against the human gastric pathogen Helicobacter pylori. Ann Clin Microbiol Antimicrob 4:20

29.

Capasso PL, Vuotto ML, Di Carlo G (2000) Preventive effect of eugenol on PAF and ethanol-induced gastric mucosal damage. Fitoterapia 71:131–137
Acknowledgments
This work was funded by Takeda Science Foundation (2009 grant), Kyoto, Japan.
Electronic supplementary material
Below is the link to the electronic supplementary material.
. Pictomicrograph showing thickened mouse gastric mucosa after completion of the 4-week cinnamon powder diet. A, Cinnamon-treated group. B, Control group. Scale bar, 100 μm. (TIFF 1202 kb)
. Chemical fingerprints of EACC (A), fraction 1 (B), fraction 2 (C) and fraction 3 (D). Peaks 1, unidentified; 2, cinnamylalcohol; 3, coumarin; 4, cinnamaldehyde; 5, eugenol; 6, cinnamyl acetate; 7, unidentified. HPLC conditions: Column pack: ODS/R: 10 μl, 120 A, 4.6 × 250 mm. I.D. Program: 37 % MeOH (at 0 min) – 100 % MeOH (at 30 min). Flow Rate: 1 ml/min. Injection volume: 3 μl. Detection: UV 254 nm. (TIFF 671 kb)
About this article
Cite this article
Tankam, J.M., Sawada, Y. & Ito, M. Regular ingestion of cinnamomi cortex pulveratus offers gastroprotective activity in mice. J Nat Med 67, 289–295 (2013). https://doi.org/10.1007/s11418-012-0680-9
Received:

Accepted:

Published:

Issue Date:
Keywords
Cinnamomum cassia powder

Gastric ulcer

Gastroprotection

Regular ingestion

Synergism